Welcome Blueprint Training members!

You signed up for The Blueprint Training in the first place because you're a fan of process-driven workflows that can be deployed across all of your clients.
Well, so are we! Content Harmony is a workflow application – we help you take a target keyword and turn it into awesome content briefs for clients and writers, and then come back and grade your content using our AI-driven topic model.
Because we think we're such a great fit for your team, we're happy to extend 2 free months of bonus data to any Blueprint Training members who activate a subscription with Content Harmony.
👉 So, if you sign up for our Standard plan at $99 per month for 12 briefs, we'll drop 24 bonus brief credits in your account that won't expire. 😍
👉 Building a lot of content? Sign up for our Advanced plan at $299 per month for 50 briefs, and we'll drop 100 bonus brief credits in your account. 😱
Ready to go? To activate, just email kane@contentharmony.com or ping Kane inside the Blueprint Training Slack group and we'll take care of the rest!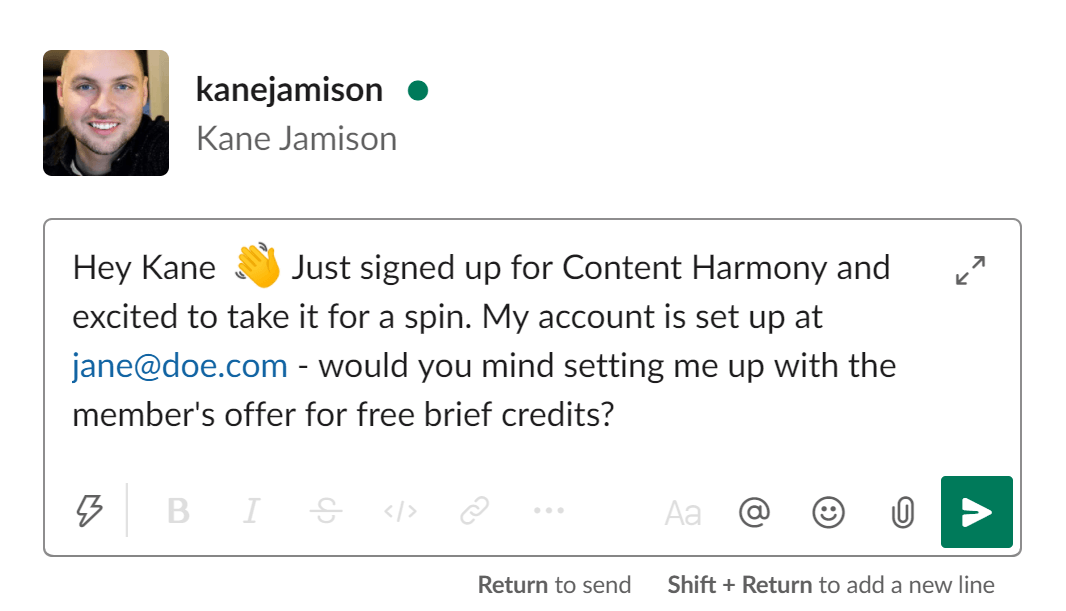 Don't feel like you have to be creative – you can literally just copy/paste that exact message from below 😂.
Hey Kane 👋 Just signed up for Content Harmony and excited to take it for a spin. My account is set up at MYEMAIL@EMAIL.COM – would you mind setting me up with the member offer for free brief credits?
Not quite sure if you're ready?
No worries, we make it super easy to try Content Harmony before you commit.
You can get a free account and 10 free content briefs when you sign up for a demo with our team, or if you want to test drive it on your own, you can get your first 10 brief credits for just $10 (we gotta charge something to keep the spammers out – we run 100 API calls with every brief and that data adds up).