Activate a Content Harmony subscription and we'll give you two free months of bonus briefs.

Welcome Traffic Think Tank members!
You signed up for TTT in the first place because you care about doing SEO & content marketing well, not just doing what everybody else does.
Well, so do we. Content Harmony started out as a content marketing agency in 2012 because we saw multiple industries (SEO, PR, advertising) trying to treat content marketing like it was just cheap creative to help them keep doing what they were already doing.
And we realized it was so much more than that (you can still read our original 'launch manifesto' here).
When we pivoted to launching our software and shutting down our agency services, we were laser-focused on building an app that supports actual workflows of SEO & content marketing teams. We help you take a primary topic and turn it into awesome content briefs for your clients and writers, and then come back and grade your content using our AI-driven topic model.
That's the biggest thing that separates us from other tools focused on content grading – we care about letting your team and strategists build more detailed briefs, not just exporting a keyword report and then spending an hour adding your extra notes on top of that data.
But the important thing that you should care about is that we've designed Content Harmony to work for many types of content marketing & SEO processes.
Want to grade an entire site of content that needs to be refreshed? You can run reports and jump straight to the content grader.
Building detailed deliverables for clients on how to go above and beyond what already shows up in the SERPs? Our brief approach makes your team's insights shine, not just the data we analyzed for you.
Whether you're building game changing content or just trying to knock out some new articles for an affiliate site, our briefs will keep your team on the same page, and our content grader will help make your content more comprehensive – not just full of keywords.
Because we think we're such a great fit for your team, we're happy to extend 2 free months of bonus data to any TTT members who activate a subscription with Content Harmony.
👉 Sign up for our Standard Plan with 12 monthly briefs and we'll give you 24 bonus briefs with no expiration. 😍
👉Sign up for our Advanced Plan with 50 monthly briefs and we'll give you 100 bonus briefs with no expiration. 😱
Naturally you can still take us up on our normal offers to get access to Content Harmony and explore the product – either $10 for your first 10 briefs, or getting 10 content briefs free when you schedule a demo call to learn more about the Content Harmony workflow.
Ready to go?
When you're ready to sign up, just go ahead and upgrade in your Content Harmony account, and then email kane@contentharmony.com or ping Kane Jamison on TTT.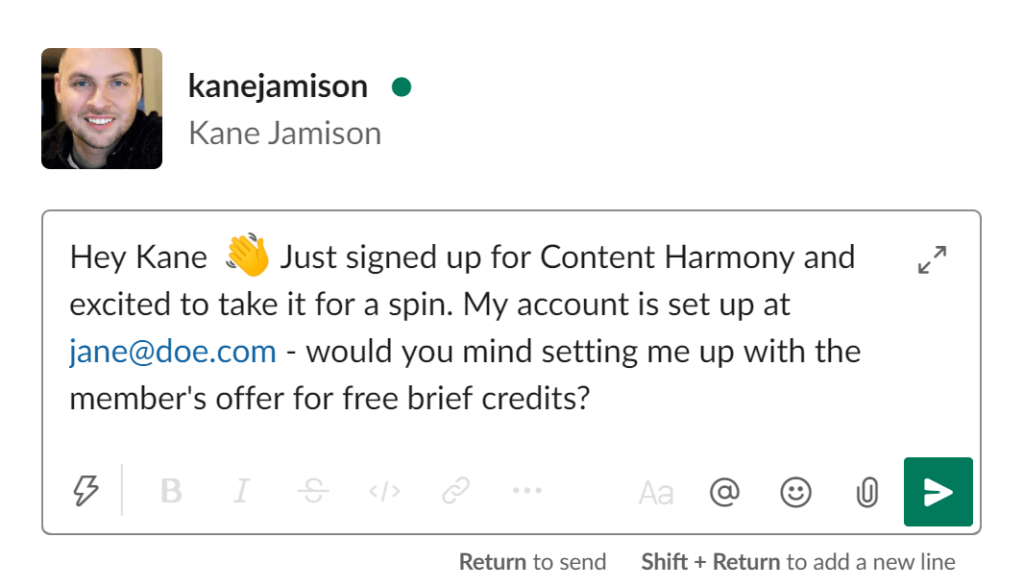 Don't feel like you have to be creative – you can literally just copy/paste that exact message from below 😂.
Hey Kane 👋 Just signed up for Content Harmony and excited to take it for a spin. My account is set up at MYEMAIL@EMAIL.COM – would you mind setting me up with the member's offer for free brief credits?
Not quite sure if you're ready?
No worries, we make it super easy to try Content Harmony before you commit.
You can get a free account and 10 free content briefs when you sign up for a demo with our team, or if you want to test drive it on your own, you can get your first 10 brief credits for just $10 (we gotta charge something to keep the spammers out – we run 100 API calls with every brief and that data adds up 😉).