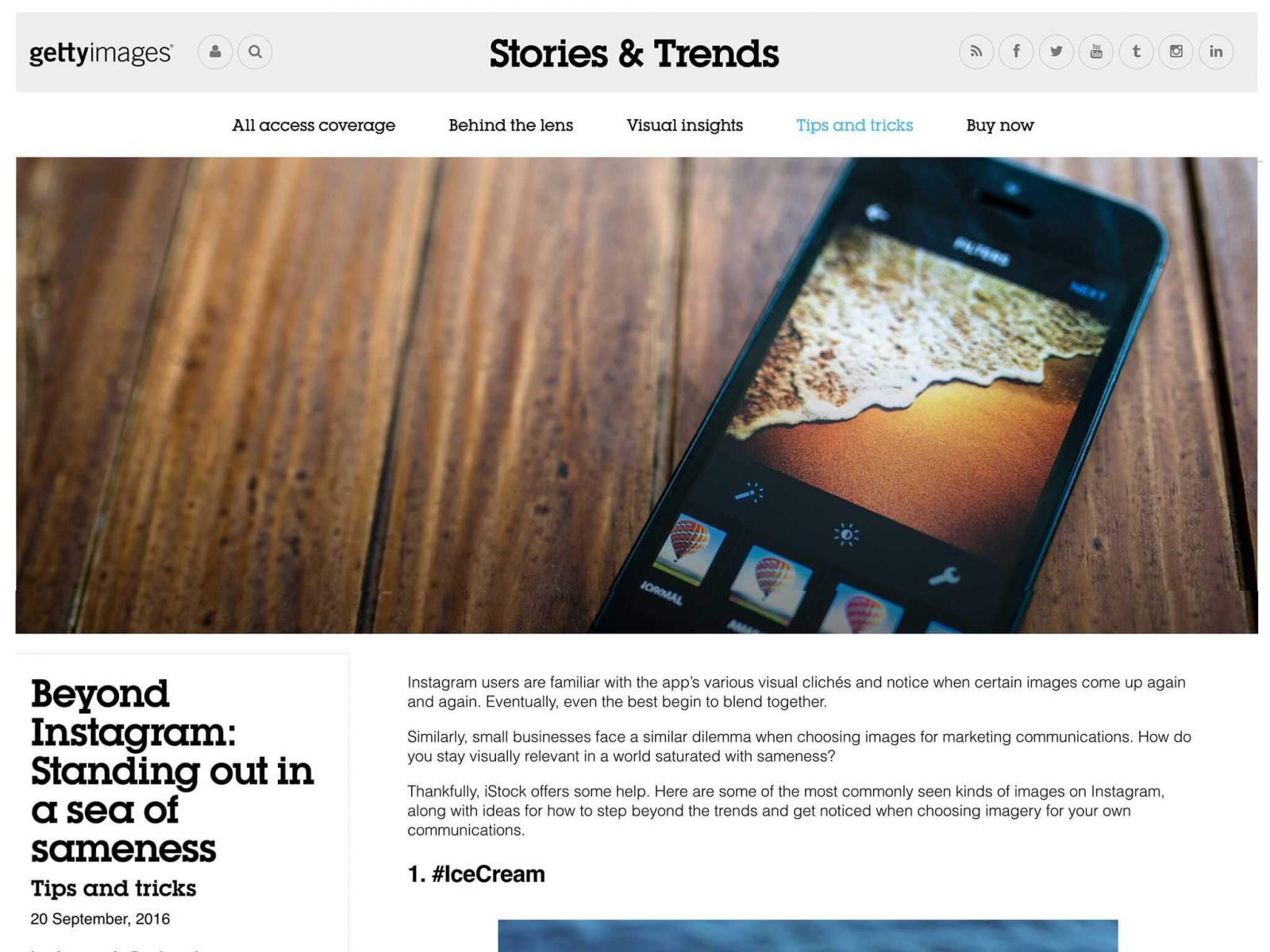 Notable Content Performance Metrics: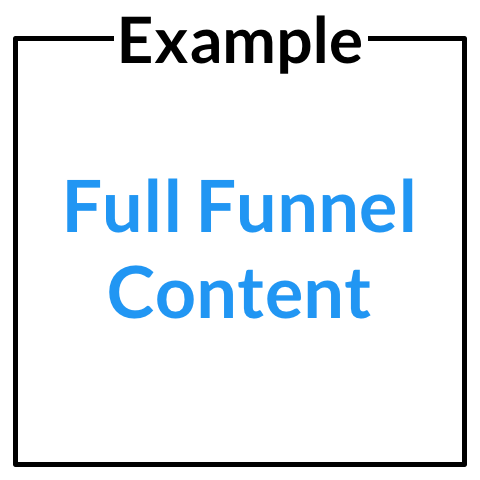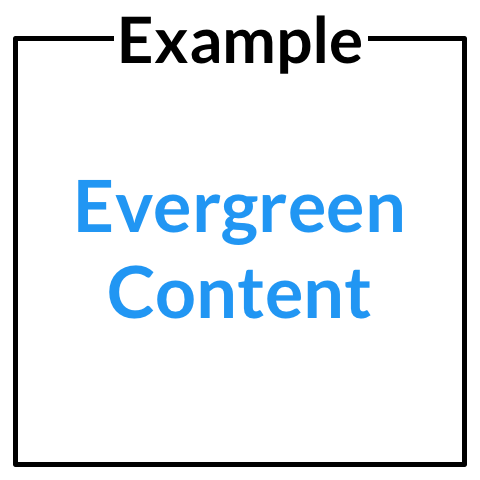 Content Formats:
📄 Blog Posts
📸 Photography
Marketing Objectives:
📈 Brand Awareness
👍 Engagement & Consideration
💳 Conversion
🤩 Retention
Industry / Business Model:
👔 B2B
📦 eCommerce / DTC
👩🏽‍💻 Software
Stock images—just the words might make you cringe. You picture forced smiles, creepy stock-families, and generic office settings.
In recent years, Instagram has inspired a trend towards stock imagery that doesn't look like stock imagery. But rather than usher in a creative revolution, this trend has simply redefined horrible. The new clichés are food porn, #wingshots out airplane windows, and bare feet on the beach.
Luckily, Getty Images has put together a guide to help iStock users "stand out in a sea of sameness." This article is loaded with value, helping users get the most out of a product they already have, and empowering even the most uncreative to find unique and eye-catching images to enhance their content.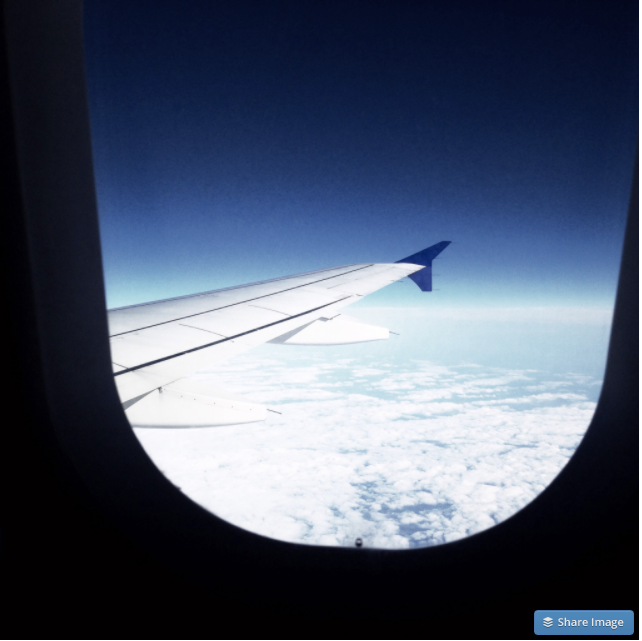 Why It's Great Content Marketing
It's Based On A Real Pain-Point
The author of this post may have started by asking themself something like: How can I help people pick out stock photos that don't suck?
This is a real problem that the article helps solve. It answers questions you were probably asking yourself before you read it.
It Knows Its Audience
This article speaks to someone who may not be an artistic genius but is under immense pressure to pick out visually striking photos as part of their job.
The tone is very much "crawl, walk, run." Each section starts by pointing out why certain images don't work and then suggests how to find better ones and gives examples. A potentially stressful task becomes accessible and even fun.
The Format Fits The Subject
It wouldn't make any sense to talk about Instagram using big bulky paragraphs and tons of subheadings. This post writes about Instagram in a way that feels like, well, Instagram.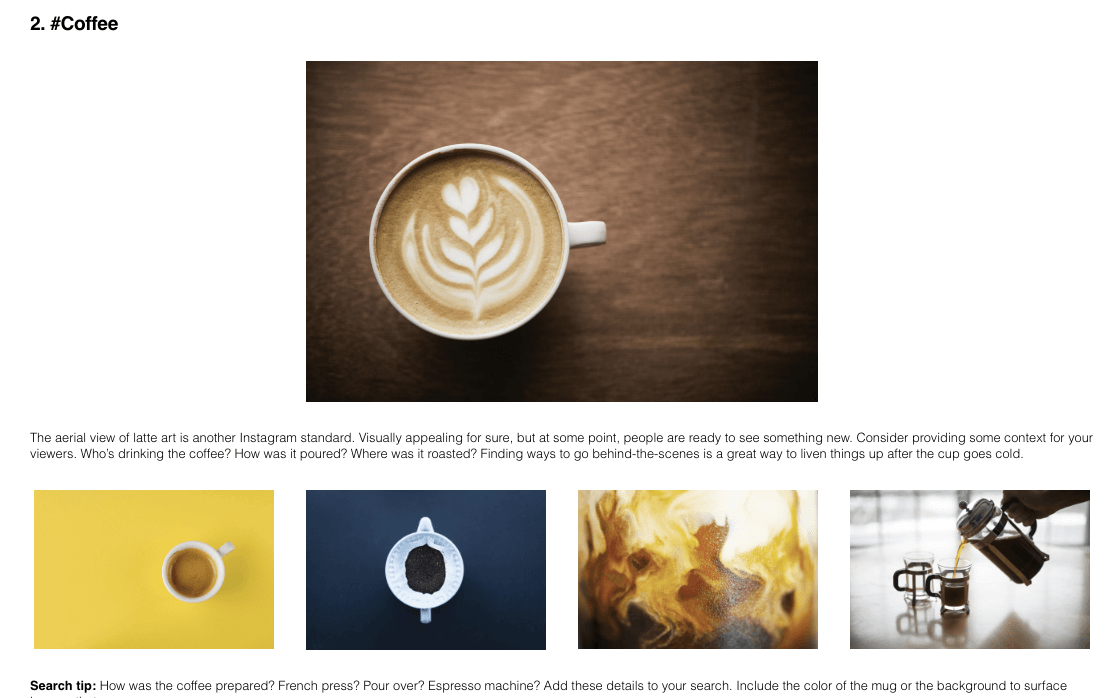 The titles are hashtags, the placement of images feels like an Instagram feed, and the paragraphs are super digestible and skim-friendly. You can learn from this post without even reading it.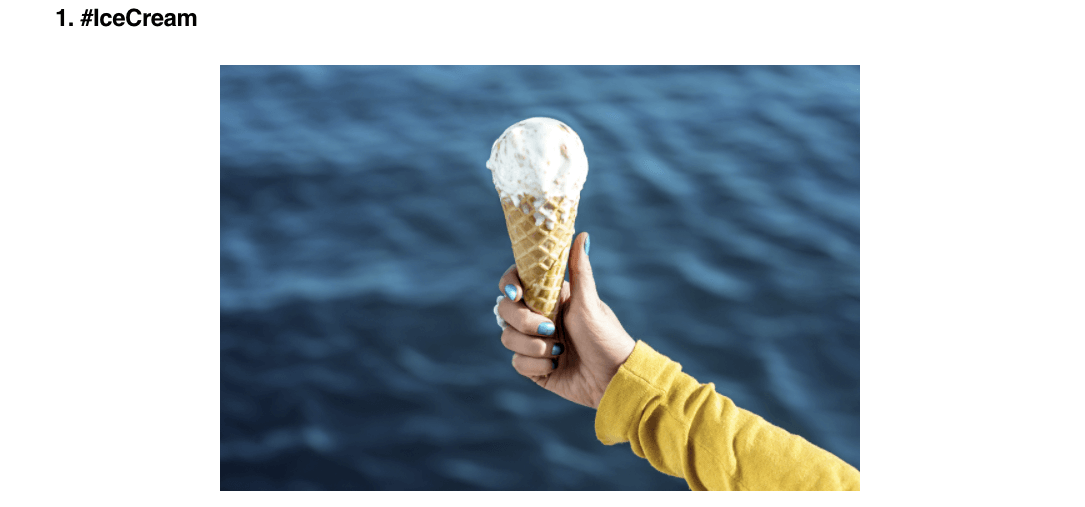 It's Actionable

For each example of stock photo clichés, you get a summary of how not to make that mistake. It tells you which hashtags to search, and what to look for in a stock photo.
This isn't a bunch of theory; it's a plan of action.
It's Mostly Visual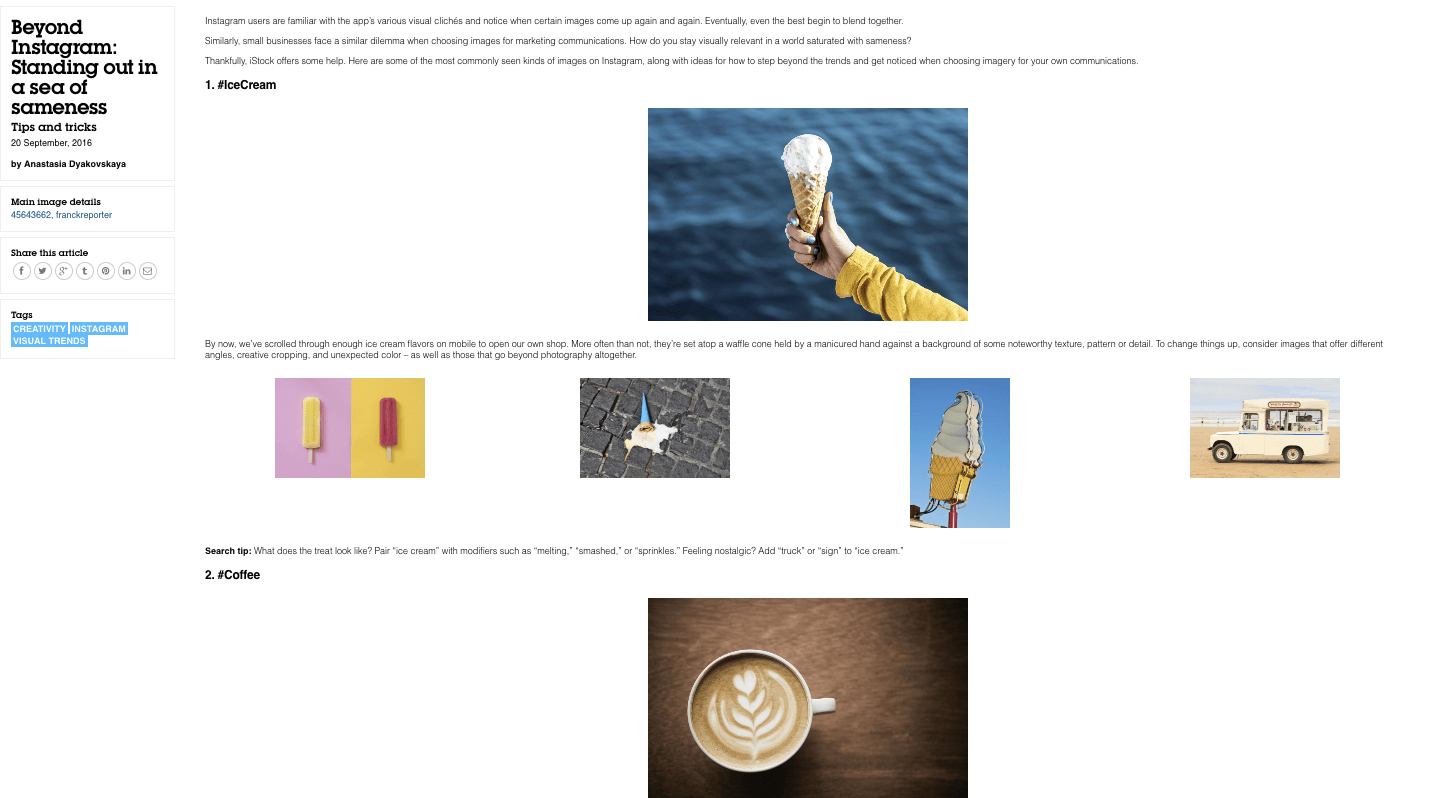 The words and images are complementary—the pictures tell you more than you get from the text, and the text takes you beyond the surface impression of the pictures. Seeing all these incredible examples in one place inspires future creativity.
The Words Deliver A Ton Of Value
Like all truly amazing content, this article saves you more time than it takes to read. Anyone who reads this is spared the trial and error it takes to research hashtags and source images.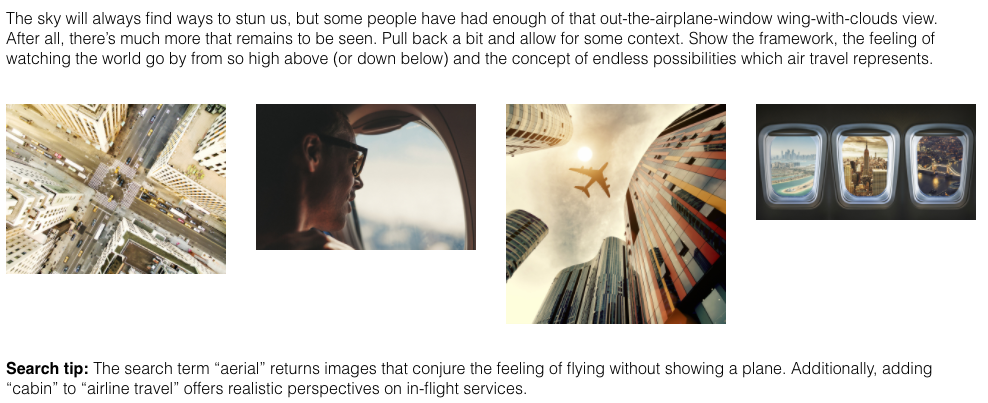 Not only do you learn what works, but you learn why. You come away with talking points you could bring to your team, use to design a new campaign, or even improve your personal social media accounts. This article sets you on the path to expertise in a really important niche.
It Helps Users Get The Most From Their Existing Getty Account
Simply put, this article helps you do your job. It's the ultimate win-win. You're more effective, your business gets a social media reality check in the time it takes to read a blog post, and Getty levels up the importance of their product to your organization.

By educating users about the features and benefits of their service, Getty boosts the lifetime value of those relationships and makes their product more indispensible.
Not bad for a few short paragraphs and some screenshots.
---
---
✉️ Get an email when we publish new content:
Don't worry, we won't bug you with junk. Just great content marketing resources.
---
Ready To Try
Content Harmony?
Get your first 10 briefs for just $10
No trial limits or auto renewals. Just upgrade when you're ready.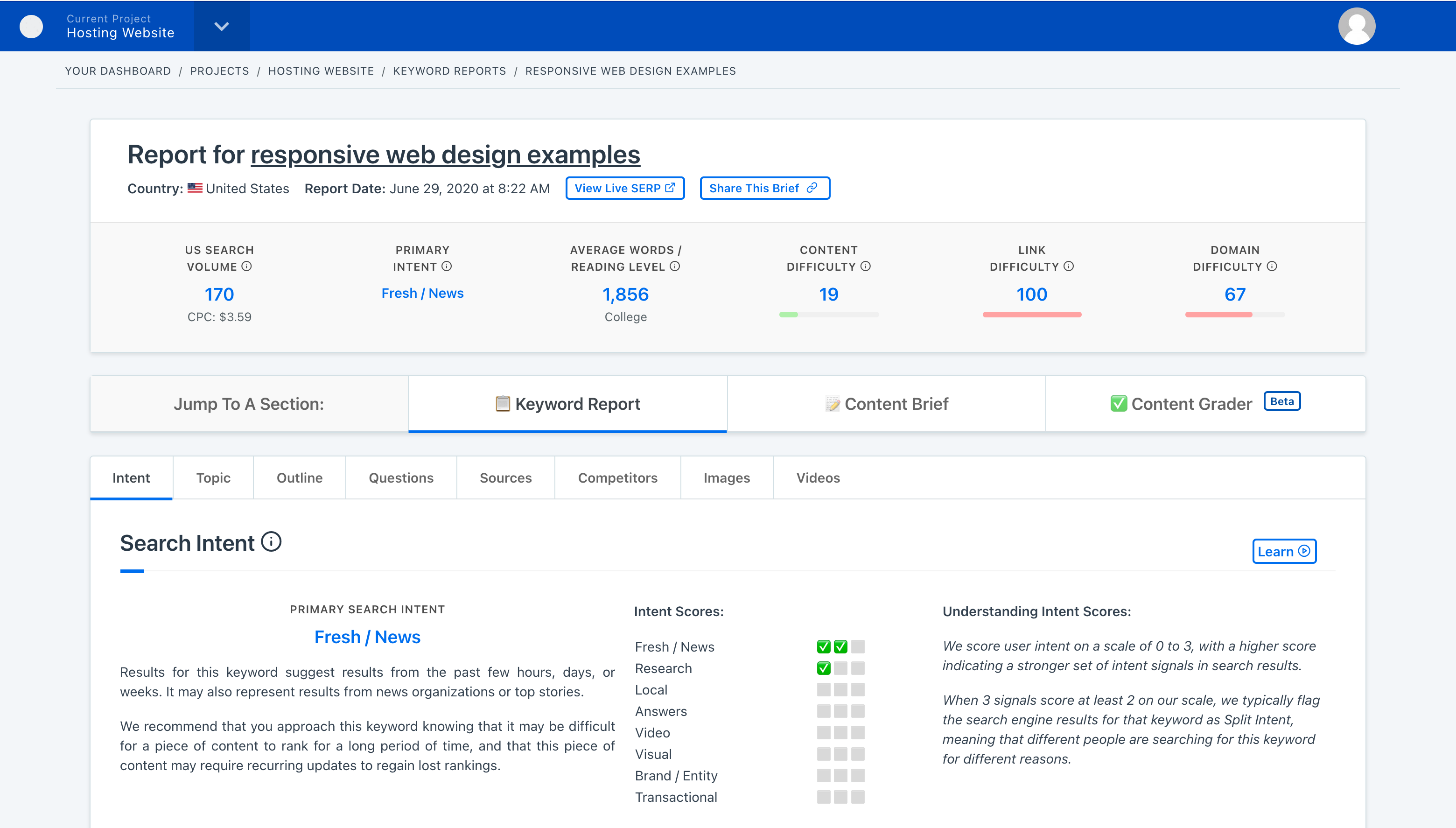 ---