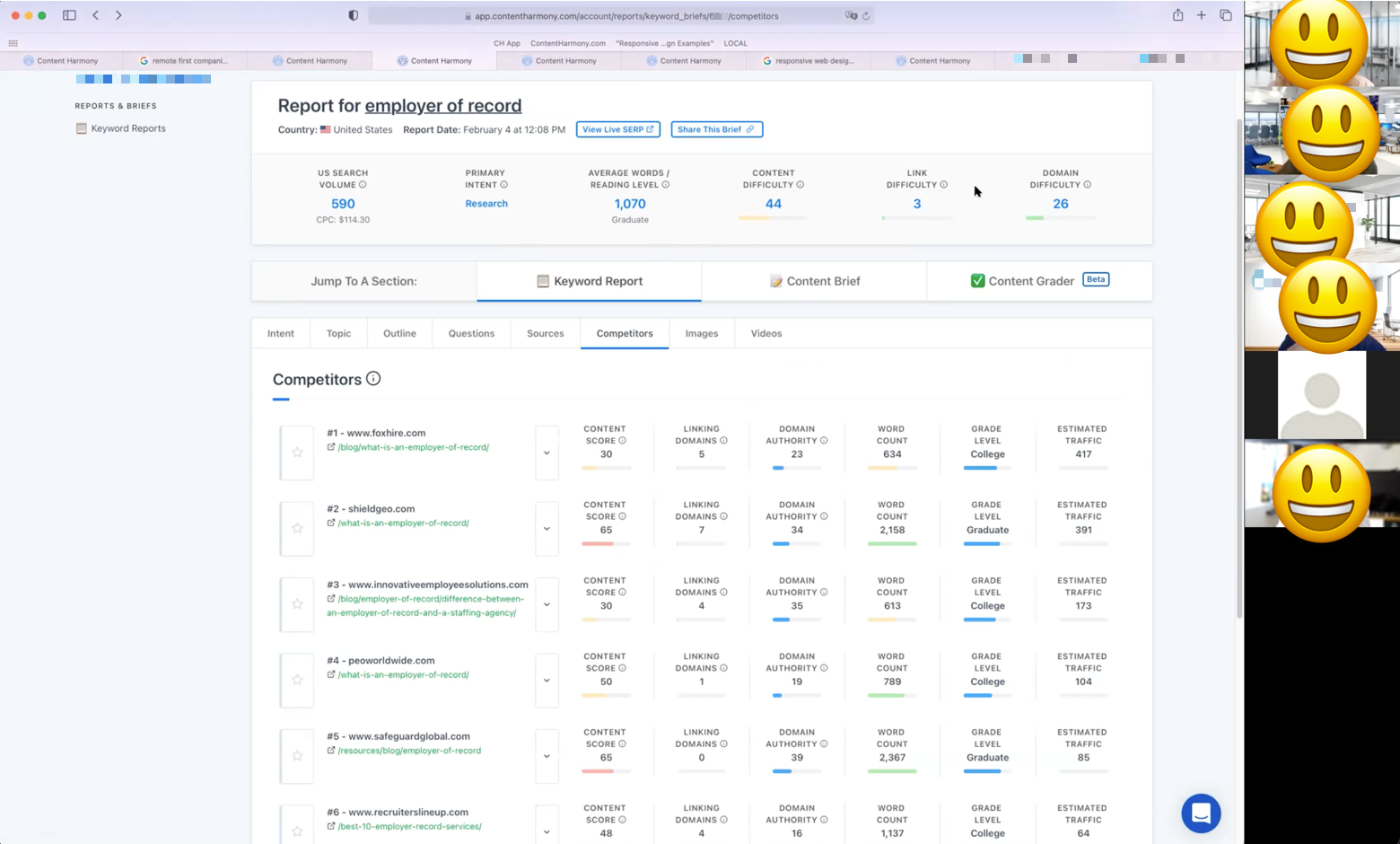 A lot of tools throw you into a complex workflow and tell you to check the documentation guides for more info.
Not Content Harmony.
I mean - we have those long guides available if you want them. And you can sign up for our product without ever talking to someone if you prefer.
But we're more excited to schedule a video session with your team and do a custom training to make sure everyone understands how to use Content Harmony faster and more effectively.
That's why every single plan we offer comes with free onboarding & team training.
If Content Harmony was a greasy burger restaurant this would be the equivalent of 🍟 bottomless fries & 🥤 free refills - pretty darn awesome.
Customized Training Sessions
If you're a solo freelance writer doing 5 briefs a month, that's cool. We'll show you how to use briefs to increase your value (and rates) with your clients.
If you have a publishing empire with hundreds of writers and strategists who work on hundreds of websites, that's cool, too. We can help you work through complex publishing and account requirements  - by the time we're done, Content Harmony will look like the best decision you've made since you got rid of the no-dogs-in-the-office policy.
We've trained both types of teams, and we want to help all of our customers be successful regardless of size.
We should warn you - our founder Kane sounds a bit like Ben Stein, especially if you schedule your training before 10am Pacific (he likes to think that he was born with a voice for blogging).
But he makes up for it with passion about content marketing and over a decade of SEO & content marketing experience. Whatever problems your team has encountered with your content marketing process, he's been through it as well.
Concierge Brief Template Migrations
Lots of our customers come to Content Harmony with existing content brief templates.
We're happy to help you migrate those over to Content Harmony's workflow.
Just share 1 or 2 examples and we'll build a sample version inside your account, and we can even help you convert it into a repeatable template.
Concierge Data Migrations
If you're switching your process over from another content grading type of solution, in some cases we can help you rebuild your existing data.
This might require an annual plan commitment depending on the nature of the data and total volume of reports, however we understand that making a big switch can be a pain in the butt, and we want to help you get it done.