Keyword Difficulty is a metric that helps you understand how easily you can rank for a keyword.
But the keyword difficulty scores that show up in other SEO tools leave you wondering why that keyword scored the way it did.
With Content Harmony, you have a clear understanding of why a keyword may be easy or difficult to rank for.

What are the three types of Keyword Difficulty?
We divide keyword difficulty into three separate concepts:
Content Difficulty
Link Difficulty
Domain Difficulty
We treat each difficulty type as a distinct score to make sure you know why the keyword is hard to rank for.
Blending them all together in a single score would be useless.
What is Content Difficulty?
Content Difficulty is an assessment of how well targeted the first page of results is for the target keyword. It specifically measures common on-page SEO targeting elements like keyword usage throughout the page.
Content Difficulty is measured on a 0-100 scale.

What is Link Difficulty?
Link Difficulty is an assessment of how competitive the link building requirements will be for a target keyword.
We take the average number of referring domains linking to page one search results, and then normalize them on a 0-100 scale. Content Harmony uses Moz's Mozscape® Link Data for our underlying data.
For example, in a SERP where each result has an average of 4 domains linking to it, Keyword Difficulty would likely be around 5-10 / 100.
On a SERP where the average results has 461 domains linking to it, we'd max out our higher Link Difficulty score at 100/100.

What is Domain Difficulty?
Link Difficulty is an assessment of how high the authority is for competitors on page one for the target keywords. Content Harmony utilizes Moz's Domain Authority metrics for the underlying data, and averages this metric across page one competitors to arrive at our own metric of Domain Difficulty.
Domain Difficulty is measured on a 0-100 scale.
How can I use Keyword Difficulty to improve my content?
In a nutshell, our Keyword Difficulty metrics help you quickly understand what your challenges will be while trying to rank for a keyword.
For example, let's look at a keyword like [best steak rub], and how we'd use Search Intent and Keyword Difficulty scores in tandem to determine how our site might try to rank.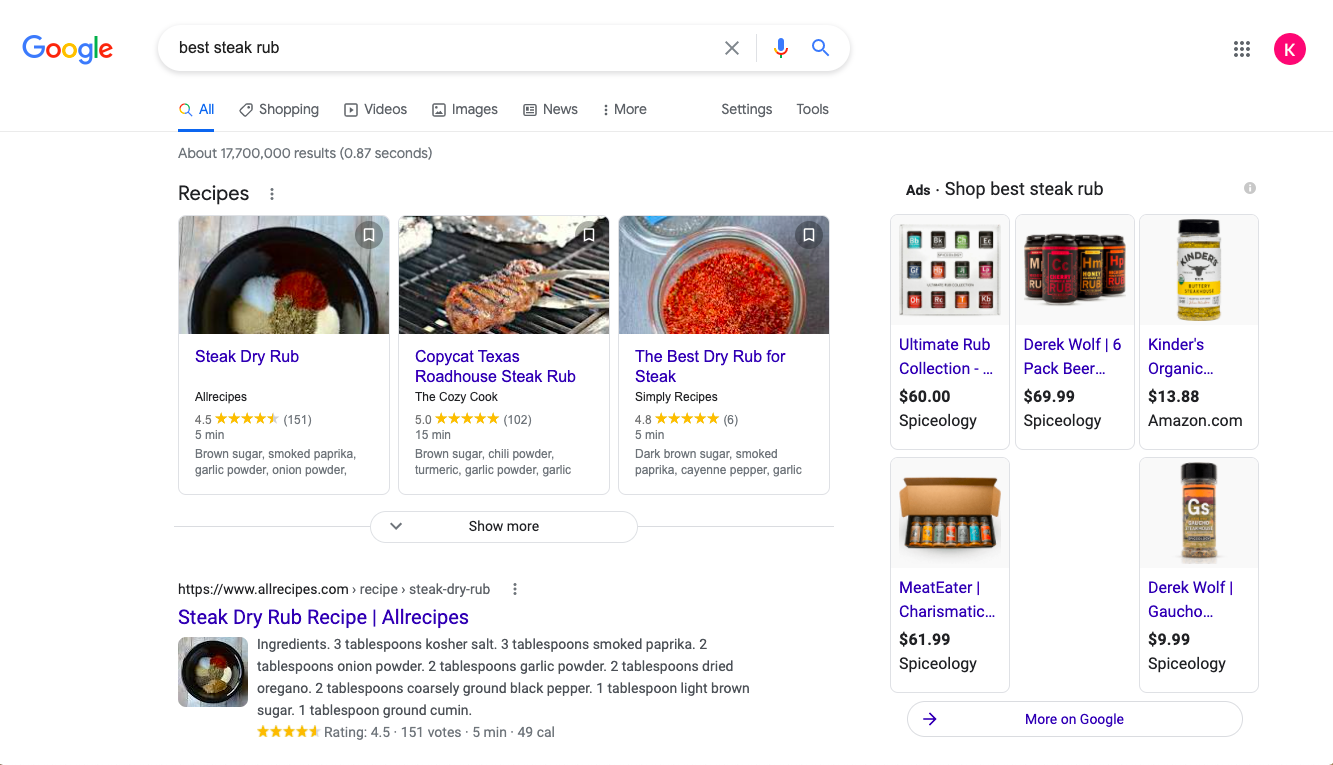 This is the type of keyword that lots of sites might be targeting: recipe websites and blogs, eCommerce sites selling steak rubs, and maybe companies like grill manufacturers working on content marketing.
Looking at the Keyword Report for this phrase, we see the following Keyword Difficulty scores:

If I'm a small affiliate website trying to rank for this keyword, I'm going to assume that I can do a better job of matching search intent and on-page targeting than the average recipe website. But I'm going to be a bit worried about that Domain Difficulty and Link Difficulty if I have a lower authority website and I don't have a good link building program in place.
On the opposite end of the spectrum, if I'm a big retailer like Amazon or a specialty food retailer like Williams & Sonoma, I'm not going to be worried about Link Difficulty and Domain Difficulty on a keyword like this. Instead, I'm going to be focused on the Research search intent and the fact that most organic results are not eCommerce pages but rather recipe websites and blogs. Clearly Google isn't going to be interested in ranking my product category for this keyword no matter how high quality my content is - it simply isn't the type of content that users appear to be looking for. If I was the SEO team for one of those retailers, I would be focused on getting our content marketing teams to figure out a good way to target this keyword.