One of the most important SEO ranking factors that exists is making sure your content matches the topic at hand. You simply can't rank for competitive search terms if your on-page targeting isn't dialed in.
Content Harmony's topic model helps you understand the most common phrases used in your competitor's content. This is the best way to determine how Google currently understands the topic that you're trying to rank for.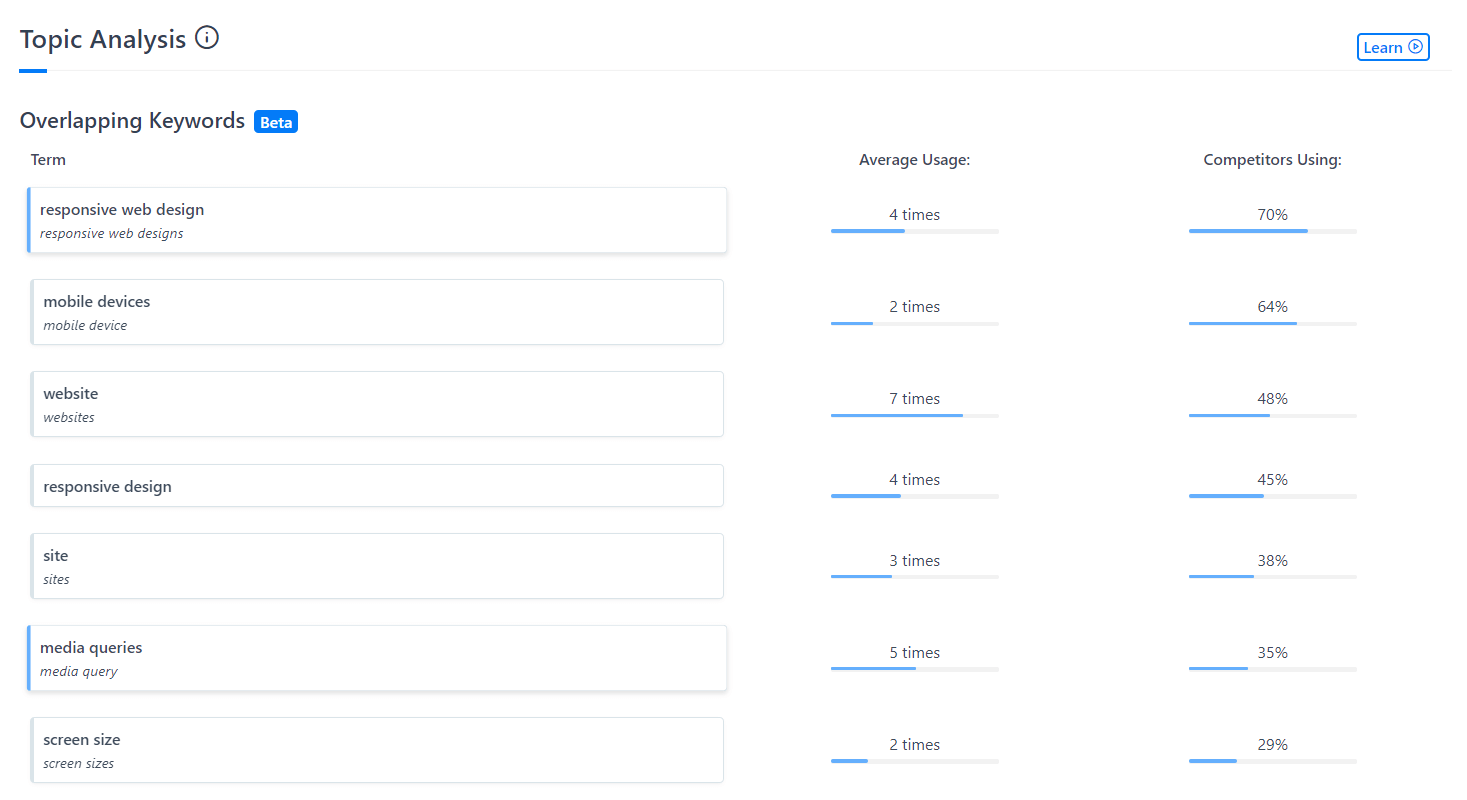 How can I use the topic model?
We give you two ways to use our topic model.
You can highlight really important phrases in your content brief that you want your writer to focus on.
You can paste your draft or live content inside of our Content Grader and get an instant content score, as well as a list of keywords that you should add to your content to make it more comprehensive.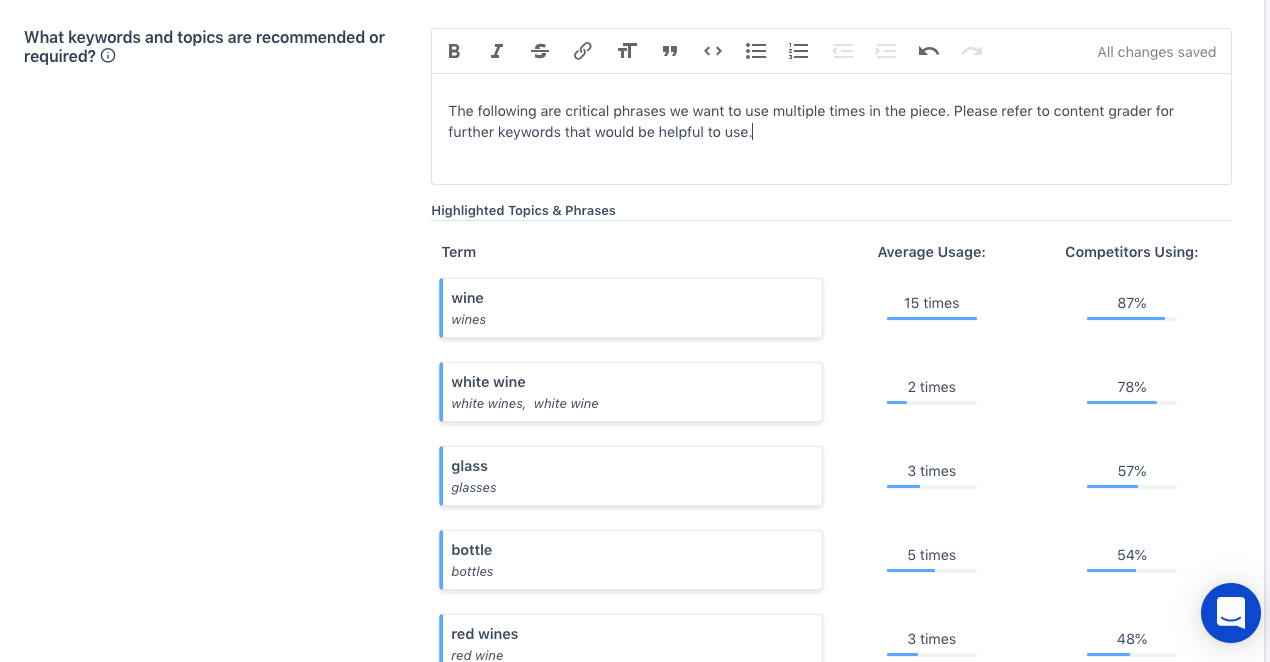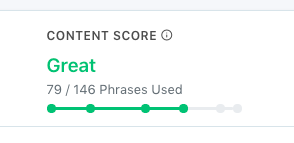 Watch our Topic Analysis report in action:
---
How is your topic model generated?
We like to be pretty transparent with how we generate out topic model.
All of our terms are based upon keyword extracted using IBM's Watson NLU API. We process multiple mobile and desktop search results for your target phrase, then we analyze the top 30-40 competitors for keyword usage.
Once we get all of those responses back, we run our own post processing to de-duplicate and improve the quality of what IBM reports back to us. Synonyms, pluralization, hyphenization, capitalization - all of these variation types need to be handled.
Once we're done, you're left with a prioritized list of the most critical terms that we think should appear in your content. That's how we power our Content Grader which helps you figure out how many of those phrases you've used thus far in your draft.
Is this like TF/IDF?
Sort of. This is a higher quality model because it does a better job of removing synonyms, and a better job of ignoring partial phrases.
For example, running TF/IDF for the target keyword [Best Laptops for College] might tell you that you should include "best laptops", "laptops for", and "for college" in your content.
Content Harmony would just tell you to use "best laptops for college" in your content - which is a way more actionable way to approach content optimization.
Is your topic model based on fresh data?
Unlike tools that based their recommendations on archived search results from months ago, our topic model is based upon what's ranking today, meaning your team gets an instant overview of what content is performing best.
If you discover that your tool is basing their recommendations on internal topic models or archived search results - it means they're helping you rank for SERPs from a year ago.
That may sound ridiculous, but it's how many of our competitors are generating their recommendations, especially cheaper toolsets that offer unlimited reports.
As you can imagine, that would make the data useless while trying to analyze your content after an algorithm update or a heavy change in search intent.
What other topic and keyword data does Content Harmony provide?
As of today, we also focus on related keywords, which are the packs of related terms that appear at the bottom of search results, or in auto suggest.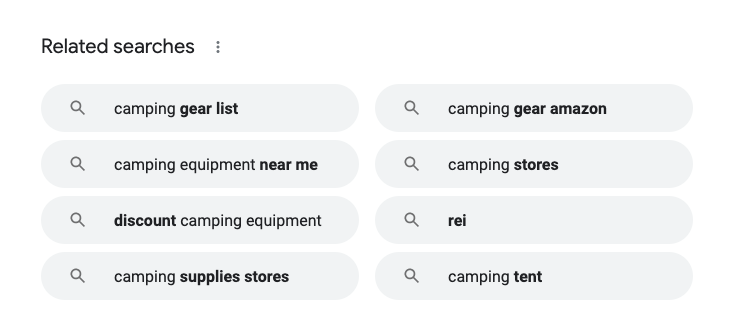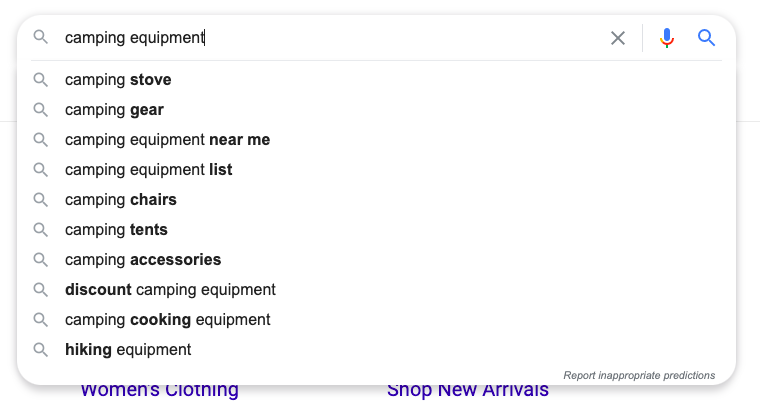 We have a handful of other important keyword data points that we'll be adding in the future, so stay tuned for updates on those. 😉