Building great content briefs is the reason that Content Harmony was first built.
We spent years trying to figure out how to prevent all of the issues and headaches that come up during the content marketing process.
Writers going totally off topic
Writers submitting terribly-structured first drafts
Clients requesting complete rewrites at the last minute after we had finished 2,000 word articles 😱
After years of tweaking we nailed down a reliable content brief template that got the results we wanted from writers.
But it took hours to build every brief.😭
That's why we built our Keyword Reports in the first place - to get all of the data we needed to build a great content brief into one place.
Then we made it super easy to highlight all of that data so that it would show up inside of your brief.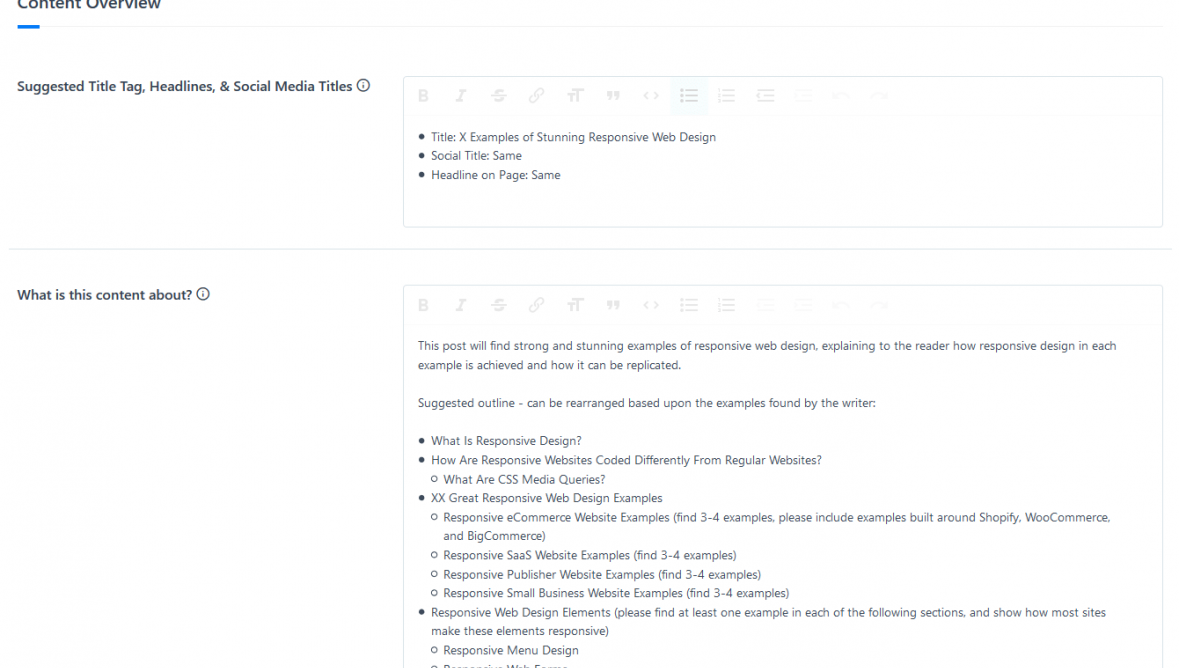 What do Content Harmony's content briefs look like?
They look however you want! And they're only going to get more customizable.
Right now, we give you 15 sections you can fill out that cover just about anything you could want to tell a writer. And in 2021, we'll be releasing a completely customizable 2.0 version of our content briefs that lets you build entirely custom templates to match your needs.
What sections are in your content brief?
Here's the Content Brief sections we currently give you:
Content Overview:
Title & Content Overview
What is this content about?
What keywords and topics are recommended or required?
What key questions do readers have that need to be answered?
Suggested content formats or other required elements
Internal or external linking requirements
Additional resources that will help the writer
Audience & Brand Overview:
Who are the primary audiences this content is intended for?
What is our brand's point of view on this topic?
What's the CTA? What do we want the reader to do after they read this?
Visual Requirements:
What graphics, illustrations, videos, or other visual elements should appear in this piece?
Misc:
Meta description
CMS Settings (eg Categories, Tags, Page Templates)
Recommended word count
Miscellaneous notes
Now - all of that seems kind of long when you lay it out like this. But we let you include as much or as few resources as you need in each section.
On top of that - all of your highlighted data from the Keyword Report shows up naturally in the appropriate section of the brief.
Did you highlight some Quora threads & PAAs in the Questions Analysis section? It will show up right where you'd expect under "What key questions do readers have that need to be answered?"
---
Do you have any Content Brief templates?
Heck yeah. As mentioned, our briefs are going to get way more customizable later this year.
But for now, we still let you do whatever you want inside each section of your brief. The first time you create a brief, you'll see empty text areas, like this:

As you build your first few briefs, you'll want to start adding boilerplate text that is the same on all of your briefs.
We make that easy by letting you create Project-level and Team-level templates. Project brief templates get used just inside of one project (eg for a specific client). Team brief templates get used across all of your projects.
Here's an example of a team that has set up a super easy to edit template they want to use across all of their Projects: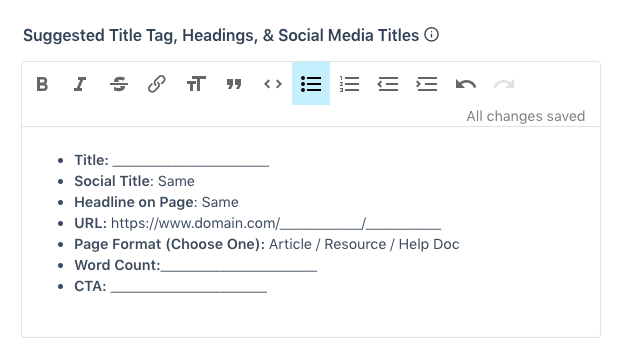 All their team has to do is double click on the underlined sections to customize that text - no need to mess around with formatting, and it keeps their entire team consistent across dozens of client projects.
---
How can I share my content briefs?
Great question! We make it easy to share your content brief with writers, clients, team members, subject matter experts and more.
You can share your briefs using our public sharing links.
You can export your entire brief using our "Copy Brief To Clipboard" feature, allowing you to paste it in Google Docs, Word, Notion, and more.
Want to see an example of our exported briefs? Here's a brief example inside Google Docs, and here's the same brief pasted into Notion.
Note: this is a super long content brief example, but we like to show you ideas for how you can use each section of the brief. You don't have to make yours this thorough.
---
Watch our 5-minute quick start video to see how our content brief workflow works: