Whether you're a writer yourself, or someone who manages a team of writers, anyone involved in the content marketing process can attest to the struggles of writing the first draft.
Without clear instructions, a writer may produce something that's wildly off the mark. While it might be well-written, it doesn't meet brand, SEO, or audience requirements.
That's where an SEO content brief steps in.
An SEO-focused content brief provides a list of requirements and recommendations that help guide a writer as they create a piece of content.
Writing a well-structured content brief keeps all stakeholders aligned on expectations; writers know key requirements like the target word count, key sub-topics, title, and keywords to use. It should also provide clarity on the audience and content goals.
If you recall our post on "What is a content brief and why are they important?", the main 4 goals of a content brief are to:
Prevent rewrites and reduce revisions
Make sure content isn't missing any critical information
Provide a single source of truth for team communications
Provide clear direction and serve as an approval milestone
So with that in mind, how do you start the process of writing an SEO-focused content brief that's valuable, clear, and instructive for your writer? Let's take you through a step-by-step process.
1. Make sure you cover Brand, Audience, & SEO Requirements
If you think about the goals of content marketing, our priorities for our content are to:
Serve the brand - we need to see a return from creating the content
Serve the audience - we need to make the content valuable for the audience
Serve the search engine - we need to make sure the content includes certain things to rank well and earn traffic.
Ironically, to build a great content brief that matches those goals, we're going to work our way through them in reverse:
Understand what the content needs to include for SEO purposes
Make sure we properly cover what the audience is looking for
Fit brand requirements and conversion goals into content that meets those requirements.
With that in mind, the first thing you want to include in your content brief is search intent.
2. Start by understanding what searchers want
Spending some time at the start to understand search intent helps you map out exactly what your audience wants from their search. Or at least, what search engines assume users are looking for. If you don't do that, you risk spending time and resources on building content that won't rank and won't satisfy audience expectations.
Let's say we're trying to rank for the term "homemade fish food for goldfish". The tone of this search suggests that it is informational — searchers want guidance on how they can feed their pets. But what's the format that search engines prefer to rank for this query — is it blog posts or something else?
Running this keyword report inside Content Harmony reveals search intent for video content, not just articles.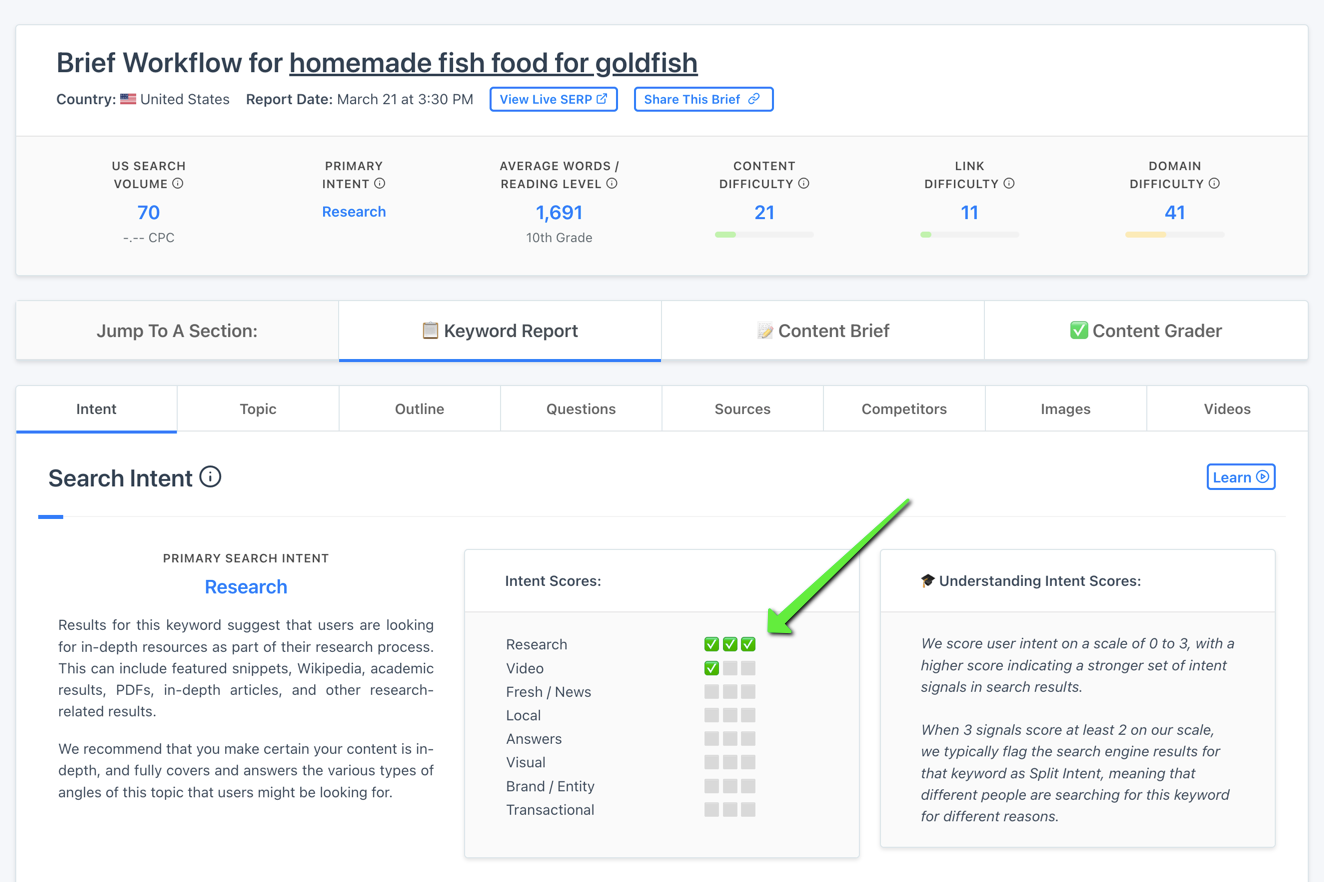 Looking at the live SERP results, we see a prominent video pack, and we also see a few top-ranking articles that have videos embedded in them: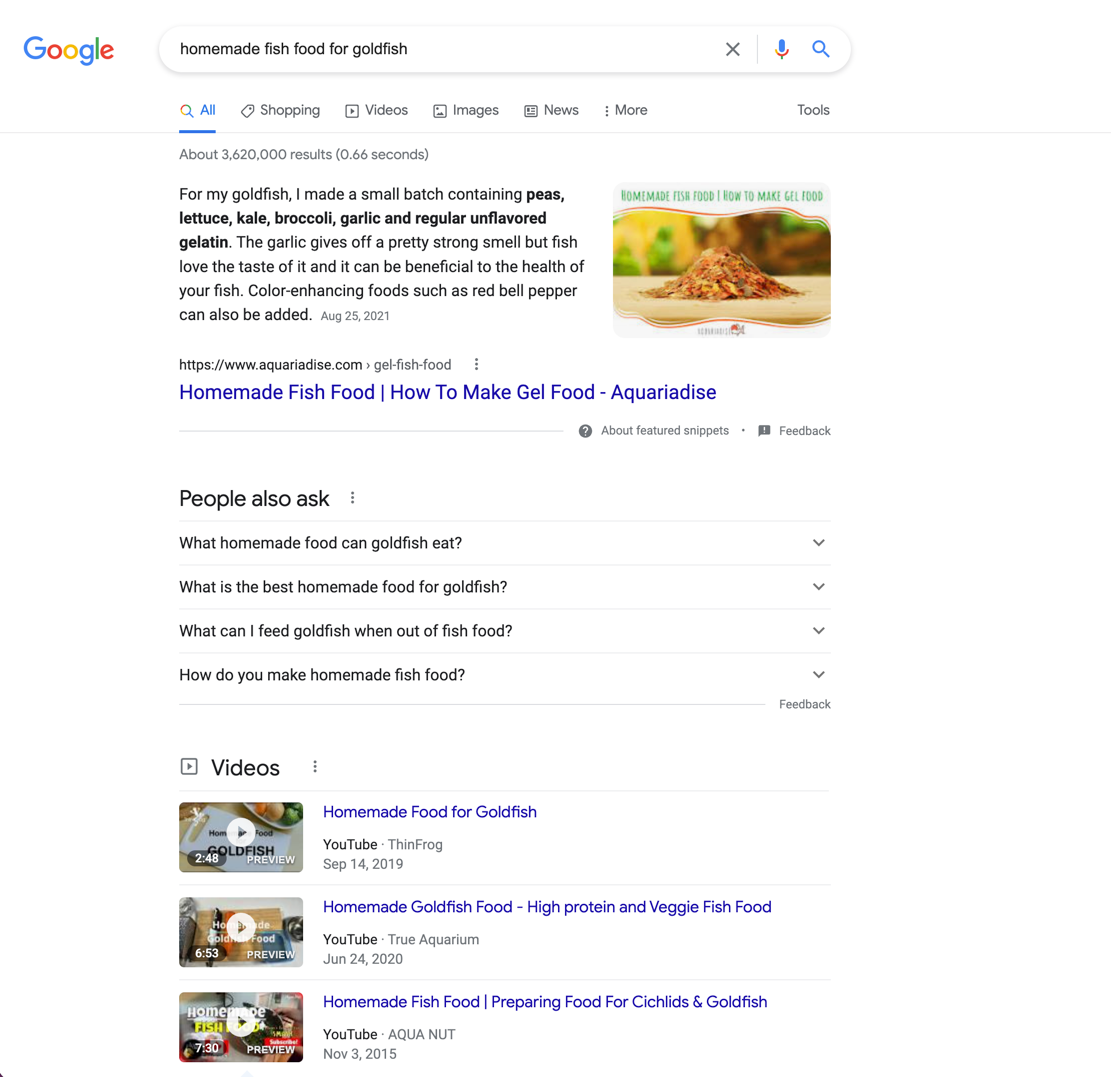 These signals are clear indicators of formats you should integrate into your content — if your aim is to move up the SERPs quickly, an article that features video content will likely perform better than a regular article.
By catering to search intent, you're signaling to search engines that you understand what folks want and deserve to be placed higher up in the SERPs.
Analyze sub-topics in the SERPs

Now that we've understood that a combination of blog posts and video content is the best way to cater to this search query, the task is to dig a little deeper.
What sort of structure do search engines prefer for this content? Are there any crucial modifiers that we need to consider?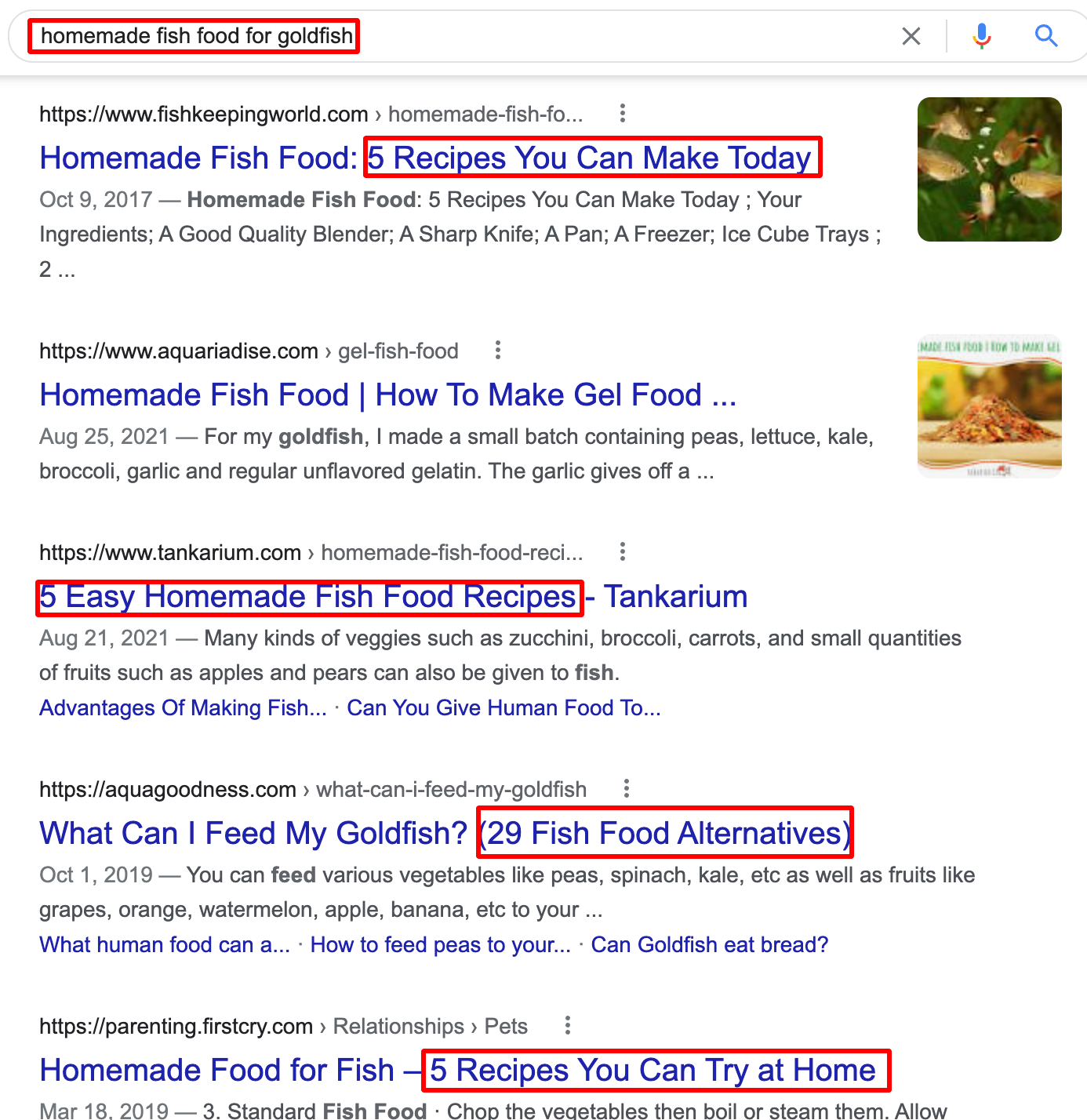 Looking at the SERPs, it's clear that searchers prefer content that has more than one option listed.
That's a crucial detail to include in your content brief — if you only discuss one recipe to make at home, it'll be much harder to rank for the search query.
For the purposes of this post, we're going to assume that you chose the right keyword. If, for example, you tried to rank for "goldfish food" instead, you'll discover that the intent behind this search query is transactional, not research / informational. Folks are looking for options to purchase food for their fish, not for recipes that they can make themselves.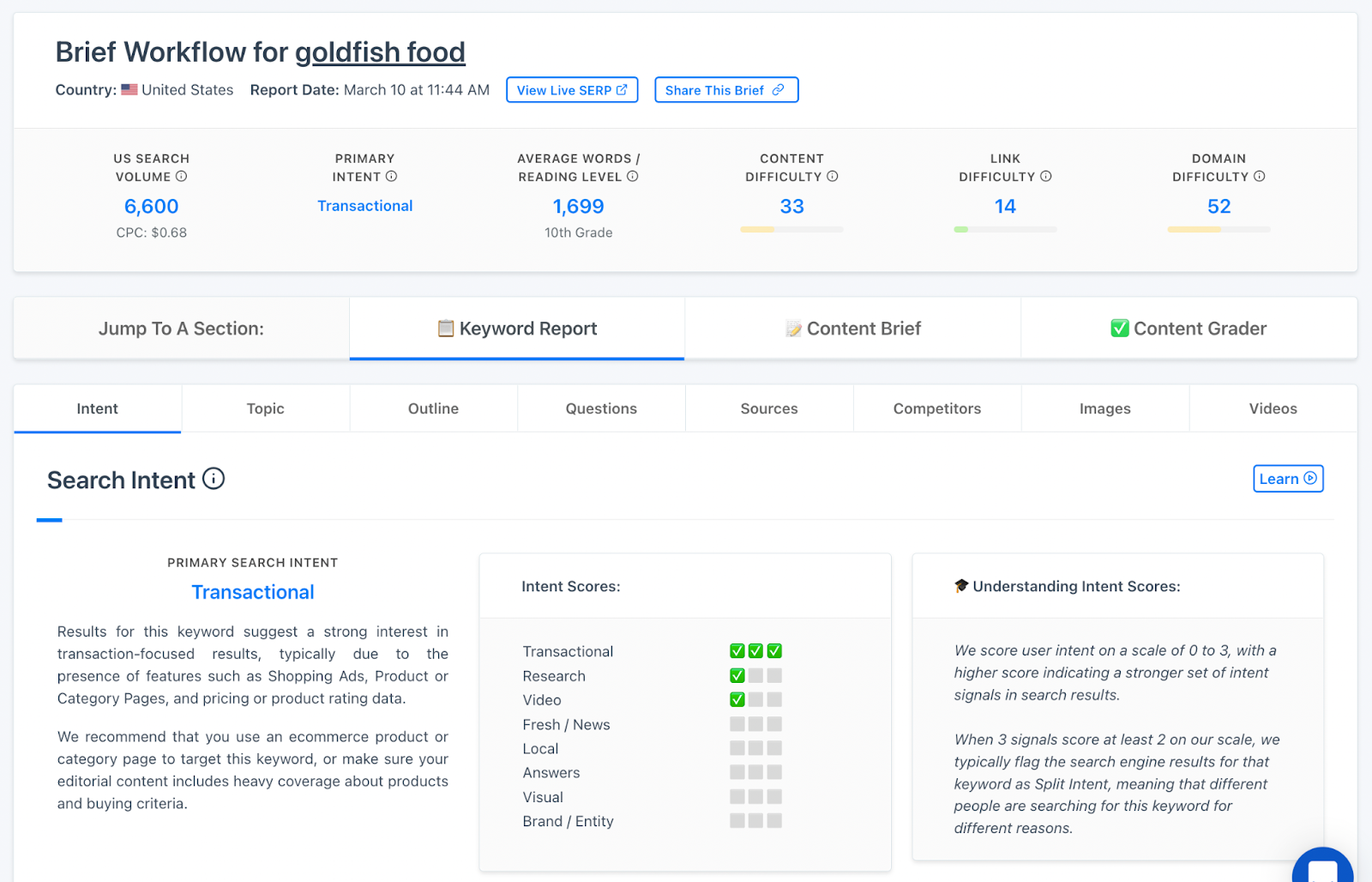 Understand key questions people ask
It's in your best interest to answer as many related questions and search terms as possible — this helps you rank better and cover complementary searches, too.
That's why examining the Question Analysis section in Content Harmony helps you nail down real questions humans ask on the interwebs, including those from Google PAAs (People Also Ask), Reddit, Quora, and Stack Exchange.
Answering these questions, either explicitly or implicitly in your content, boosts its relevance. Including these in your outline helps your writer craft more compelling content that answers real queries, and not just what you assume readers want to know.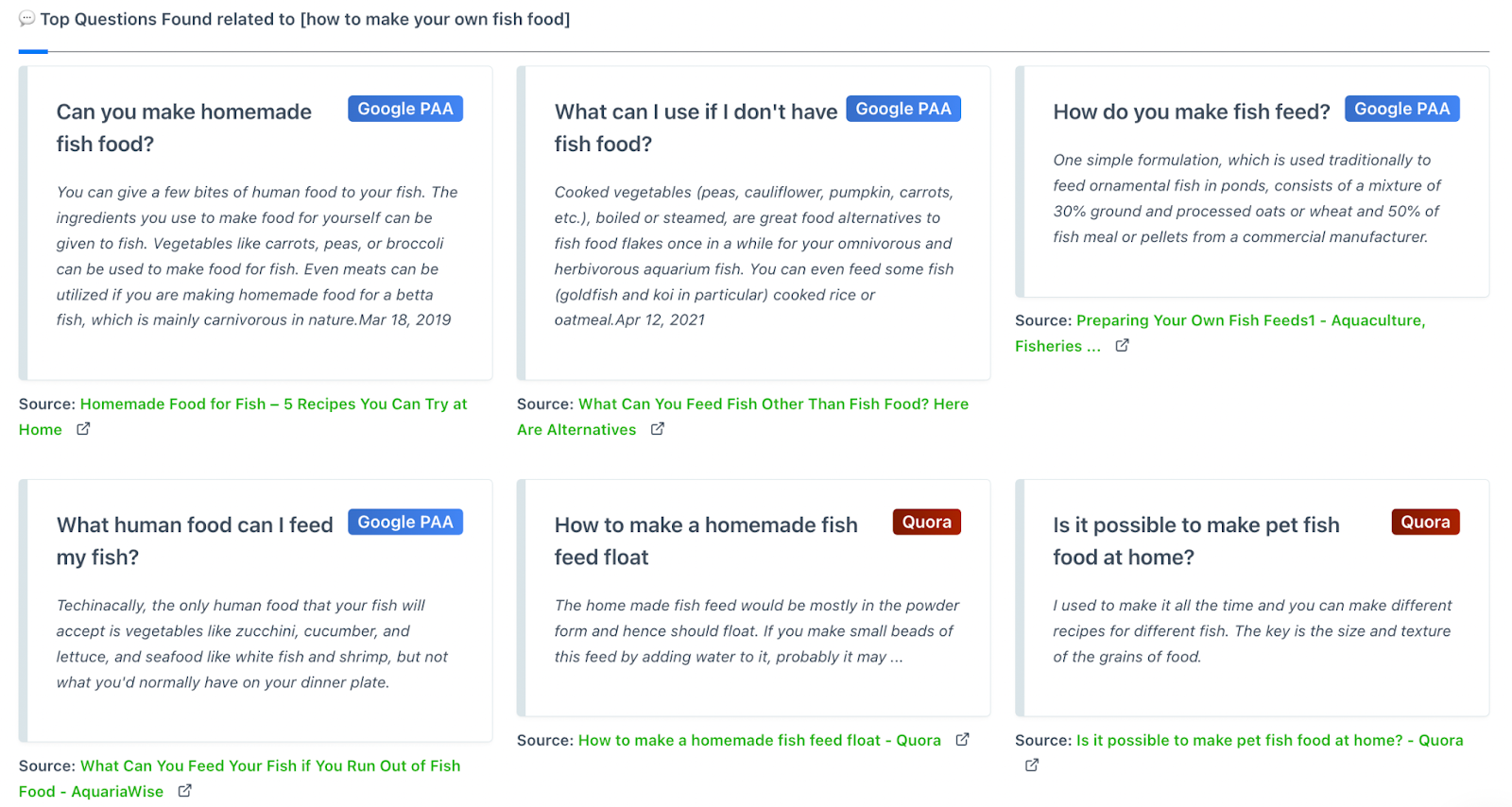 3. Give the writer a clear outline and content structure
By now, we've managed to assemble all the qualifying details we need to build a world-class content brief. The next step is to put it all together into a cohesive structure that neatly outlines how the piece will start and the steps it takes to encourage the reader to keep reading.
The outline includes all the notes you've taken from search intent, topic model, competitor outline, key questions, and SERP structure. It breaks those down into sub-sections with H2s, H3s, and H4s (if needed) to help the writer understand the flow that the piece of content will take, and allow the strategist to insert required keywords into the headings.
We also suggest that you spend a little time understanding competitor content structure to shape your brief. There's a reason they're the top-ranking posts; the outline and flow is well-structured and engaging. We don't recommend that you copy this outline, of course, but use it as a swipe file for inspiration. It's also a great way to determine missing gaps and where you could potentially stand out from the rest.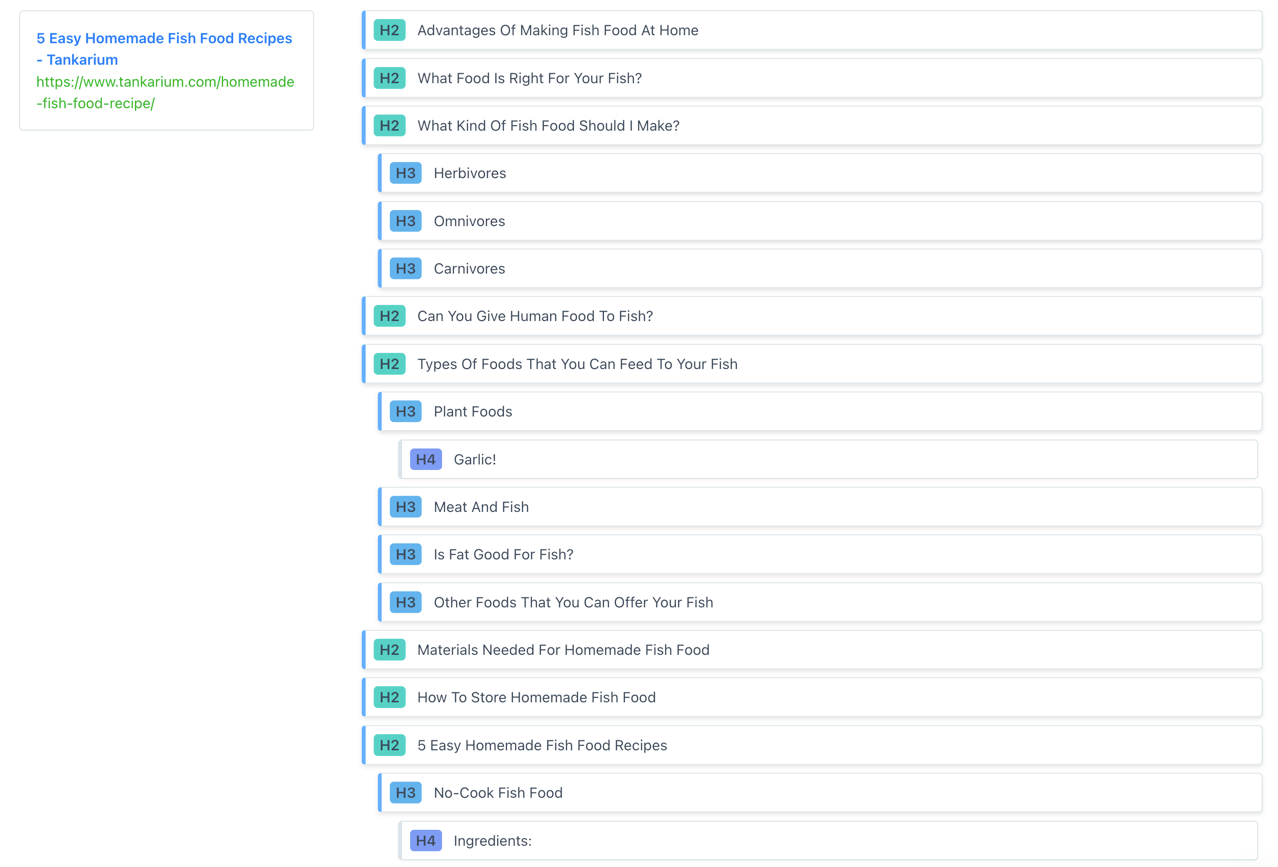 4. Include brand and audience requirements
By now you should have understood search intent, and built out the core outline your writer needs to work from. Next on your content brief should be core brand and audience requirements that your writer will need to produce world-class content that ranks.
Brand guidelines and tone of voice
If this is your first time working with a writer, they'll likely need guidance on the kind of style and tone your brand wishes to communicate.
If you already have a brand guidelines document, then don't hesitate to link to it in the content brief.
If you don't have one, then try to include some helpful instructions about the style of writing you prefer.
Do you wish the content to be conversational or instructive?
Do you want the writer to embody a casual, friendly tone or be professional and serious?
Without clear guidelines, your writer will likely go with the style they think is best — which may or may not be aligned with what you're expecting.
Target audience
The reason you're commissioning this piece of content is that you're writing for a specific audience in mind; you want your content to show that you understand your audience's concerns and queries, and aim to address those.
For example, the term "how to make your own fish food" likely appeals to existing fish owners and hobbyists. It could also appeal to aquarium owners who don't want to feed their fish commercial food and are looking for more nutritious, organic options. Either way, an understanding of your audience shows up in your copy — it displays empathy and builds trust with the reader.
💡
Audience Tip - We recommend linking to customer persona or Jobs-To-Be-Done documentation right inside your brief to help your writer dive deeper into that audience if they need to.
Buyer journey stage & recommended CTA
When you're assembling your content brief, you should also let your writer know what the intended goal of the content is. The search query "how to make your own fish food" implies that folks are ready to make their own food.
Readers probably own a fish already and are considering their options: they'll read a few recipes and decide which one is best suited for their needs. That's probably why Google prefers the listicle format, too, since readers want a few options to be able to make the best decision.
A smart content manager or SEO strategist can include some subtle notes on monetizing this traffic or driving an appropriate next action with the right Call To Action.
Depending on what site you're working on the funnel stage and CTA will be different.
Running a fish hobbyist blog? Offer a downloadable recipes list for newsletter subscribers.
Running a pet store? Offer a coupon for a "beginner DIY fish food kit".
Running a gourmet fish food company? Now is your chance to convince the reader that you can make healthier food at lower cost than the consumer can - or perhaps sell them some of the ingredients they need instead.
For a pet store, we would categorize this as a middle-of-the-funnel content piece — while the query is informational in nature, it's certainly not high-level by any means.
Readers who decide on the best recipe for their fish will likely search for the ingredients next — why not make their lives easier by including links to purchase? This makes a lot of sense if you're the pet store that sells these ingredients as well — if you have invested time and resources in grabbing the reader's attention, then encourage them to engage in a specific action before they exit your page.

Understanding where your intended piece of content lies in the buyer's journey can help your writer — shall they include more conversion-focused messaging, or more informational? What CTA should be added at the end — is it an ask for email addresses to stay in touch, or a nod to buy?
5. Add SEO requirements
SEO requirements are not the main focus of a good content brief, but they're still critical, especially if your briefs are created by an SEO strategist and passed off to a writer with less SEO experience.
Let the writer focus on writing great content, so long as they include or cover the SEO requirements you give them.
Word Count
Long-form content tends to rank better and earn more backlinks over time, as evidenced by a study from our friends at Hubspot. But rather than throw an arbitrary number for your writer, let's see what's currently ranking in the SERPs.

The average word count for the search term "how to make your own fish food" is just shy of 1,800 (this is the average of the top 10 SERP results), but it's definitely worth digging into further — the aim is to outperform what's already ranking.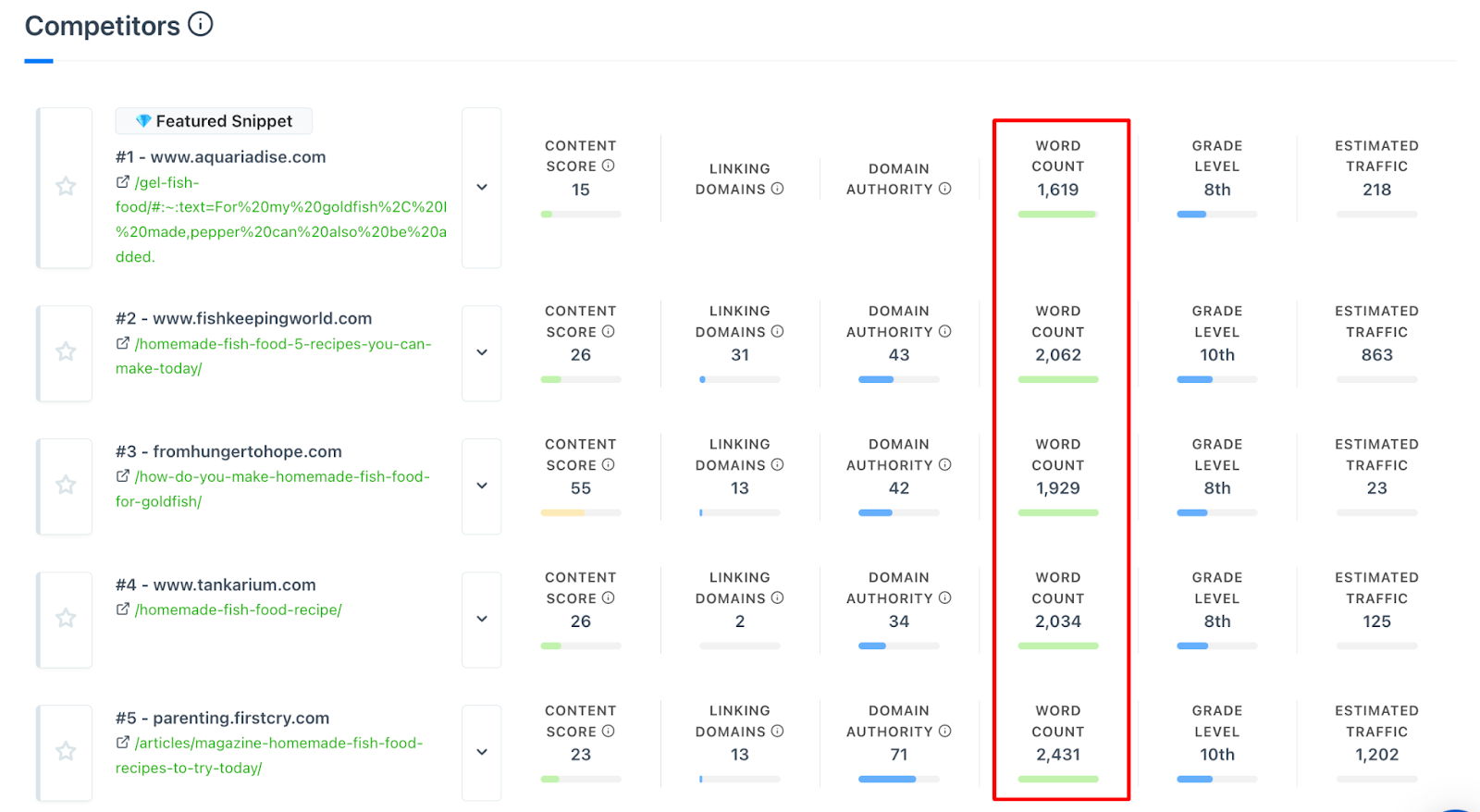 Providing a range here works best for your writer — we know we'd ideally like content that's matching or exceeding what's already on the SERPs, so the best estimation would be 2,000-2,500 words.
Required Keywords
Any piece of content that's meant to rank in search engines needs to incorporate more than just a single mention of the primary keyword. Your goal should be to instruct the writer of semantically related keywords they can weave naturally in their copy.
When you're trying to rank for "how to make your own fish food", for example, Content Harmony's topic model uncovers overlapping keywords mentioned by the top 30+ ranking competitors: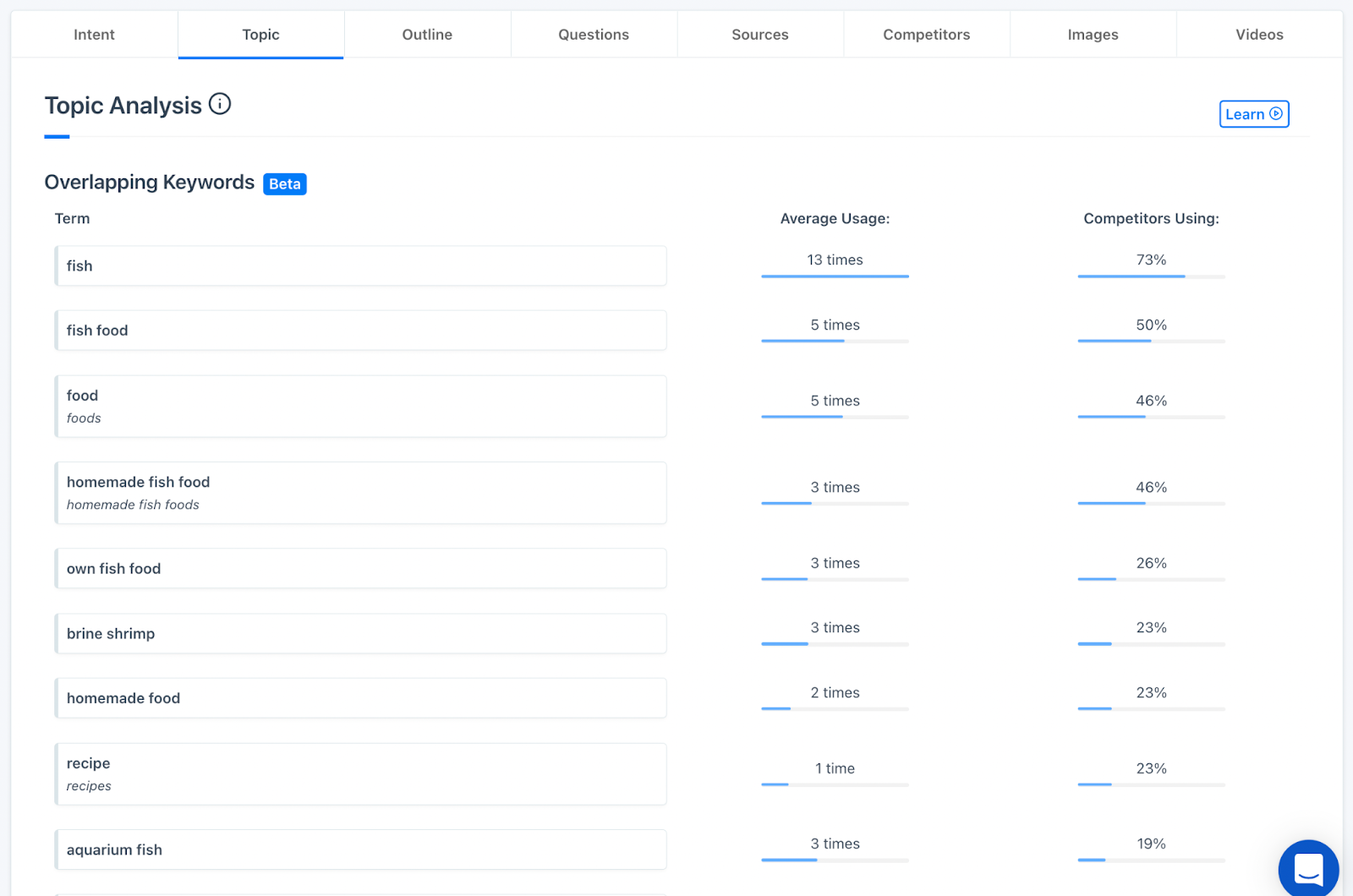 At the brief stage, we only want to show the writer the most critical phrases that they need to include.
Ideally, you're using a content grader to come back and optimize your first draft against a topic model, which is where you can focus on the other 50-100+ phrases that might be worth including.
When you get to the content grading stage, you or your writer can make sure to add those other semantically-related phrases beyond the shorter list that gets included in the content brief.
High-authority external links
Linking out to trustworthy sources like those from government and educational websites helps boost the credibility and authority of your content.
Navigating over to Content Harmony's 'Sources' tab reveals a number of authoritative sources that you could potentially link out to when trying to rank for "how to make your own fish food".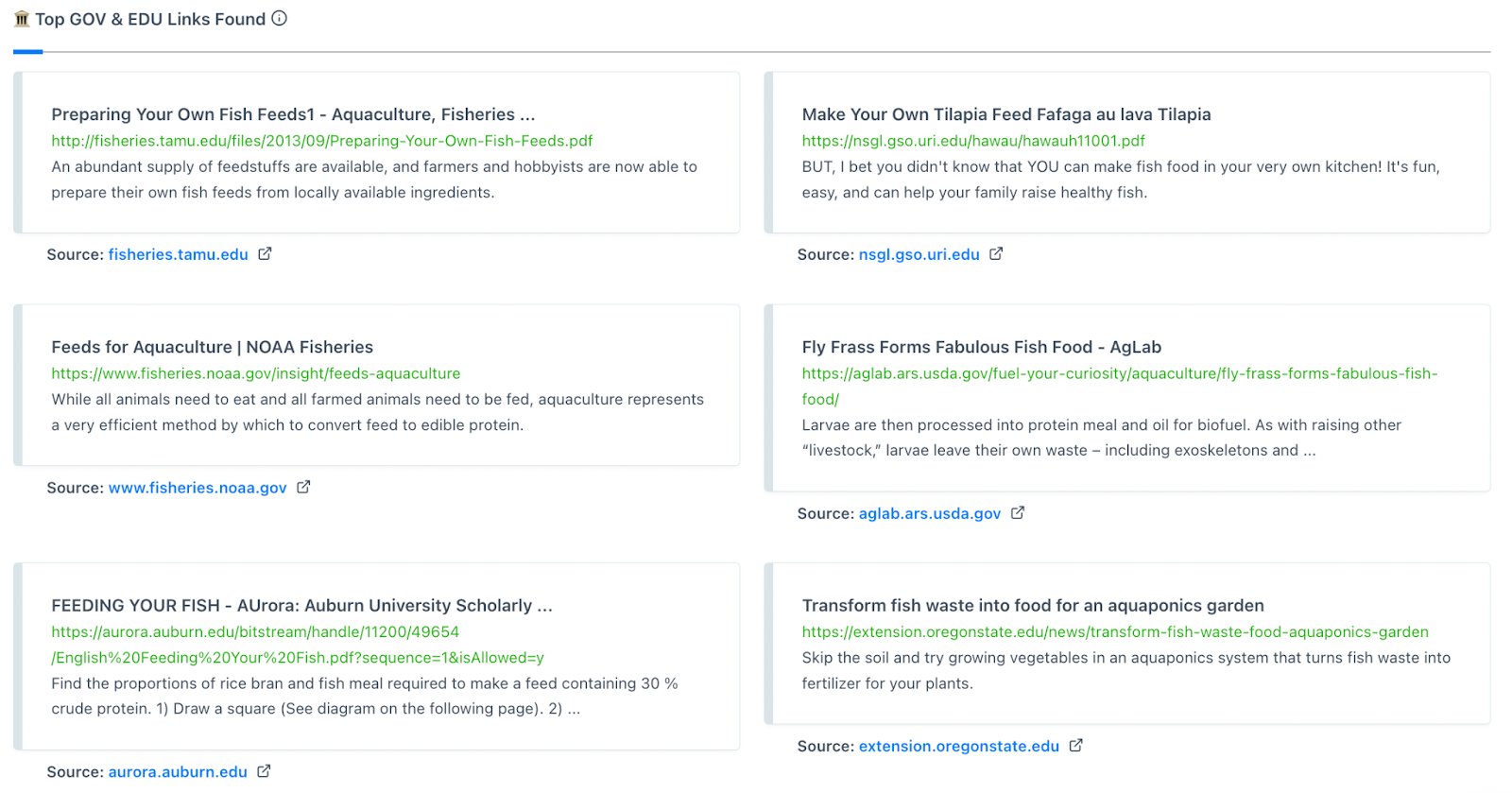 💡
Authoritative Links Tip: In your brand tone and voice or editorial guidelines, give writers an ongoing list of domains that you like to cite for your industry.
Internal links
If you're writing about food to feed your fish, it's likely that your site already has a bit of topical authority in the niche and a few pages that are relevant to this new piece of content.
When you set up a project in Content Harmony, it'll scan your existing sitemap to uncover the most relevant internal pages for that keyword. Include these in your brief to boost SEO.
For example, if we ran a keyword report for "how to build a deck" and our client was Home Depot, here's a list of internal links Content Harmony would help identify: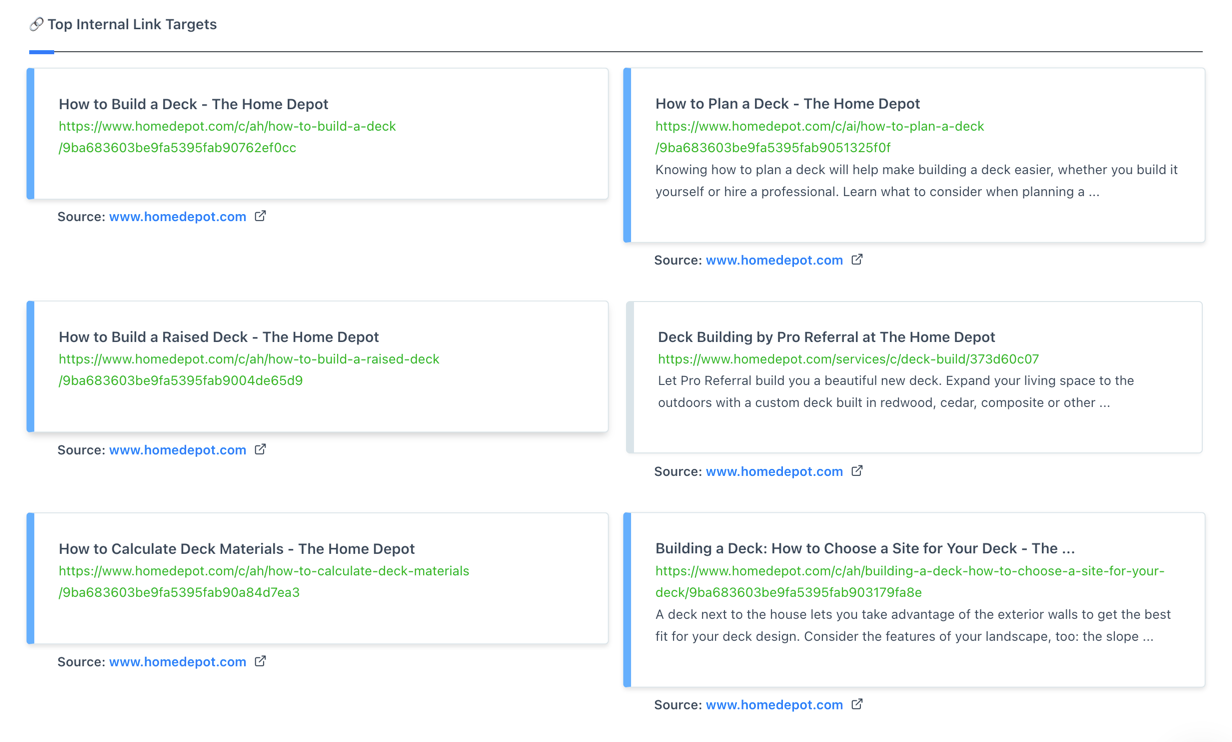 Technical SEO formatting requirements
If you want the writer to do any special formatting for featured snippets, PAAs, or for setting up questions as FAQ Schema, we recommend including that in the brief.
For instance, you'll probably want to coach writers on how to structure their sentences to optimize for Featured Snippets if that is a priority for this topic.
FAQ Schema is a fairly technical requirement, so you might be better off doing this as the editor or setting it up in your CMS instead of asking writers to do it.
6. Discuss things to avoid
When making notes for your writer, it's important to mention what shouldn't be included in your content.
Typically these are things like:
Mentioning or linking to competitors
Topics that are off-brand and can't be included
Confidential information that cannot be publicly shared
Controversial points of view that are best left alone
Brand partners that prefer to stay out of the limelight
This section doesn't need to be lengthy, just include the main stuff the writer might encounter for the topic.
7. List guides & research sources for reference
A writer should be able to uncover the most up-to-date and relevant statistics to cite in their content, but there's no harm in pointing them in the right direction especially if you come across it while formulating the brief.
As a general rule of thumb, we suggest only including primary data sources. You can include this as a guideline in your content brief or provide relevant links.
We also recommend that you include examples of related content that stood out to you in the research process. Perhaps these are one of the top 10 results on the SERPs, or a great resource that's not ranking yet. Be sure to point out what that piece of content does well, and how the writer can aim to improve on it.
8. Keep improving your Content Brief process over time
Like any process, the task of building a content brief only gets better with time and practice.
Here are a few ways you can boost output while maintaining quality:
Ask your writers for feedback the first time you send them briefs
Your writer is the intended audience for this brief, so they're in the best position to tell you whether the brief achieved its purpose. Feel free to solicit feedback — you can ask them:
Were you able to understand the goals of this piece of content?
Was anything unclear or hard to follow?
Did you get a clear grasp of the intended audience and what they're looking for?
Did you feel like there was enough information for you to create world-class content?
Is there anything you would have preferred to include in the brief?
Automate your brief research process
A thorough content brief makes use of several moving parts — you likely have dozens of tabs open in an effort to figure out search intent, competitor content structure, overlapping keywords, content formats, word count, and more.
Manually building briefs is tedious, time-consuming, and error-prone.
(Spoiler alert - this is the entire reason we built Content Harmony - take a look at our Brief creation workflow.)
Automating many of these manual tasks helps avoid human error and saves time. It allows your strategist to spend more time on the creative aspects of the brief, without being overwhelmed by estimating the ideal word count.
Briefs that normally take 1-2 hours to build can be completed in 10-30 minutes once you optimize the manual steps. That adds up to some pretty substantial cost-savings over the long term, especially if you're an agency or a content team building more than 10 briefs per month.
The less time your strategist and writer spend back and forth on the brief, the more productive they are and the better your eventual content output.
Not to mention those strategists will be less burnt out - building lots of manual briefs takes a toll.
Use content brief templates to speed up the process
Drafting content briefs from scratch can be time-consuming, and while using Content Harmony helps quicken the process, a template will help you remember everything you need to explain to your writer.
Without a template, it's much easier to overlook key details such as the target audience, buyer journey stage, SEO details, and more. Templates provide a structure to keep your content brief on track.
Check out our free, downloadable content brief template if you need a starting point 👇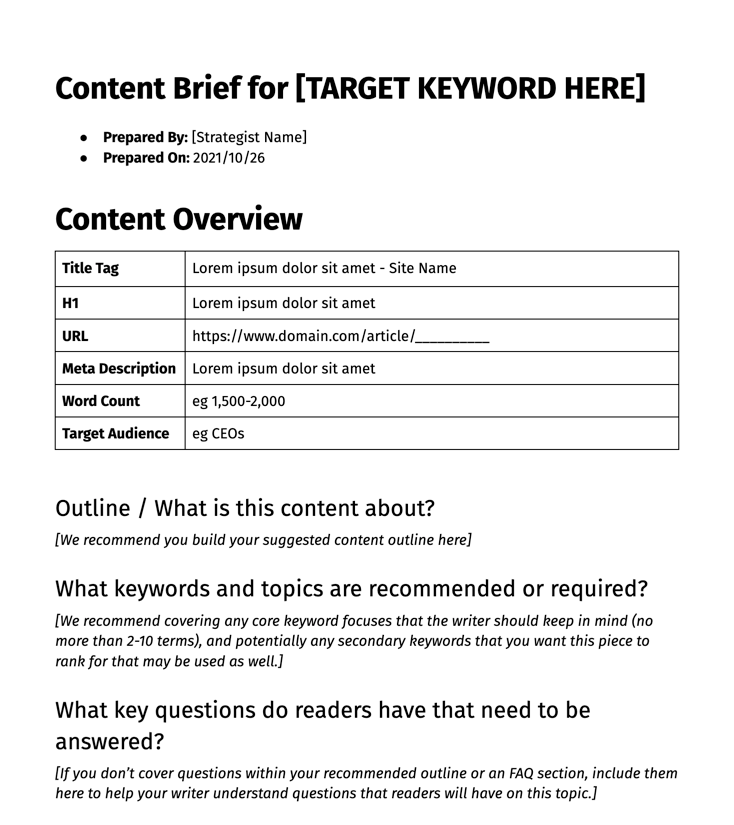 Currently, Content Harmony helps you build templates in our Brief system, but we'll also help you build more dynamic and custom templates inside of Content Harmony soon. Stay tuned.
💬
Comment below! That it's from us - what other tips do you have for building more effective content briefs? If you're a writer, what are the best things you've ever seen clients include in their briefs?
---
Want to see how Content Harmony helps you build content that outranks the competition?
The blog post you just read scores Good in our Content Grader for the topic "how to build a content brief".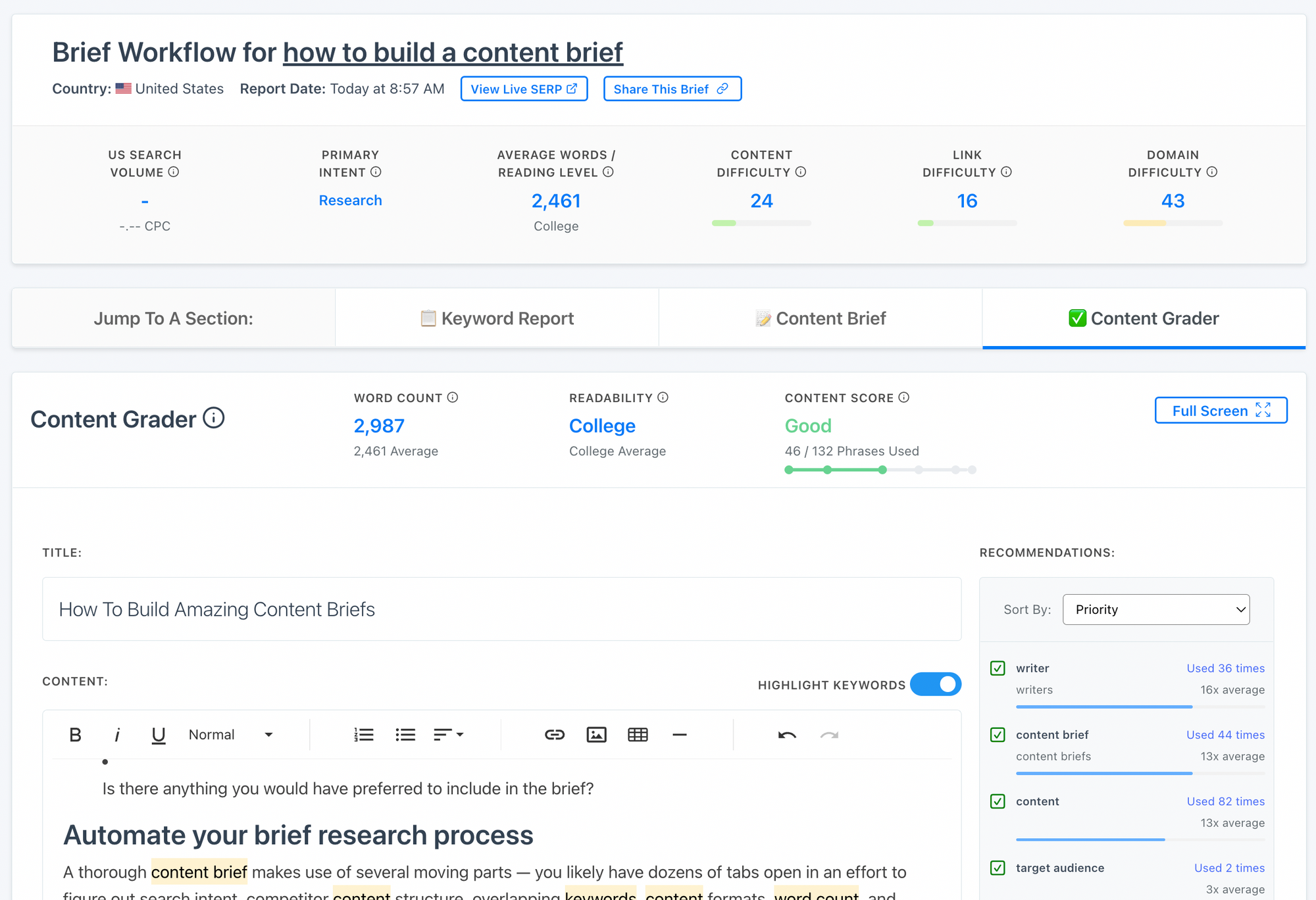 Grade your content against an AI-driven topic model using Content Harmony - get your first 10 credits for free when you schedule a demo, or sign up here to take it for a spin on your own.
👉 Get Your First 10 Briefs For $10
---
---
✉️ Get an email when we publish new content:
Don't worry, we won't bug you with junk. Just great content marketing resources.
---
Ready To Try
Content Harmony?
Get your first 10 briefs for just $10
No trial limits or auto renewals. Just upgrade when you're ready.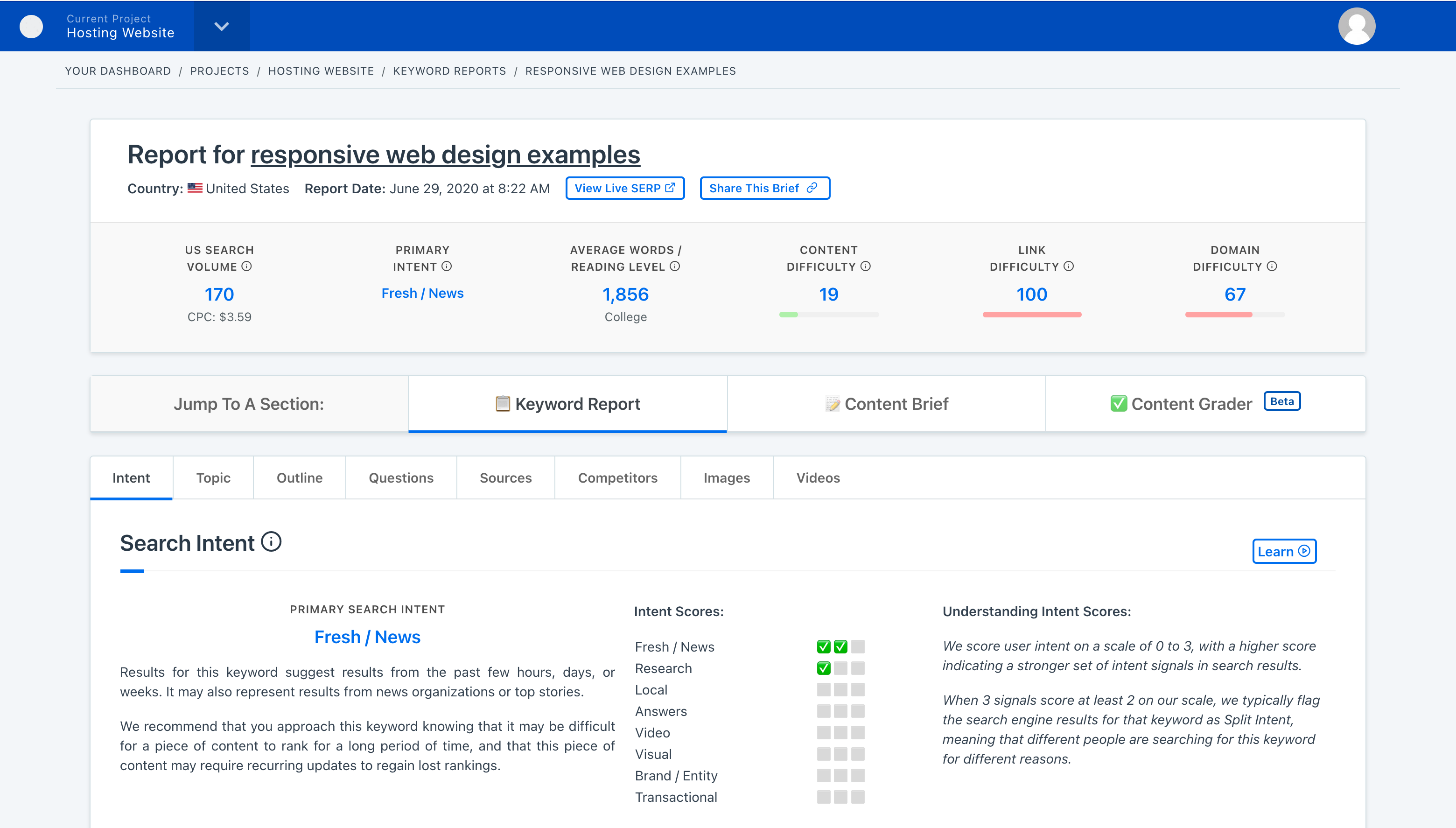 ---