A content refresh can be one of the most effective ways to prevent content decay, recover lost traffic and backlinks, and keep your old content relevant for search engines.
We revealed an in-depth framework of how exactly to update and refresh website content earlier this year, so be sure to check it out for actionable tips on content refresh opportunities and quick wins.
In this post, we unearth 20 of the best content refresh case studies that we discovered on the web. Most of them are detailed teardowns, with before and after screenshots and our analysis of how the update helped the post rank.
How We Found These Content Refresh Examples
Long story short, we combed through Ahrefs for hours, sent out HARO & Help A B2B Writer requests, searched Google & Twitter for published agency case studies, and hit up our friends and customers to see what they could come up with.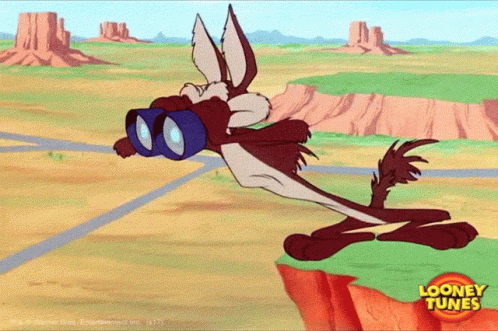 We weren't disappointed.
For the examples that we found organically, we focused on content that had a tell-tale traffic profile you would expect from a great content refresh:
👉 Flat, declining, or modest results followed by a sudden spike in traffic, indicating that something notable changed on the page

Here's our list of the best content update examples.
#1: Stridewise's "10 Best Boots for Men to Buy"
For our first example, let's take a look at "The 10 Best Boots For Men to Buy" published by Stridewise.
The blog has healthy traffic and SEO metrics — raking in 7,500 organic monthly visitors and ranking for nearly 2,000 keywords according to Ahrefs.

But that wasn't always the case. First published in 2018, the article languished for a long time on the SERPs — hitting a maximum of 200 estimated monthly organic visitors until its first refresh in mid-2021.

Traffic to the page certainly increased after the first refresh — going from approximately 180 organic visitors a month to over 2,000 — but it was short-lived. The spurt only lasted a couple of months before the blog went back to its original traffic trajectory.
The post really started to hit its stride after the second refresh in early 2022.
So what accelerated this growth? Let's take a closer look.
They Added More Products

The first thing noticeable update is that the overall number of product recommendations doubled, from 5 to 10. The embedded YouTube video is also refreshed to indicate the change — with the reviewer now discussing 10 boots instead of 5. There are copywriting changes above the fold too — more text, friendlier, and more conversational in nature.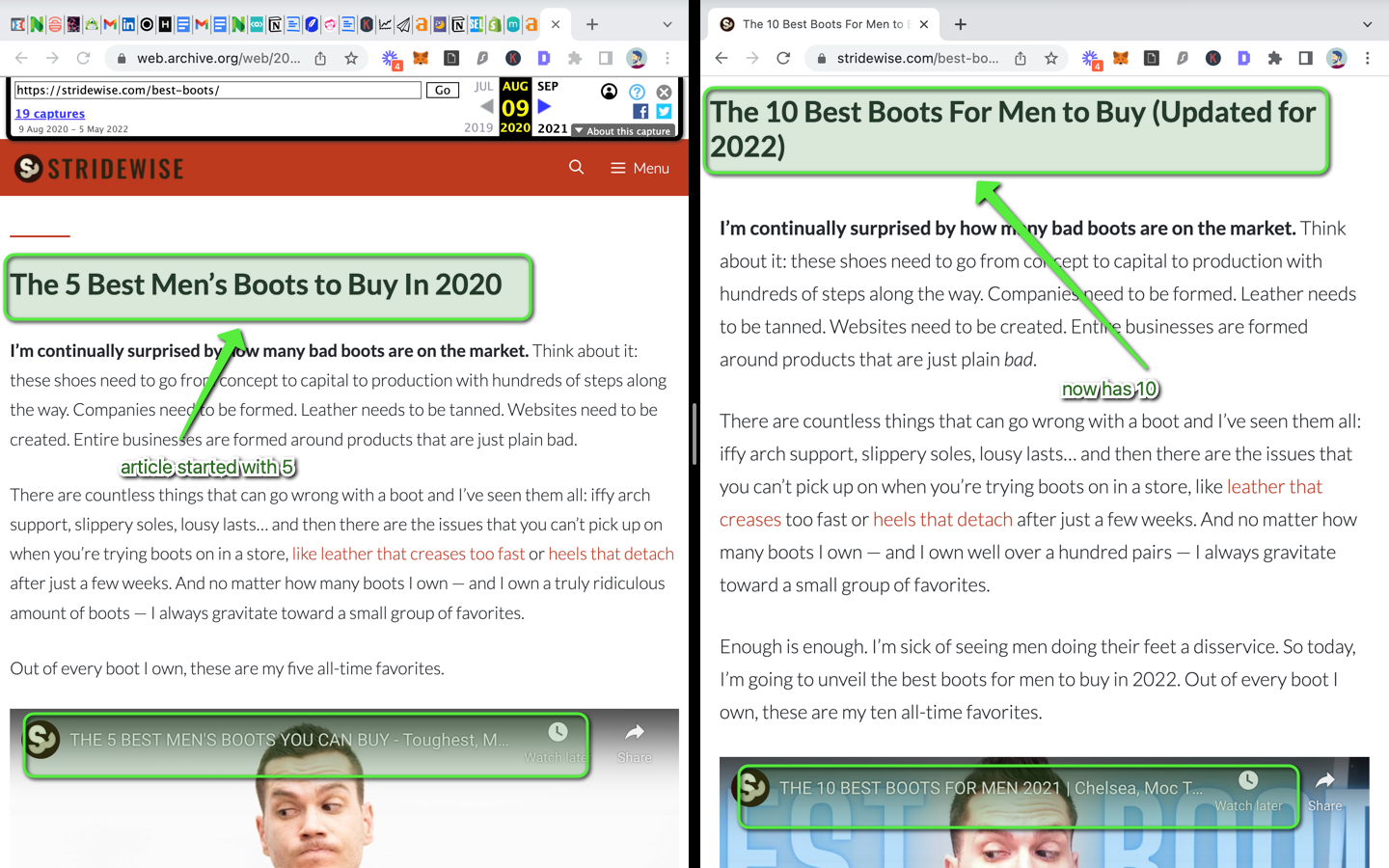 Stridewise Improved Its UX & Scannability
Next, an improvement in readability and UX stand out. After the refresh, the author included both a table of contents and an extra H2 before diving into the recommendations.
Previous versions of the blog had neither of these — the table of contents is a nice touch for folks who want to skip to a specific section and the criteria for selection is an attempt at being transparent. Both display empathy and a genuine appreciation for the reader's time.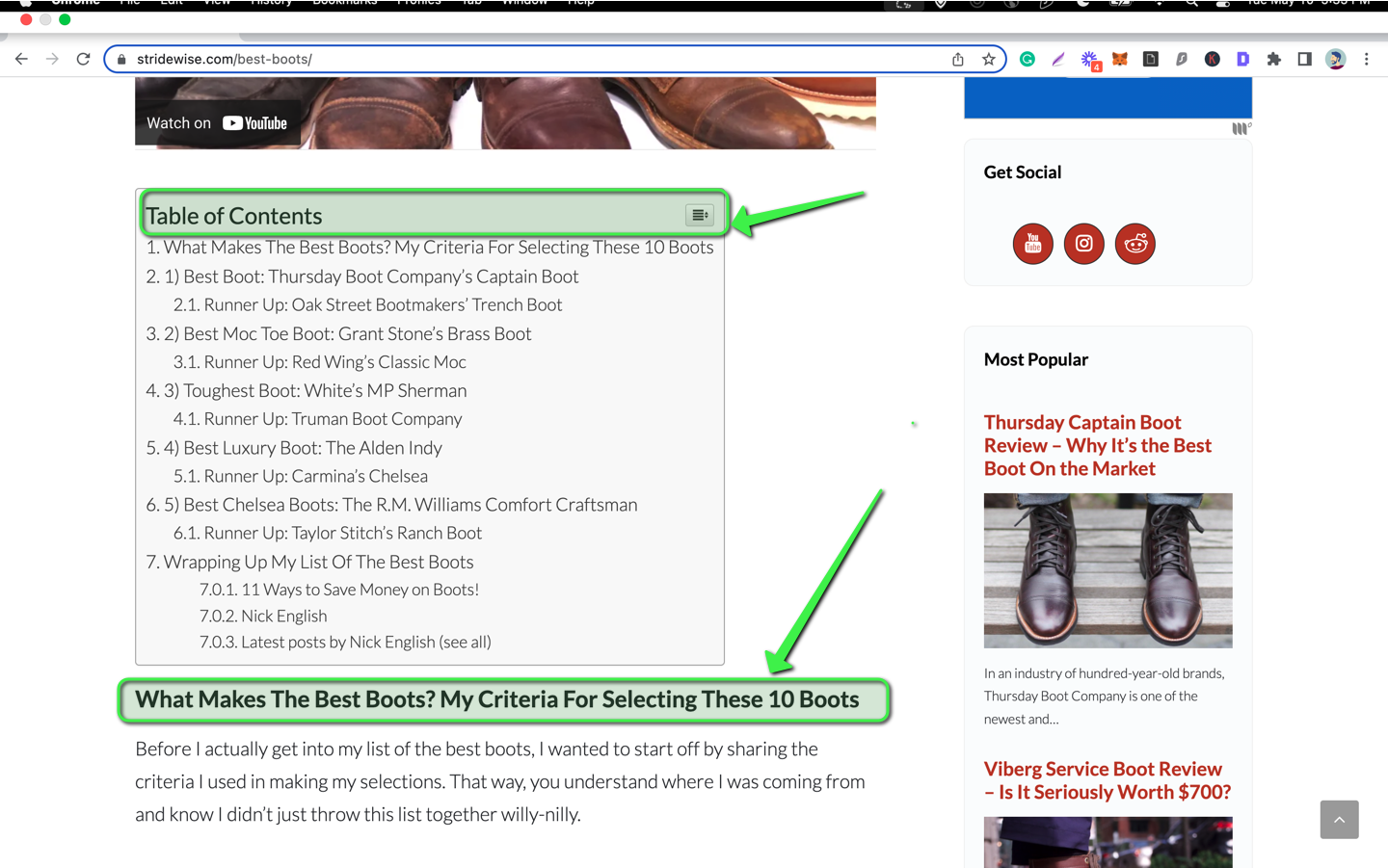 The effort to improve UX and readability is evident throughout the refresh. Each boot recommendation has a few high-level bullet points that show why it made the cut, followed by shorter, punchier paragraphs. The 'About' section is also cleaner than the first edition.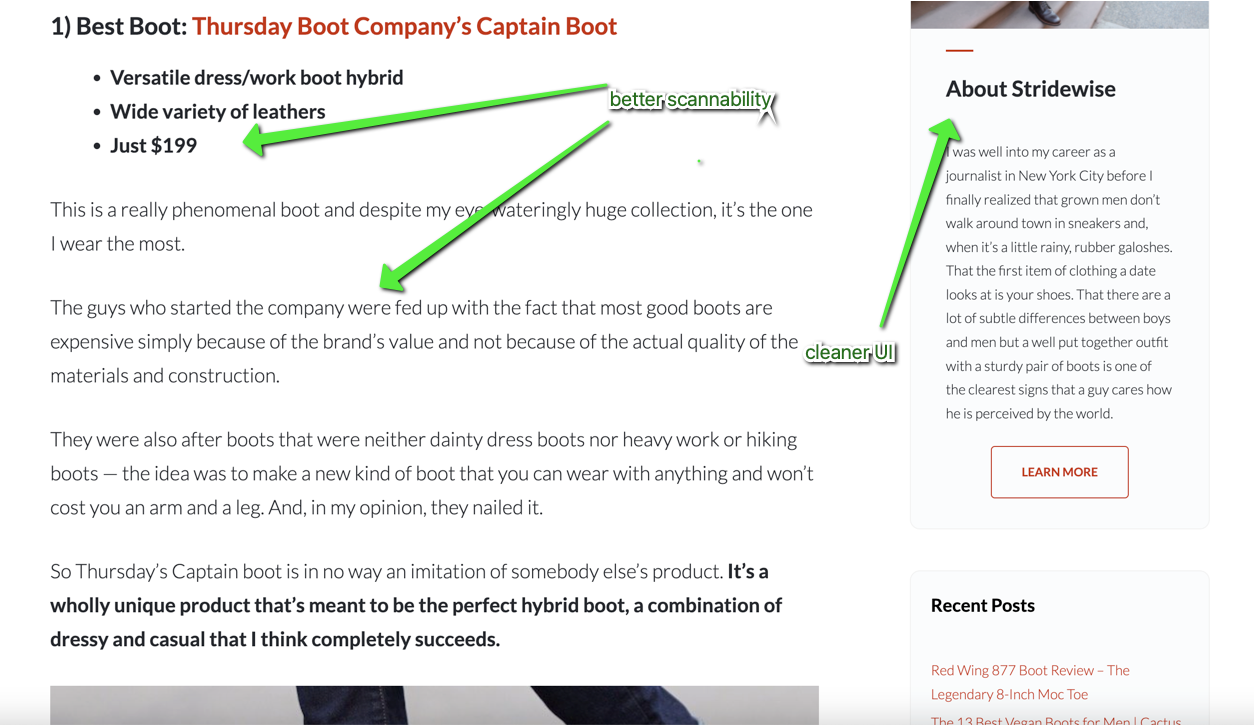 The previous edition was a giant wall of text with chunky paragraphs — not ideal from an audience perspective.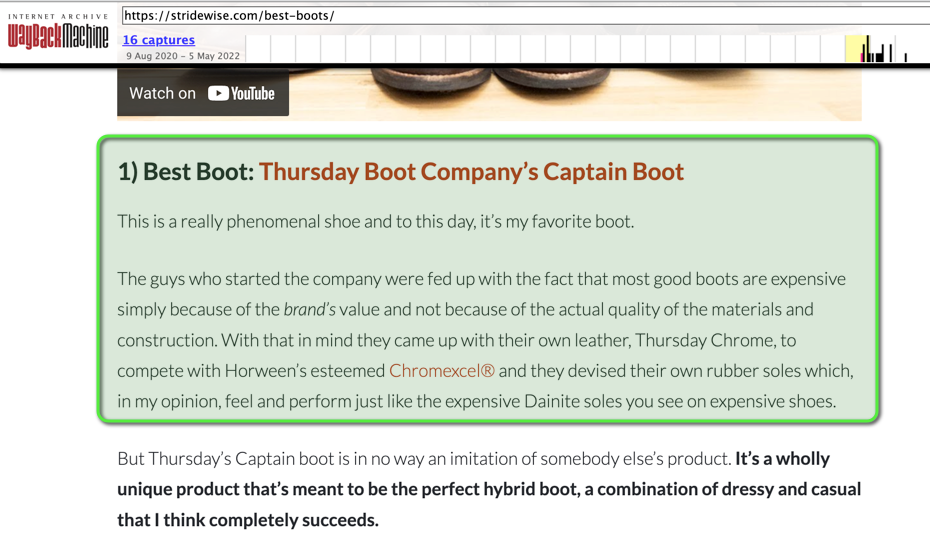 Improved Authorship & EAT Signals
The last significant update on the post was the inclusion of an author bio at the bottom of the article. We believe this adds more credibility, trust, and authority to the page since it's clear that the writer knows what he's talking about and has publishing experience in other publications, too.
Trust and authority are sureshot ranking signals — and while men's fashion isn't quite in the Your Money Or Your Life (YMYL) niche, Google has effectively confirmed that named authors are just one of the ways they measure authority on casual topics like this.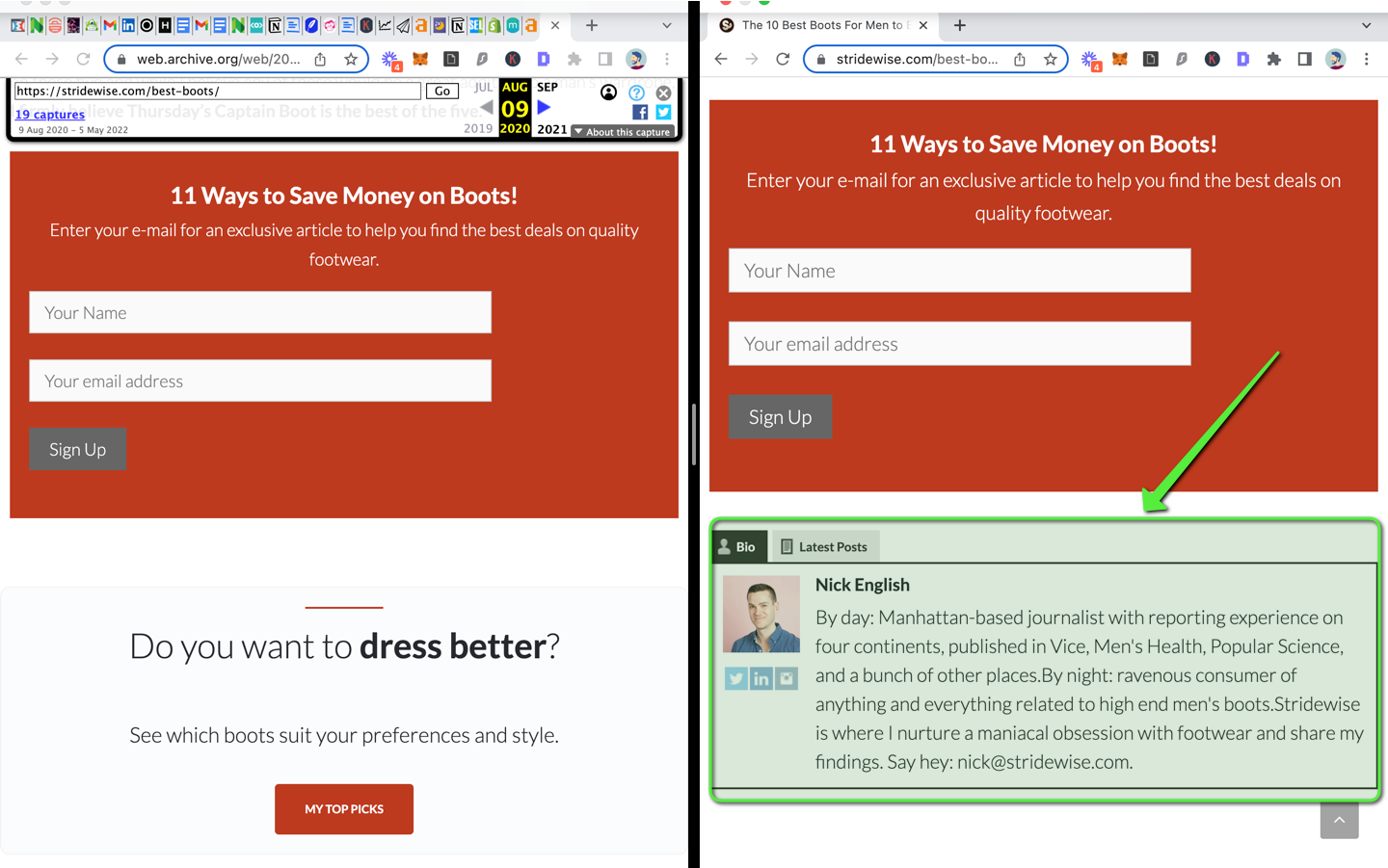 #2: CleverFiles's "Guide to Recovering Deleted Files"
CleverFiles' guide to recovering deleted files is a traffic juggernaut with over 10,000 monthly organic visitors and nearly 1,200 backlinks.

But the URL has actually been live since the end of 2016. It struggled for a long time after its first publication — getting minimal traffic for well over a year.
Traffic picked up at the end of 2018 — reaching a high of 3,200 monthly organic visits in Feb 2019 — before plateauing and bouncing around for the next two years.

Let's take a closer look at how the article changed over time.
They Adjusted The Landing Page Type To Match Search Intent
The first version of the post shows that the site was trying to rank for an informational search query ("how to recover deleted files") with a sales / commercial intent page.
Let's look at the above the fold experience: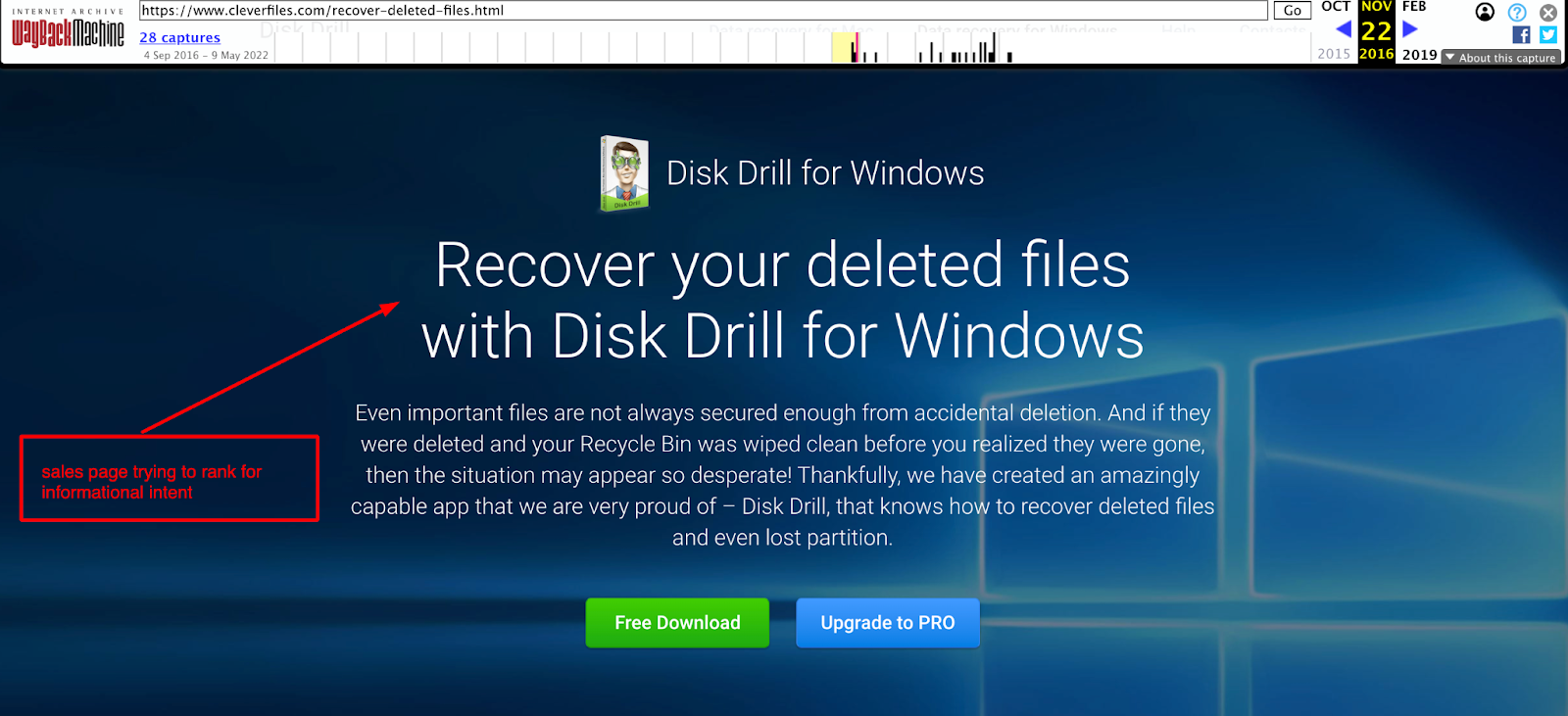 The above the fold experience isn't ideal. Searchers are immediately greeted with an invitation to purchase, rather than content that directly addresses the question.
The content below the fold isn't great, either. The commercial intent is evident, with Disk Drill trying to force its software on readers who might be visiting the page for the first time.
However, searchers aren't in a buyer-intent phase right now. For all intents and purposes, this is a Top of the Funnel search query.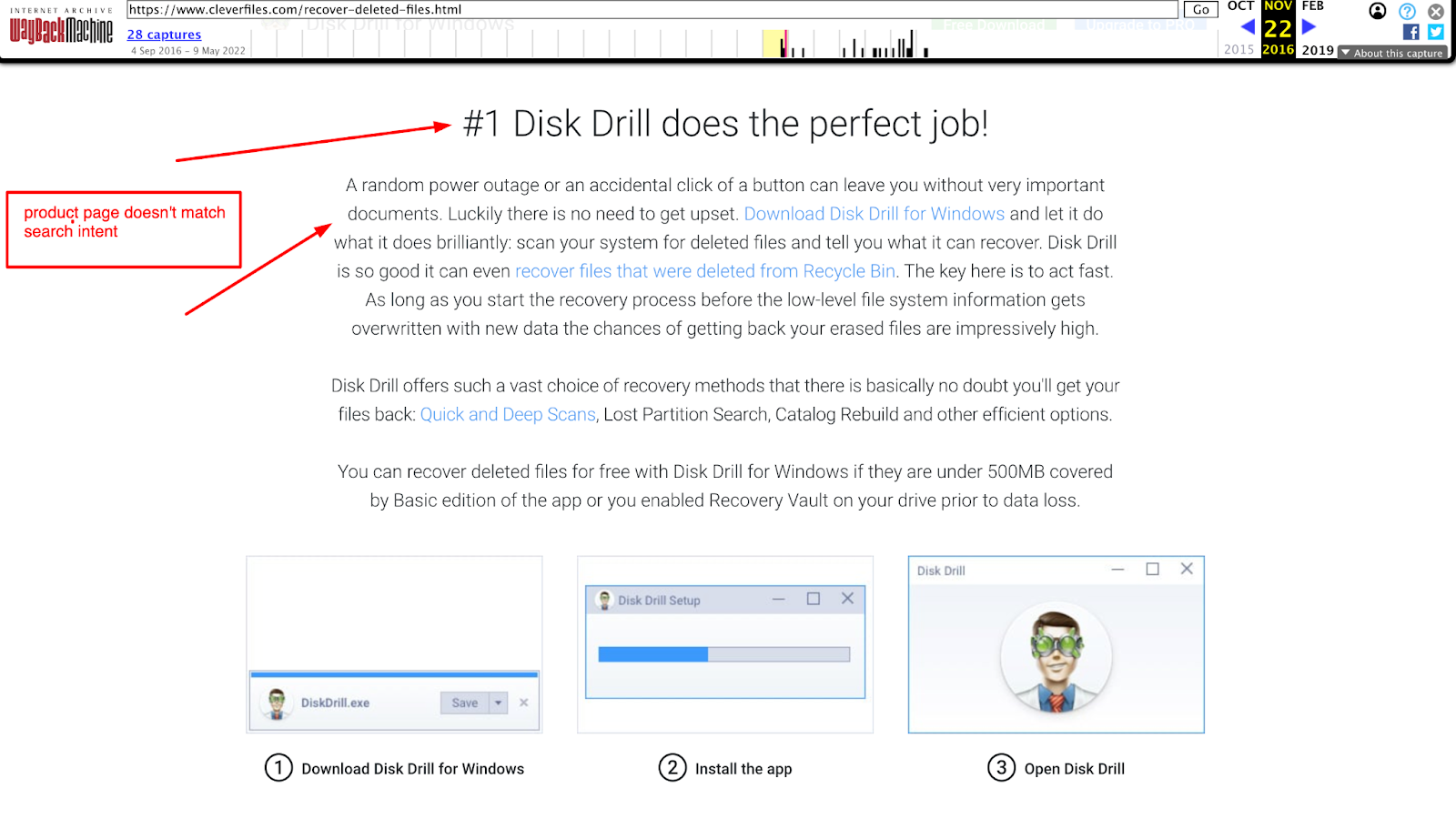 The updated version of the post, however, meets search intent perfectly.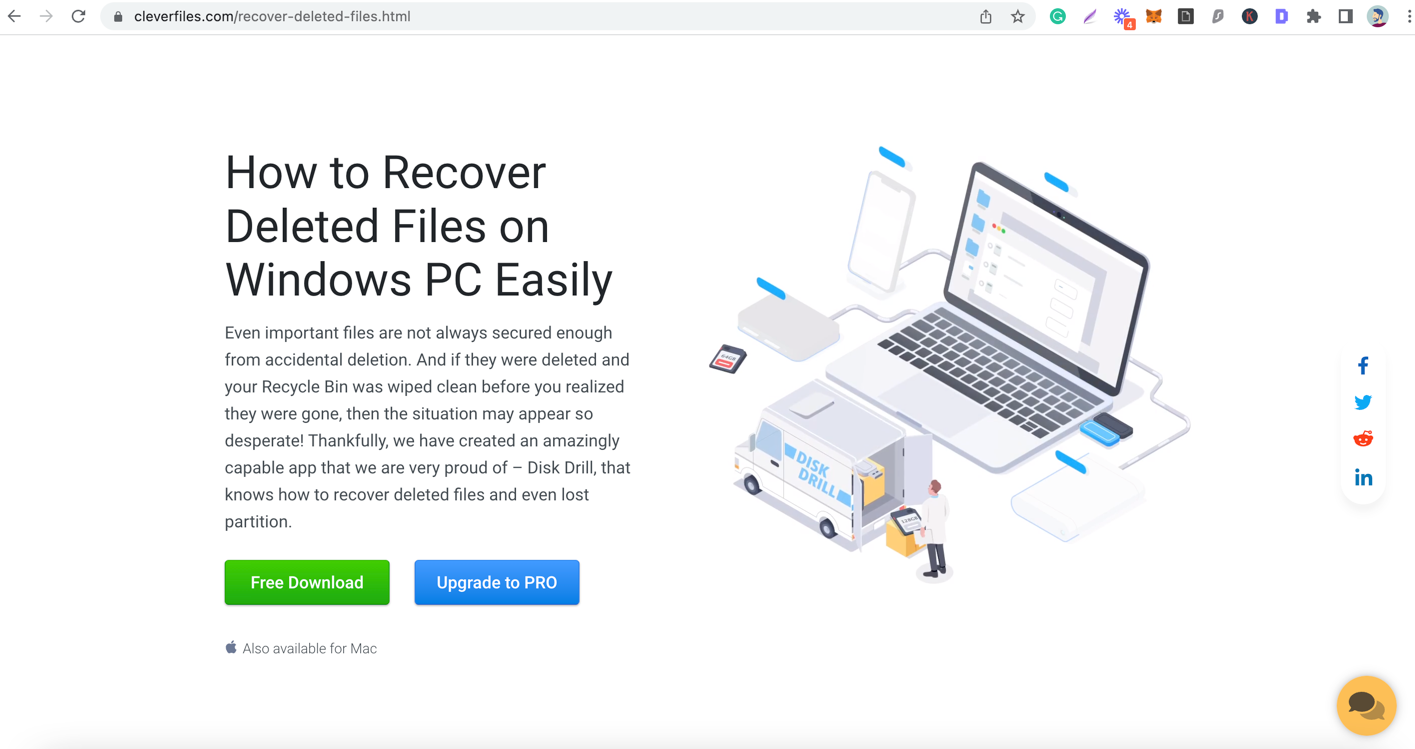 There's an important H1 update in the new version — it's clear to the reader what they can expect from the content, and it doesn't force a purchase decision on them immediately.
While there is a subtle nod to the software's capabilities, I believe that's more helpful for searchers in case they need a solution urgently.
They Showed Users The Correct Process
The below the fold experience is similarly transformed. There's a supportive step-by-step section that shows users how to achieve the desired result, with no forced CTAs or salesy copywriting.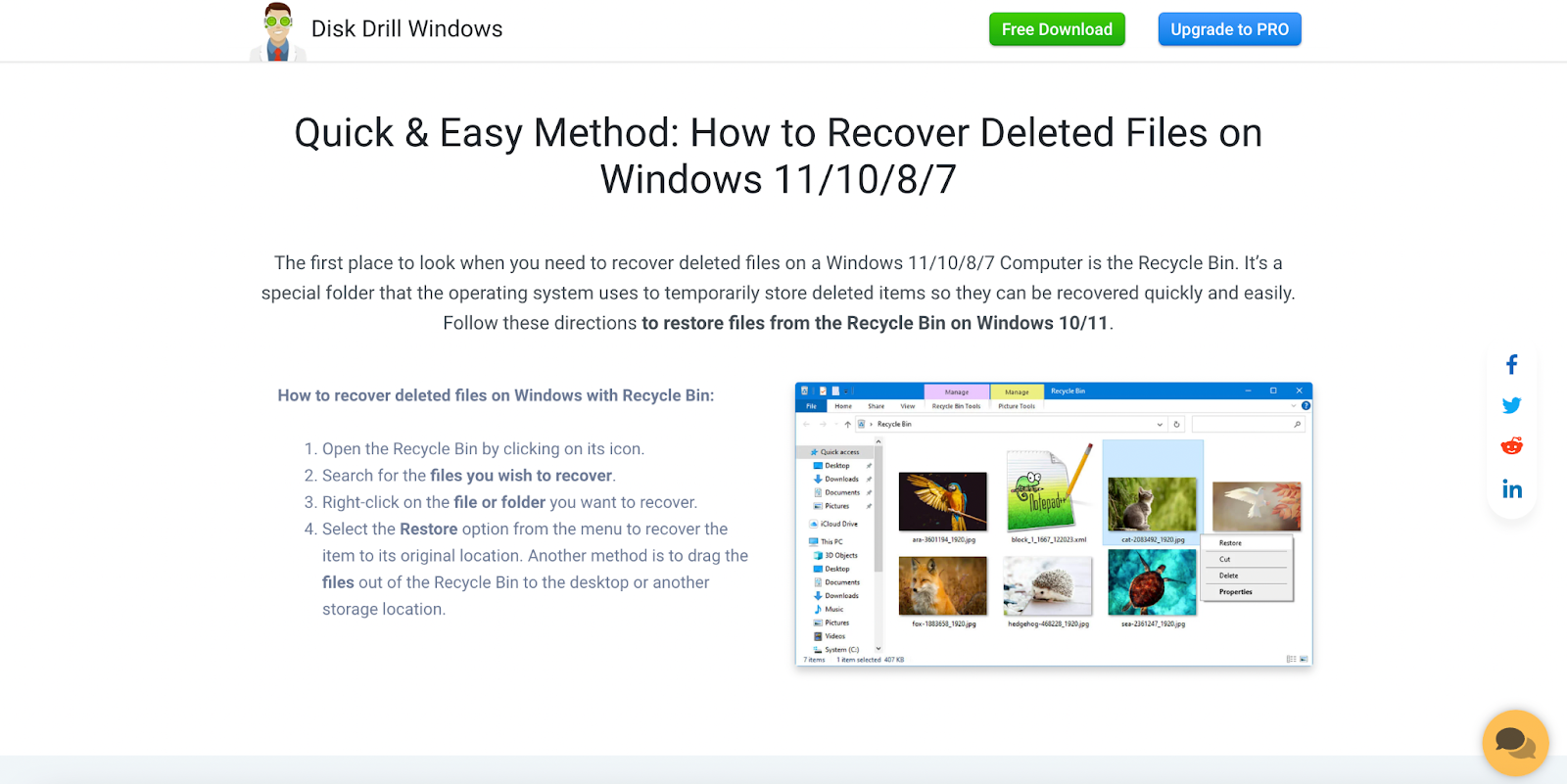 The experience continues as you navigate through the rest of the article. There are mentions of Disk Drill, but only in the context of how to use the software to recover lost data. The post is genuinely helpful and includes several purposeful screenshots and step-by-step instructions to recover lost files.
#3: Hypercontext's "121 One-on-One Questions"
Hiba Amin, Senior Marketing Manager at TestBox shared an example from her time at Hypercontext updating "121 one-on-one questions."
She explained that content updates were a huge part of the strategy at the Hypercontext team. The space in which they operated (workplace productivity) was very competitive so instead of trying to rank for new keywords, they focused on boosting content that was already ranking.
"With limited resources on the marketing team it was better to optimize than prioritize creating new content," said Hiba.
They Updated Articles Comprehensively
The main things that Hiba's team looked at when evaluating content decay and methods of fixing it were:
What keywords were slipping?
What People Also Ask questions can we answer?
Updating links if they're outdated
Fixing up formatting (H2, H3, etc)
Updating the publish date and creative
What things were included in the top-ranking articles that weren't included in ours?
Despite a domain migration in the summer of 2021, the content has continued to grow in keyword exposure and overall traffic. Ahrefs shows around 2,000 keywords visible (only 200 before the content update) and estimated traffic of almost 2,000 sessions per month.
We can also see the impact of the update in the graph below: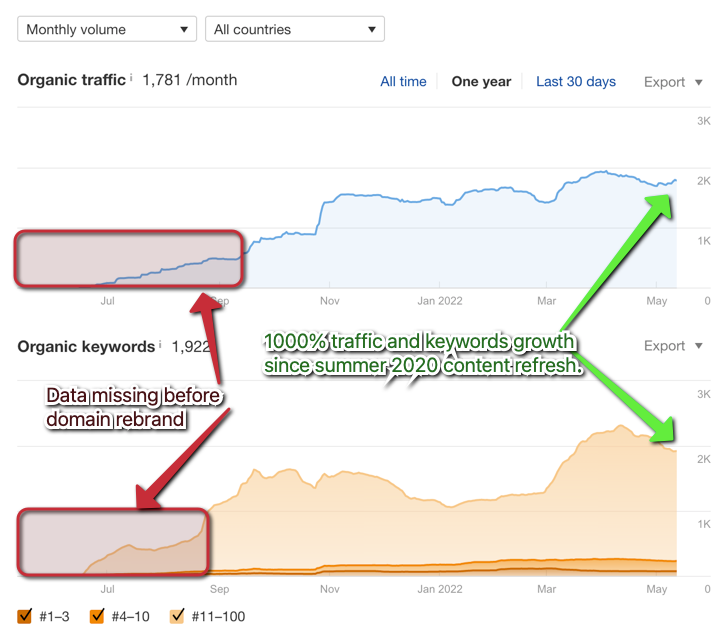 #4: Bowery Farming's "Vertical Farming"

Bowery Farming's blog on 'Vertical Farming' rakes in north of 11,000 monthly organic visitors and ranks for approximately 600 keywords according to Ahrefs.
But its performance in the first six months after publication in early 2021 was sluggish. The article barely received over a hundred monthly visitors and struggled to rank for meaningful keywords.
Traffic picked up in October 2021 with a few spikes in growth in the next few months, before exhibiting a downward trend from January 2022. That's when Jason Berkowitz's team at Break The Web knew they had to address the problem.
They Fixed Intent Targeting & Content Structure
"The content on first publish was great, but the context and structure was more suitable for readers, making it difficult for the crawlers to fully understand (why growing up can make a difference)," said Jason.
"We helped Bowery find some really great middle ground of awesome flow for the readers, while helping the crawlers understand the topic & intent. These updates helped push the article to page 1, then a final modification of a simple "What is..." and a direct answer helped Bowery Farming achieve the featured snippet result."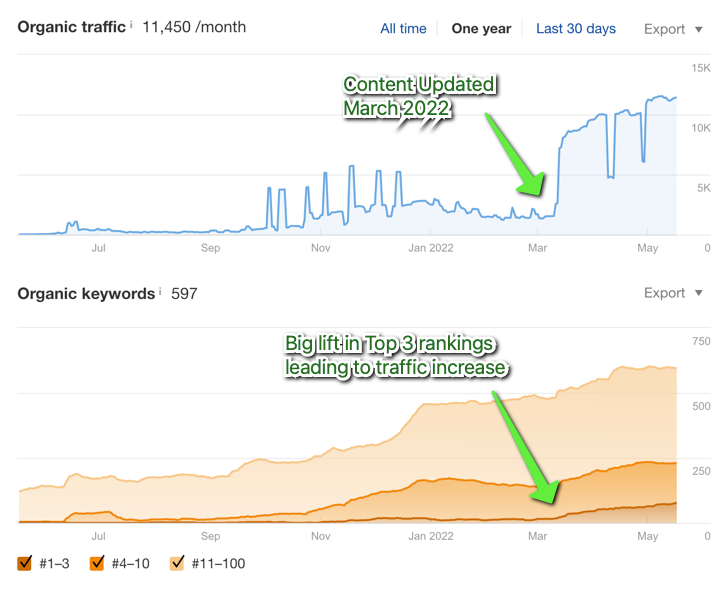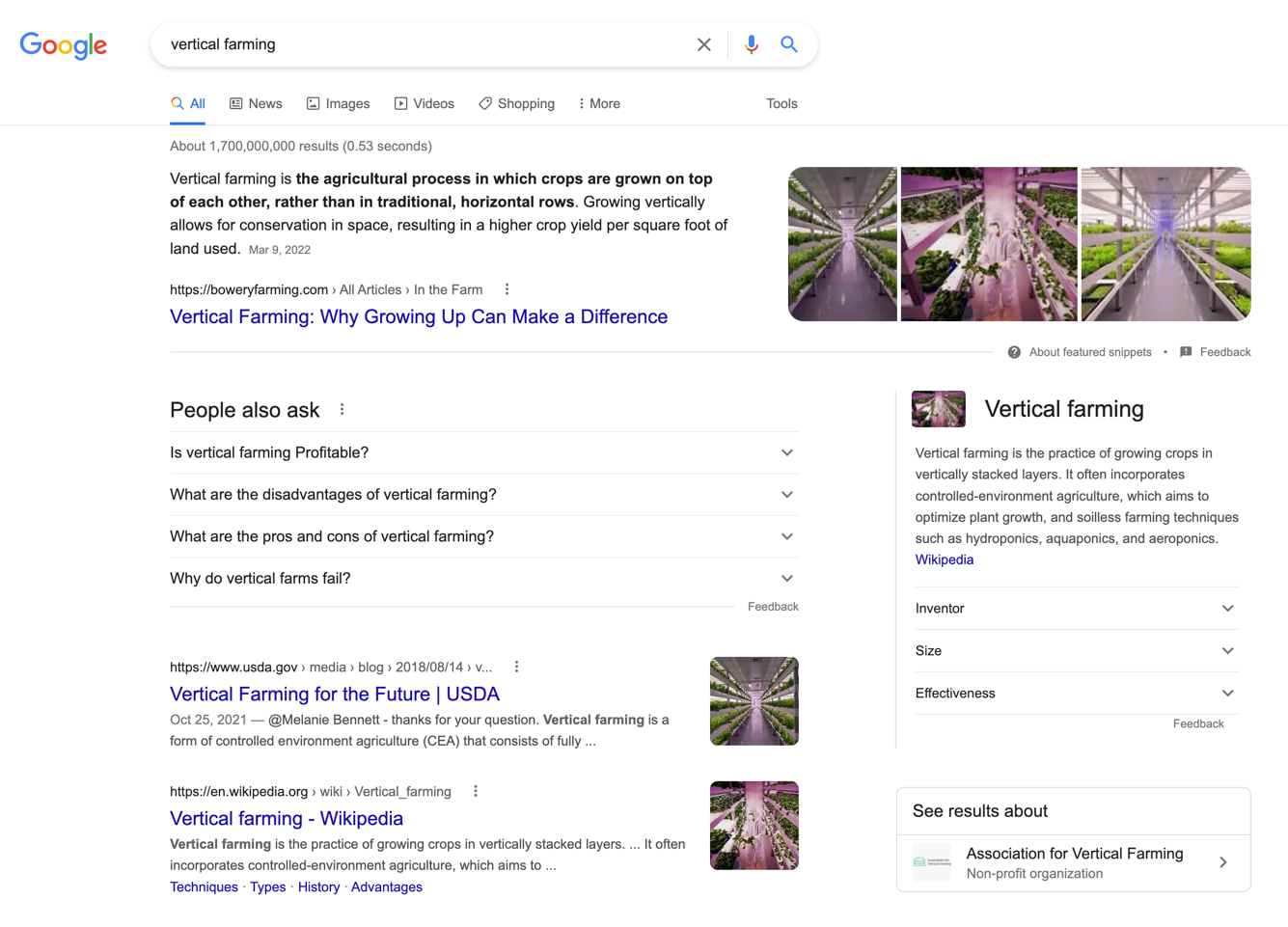 #5: Together's "What is the Purpose of Mentoring?"
Ryan Carruthers, content marketing specialist at Together, is a longtime Content Harmony user. He relied on the app to bolster the performance of his blog "What is the Purpose of Mentoring?".
The blog is a healthy source of traffic for their site — with over 7,000 monthly organic visitors — but that wasn't always the case.

The blog, which was first published in June 2019, took about a year to climb up the SERPs. At its peak in June 2020, it brought in approximately 3,000 monthly organic visitors before exhibiting content decay and a slide in performance. Over the course of the next year, it lost almost all of its traffic and rankings; sliding to 500 visitors.
Ryan and his team refreshed the content in July 2021 — and were able to witness a boost in performance almost immediately.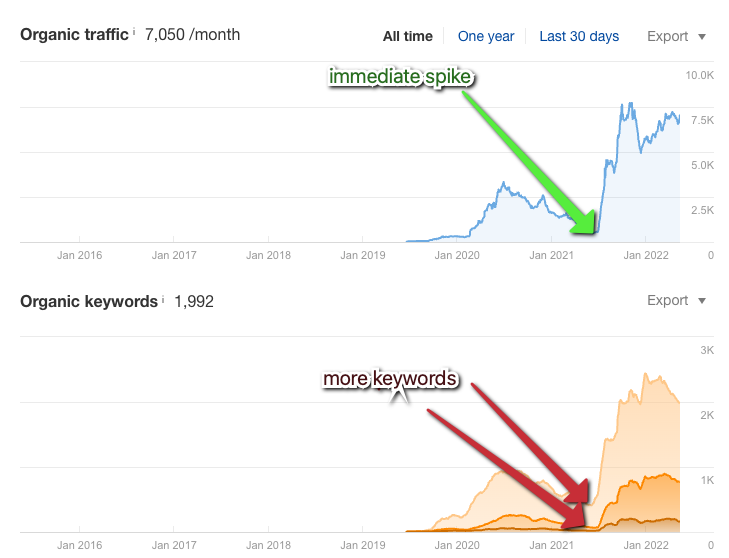 Let's investigate what changed since it's a masterclass in UX, design, and readability.
They Fixed The Blog UX & Design
First up, we can see a much more aesthetically pleasing approach when a user first visits the blog. Rather than a boring academic-style introduction, we're greeted with a welcoming visual, a direct answer to the question, and a short author mention for credibility and trust.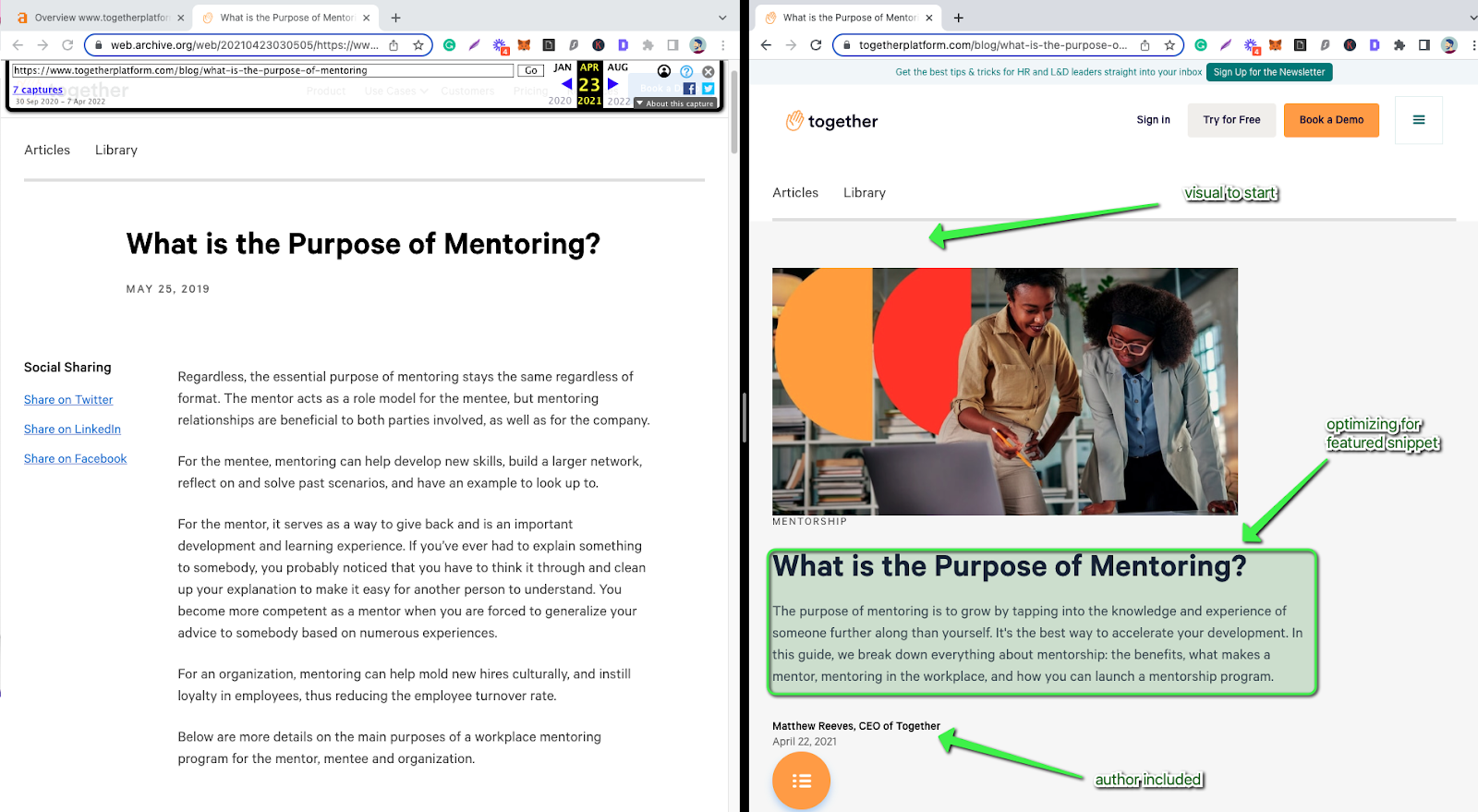 They Improved Structure With A Table of Contents & Internal Linking
Next, the site included a subtle Table of Contents that helps readers navigate to a specific section.
Not only is that good UX, but it will help with sitelinks in the SERP, too.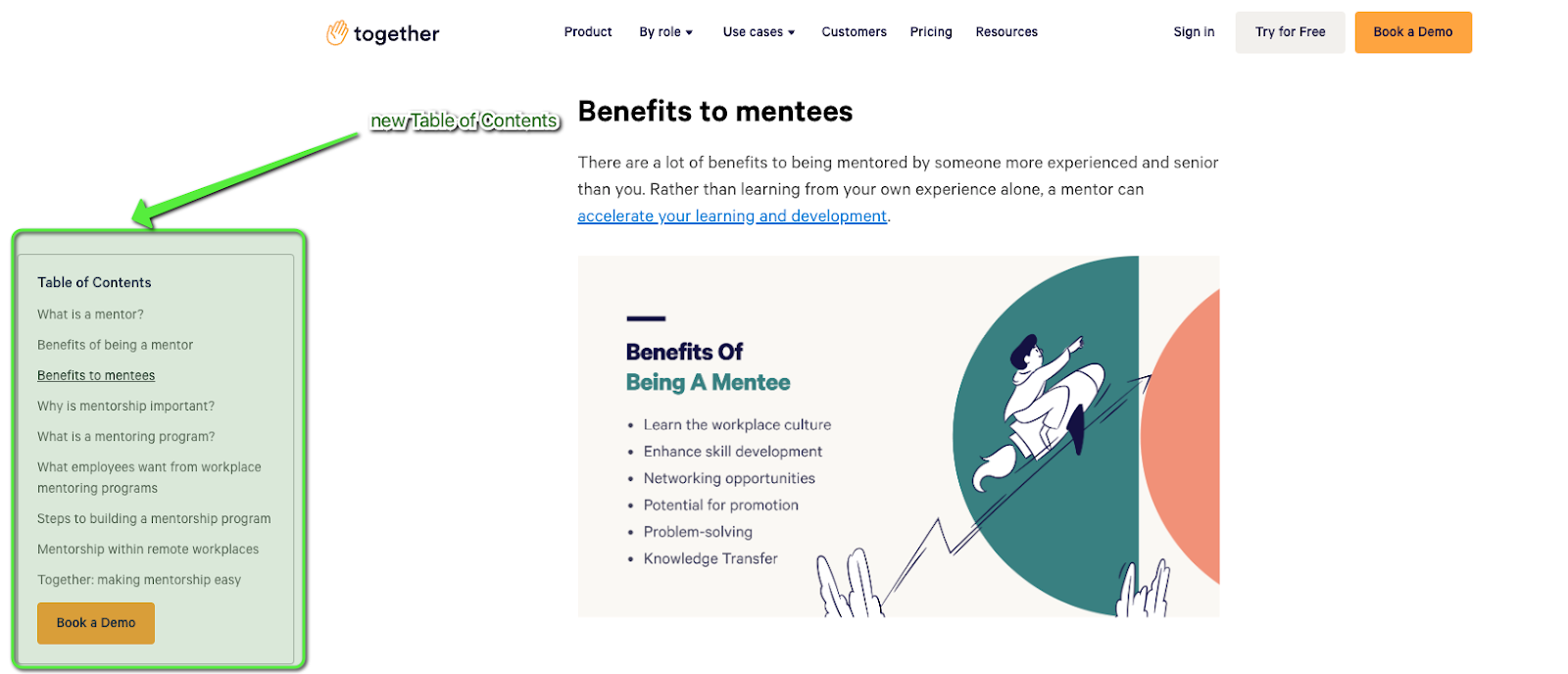 The updated article also has several new internal and external links which boost its authority and help readers explore more on the topic.
The previous version was primarily walls of text — with little interlinking or effort to link out to credible, authoritative sources.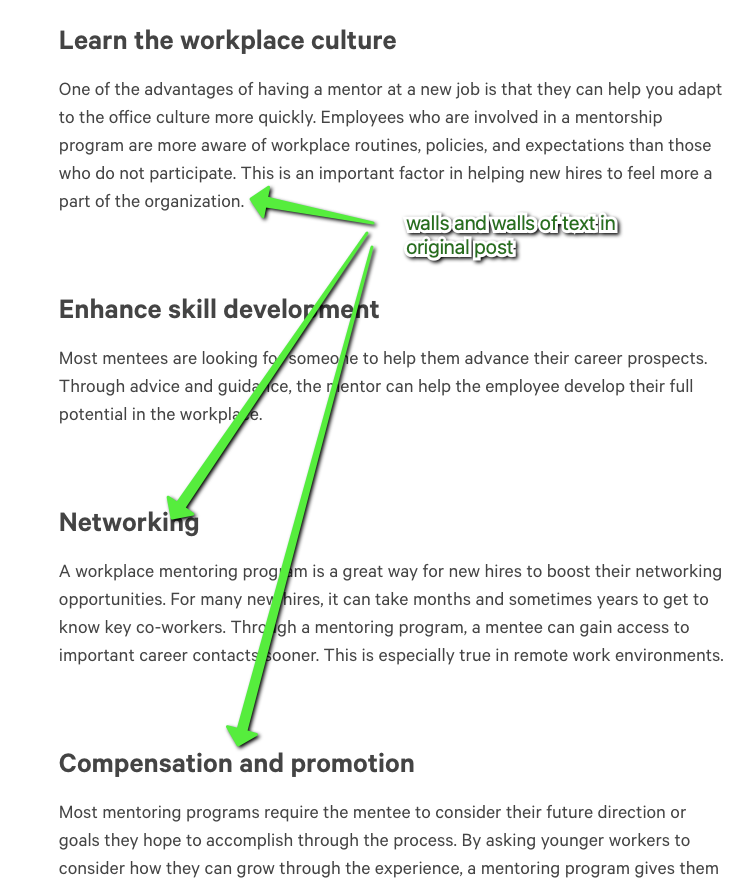 They Added Useful Graphics & Videos
Together made a concerted effort to boost the on-page user experience. The inclusion of a related infographic is a nice touch to help its audience better understand and consume the content.
A pertinent and highly-credible YouTube video is also included for those who prefer video formats. This definitely bolstered its search performance and rankings.
None of these formats were present in the previous edition, which was very heavy on text.
"We used Content Harmony to do research on how to improve their ranking," said Ryan over email. "We're loving the tool. I particularly like how it brings up Reddit/Quora and academic research for keywords that don't show up immediately in a google search. It's really helpful!"
#6: KeeperTax's "What is a Tax Write-Off?"
If you're somehow still not convinced about the impact that content updates can have on your site, here's an example of an article getting zero traffic for a year after publication and then hitting 1,900 monthly organic visitors just six months after the update.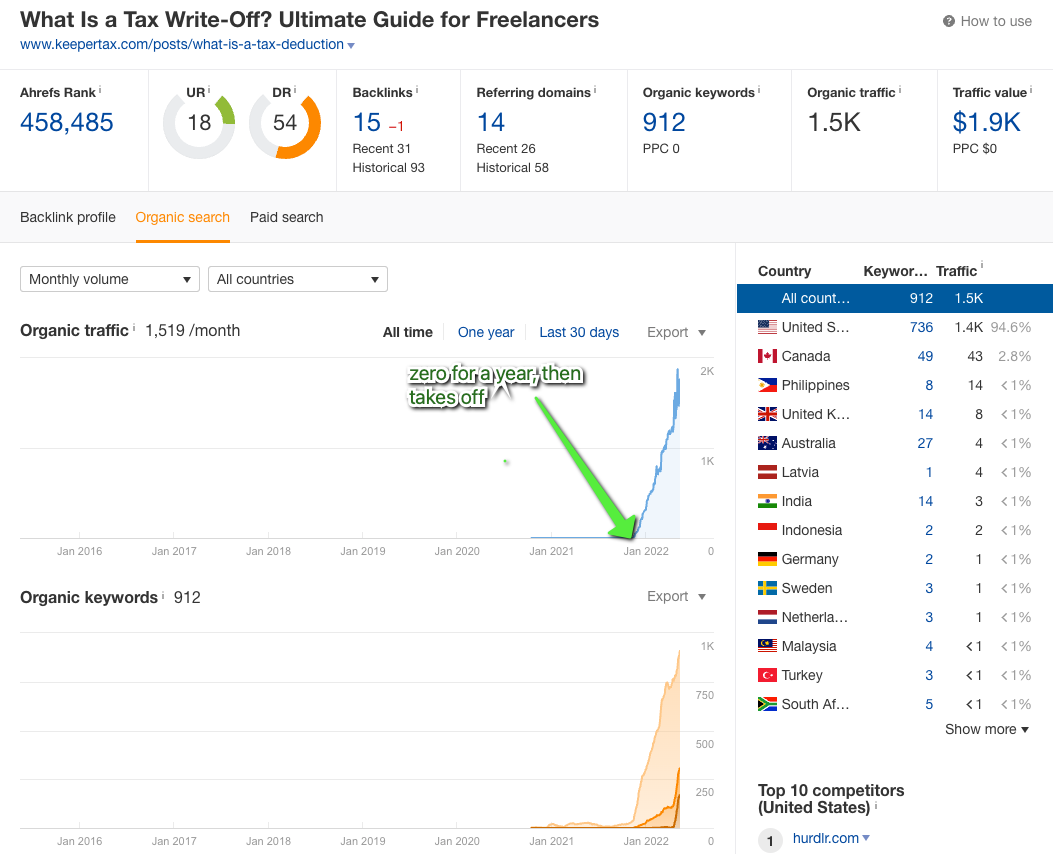 The blog in question, "What is a Tax Write-Off and How Does It Work?", was first published at the end of 2019 in KeeperTax but barely made a dent in the SERPs.
And it stayed that way for a year — getting negligible traffic until a major overhaul in November 2021.
Let's take a look at what changed.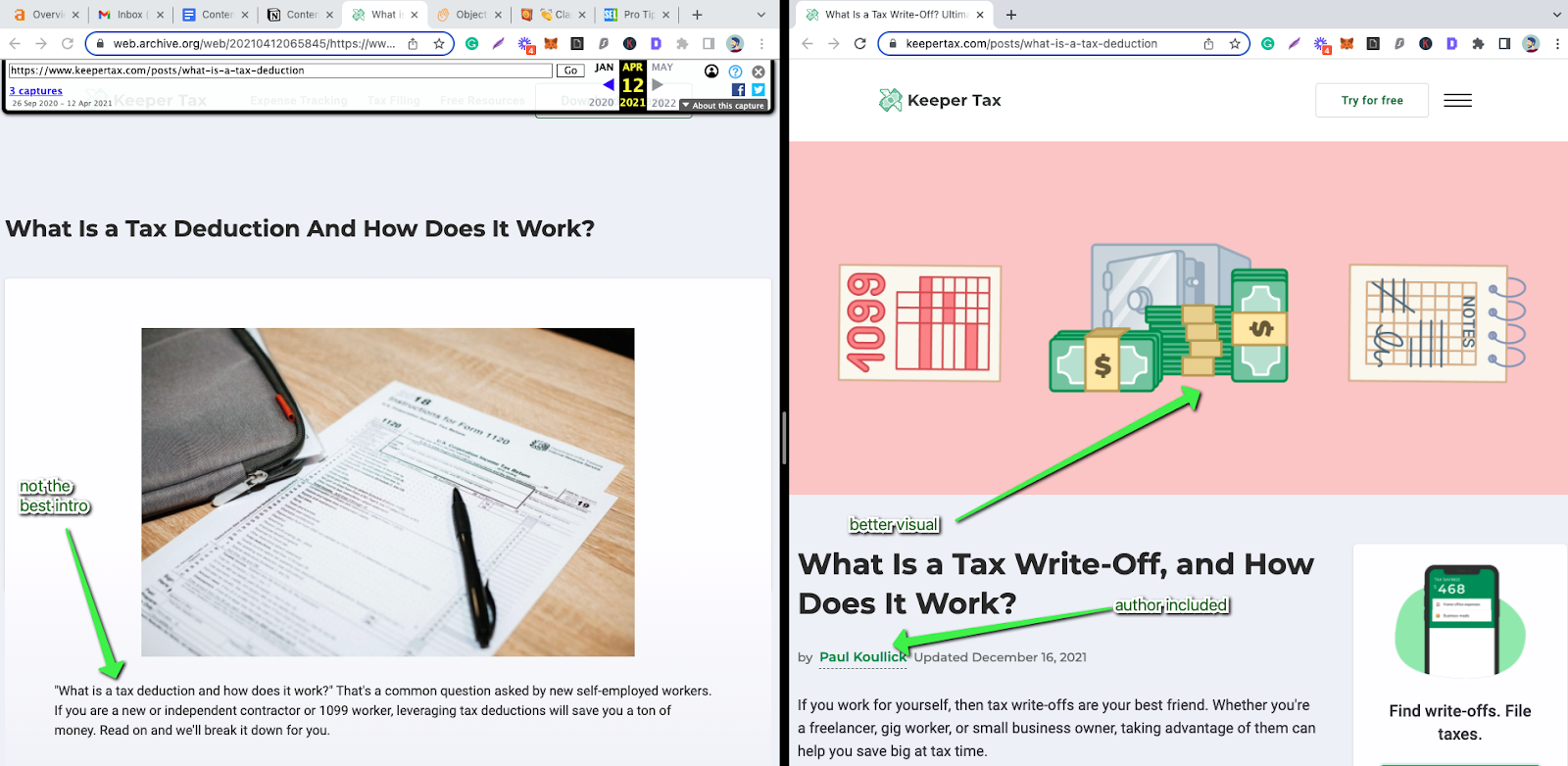 KeeperTax Fixed Page Structure & Design
It seems like the site itself went through a big redesign but that's not the only change we can see above the fold. A custom visual, better copywriting, and the inclusion of the author at the top are all facets of a better user experience.
They Added Formatting & Visual Assets Like Videos
Below the fold, the article looks dramatically different too. There's a table of contents, shorter paragraphs, and a related video. All add to the improved UX and cleaner, fresher look. The previous edition of the post was mostly just walls of text with few links, zero visuals, or design upgrades.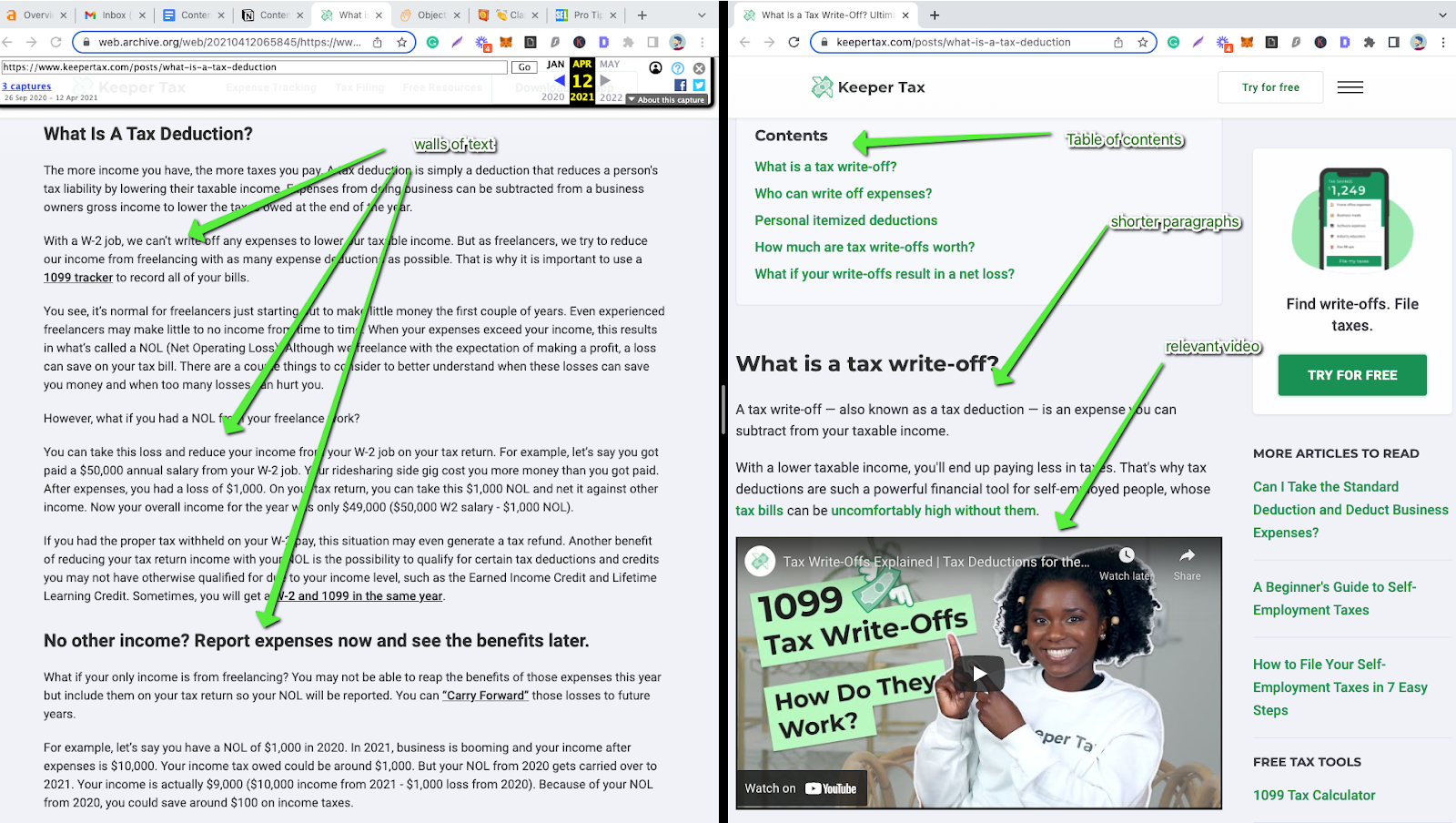 I also like the addition of the free tool: "What tax write-offs can I claim?". It's helpful and fitting and doesn't come across as intrusive at all. In fact, I think it significantly improves the readability of the post.
"With the help of [Content Harmony's] Content Grader, we've made content refreshes a cornerstone of our SEO strategy," says Lucia Tang, Head of Content at KeeperTax.
#7: Shopify's "30 Ways To Make Money Online"
Shopify's "30 Ways to Make Money Online" receives an incredible 35,000 monthly organic visitors and ranks for nearly 8,000 keywords due to a policy of updating content periodically.

The article — first published in January 2021 — rose up the SERPs pretty quickly, hitting 15,000 monthly organic visits just six months later. But it began to experience content decay; in October it could only draw in 3,000 visitors. That, of course, wasn't ideal.

"We weren't ranking well and were slowly sliding down into SERP oblivion. To update the article and get it to rank, we had to realign it with search intent. This meant removing more content and listing more ideas," explained Adam Rogers, Senior Content Marketing Manager at Shopify over email.
"Fortunately, our blog is about entrepreneurship so the ideas about making money online exist on our blog so we were able to update our list from 12 ideas to 25 and provide deeper links into business idea blog posts that see much higher conversion rates. We saw a huge increase in organic traffic and grabbed the featured snippet."
Since that initial drop in traffic, the article has been updated twice. Once in late 2021 and the other in March 2022. It's safe to say that the updates worked very well — with traffic to the page more than 10X the low witnessed in October 2021.
#8: Mailbutler's Content Refresh Program
Not all updates have to be a complete overhaul of your content. Ilija Sekulov, Head of SEO at Mailbutler explains that their content refresh strategy involved changes to the meta description, meta titles, adding FAQ schema, and better internal links.
The strategy, implemented in February, has resulted in impressive quick wins with 1300 additional clicks and tens of thousands in new impressions over the last three months for just four blog posts.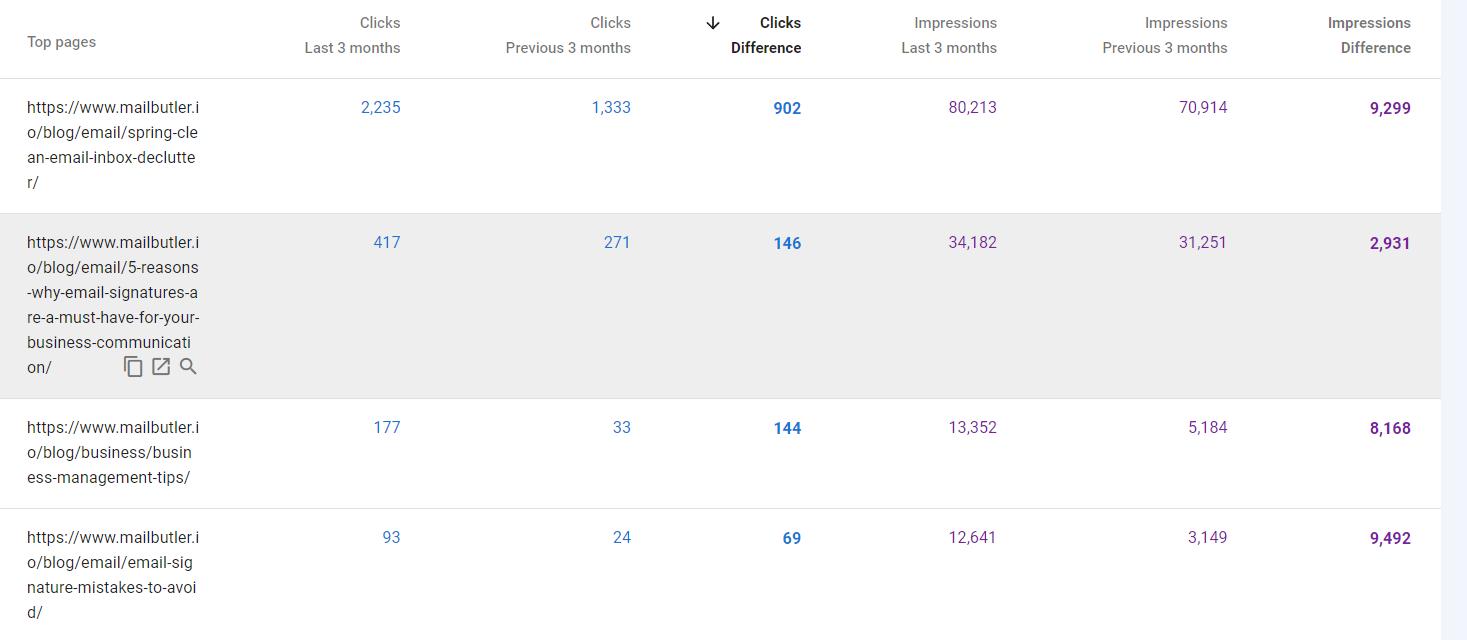 Overall, the site is trending upwards pretty quickly and Ilija says they're applying the learnings to all of their legacy content — with the expectation of similar results.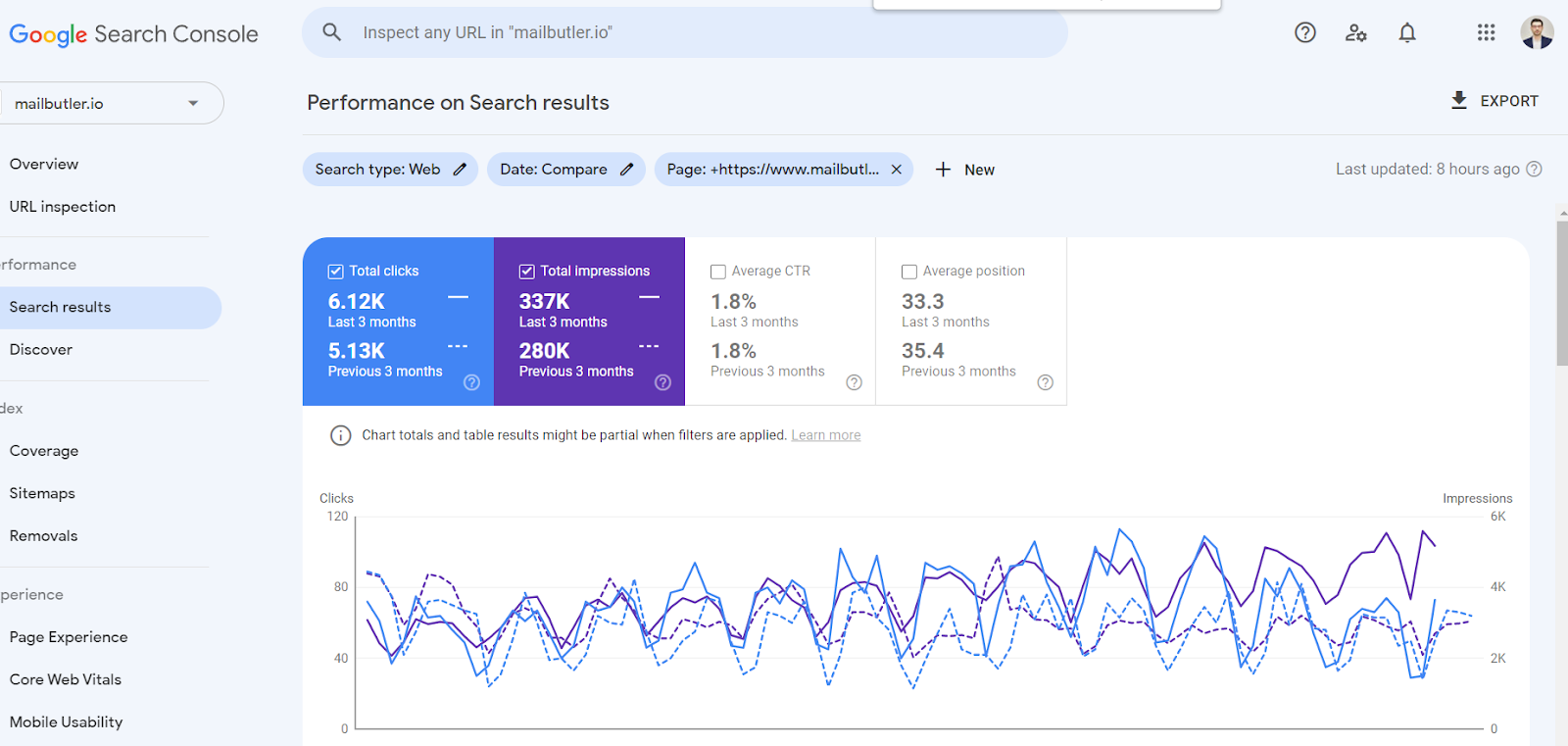 #9: NerdCow's "The Importance of Website Readability"

NerdCow's blog about website readability wasn't getting any clicks or impressions, so it was clear that something needed to be done.
At the same time, they didn't want to invest in a complete content overhaul so decided to focus on "quick wins" — updating the meta title and description and adding more contextual keywords in the article.
The first update took place in the third week of March, followed by another one on the 23rd of April.
It's early days still, but we can see that impressions are up significantly which is a sign that Google's testing the new content to see if it resonates with searchers.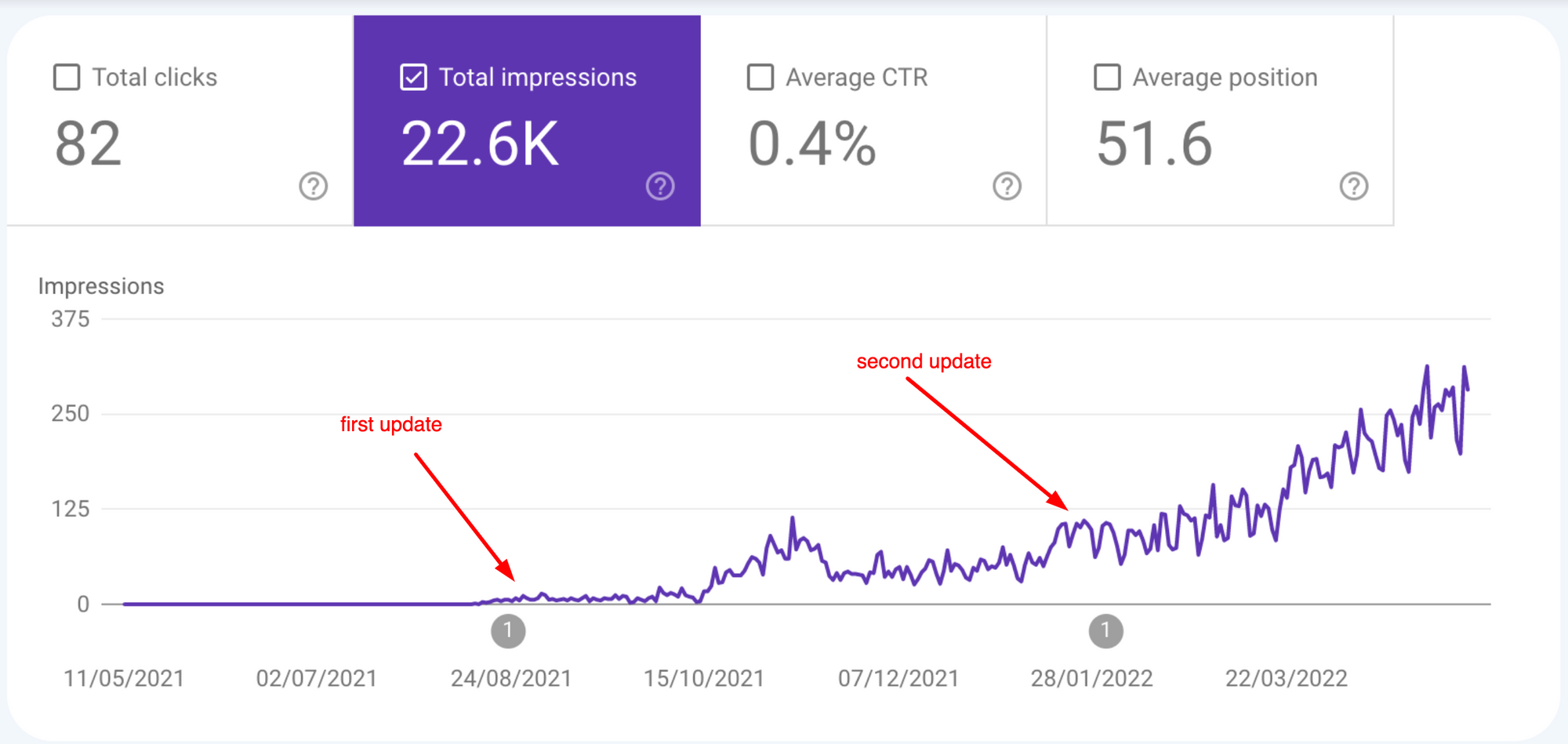 #10: Hunter.io's "How to Write a Follow-Up Email"
Hunter.io's "How to Write a Follow-Up Email After No Response" has benefitted from regular, periodic updates since first published in 2020.
That's helped it skyrocket up the SERPs, drawing in 11,000 monthly organic visitors and ranking for 3,700 keywords.

The article did okay when it was first published, getting about 500-600 monthly organic visitors. But at nearly 2,700 words long — it was clear that Hunter was aiming for a plethora of long-tail keywords and that they wanted more traffic.
Traffic started to pick up after the initial refresh in February 2021. Ahrefs data shows traffic to the post going from 680 in February to nearly 4,000 in September — a 500% increase in seven months.
The fascinating thing is that there isn't much difference between the original version of the post and the updated version in February. I pored over both versions in Wayback Machine but didn't notice any sweeping changes to the page structure, headings, screenshots, content, or even the author bio.
Tweaks To Meta Description & Title Tags
Overall, it seems to be improving based upon minor cosmetic on-page changes, and updates to the Meta Title, Description, and Alt Text.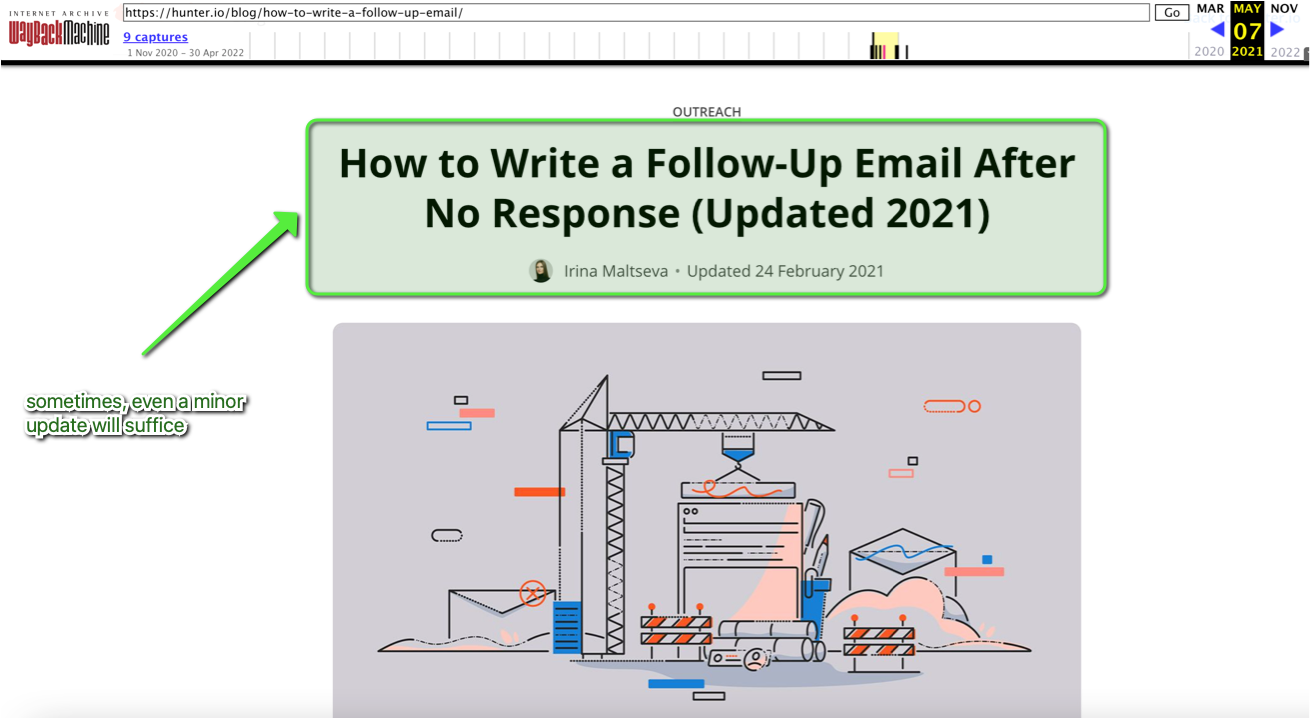 Nevertheless, it seems that Google liked the changes or thought they better served the overall intent.
The content itself is well-written, clear, and includes lots of helpful and applicable screenshots so it's not surprising that it's continuing to get traffic over time. As Google tested the new version and found it was resonating with readers, it probably started to push it out for more semantically related keywords.
The latest version of the post, published in April 2022, includes a brand new section towards the end with specific examples of email follow-ups.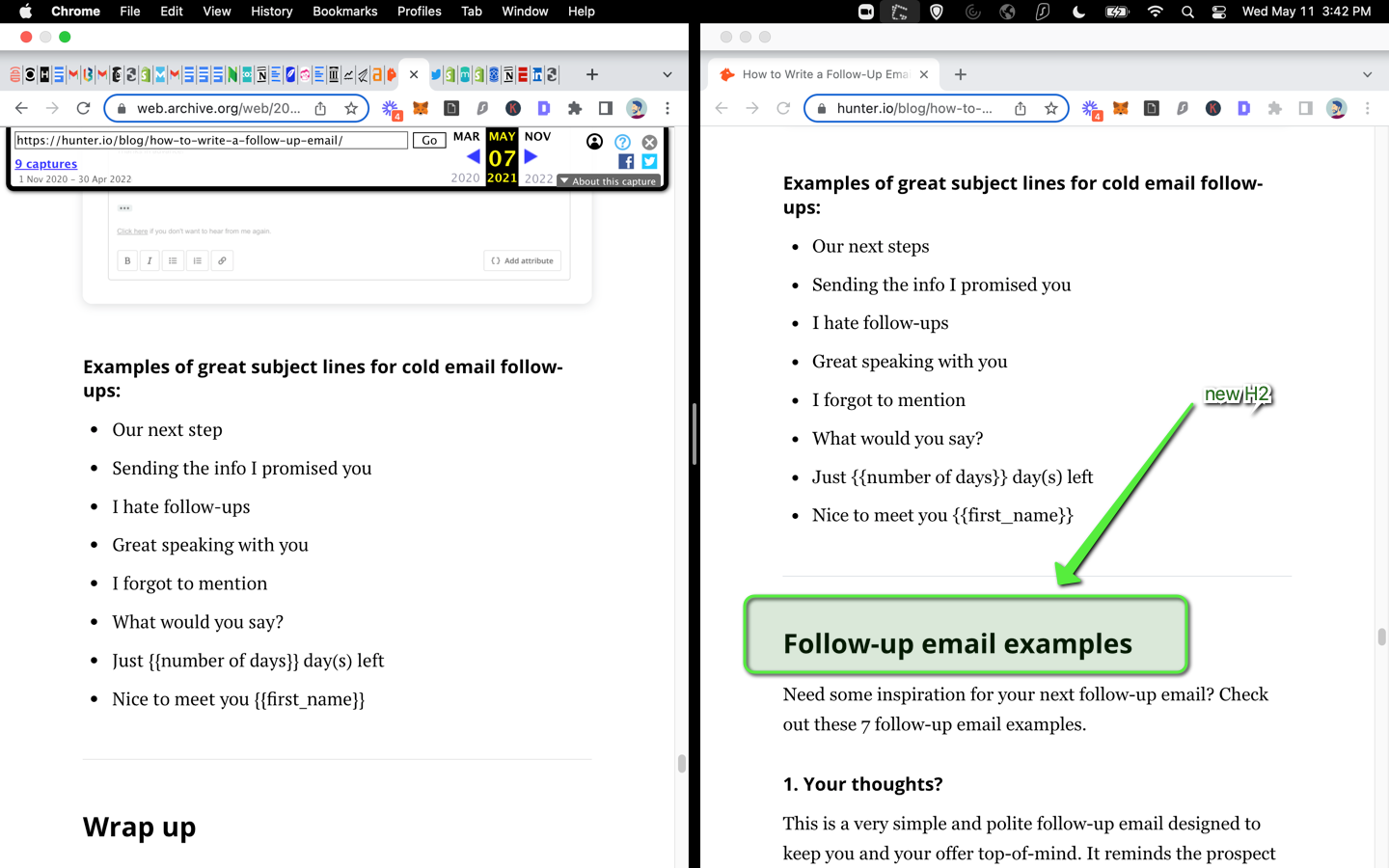 The new section has bolstered the article from 2,700 to 3,300 words. While it's too early to say whether it'll have an outsized impact on traffic — Ahrefs data shows the blog at over 11,000 monthly visitors from 8,500 at the end of March (right before the update).
Irina Maltseva, the Head of Marketing at Hunter.io, confirmed that the addition of the examples at the end of the post was a result of SERP analysis.
Personally, I found the new section to enhance the quality of the article significantly so there seems to be no reason why it shouldn't continue to skyrocket up the SERPs.
#11: LearnWorlds' "Best Online Learning Platforms"
LearnWorld's "Best Online Learning Platforms" receives 13,000 monthly organic visits, ranks for 3,300 keywords, and has over 4,000 backlinks.

The article has done well ever since it was first published in March 2020, but an update in January 2022 has sent its rankings and traffic to the stratosphere.
This is huge for a post that promotes their own SaaS product at the beginning and likely drives big conversions - that's the holy grail of low-funnel intent for SaaS content marketers.

The article's gone from 3,700 organic visits in December 2021 (right before the update) to 13,000 organic visits today. That's an increase of 251% in roughly five months. Not bad at all.
Let's see what changed.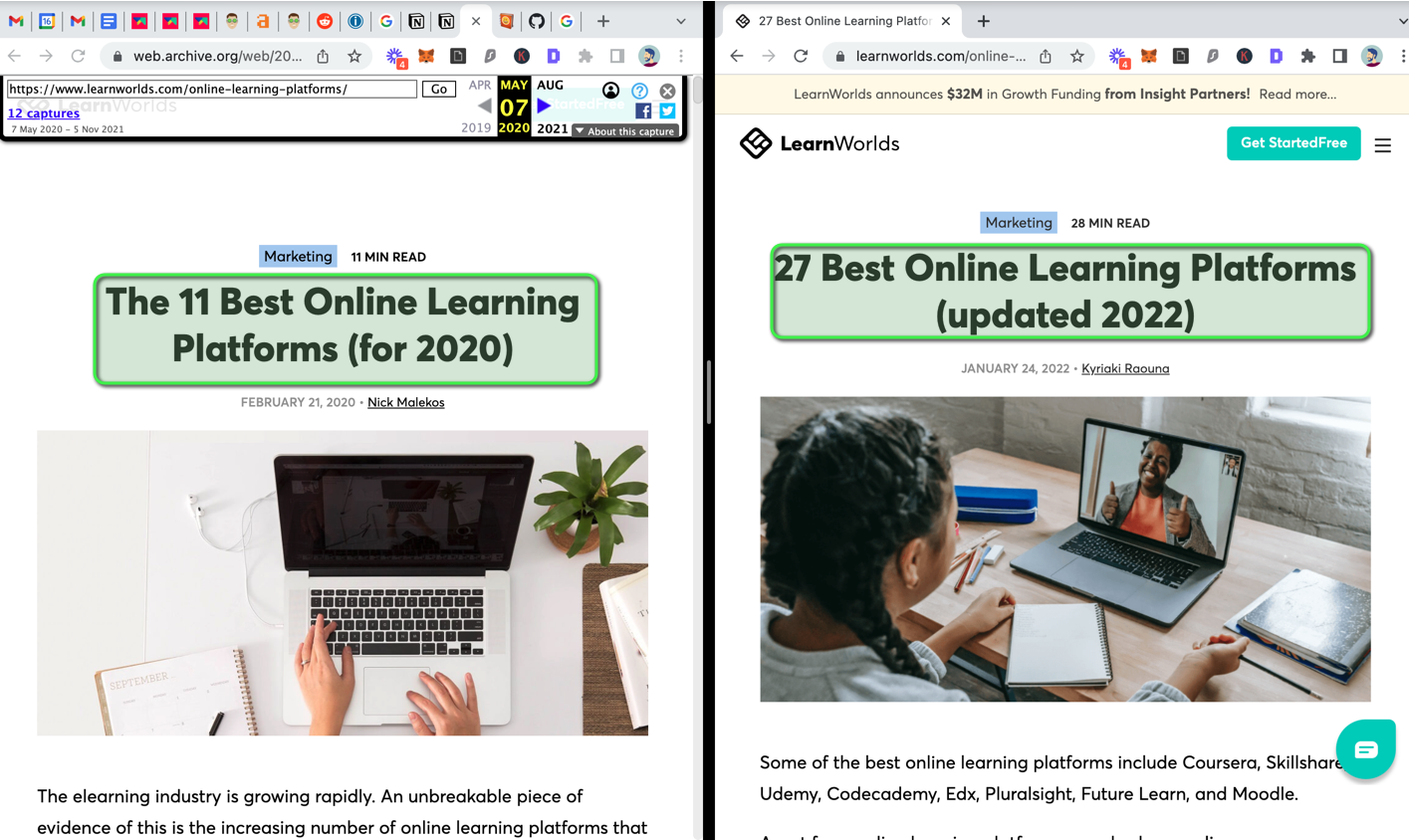 They Made The Post More Comprehensive & Detailed Their Criteria
The original version of the post suggested that the article was suitable specifically for 2020. Hence, it's not surprising that it had started to receive fewer visitors in 2021 and was trending downwards.
The updated version has many more recommendations as compared to the original version, followed by more changes as highlighted below.
The original post had three lines before it jumped into the recommendations. There's more explainer text at the start of the new post, followed by the criteria for selection.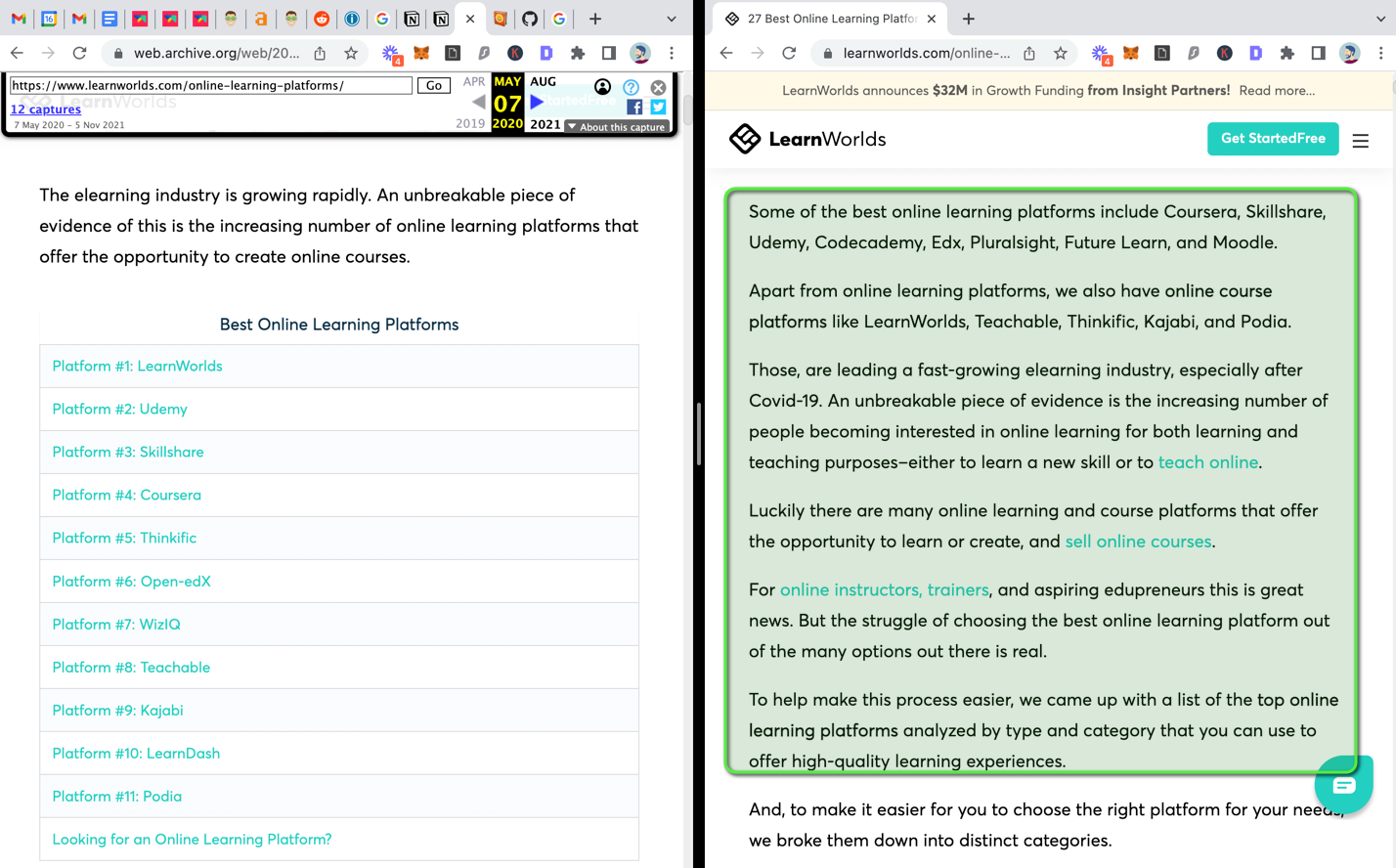 They Introduced Sub-Categories Within The Page Structure
Another change is that the recommendations are sorted into sub-categories rather than a one-size-fits-all approach. The post understands that online learning is a pretty vast field and that the subcategorization can further capture search intent.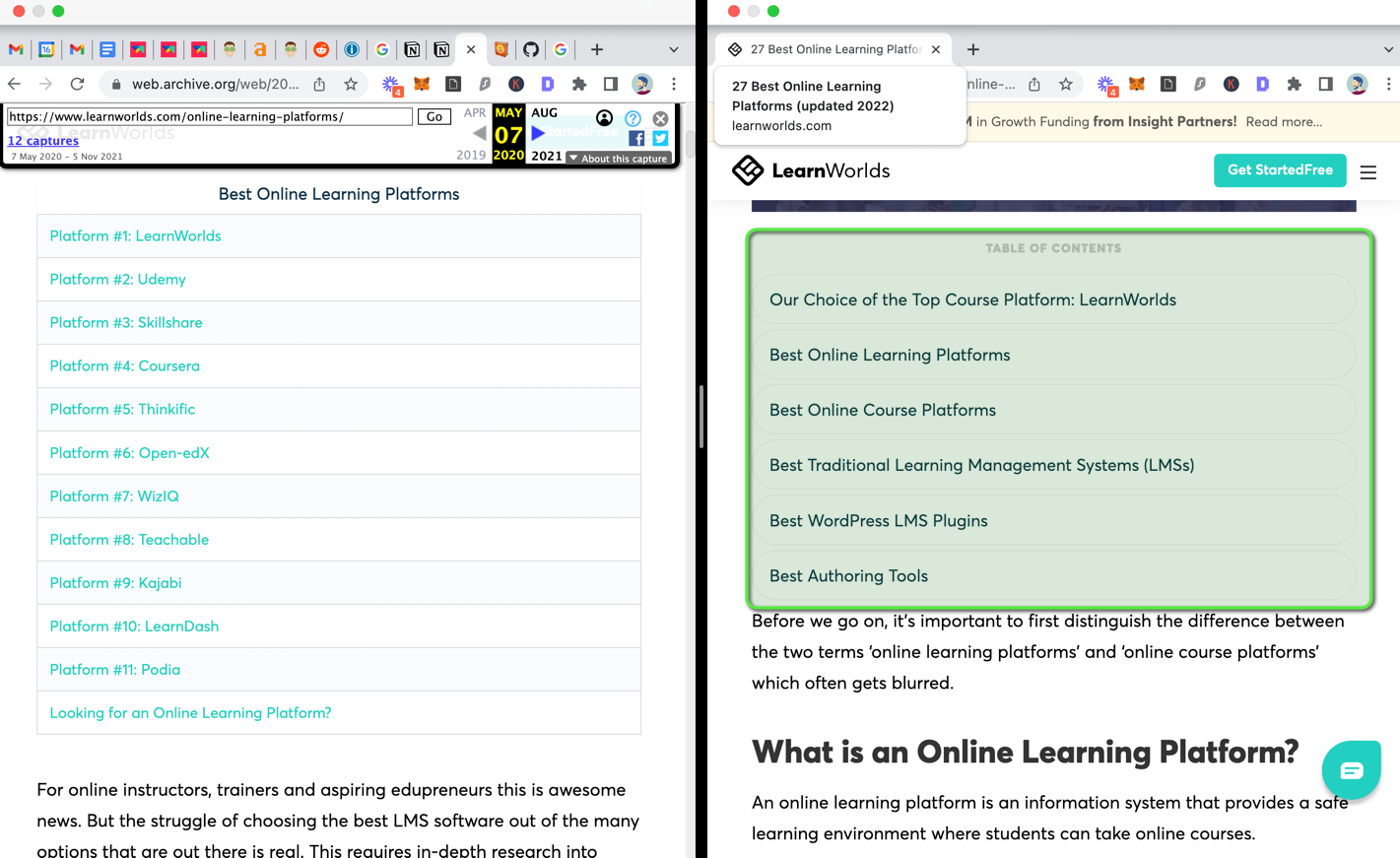 #12: Shopify's "Trending Products to Sell in Singapore"

Let's end our list with an analysis of the article "12 Trending Products to Sell in Singapore in 2021", published on the Shopify Singapore blog in early 2020.
The article did okay for about a year after its first publication — but never really took off. At its peak, it received approximately 150 monthly organic visitors and ranked for 16 keywords in the top 10 search results.
After a refresh in February 2021, however, we can see an immediate traffic spike.


Current traffic estimates from Ahref suggest that the article receives approximately 550 monthly organic visitors, up nearly 300%.
The number of keywords it ranked for also witnessed a dramatic increase, which is one of the best early indicators that your content refresh is working. That number has fallen since its peak, however, suggesting that the article may need a second refresh soon.

So what changed? Let's dive in.
They Addressed Search Intent Mis-Matches For The Local Audience
Looking at the previous version of the article through Wayback Machine, we can see that the post doesn't match search intent as well as it could.
The article is published on a localized version of Shopify — Singapore to be precise. Hence, its primary aim is to cater to Singaporean searchers or those looking to start cross-border businesses targeting Singaporean shoppers.
The title, however, is generic and not localized to a Singaporean audience.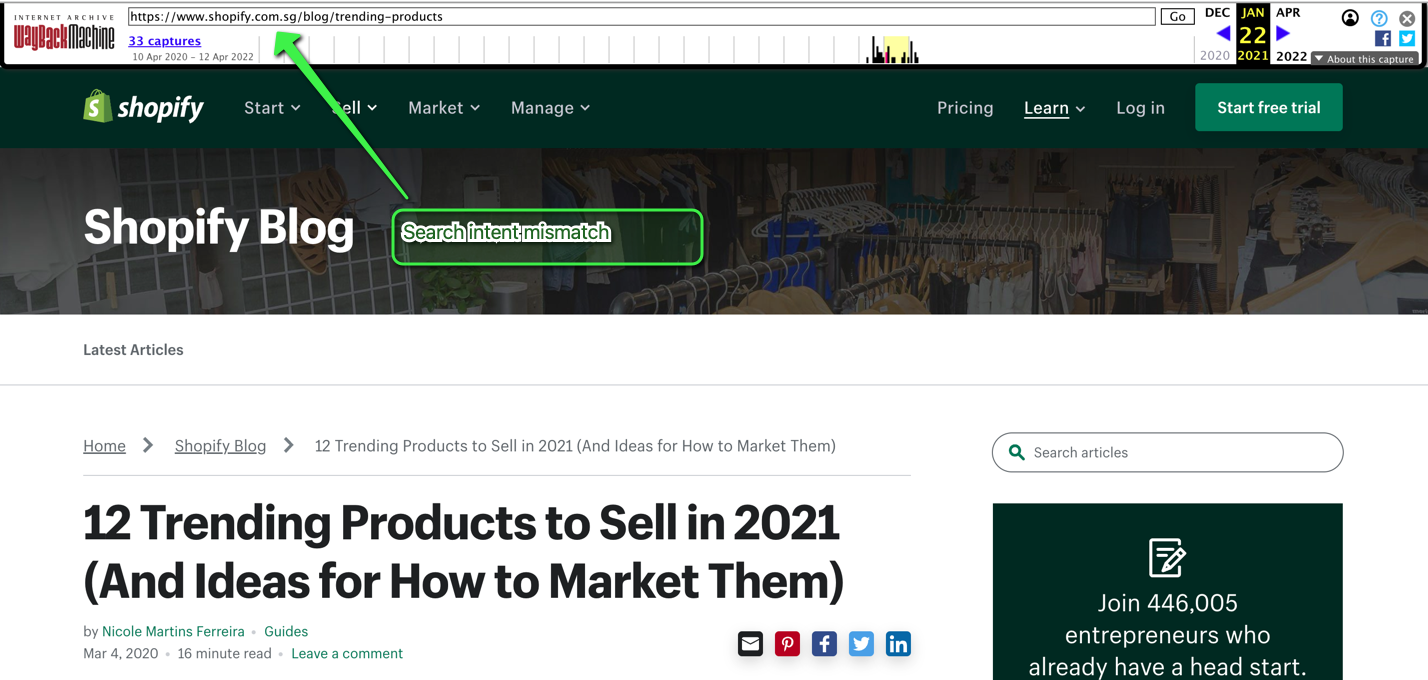 The first H2 also makes the mistake of imparting generic advice and not incorporating a keyword to help it rank better.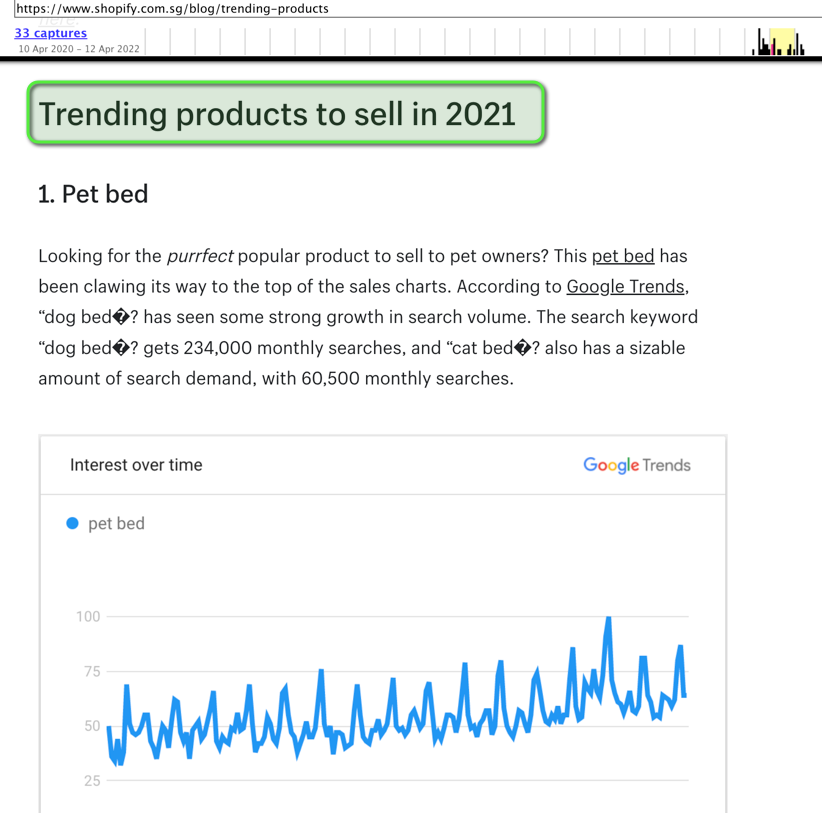 Examining the article further shows that it isn't localized to cater to search intent. The product recommendations look to be international / North American in nature, rather than an understanding of what local Singaporeans prefer.
For example, the article recommended "plaid hoodies" as an evergreen item to sell online in Singapore where the average temperature is about 90 degrees Fahrenheit and humidity levels stay consistent at around 70%.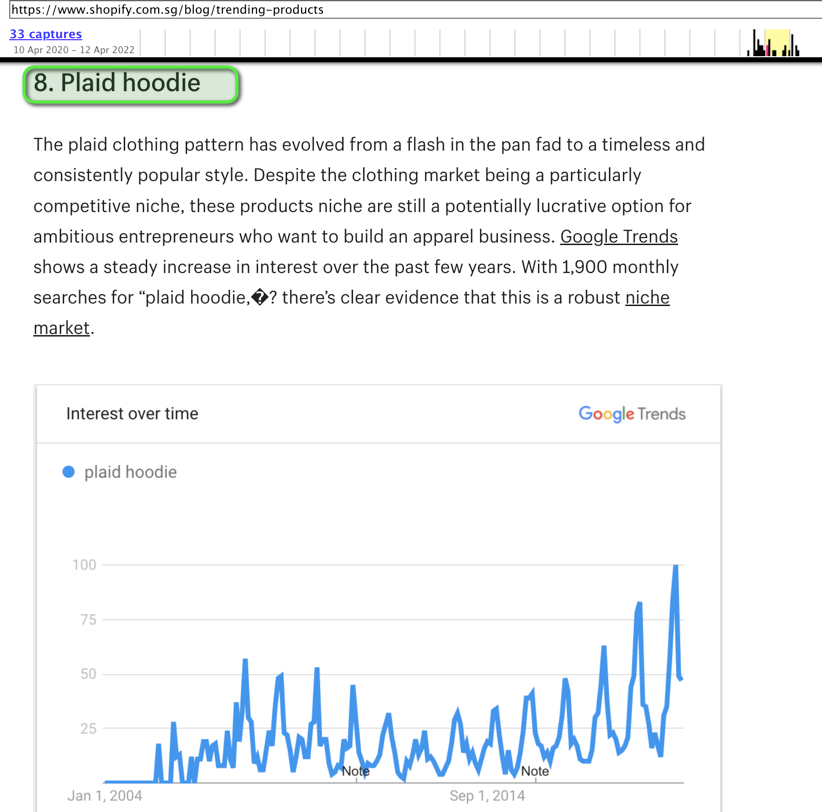 The article's refresh focused on localizing the content and making it more applicable for Singaporean audiences. The first thing to change was the title.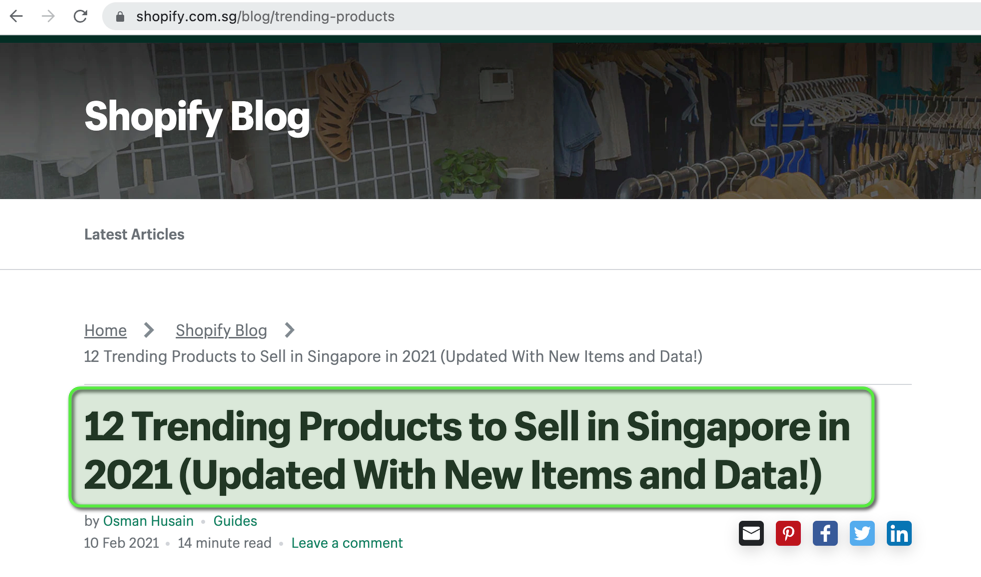 They Focused Products On Actual Search Volume
Next, the first H2 also incorporates a related keyword helping it with ranking and indexability. The first product recommendation is boosted by Google trends data that directly references Singapore rather than global trends.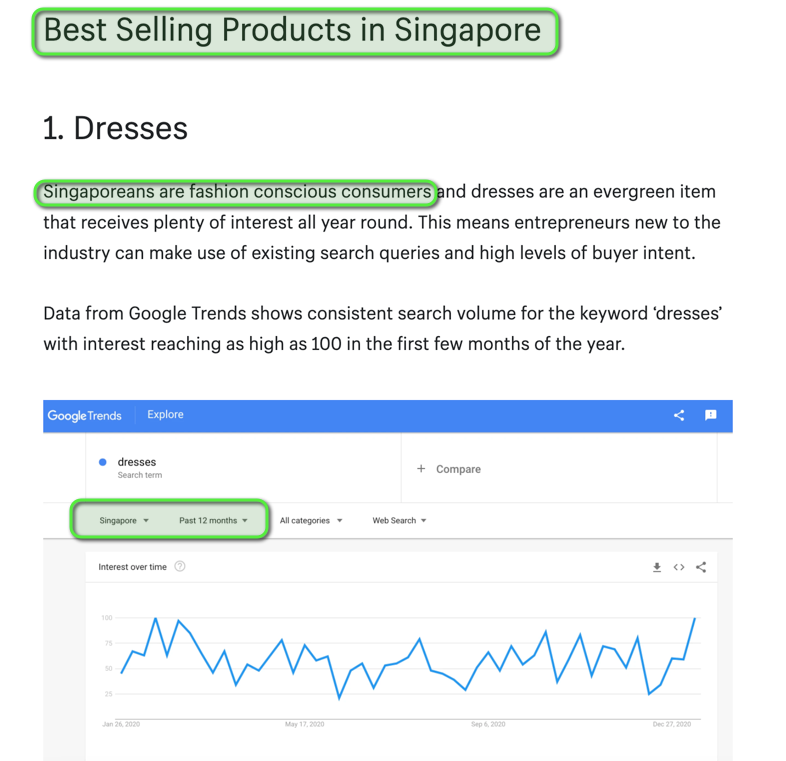 Some of the product recommendations also include local keyword research with estimated monthly volumes and data pointing back to the estimated size of the addressable market. These add further credibility to the article's main points and help boost the post in the SERPs.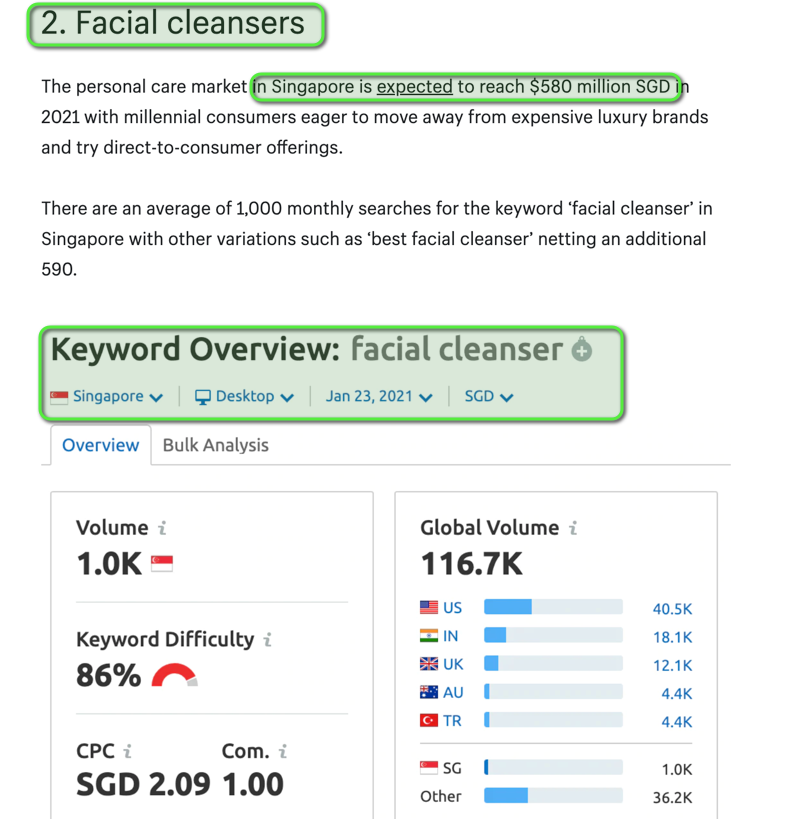 Overall, the article was completely transformed from its earlier version. It did a much better job of meeting search intent, which explains its improved search performance.
Bonus Content Refresh Case Studies
We came across several promising content refresh case studies over the course of our research but weren't able to include detailed teardowns of all of them.
(I mean, we could have but it would have taken a much longer time to write, edit, and publish, and ya'll might have exited the post halfway through anyway.)
We'd still like to show you why they were worthy of your time, though.







🧑‍💻
Have any other examples to add to this list? Let us know in the comment section below and we'll add the best submissions to the post!
---
Want to see how Content Harmony helps you build content that outranks the competition?
The blog post you just read scores Good in our Content Grader for the topic "content refresh examples":
Grade your content against an AI-driven topic model using Content Harmony - get your first 10 credits for free when you schedule a demo, or sign up here to take it for a spin on your own.
👉 Get Your First 10 Briefs For $10
---
---
✉️ Get an email when we publish new content:
Don't worry, we won't bug you with junk. Just great content marketing resources.
---
Ready To Try
Content Harmony?
Get your first 10 briefs for just $10
No trial limits or auto renewals. Just upgrade when you're ready.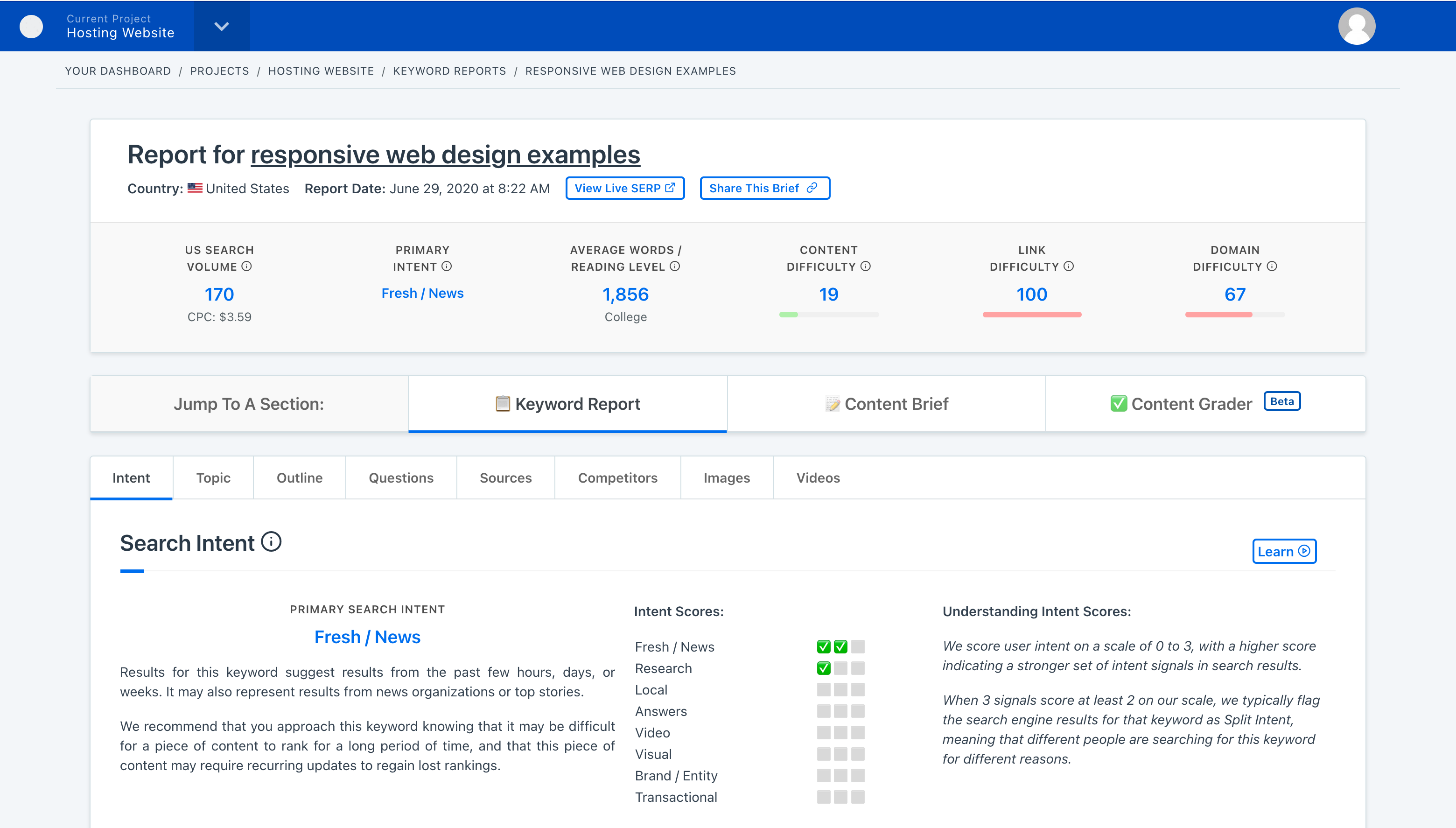 ---