If you want your content marketing strategy to drive tangible growth for your business (i.e. more demos, trial signups, and conversions), you're going to need to invest in creating and optimizing bottom of funnel content.

Some content marketers and SEOs are tempted by increasing website traffic month over month and pointing to a job well done.
Ultimately, that strategy will boost brand awareness but won't contribute to the bottom line quickly enough for most companies.
So, how do we find more users searching for keywords that will lead to conversion faster?
What are bottom of funnel keywords?
Bottom of funnel content is content optimized for the final stage of a purchase decision. We covered that extensively in our last post, What Is BOFU Content & 10 Great Examples.
Bottom of funnel keywords are the keywords that users search for towards the end of their purchase cycle. They're the keywords that we want our bottom of funnel content to actually rank for.
So how do you actually find these bottom of funnel keywords for your business?
We'll show how to find these keywords using a combination of common purchase modifiers on search engines, publicly available tools, paid apps, and insights from paying customers. Together, these searches can yield a treasure trove of data.
Let's dive in 👇
Start with obvious purchase-related queries
Folks looking to buy a product or service usually have specific keywords that they fall back to. These purchase modifiers can be applied as a broad framework to unearth relevant bottom of funnel keywords for your product or service.
For instance, a prospect looking to purchase an email marketing subscription, may search for variations like "email marketing software", "email marketing tool", "email marketing service for [specific industry]".
Those looking to purchase an eCommerce product like a winter jacket or fall boots might resort to Googling queries with phrases like "sales", "coupon", "discount", and "retailer".
And those folks interested in local services may use modifiers like "near me", "best [in location]", and "top [in location]'.
If you're looking for even more modifiers, Noah Lerner has published an insightful and comprehensive keyword modifier list suitable for all funnel stages.
BoFU keyword modifiers cheatsheet
Here's a handy checklist to brainstorm relevant BoFU keywords for your business: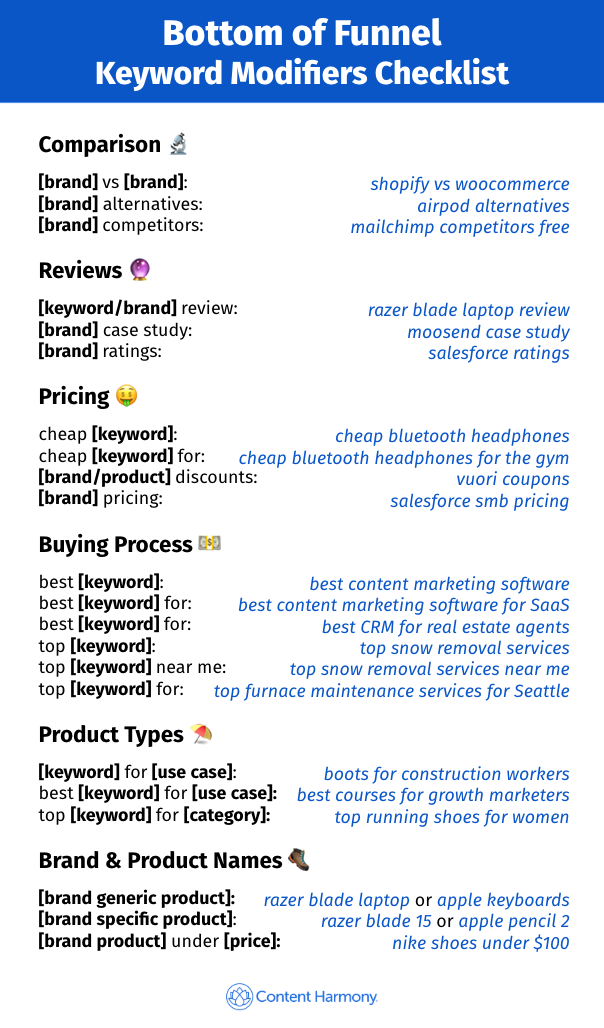 Here's a copy-and-pasteable version of that checklist:
Comparison
[brand] vs [brand]: (shopify vs woocommerce)
[brand] alternatives: (airpod alternatives)
[brand] competitors: (mailchimp competitors free)
Reviews (and other social proof like 'case studies')
[keyword/brand] review: (razer blade review) / (gaming laptops review)
[brand] case study: (moosend case study)
[brand] ratings: (salesforce ratings)
Pricing
cheap [keyword]: (cheap bluetooth headphones)
cheap [keyword] for: (cheap bluetooth headphones for the gym)
[brand/product] discounts: (vuori coupons)
[brand] pricing: (salesforce smb pricing)
Buying Process
best [keyword]: (best content marketing software)
best [keyword] for: (best content marketing software for SaaS)
top [keyword]: (top snow removal services)
top [keyword] near me: (top snow removal services near me)
top [keyword] for: (top furnace maintenance services for Seattle)
Product Types
[keyword] for [use case]: (boots for construction workers)
best [keyword] for [use case]: (best courses for growth marketers)
top [keyword] for [category]: (top running shoes for women)
Brand & Product Names
[brand generic product]: (razer blade laptop), (apple keyboards)
[brand specific product]: (razer blade 15), (apple pencil 2)
[brand product] under [price]: (nike shoes under $100)
These purchase modifiers may seem obvious, but we recommend that you spend some time brainstorming them.
Once you identify a few that are more relevant to what you're selling, it's easy to uncover even more high-intent keywords with some brainstorming or using paid tools (we go over this step further down the article).
Review forums & discussions
Usually, there are three main reasons why a prospect is in the market for a product or service similar to what you offer:
They have an acute painpoint in their personal or professional lives that they need to solve. Examples could be the desire to purchase an air conditioner because of an ongoing heatwave or a subscription management app to unlock a new revenue stream for their eCommerce business.

They are dissatisfied with an existing product or service and are actively looking for alternatives that better meet their needs.

They want to invest in a better version of themselves — so they'll splurge on coaching, education, life skills, vacations & adventures.
And when prospects are towards the middle or end of a purchasing cycle, they're definitely asking those around them for recommendations and tips. Some of these conversations might be offline — with friends and family the obvious choice.
But other conversations will take place on the internet, with folks asking others on Reddit, Quora, Slack, Facebook groups, and other niche discussion forums.
We're going to show you how to dive deeper with Reddit and Quora, but you can use these same tactics on niche forums, Stack Exchange, Facebook, etc.
Finding BoFU keywords with Reddit
Let's assume that you're trying to find bottom of funnel keywords for a SaaS business that builds video conferencing software, similar to Zoom.
The challenge for you is that Zoom has incredible brand recognition, so much that it's a verb at this point.
But you're also aware that Zoom has a 45-minute time limit, and isn't the best option for when you want to live stream an event. How do you attract folks annoyed by these drawbacks and looking for an alternative that better meets their needs?
A quick search on Reddit for "Zoom alternatives" reveals specific problems folks have with Zoom that you can address in your content. In this case, we'd recommend creating a page optimized for the topic "Zoom Alternatives" with H2s or H3s that directly address these questions (and more that you find in your research).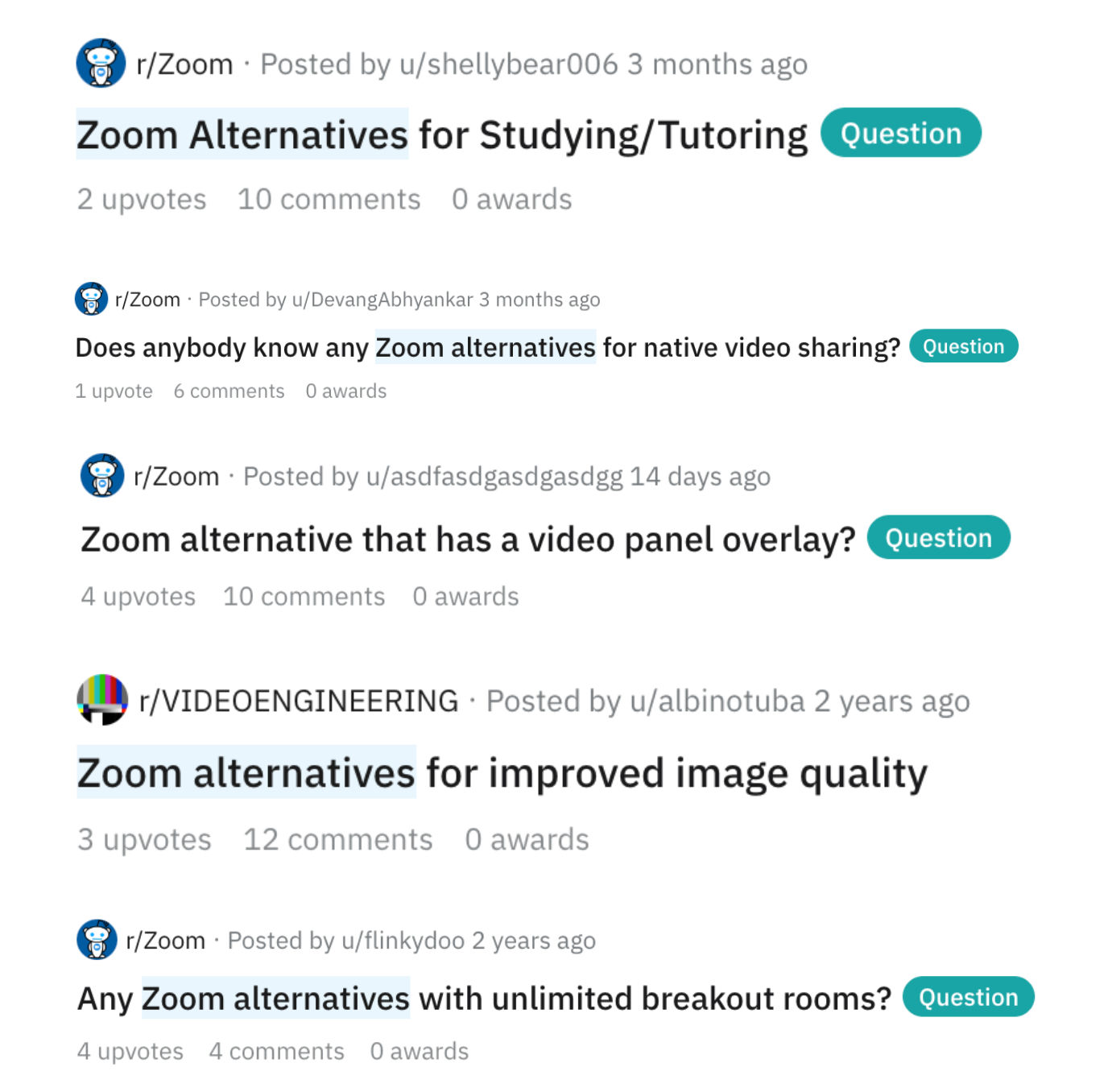 Here's how we help uncover those types of questions inside of Content Harmony while you're writing content on a topic: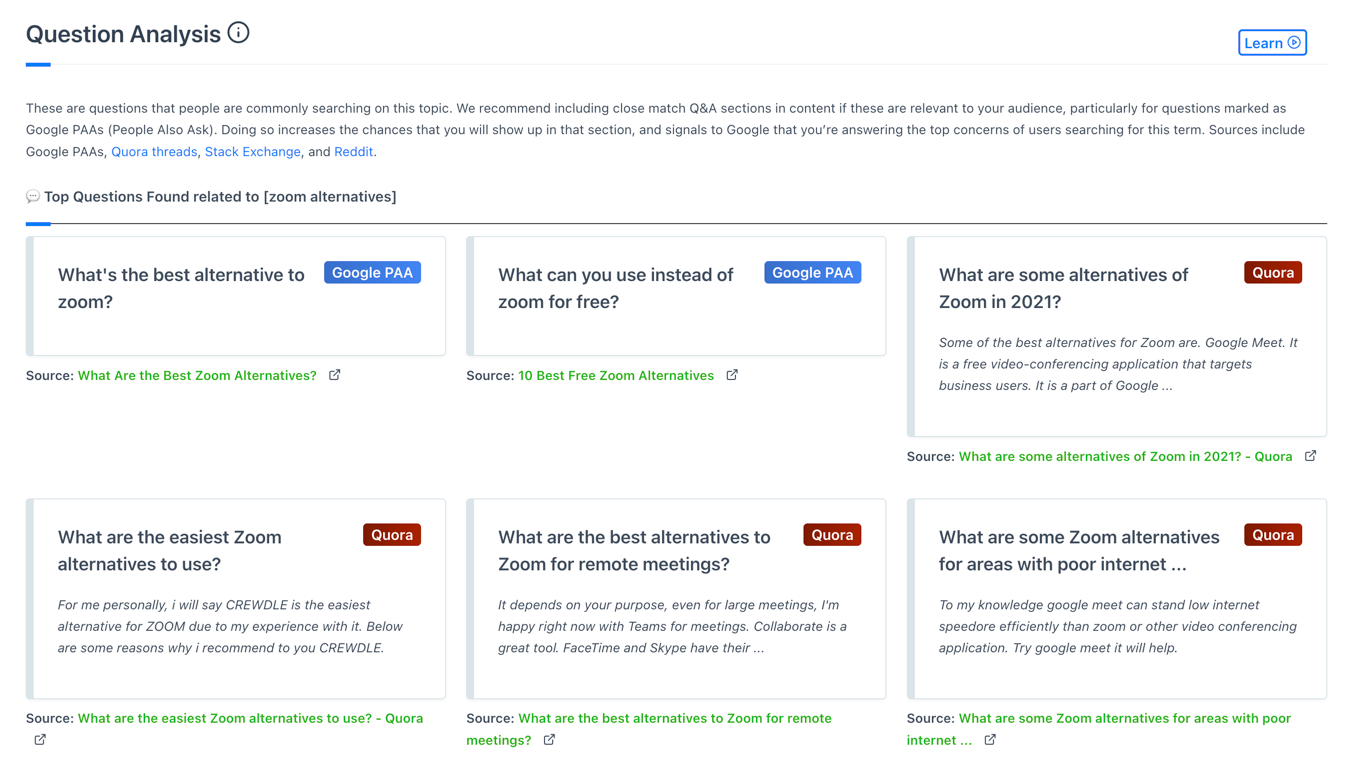 Finding BoFU keywords with Quora
Reddit is a great place to do research, but has strong moderators which makes content promotion slightly problematic. Quora, unlike Reddit, is less of a discovery platform and positioned more towards answering questions from its community members. Both are valuable for our goals.
Plugging in 'Zoom alternatives' inside Quora reveals more questions (and keywords) to address in your content.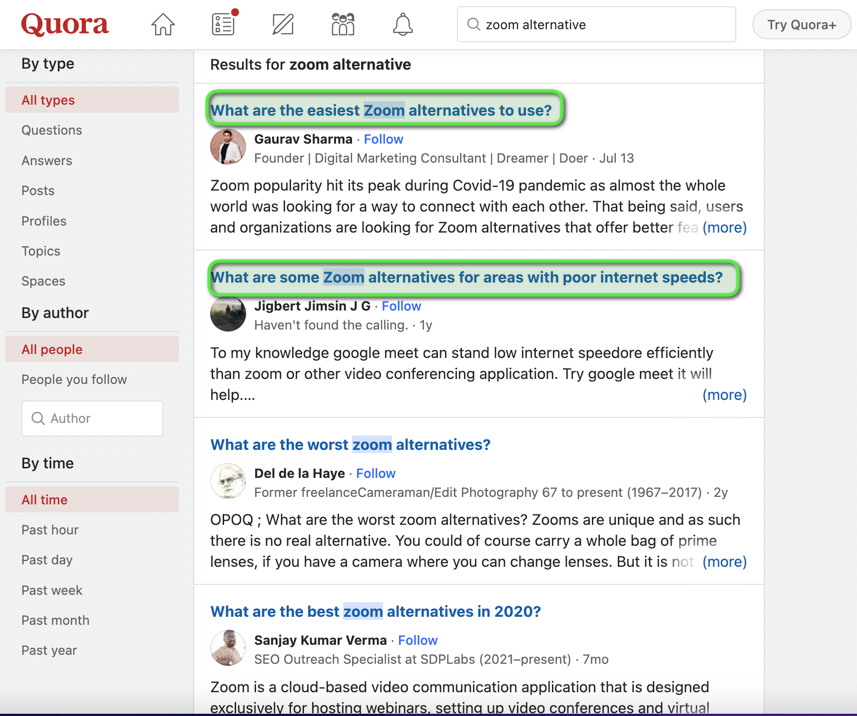 The novel aspect about Quora is that it doesn't actively block or try to moderate promotional comments.
So not only can you use questions people ask on Quora for your own content inspiration, but you're also free to directly answer them on the platform itself plugging your solution or linking back to your blog for those curious to read more.
Review Autocomplete & keyword expansion tools
Google's autocomplete and more advanced keyword expansion tools help you uncover actual searches that people use. They reveal other questions folks have around a specific keyword, which enables you to focus your energy on queries that have a known audience.
Let's take a look at how to use them to find BoFU keywords 👇
Use Google Autocomplete for more keyword suggestions
Google says its autocomplete feature is an AI-assisted model that predicts searches and helps people save time by completing a search they had already intended to do. Meaning, that if you run a keyword inside the search bar, it's a safe bet to assume that the autocomplete suggestions are other popular searches worth building content for.
Funny enough, it doesn't matter whether people were actually searching for these keywords. If Google is suggesting them to users, you can bet there will be some users clicking on those suggestions.
Plugging in a keyword similar to the home security camera example above, we get: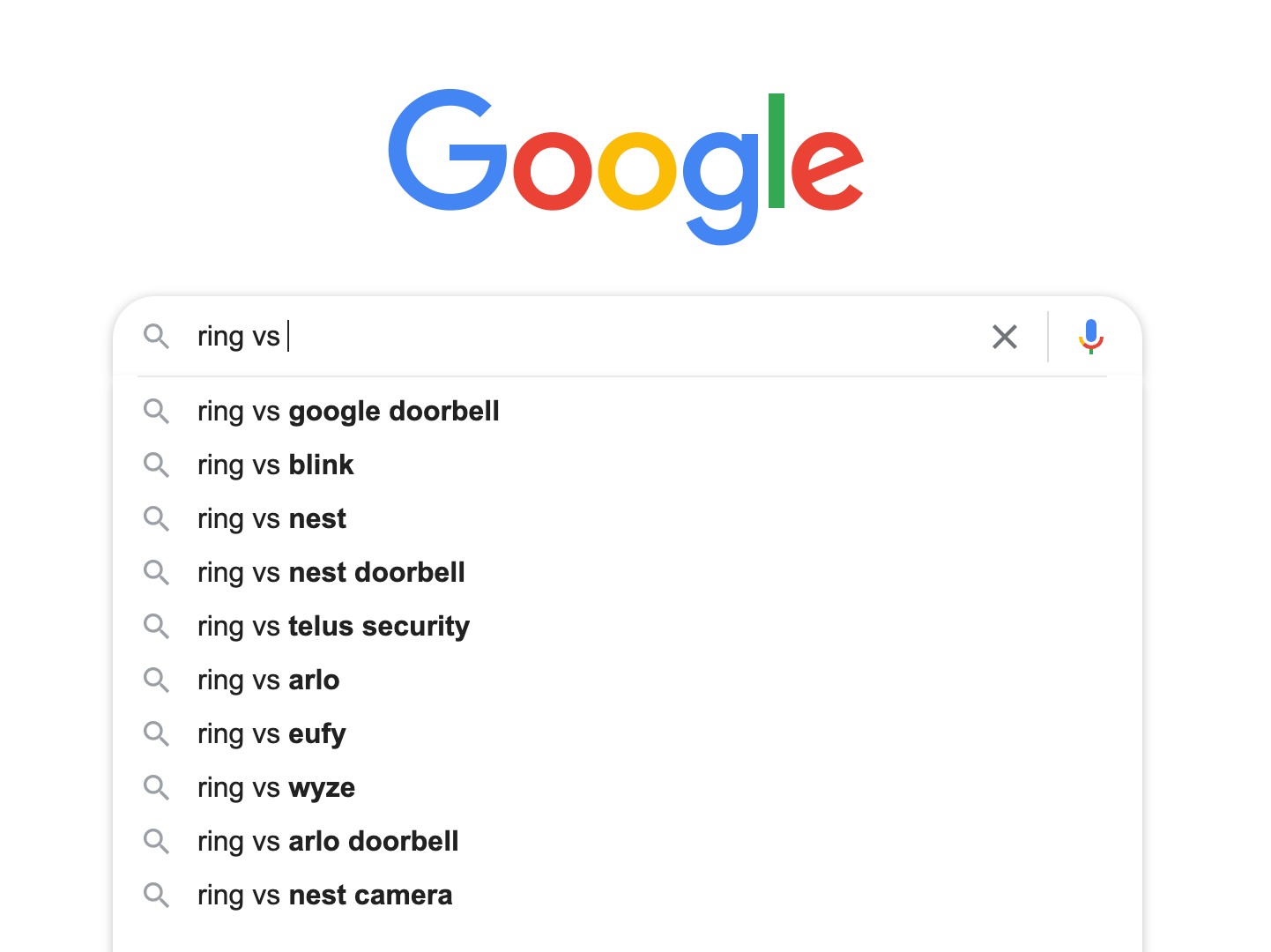 Let's try another search with the 'alternatives' modifier.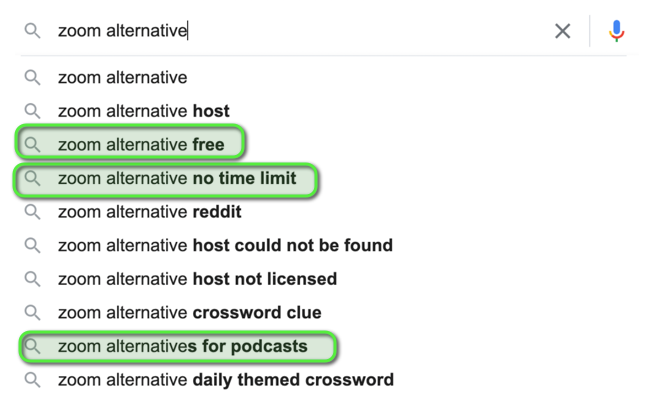 'No time limit' and 'free' seem to be popular searches for folks trying to move away from Zoom. The 'alternatives for podcasts' is an interesting suggestion, too, as it highlights that folks want solutions for very niche use cases.
Zoom definitely isn't the best podcasting too so someone building video conferencing software will want to highlight specific use cases like this to cater to dissatisfied customers.
"Finding bottom of the funnel keywords can be found without the need for any expensive keyword planning tools, thanks to Google's autocomplete form. When you type in a relevant search term for your business, scan the list of suggestions for those phrases that show high intent to buy," says John Li of Fig Loans.
"A great way to find high intent keywords to target with your site is by Googling keywords where your audience might use the autocomplete feature and the 'Searches related to...' feature. You need to do your research on your audience, know their voice and interests, and use their point of view," adds Staci Brinkman of Sips by.
The one thing you're going to have to be careful about when using Google Autocomplete is that the tool also takes into account your personal search history when generating suggestions. However, it helps you clearly demarcate which suggestions are specific to you versus those of the wider internet community.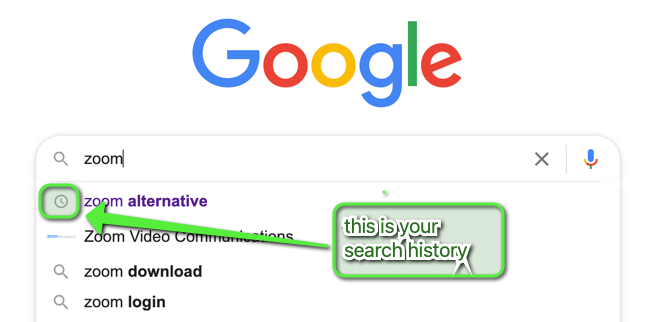 Autocomplete suggestions that start with a 🕔 clock represent those that are from your personal search history (the purple text is also a giveaway). Those that have a magnifying glass before the text are the ones we care about. Be sure to filter those out in your BoFU keywords list.
Leverage advanced autocomplete tools for more ideas
There are a few standalone services that dive deeper into audience research by using a topic clustering approach. These help you uncover even more topics worth addressing in your content.
Topic Mojo is a new tool we've come across recently. Let's give it a spin by searching for 'home security cameras' and seeing whether the tool surfaces any keywords with purchase intent.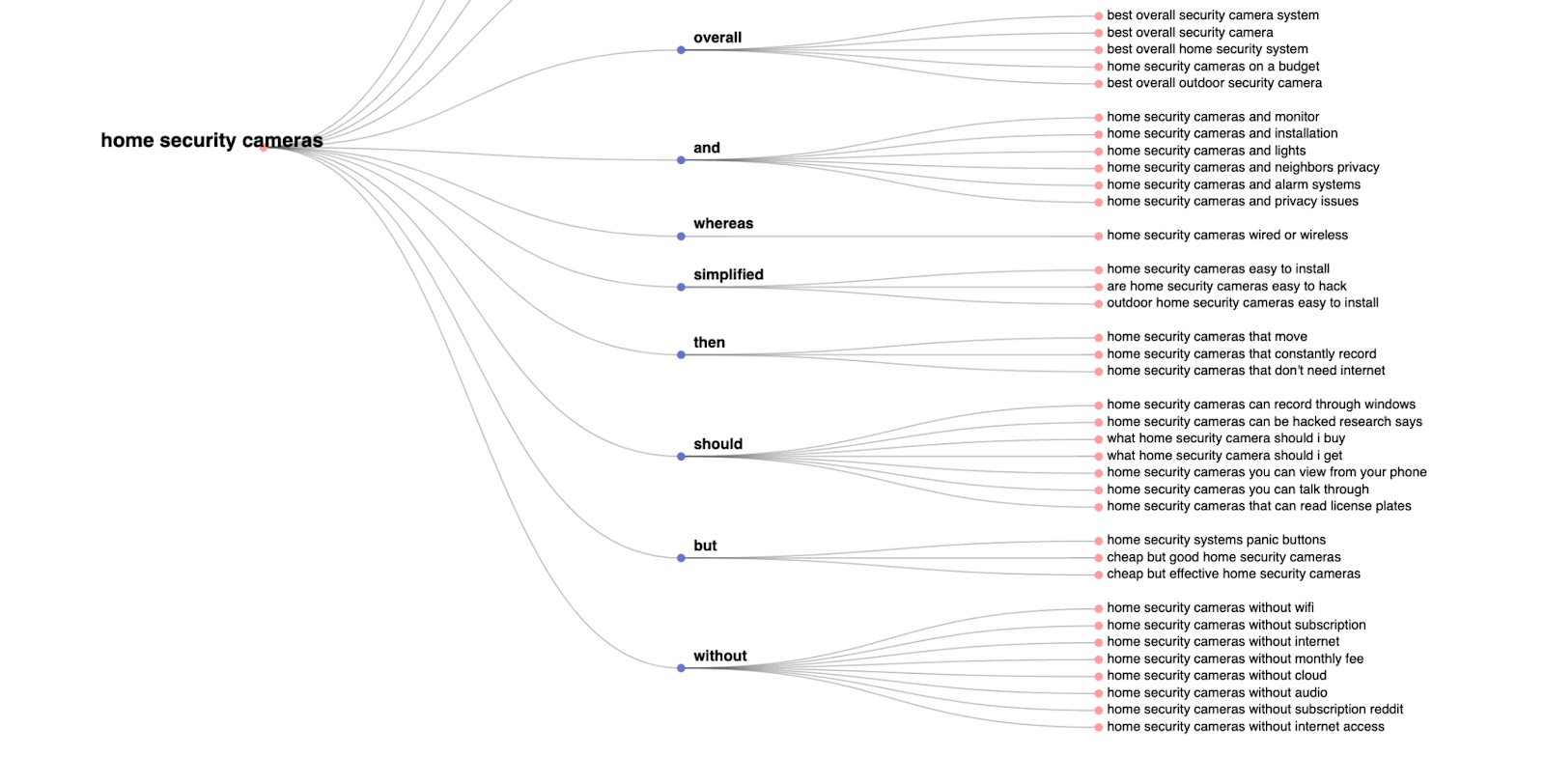 Another popular autosuggest app is Keyword Tool. One of its features is that it scrapes keyword suggestions beyond just Google — enabling you to search for results on Bing, Amazon, Ebay, and more.

The downside about Keyword Tool is that its free offering is limited. It only offers about 5 or 6 free keywords per query — the rest are included without additional data such as trends, search volume, and competition. Nonetheless, it's definitely something you can play around with.
Finding BoFU keywords with Answer The Public
Answer The Public is a great freemium tool that helps you understand related questions people ask around a specific keyword, helping you uncover more topics worth addressing in your content.
For this example, let's start off with a head term to see whether the tool comes up with searches that have purchase intent.
Searching for "home security cameras" inside Answer The Public reveals some interesting results. There's a branch of the tool that shows search intent around alternatives to Ring, ADT, and Simplisafe.
Let's now dig in with some of the modifiers we outlined above. As we can see, there are even more search terms that you can incorporate into your content.
Diving deeper into the "home security cameras like Ring" search branch shows folks are curious to know whether they can be hacked, how Ring performs against Blink, and whether there are any other options they can consider.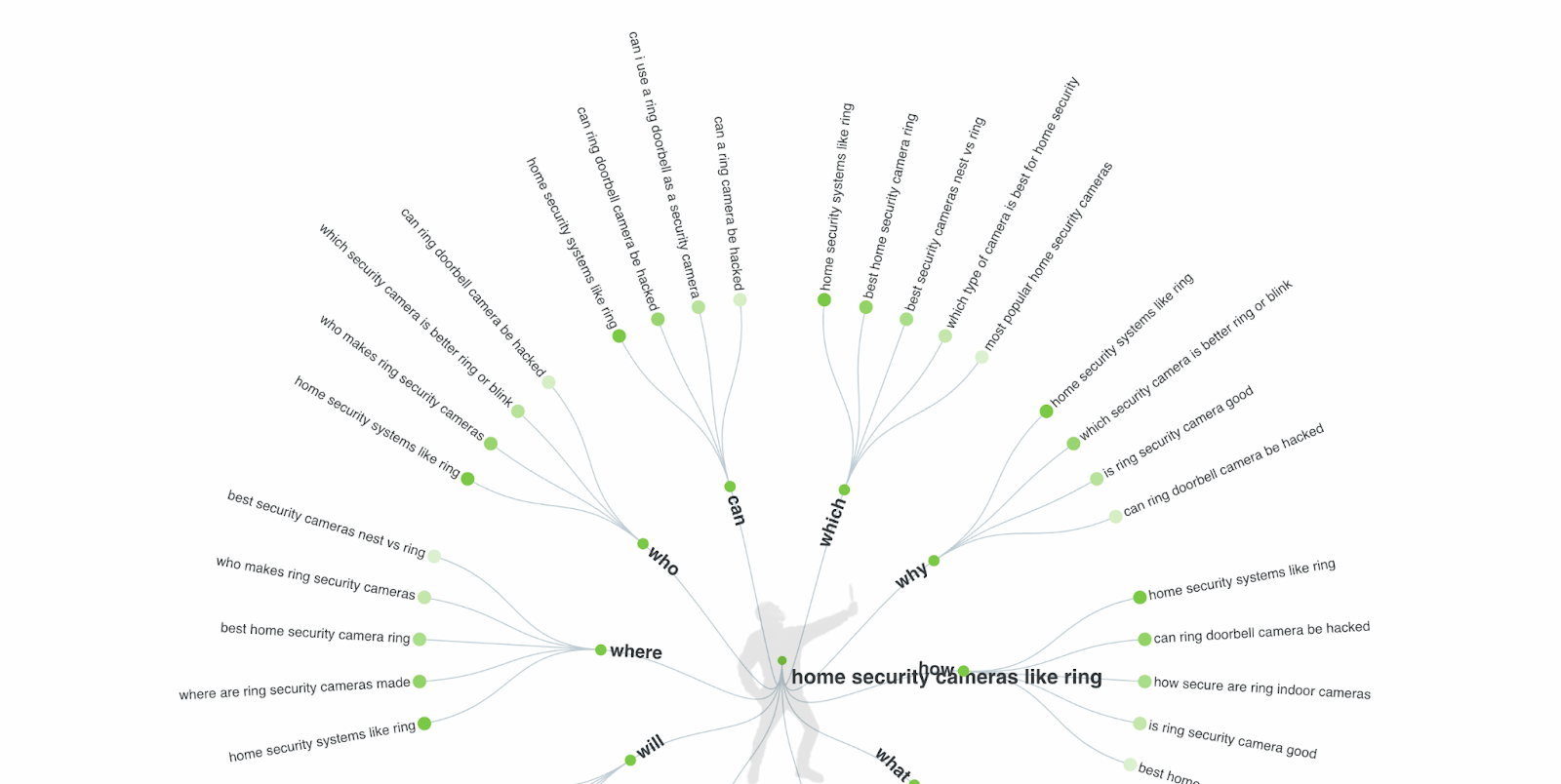 Answer The Public does have a cap on the number of free searches you're able to run daily, so don't go crazy. Use it methodically after you have brainstormed an initial list of keywords, unless you're willing to spring for a paid plan.
"With Answer The Public, you'll be able to see the connection between various search terms and apply them to your funnel for more refinement. If you put in what you have or what you've been using, you'll glean a lot more that you can actually use to target search intent," says Leanna Serras of FragranceX.
Review PAAs & question databases
The 'People Also Ask' (PAA) box is a Google SERP feature that collects questions related to a specific search query. Each answer may come from a different website, but it's a handy method of understanding other questions and keywords to target in your content—and then rank in those boxes with your own answer.
For example, with the "home security camera" search, Google throws up the following PAAs: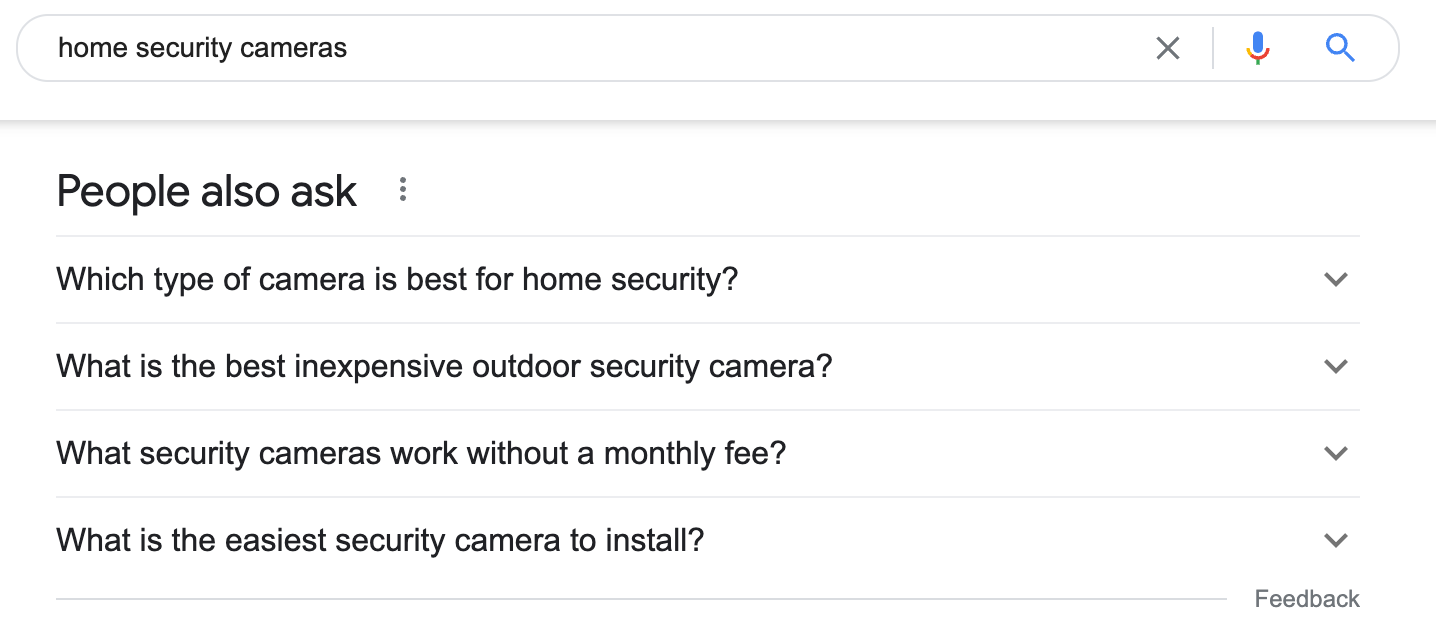 Running a content workflow report inside Content Harmony will help you with both search intent and advanced question analysis. The "home security camera" search shows us that the term primarily has purchase intent: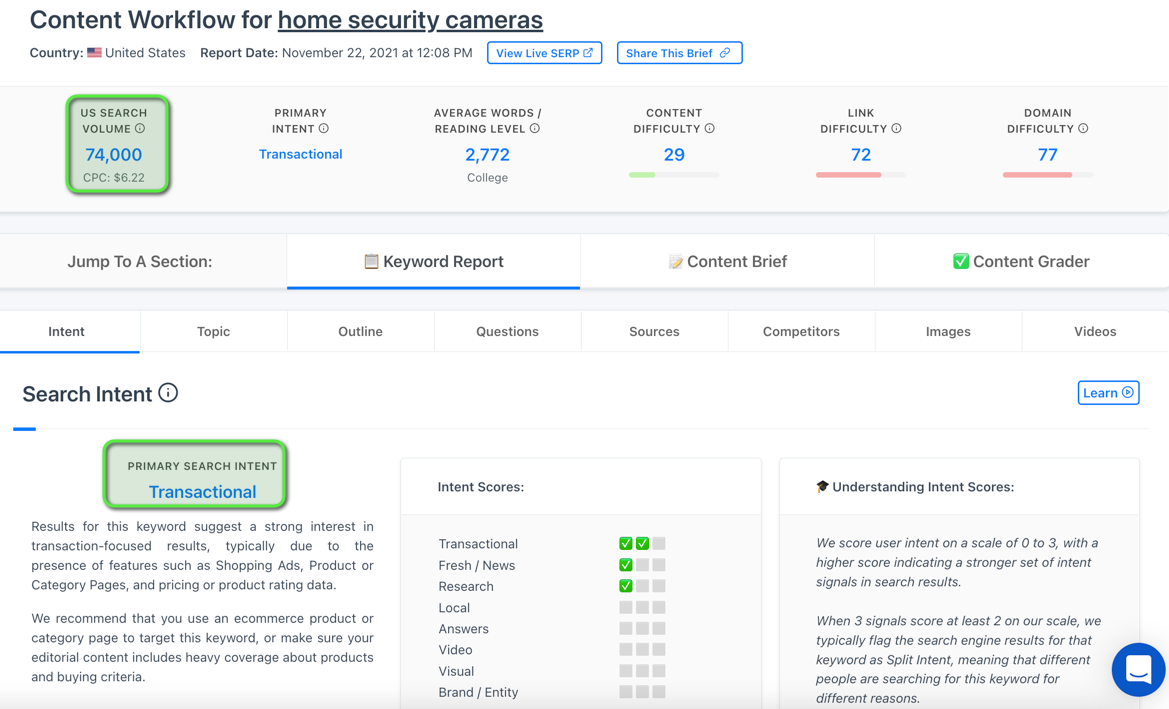 The 'Questions' tab inside Content Harmony's workflow report scrapes Google PAAs, as well as more questions from Reddit, Quora, and Stack Exchange. This saves you the hassle of opening dozens of browser tabs and manually copy-pasting questions into a doc.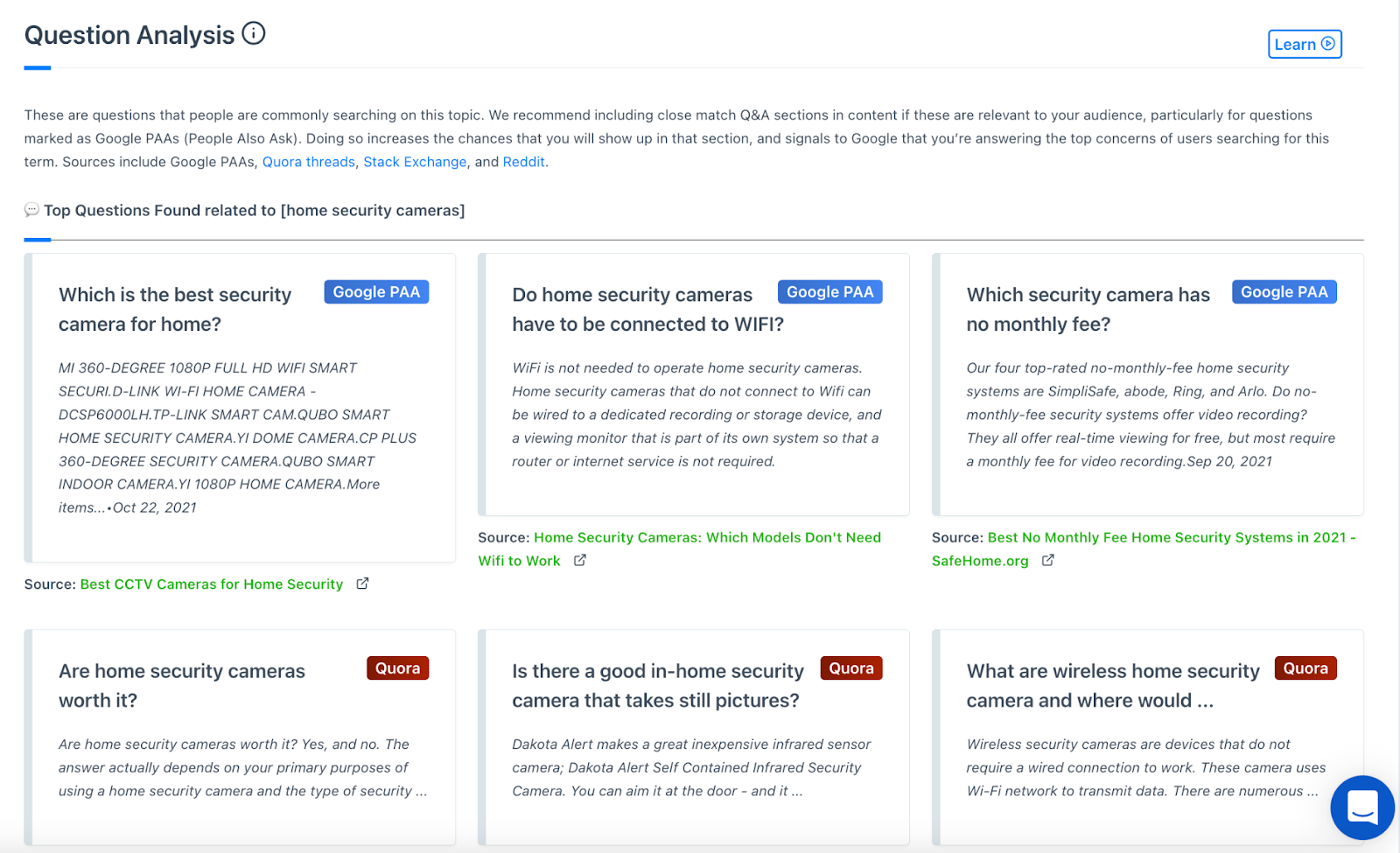 For more advanced PAA analysis, use tools like Search Response and Also Asked. Let's start by plugging in a bottom of funnel keyword inside Search Response.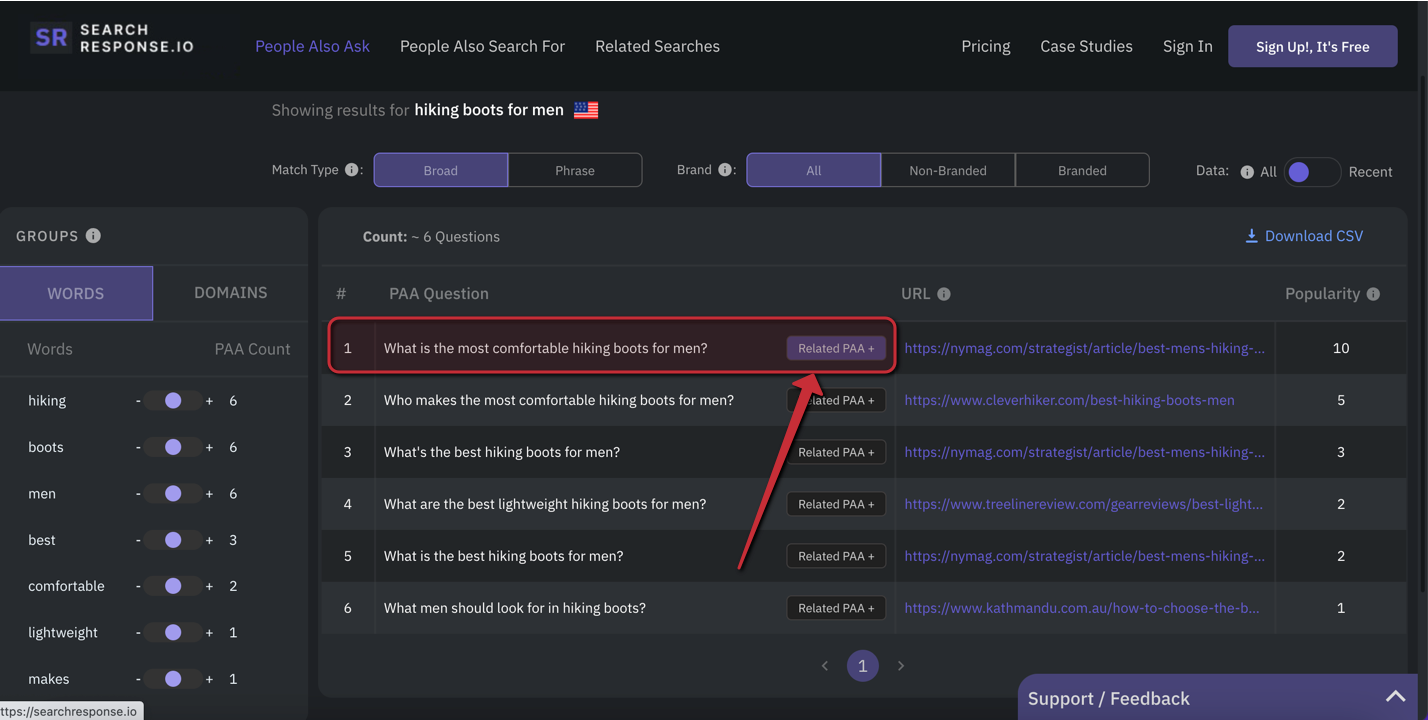 Search Response goes into an incredible amount of detail — clicking the 'related PAA' tab uncovers multiple questions that you can incorporate into your content.
Let's try a purchase intent keyword with Also Asked and see what it throws our way. For this example, we're using 'winter jackets'.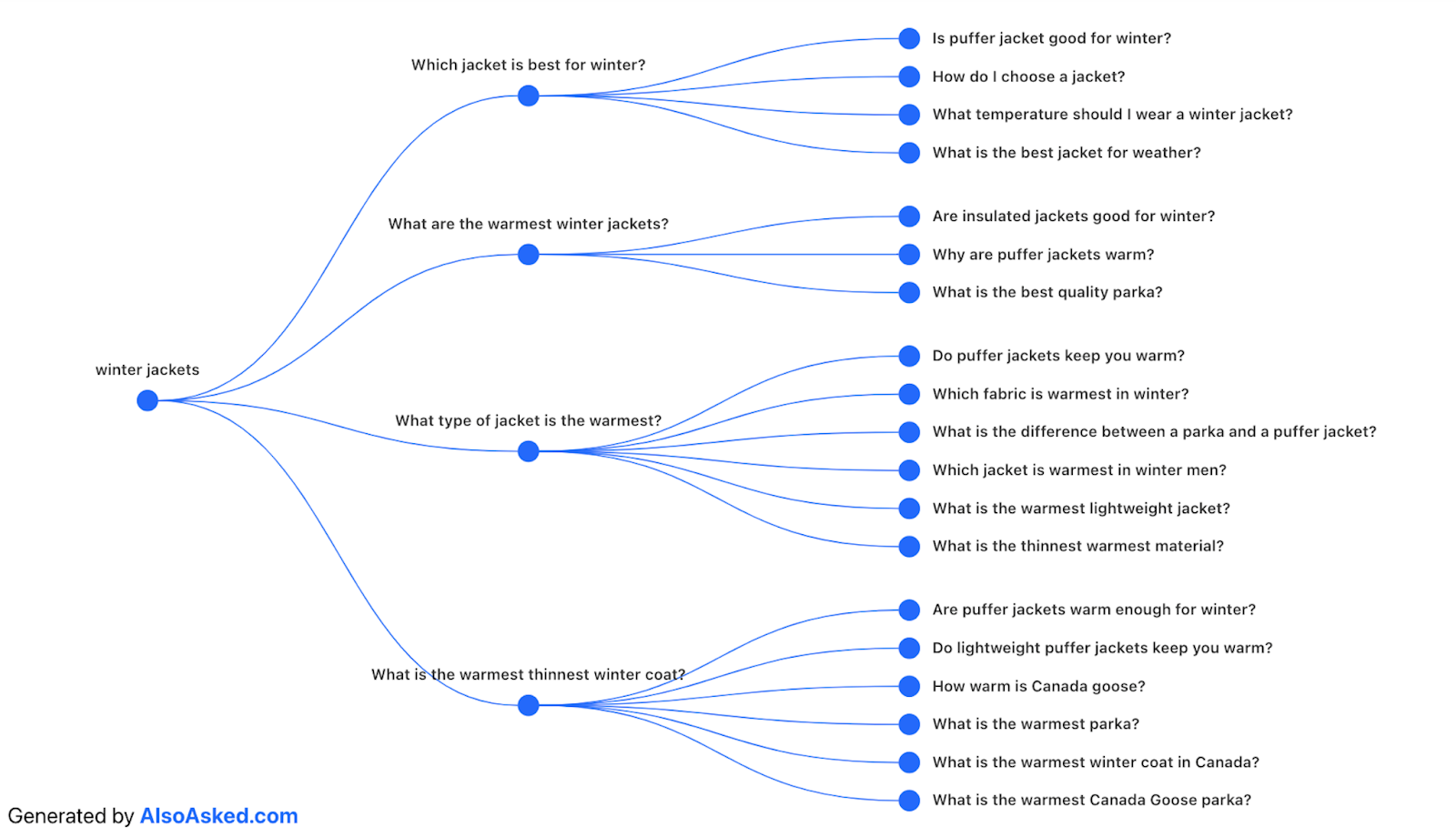 These questions help you address reader concerns as they navigate your eCommerce store or affiliate review site. For example, your product and category pages could list out the difference between a jacket and a parka and guide readers to the correct listings. An affiliate review site could list the best lightweight puffer jackets to cater to niche queries.
Study listing & review sites
Software and product review sites are a top method to nail voice of the customer research, since those are real humans expressing their expectations, hopes, and aspirations.
These help you drill down into very specific reasons why someone would switch away from their current provider or the features they're looking for in a brand-new solution.
For instance, let's take a look at what frustrated Hubspot users are saying online and whether there are any common problems. Start by searching for Hubspot reviews on Capterra and filtering by 'one-star'.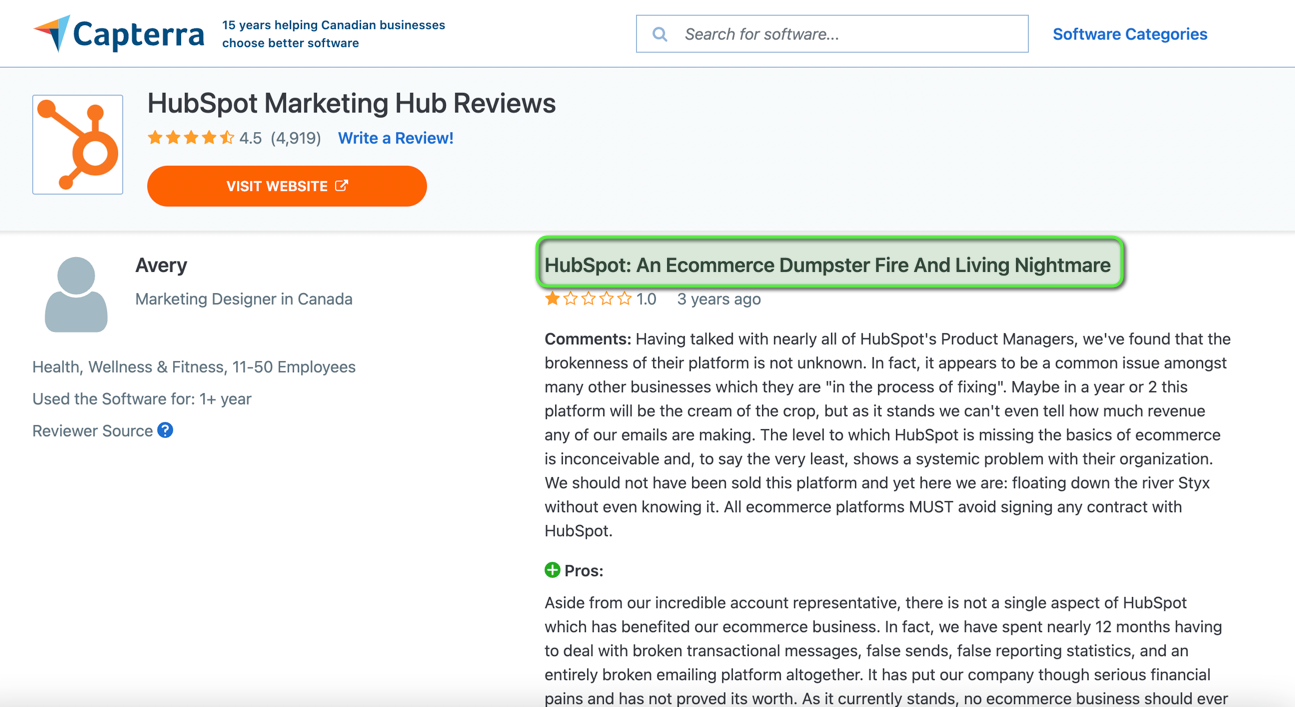 The first angry review makes it clear that the person wanted to use it for eCommerce operations — such as marketing automation, email marketing, and customer support. But it didn't deliver on that front.
Let's see if there are any other reviews that fit this mold.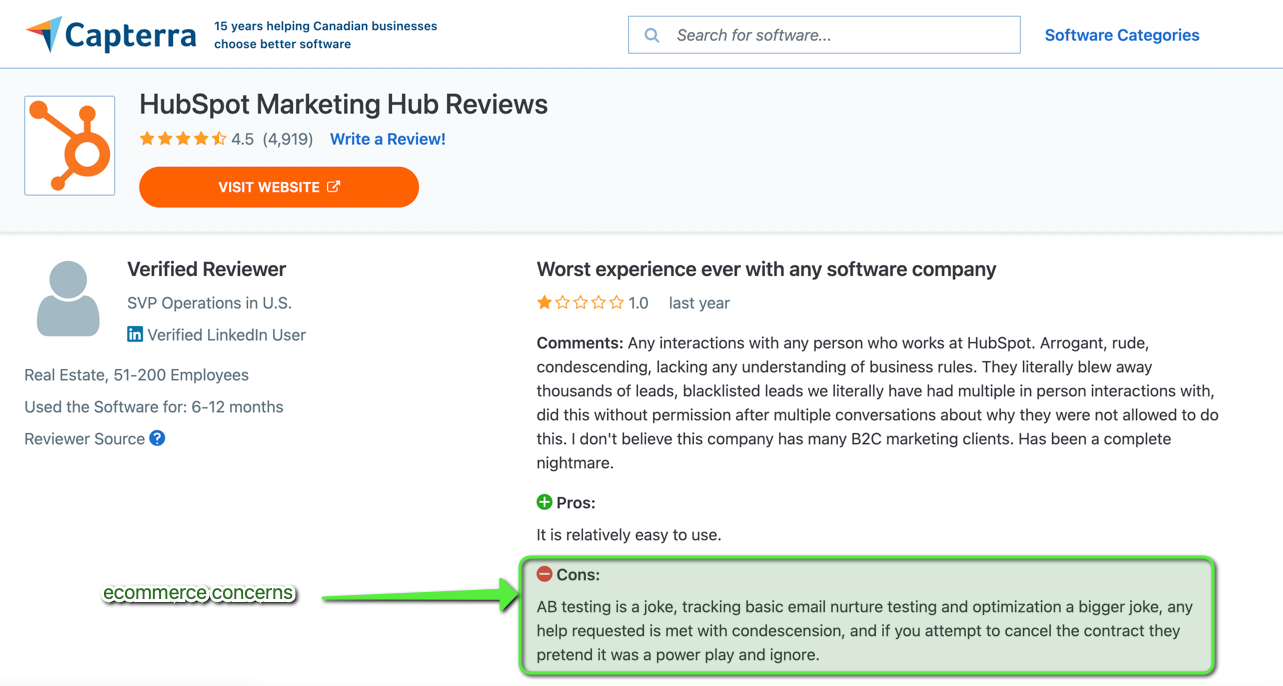 Another review further down the page expresses frustrations with similar objectives — email nurturing, optimization, and A/B testing. Hence, we're able to see a trend forming. Hubspot may be a fantastic lead capture and inbound marketing tool, but it's not as well-equipped to handle other facets of marketing.
It's these frustrations you can use for bottom-of-funnel-focused landing pages, ads, and even blog posts. In this case, if you were trying to siphon away some of Hubspot's existing customers, you could start by highlighting how your email marketing tool does these tasks better. Back up your statements with plenty of social proof and throw in a free trial to close the sale.
"By filtering through reviews with an SEO lens, we can often discern the presence of both high and low intent keywords. Whatever is bringing you success on a consistent basis is going to show up in reviews, but they can also provide insight into the most common and effective solutions, helping us to target future pain points. This means that customer reviews can be a rich resource from an SEO perspective," explains Stephan Baldwin of Assisted Living Center.
Research what people say in private communities
Other places to research voice of the customer data is to understand where they hang out and sign up for those communities.
Slack and Facebook communities are the most common examples we see.
Superpath, for example, is a popular community for content marketers, and its Slack channel currently has nearly 9,000 members.
Such engaged communities are a potential goldmine for bottom of funnel content ideas and keywords — folks actively ask each other for recommendations, advice, and tips. They're also articulating specific concerns they may have before finalizing a purchase decision; you can use these for sales enablement content, product and service landing pages, and other BoFU content assets.

For example, if I was a marketer on Webflow's team, I'd take a look at the question above and assume that this is a common objection from folks running large sites.
Webflow is a relatively new CMS compared to battle-tested alternatives like WordPress and those with robust content operations can't afford any dip in performance. If Webflow wanted to appeal to more publishers, a good first step would be to address these concerns directly on product and service pages.
Review paid tools for more advanced filtering
The best things in life are free, but paid tools can help you with content prioritization efforts and unlock a level of granularity that publicly available sources may struggle with. If you already have access to a paid keyword tool like Ahrefs, it's a simple matter of applying the right filters to uncover more bottom of funnel keywords.
Let's start by using a tactic we highlighted earlier — siphoning away dissatisfied customers from the well-recognized brands in your niche or those in the final stages of a purchase decision.

The 'alternatives' modifier has lots of search interest, but an equally high keyword difficulty.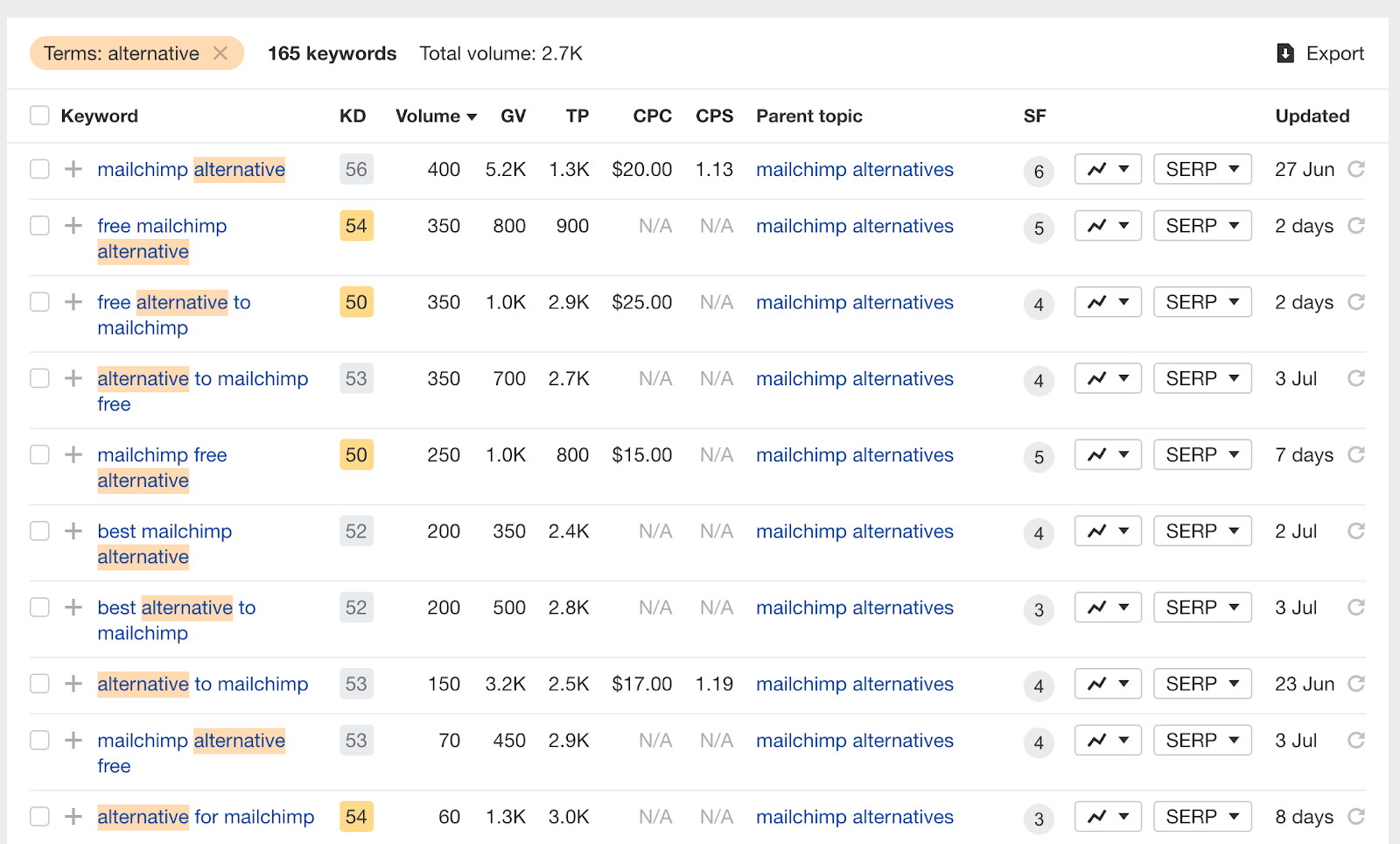 When we filter for easier keyword difficulty, the "mailchimp vs [brand]" modifier comes up pretty often. These are useful for when your prospects are in the closing stages of a purchasing decision — they're actively comparing one brand versus another to understand which one meets their needs better.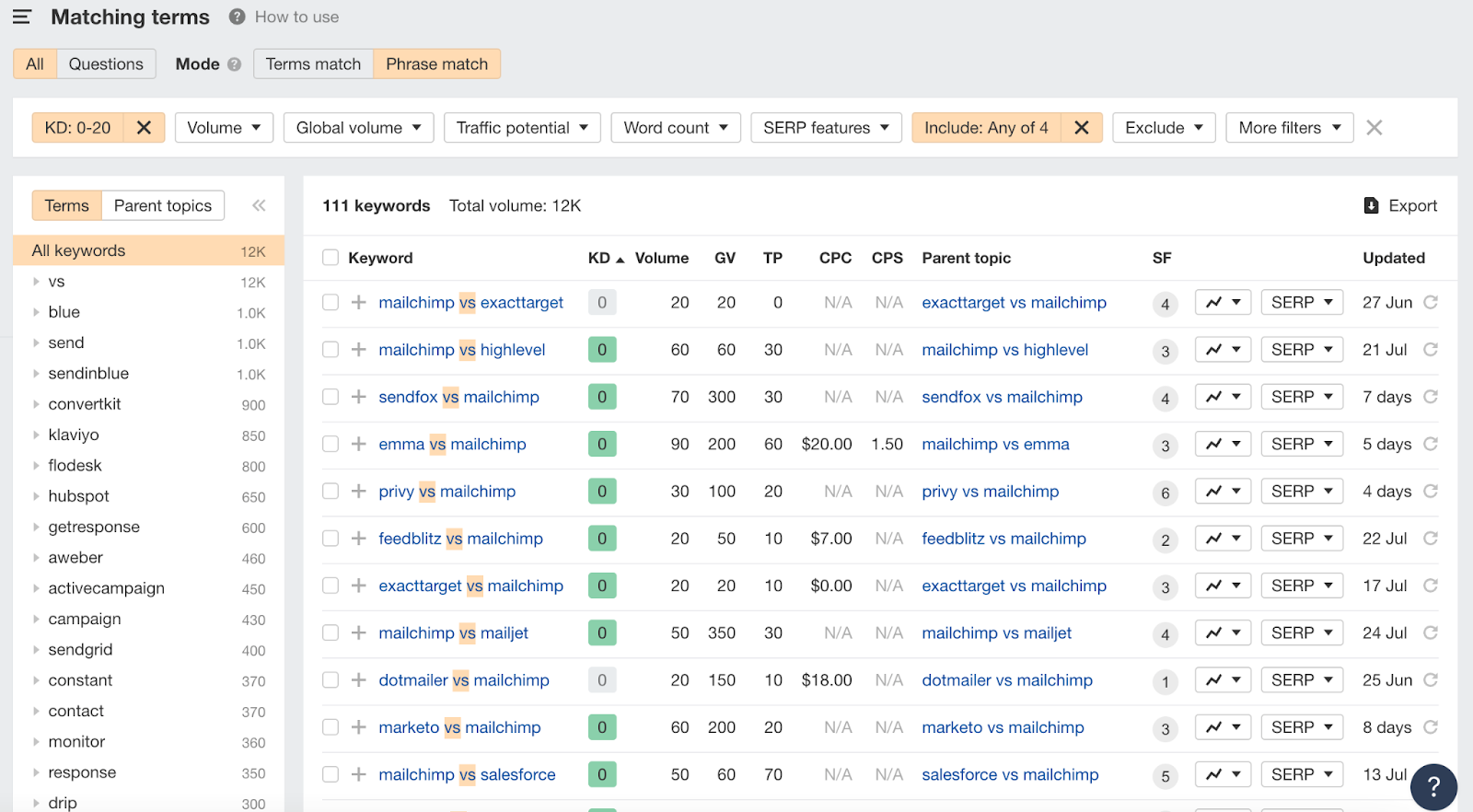 Another way to use paid tools for bottom of funnel keyword research is to understand what's working for your competitors' sites and replicate that for your business.
Let's take a look at productivity and task management app ClickUp that ranks for 297,000 organic keywords and pulls in a million visitors a month through search.

Filtering by top organic pages shows up the incredible content moat that ClickUp has built over the years. Since it's a freemium product, it can position itself well for queries like "free project management software" and "free gantt chart", and gradually upsell them to its paid offerings when their needs change.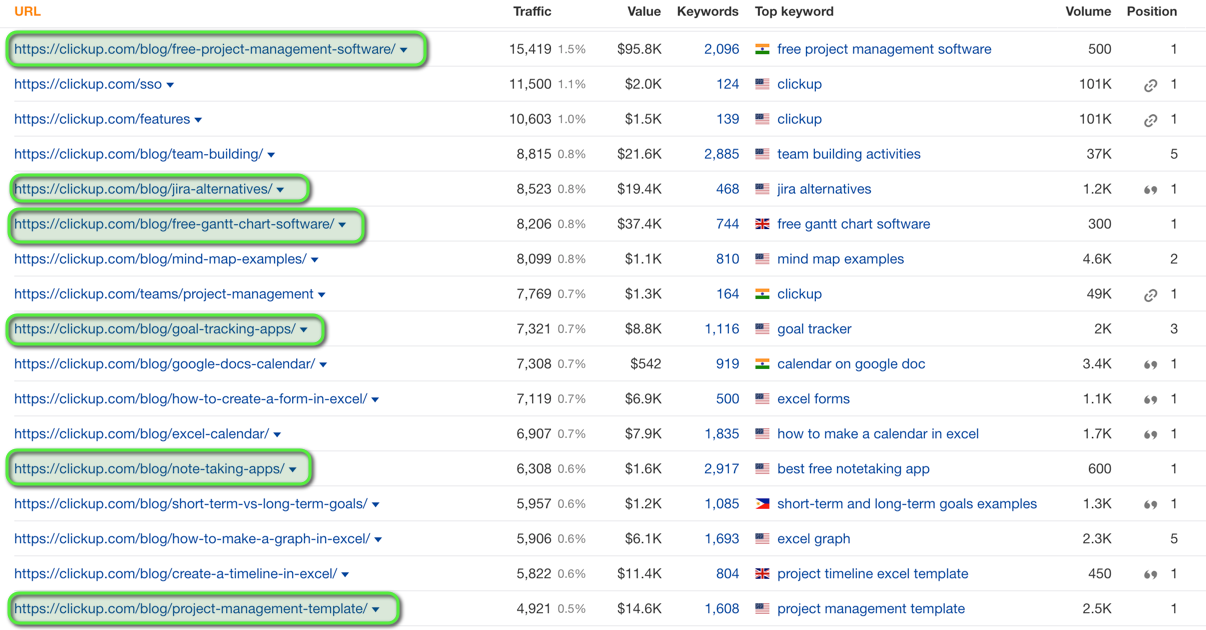 And for power users, it can directly compete on keywords like "Jira alternative", "Basecamp alternative", and more — each of which brings it several thousand conversion-focused blog visitors a month.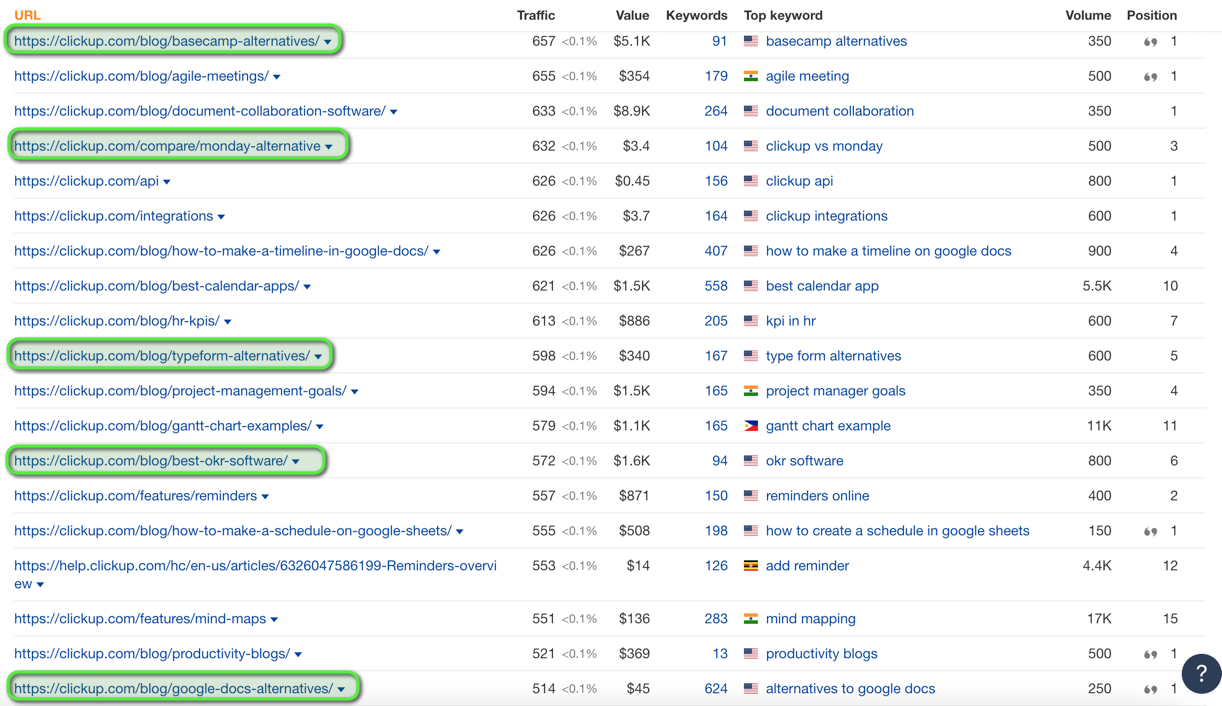 "Using a keyword research tool such as Ahrefs or SEMrush, analyze the keywords that your competitor's product/service/lead pages are getting traffic for," says Max Peters of Technical SEO Consulting.
"Product/service/lead pages that are ranking on the first page in Google will be the pages that are likely ranking for the high intent, bottom of the funnel keywords."
Leverage team members and customers to find BoFU keywords
Keyword research and SEO tools are great at aggregating data, but understanding and identifying your customers' pain points is another way to reveal high buyer-intent keywords.
You may have an internal understanding of who your competitors are, what problems you believe your product/service solves, and the value propositions that are most compelling for your target audience, but the best way to validate those assumptions is to ask paying customers directly.
If your company relies on a sales team to close deals, then it's a simple matter of asking them the common questions that come up on sales calls. For example:
What other products and services do prospects compare us with?
What are some of the common frustrations they express during calls?
How do you qualify leads as being buyer-ready?
What concerns or objections do they convey about our product?
Insights from these questions will help you understand your audience and how they view your product. This beats any quantitative data analysis via keyword research, SEO, and audience insight tools — you're getting insights directly from folks who buy from you.
Eric Doty of Butter says that the keyword and content insights he gleaned from conversations with his sales team led to the best-performing content in terms of conversions.
"SEO and content tools should of course be part of your keyword research process, but if you're in a niche B2B industry, there may not be much historical data or search volume for your high-intent keywords," he adds. "There may be a lot of hidden opportunities. This is where your sales team can provide a treasure trove of insights."
Use survey data to get more insights
It's possible that your business relies on a self-serve model to acquire and onboard users — at Content Harmony, for example, we don't have a sales team, preferring to rely on demo & training calls and an affordable paid trial.
With this model, you're still engaging with your customers through an email onboarding sequence or directly during the demo. Don't shy away from asking them open-ending questions such as:
What were the problems you needed to solve when you started your product research?
How did you find out about us and what helped you choose us over the competition?
If we were to shut down, who would you turn to as an alternative?
How would you describe our product/service to a friend who has a similar problem?
What are the top benefits you get from our product?
What search terms did you use during your research?
Each question serves a specific purpose. Asking your customers about their problems helps you with landing page optimization and copywriting, as well as identifying potential keywords you may not have thought of.
Asking them about who they view as competing products and why they picked you versus others enables you to create more comparison pages and drill down on your value prop on those pages. And understanding the core benefits and search terms could uncover more keywords as well as questions to answer in blogs and landing pages.
Let's assume that folks mention better search visibility, high-quality content, and faster content throughput as the top benefits of using your product. That gives you key topics to start building content around — while the articles should be informational and helpful in nature, you're certainly able to position your product as a key solution.
"Giving the brainstorming process enough time often helps to uncover some of the less obvious search terms that potential customers (who are not necessarily in the industry and may not use the 'standard' terms that we take for granted) might use themselves. If you approach the brainstorming from a narrow view and rush through it, you can easily miss some of the most valuable high intent keywords," explains Holly Lawton of Pearl Scan.
Talk to other teams on the front lines
Customer support, success, and onboarding teams are in the trenches every day — talking to customers, helping them with teething issues, and resolving critical support questions.
As such, they're in the best possible position to understand how customers view your product and what features help them level up.
These team members are another valuable source of data. They can articulate what common questions and concerns customers ask them frequently. Building content around those objections helps close deals faster.
Similarly, such colleagues can also shed light on what features your customers prefer versus those of the competition. These insights can be used in bottom of funnel landing pages such as product/service pages, comparison blogs, and more.
---
Want to see how Content Harmony helps you build content that outranks the competition?
The blog post you just read scores Good in our Content Grader for the topic "how to find bottom of funnel keywords":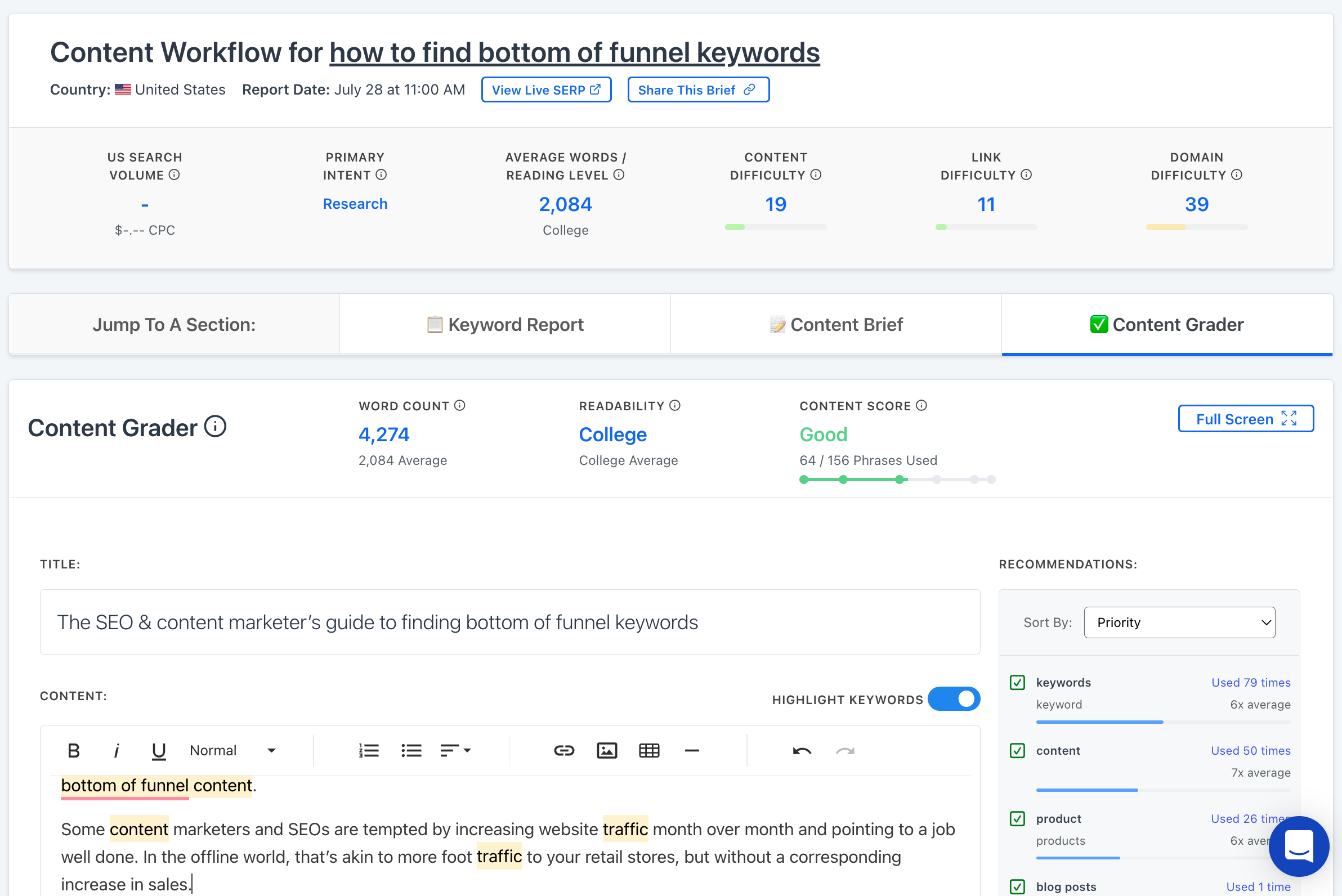 Grade your content against an AI-driven topic model using Content Harmony - get your first 10 credits for free when you schedule a demo, or sign up here to take it for a spin on your own.
👉 Get Your First 10 Briefs For $10
---
---
✉️ Get an email when we publish new content:
Don't worry, we won't bug you with junk. Just great content marketing resources.
---
Ready To Try
Content Harmony?
Get your first 10 briefs for just $10
No trial limits or auto renewals. Just upgrade when you're ready.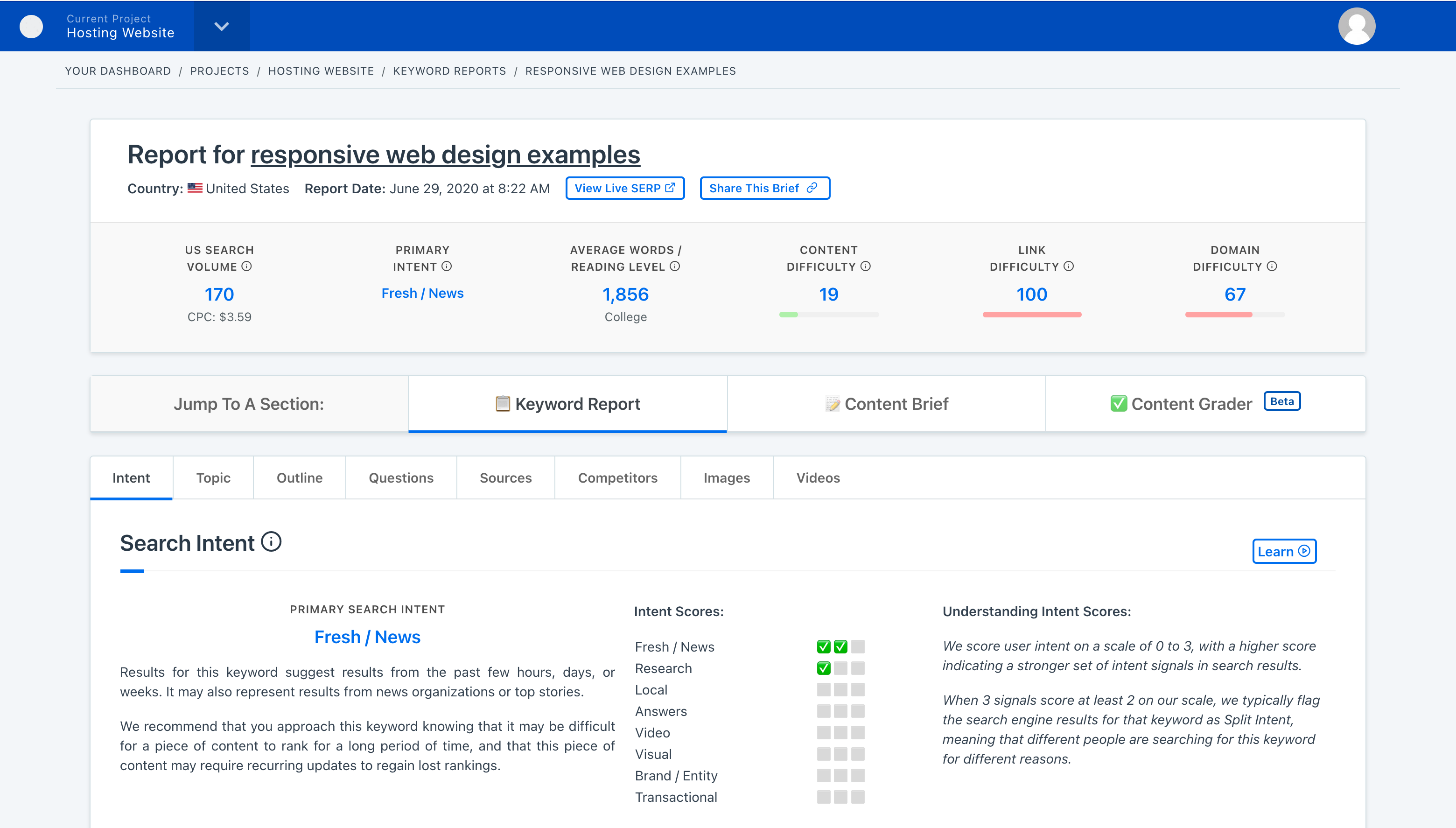 ---