We've previously touched upon the importance of creating amazing content briefs to help writers and strategists stay aligned with considerations like content goals, expectations, and SEO requirements.
But meeting SEO requirements and hitting a target word count is only one aspect of your content's appeal. The tone you embody and the message you convey to your audience is critical. Your content has to both rank well and inculcate trust — if the quality of your content is sub-par, your prospects will transfer that perception over to your products, too.
That's where editorial guidelines become critical to running your content program.
What are editorial guidelines?
Editorial guidelines, also known as an editorial style guide, are a set of rules that writers or contributors to your blog should follow when publishing content. These guidelines typically include requirements related to your brand voice and tone, grammar & style, image contributions, the type of content you want to publish, your audience, and how your editorial process works.
The goal of editorial guidelines is to ensure consistency across all messaging. For example, if you use American English in some pieces of content and British English in others, that's inconsistent and may negatively impact your brand impression. Another example is what types of imagery and graphics may be used and the requirements related to sourcing those images.
The goal of editorial guidelines is to ensure that all content is consistent and high-quality and to provide a handy reference point for whoever is writing or editing the article.
💡
Editorial guidelines pro tip:
When creating editorial guidelines, try to go as deep as possible. Include examples of messaging you like, and those you don't. Show differences between American vs British spelling. The more detailed your guidelines, the quicker it is for your writer to get up to speed.
How do editorial guidelines differ from tone & voice and brand guidelines?
The two are often used interchangeably, but it's important to make a distinction between them.
Tone & voice guidelines describe how your brand speaks in all forms of communication. They're a reflection of your brand identity and are cover all aspects of how a brand speaks beyond just editorial content, covering environments like UI/UX copy, advertising, internal presentations, product packaging, and website copy.
Brand guidelines describe how you wish your brand to be perceived visually and emotionally. If your brand was a person, how would they be perceived? Are they loud, confident, and bold or helpful, inquisitive, and trustworthy? How should the logo be used? What fonts & colors and design requirements exist? Tone & voice guidelines typically are included inside of larger brand guidelines documents, because nailing brand messaging is one component of how your brand is perceived.
Editorial guidelines, on the other hand, can cover any requirements related to fulfilling your editorial mission statement. As we explain in a previous post, an editorial mission statement is how you unite everyone in your content team toward a single goal. It embodies your brand, delivers a deep understanding of your content program's purpose, what value your content will deliver to your target audience, the style of content you'll be creating, and why its creation is important in the first place.
While editorial guidelines will also cover elements related to visual guidelines and written tone & voice, they're primarily focused on conveying how your content gets created, and what it looks like when it's complete.
How to create editorial guidelines for your brand
Let's take a look at a few ways you can start to create editorial guidelines for your brand.
Understand your audience
The cornerstone of any great marketing is a deep, visceral understanding of who you're marketing to. Talking to your audience in a voice that they understand will help convert them into loyal fans. On the flip side, if you're going to be banal, insipid, and boring, you're going to lose their interest fairly quickly.
Most businesses make the mistake of adopting generic advertising tones when creating public-facing content. It's written in a way that's supposed to appeal to everyone, but by doing so they fail to make any sort of impression. They've lost the attention of their audience since they haven't appealed to any specific segment.
Example:
At Content Harmony, we understand that the majority of our audience is smart & creative digital marketers. Our content can only resonate with our audience if it's clever, informative, and actionable. We want our audience to be a part of our tribe, and we'll try our best to remain positive without being snarky or negative.
When creating content, it's important for us to look beyond the fluff. We hold ourselves accountable to high standards, because our audience expects us to. We're bold and opinionated about content & SEO best practices, because we've been in the trenches before and understand the problems that our customers face.
See how Content Harmony documents our audience in our Brand Hub.
Thinking about your audience and its needs and aspirations can help you craft your own editorial guidelines.
The editorial guidelines of Seeking Alpha, a popular finance publication, quickly demonstrates its understanding of the audience it serves when describing what it looks for in a content submission: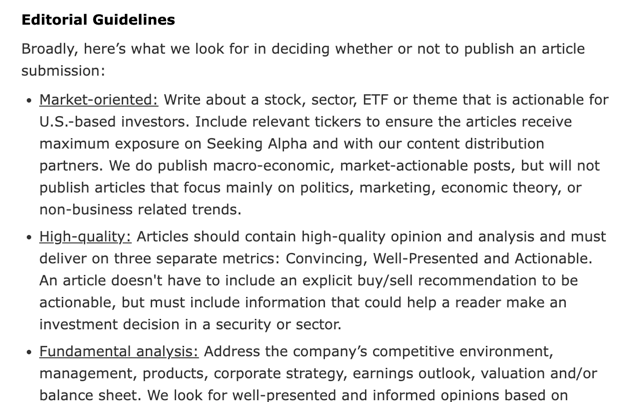 Figure out the goal of your content
By now you have understood who you're writing for and the tone that's going to resonate with them the most. The next step is for you to understand the kind of topics that will engage your audience the most. What are they interested in reading about and how can your blog help them level up in their professional lives?
As mentioned above, the majority of our audience at Content Harmony is smart, creative marketers. We don't want to bore them with content about why investing in digital marketing or SEO is important for their business — they're already sold on that. We do want to educate them on things like:
Correctly analyzing and catering to search intent
Frameworks for content optimization
How to plan and structure content marketing teams
The importance of content briefs & how to create them
Related topics that help them do their jobs better
If your publication actively seeks out guest posts or works with freelance contributors, then listing your core topics and themes as a publicly-available document is a recommended method to get relevant submissions.
B2B marketing community Marketing Profs has a section dedicated to explaining what topics its audience is interested in and how all submissions must fit within these categories, otherwise, it is unlikely to be selected.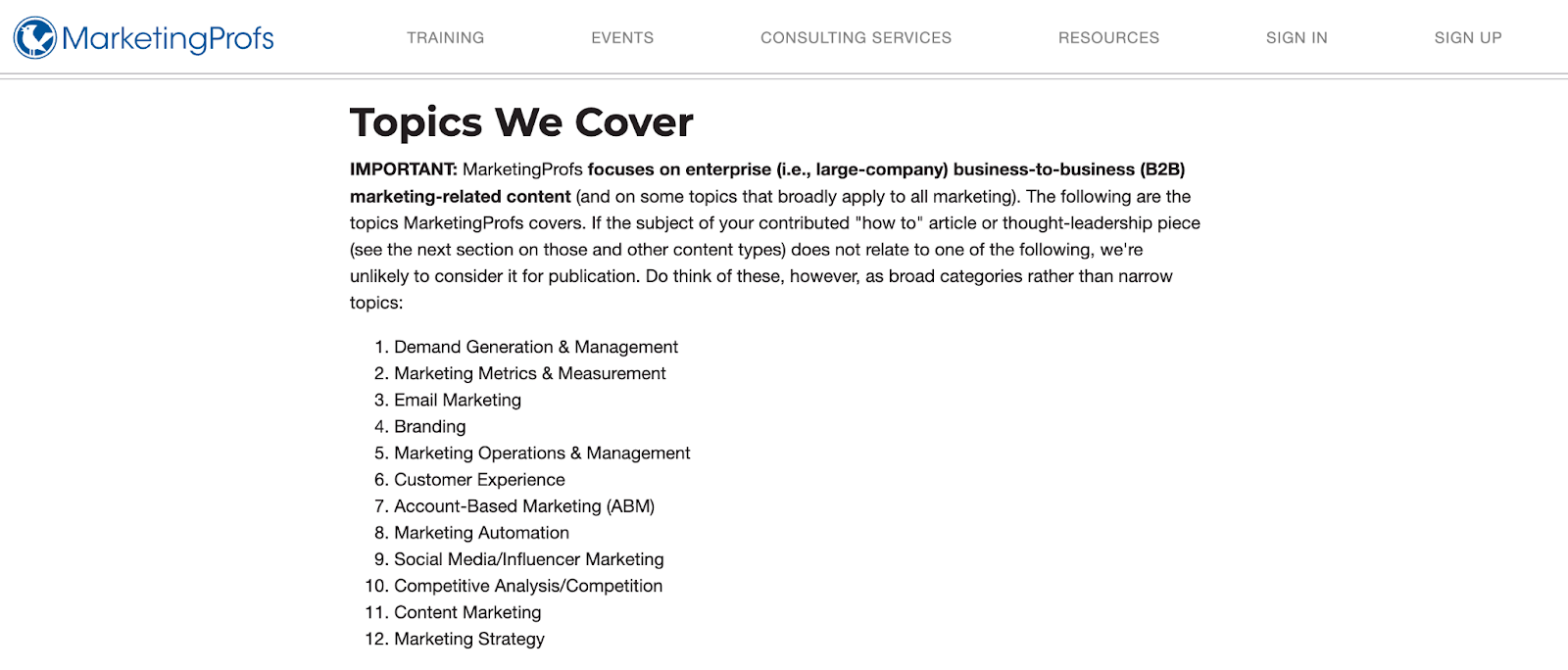 If your publication gets a lot of submissions, then it's also recommended that you do a deeper dive into what will make your content stand out from the rest. That's where the 'Topics we Cover' section fits in — if you're able to explain clearly what your expectations / goals are, the better your chances of quality submissions. What's more, this also allows you to reject submissions that aren't a good fit.
Content Harmony's Editorial Guidelines cover these topics in a section titled "Subject Matter":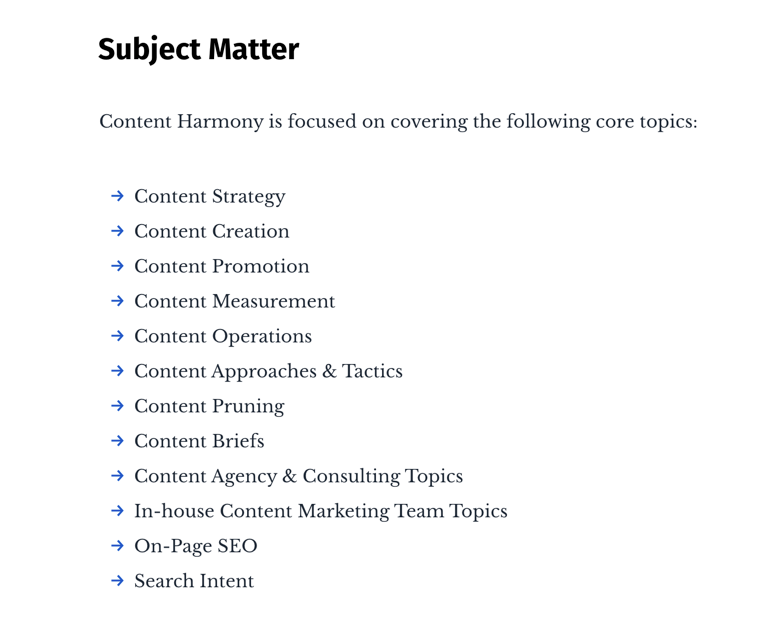 Explain your preferred content formats
In your editorial guidelines document, we recommend that you clearly outline what types of content you're willing to accept. In our research, most publications make it clear that they're only interested in original pieces of content that haven't been published elsewhere. Things like press releases or product updates are rarely accepted since they don't serve the publication's audience or core interests.
We've published Content Harmony's internal editorial guidelines document to demonstrate what types of posts are likely to be approved for publication.
In this section, we explicitly describe what types of content we want to publish: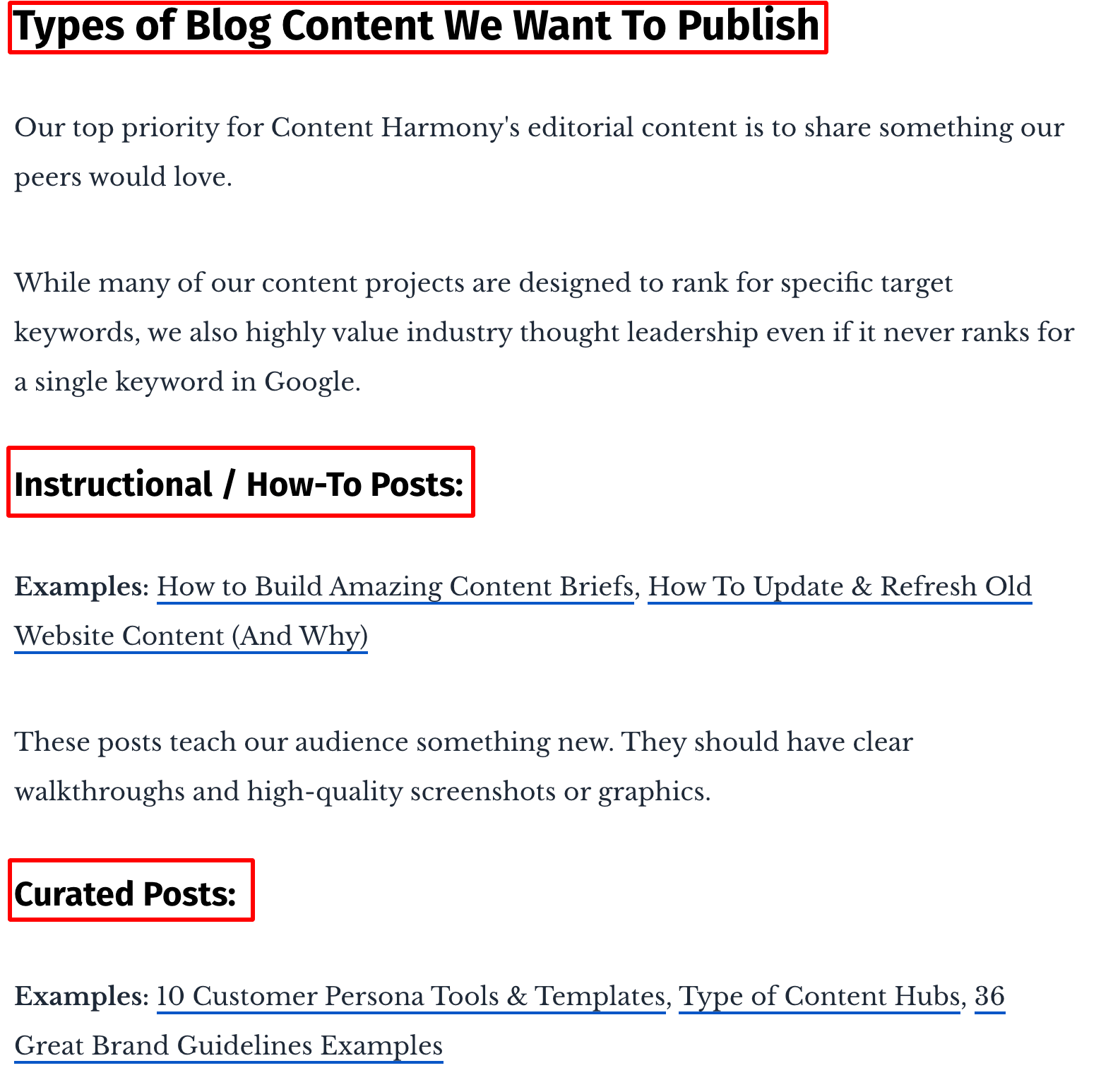 Your preferred content formats should tie back to your editorial mission statement. Content Harmony's priority is to create content that leaves an impression on our audience — we want our readers to walk away with the feeling that they learned something new, felt inspired by the content, and were able to apply the insights in their respective careers or side projects.
Instructional / How-To posts, Guides, Curated Posts, and Teardowns are all par for the course as long as they showcase an expert-level understanding of the topic at hand.
We're also very keen on releasing templates and frameworks that our audience can apply for their own content efforts. Some templates that we've made publicly available are:
We'll continue to add more templates and frameworks in the future since that's our way of demonstrating expertise and giving back to the community we serve.
We encourage you to think about your preferred content formats in the same fashion — what types of content help further your editorial mission statement and how do they help your audience?
🧑‍💻
Content Formats:
When thinking about your preferred content formats, try to put yourself in your audience's shoes. Do they prefer smart, educational content or easily-digestible, humorous content? What formats work best when delivering those to them?
Explain what you don't cover
Your editorial guidelines document should also mention things that you don't want to be included or mentioned in your publication. For example, you may want to avoid mentioning any overtly political topics or for your brand to take a hard stance on things like gun control laws. Your brand may also want to stay classy and avoid lampooning the competition or mentioning them at all.
An explanation of what you don't cover can also wade into topics that you're not interested in. For example, if you run a home & gardening business, then submissions that cover topics like how to vet auto mechanics are probably not a great fit.
To recap, an explanation of what you don't cover can include:
Competitors — guidelines on not mentioning them at all in informational / educational content, and only including them when absolutely necessary, such as in comparison pages.
Sensitive Topics — this makes the most sense if you're not trying to align yourself with a social cause. Unless your brand actively courts only one end of the political spectrum, it's probably better that you don't take a hardline stance on politics or social issues.
Irrelevant / Off-Brand Topics — we've mentioned before how the success of your content marketing program is a direct reflection of how well you understand your audience. Accept posts that fall within the realm of what your audience prefers to consume, anything else is unnecessary.
Explain your style guide
We've discussed earlier how consistency is important. Your editorial guidelines should also include a style guide, which helps guide writers on whether to use things like em dashes vs semi-colons, spelling variations, and more.
Specifically, your style guide can cover the following elements:
Grammar
If you prefer that writers use the Oxford comma and maintain an active voice, then cover that in your style guide. This section can also include what variations of popular terms you prefer, such as eCommerce vs e-commerce, eBook vs e-book, or whitepaper vs White Paper.
Spelling
The most common differences in spelling are between American English and British English, so be sure to explain which style you prefer.
Use of images and links
Some publications ask that their writer does not include any stock images and that any screenshots be annotated with arrows and explainer text. Make your expectations clear so that writers aren't confused.
Your style guide can also shed some light on external linking best practices. For example, you might want to specify to your writers that they should only link to primary research sources. You could also let them know a list of your competitors so that they avoid linking to them.
If you allow guest post submissions, they usually involve a link exchange of some sort — your style guide can outline what is allowed from an external link capacity. Some blogs are okay with linking out to product / sales pages, while others may only allow links within the author's bio without further approval.
Formatting tips
As the editor or content manager, you can also include some helpful tips about how you would like your content to be structured. Some publications, like the Harvard Business Review, embody a very academic and text-heavy tone. If that's the style you prefer, then be sure to include it in your notes.
At Content Harmony, our formatting guidelines encourage liberal use of emojis, bulleted lists wherever possible, and paragraphs that are never more than four or five lines long. By including formatting requirements in your editorial guidelines, you're going to end up saving time during the editing and revision process.
We also share a list of web elements like callout boxes, bullets, and buttons to make it easier to convey formatting options inside of our CMS.
Show examples of copy that you like
Provide your writers with handy reference points that they can use when creating content. If you can link to examples that stood out for you and explain why you liked them, it'll help your writers immensely. You can also highlight examples of bad content, and explain where it fell short so that your writers are aware of what pitfalls to avoid.
Content Harmony's Tone & Voice guidelines include a section showing a good example of pop culture references: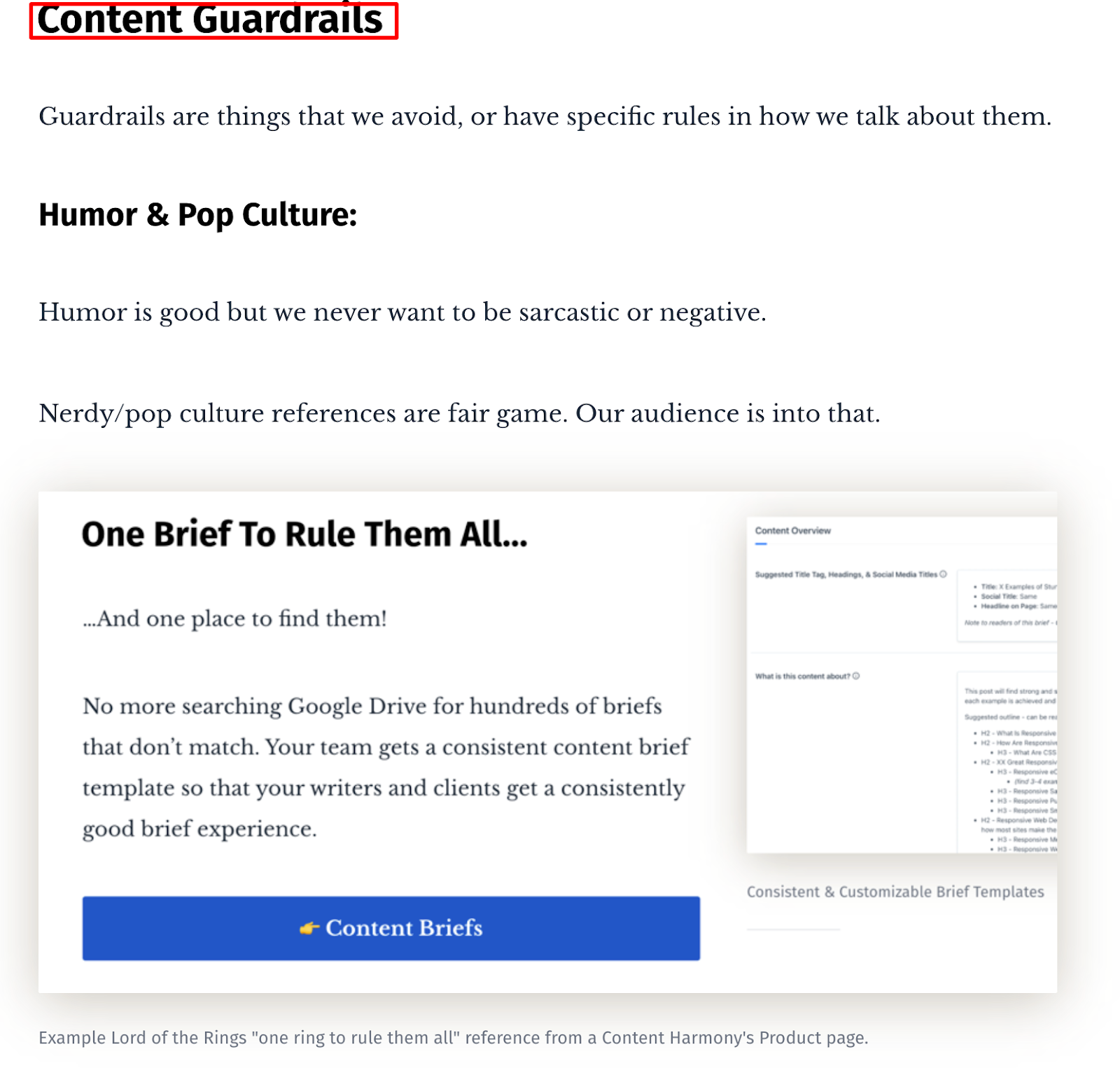 Explain your editorial process

An explanation of your editorial process helps both internal and external contributors stay aligned on content expectations and what happens after you click submit. For internal contributors, such as writers on your content marketing team or non-marketing staff such as product managers, this document serves as a handy reference point when they're creating content.
External contributors like freelance writers or guest post submissions can also benefit from clearly-defined expectations stated upfront. This helps answer questions like:
What is the recommended word count?
Who retains the copyright for the submitted article?
How long does it take to find out if the article has been accepted?
What is the established editorial cadence?
Can I post the article on personal sites after publication?
What sort of links can be included in the article?
What format is preferred — Google Docs, Microsoft Word, PDFs?
What visual elements should be included?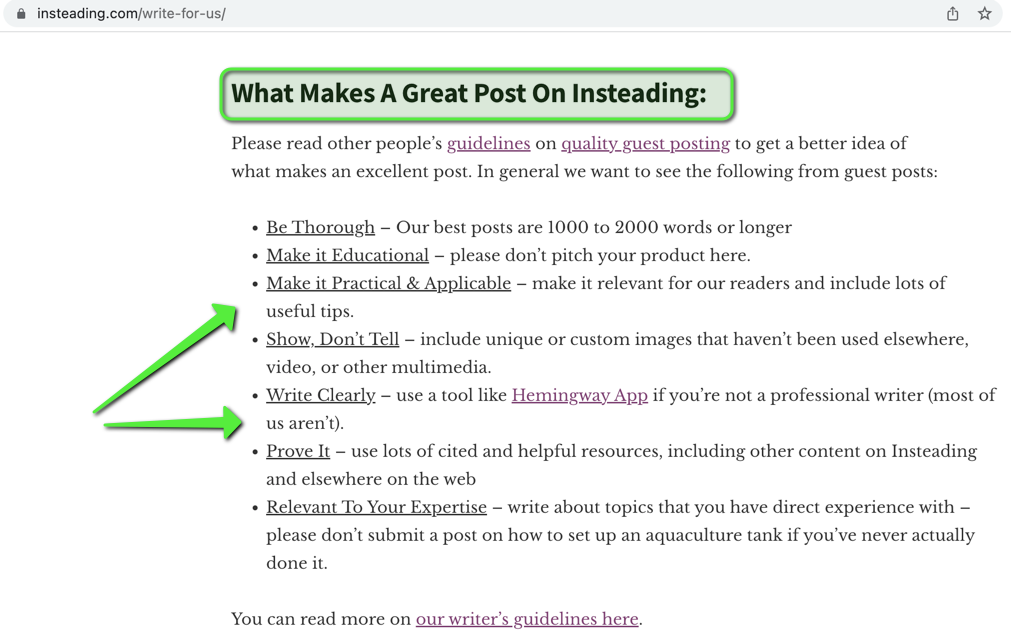 Explain your contributor expectations
Publishing your content is only the first step, so it's worthwhile spending a little time explaining what expectations you might have from your contributors once the post goes live.
Questions you can answer here are:
How will you promote the post — is it distributed to your email list and added on social networks? How soon after publication does that happen?
Are contributors expected to reply to comments?
Can contributors post the article on their own personal websites and social media feeds?
Who handles content updates — is the contributor responsible for any updates or will the in-house editorial team manage that?
In this section, you can also explain whether first-time contributors are expected to submit a short bio and headshot at the time of submission.
Make these guidelines public or easily shareable
The last step is to make sure these guidelines are either published in a public place, or create a shareable link from a Google Doc or Notion doc so you can easily share them with potential contributors or team members.
If these are easily shareable or published, it will also be easier to find them when you want to make updates or revisions as they evolve over time. Your Editorial Guidelines should be a living document, and should likely be updated as often as you're bringing on new writers and team members. Each time you onboard a new contributor is a chance to see what editorial guidelines slipped through the cracks and make sure you've documented them well.
---
Want to see how Content Harmony helps you build content that outranks the competition?
The blog post you just read scores Good in our Content Grader for the topic "how to create editorial guidelines".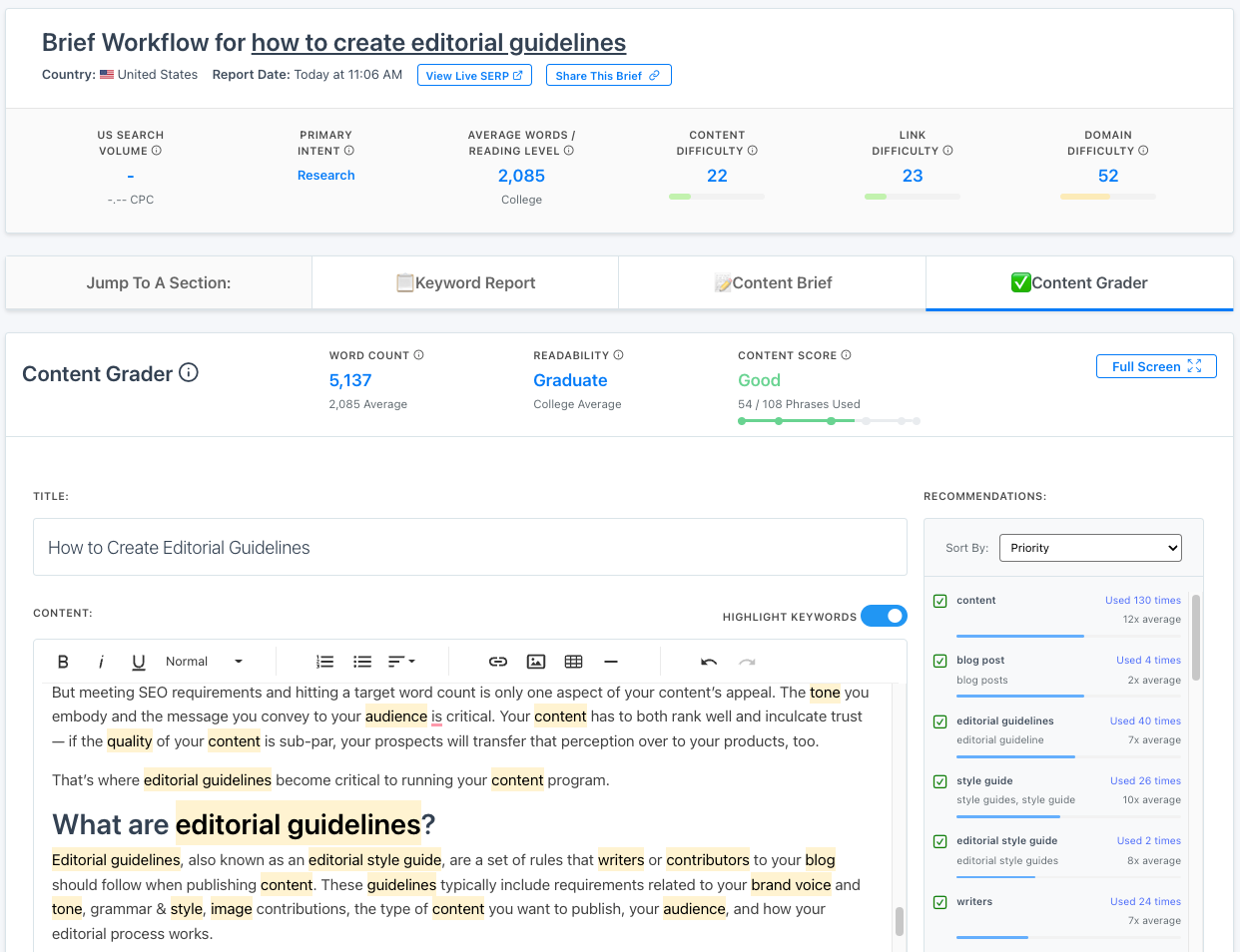 Grade your content against an AI-driven topic model using Content Harmony - get your first 10 credits for free when you schedule a demo, or sign up here to take it for a spin on your own.
👉 Get Your First 10 Briefs For $10
---
---
✉️ Get an email when we publish new content:
Don't worry, we won't bug you with junk. Just great content marketing resources.
---
Ready To Try
Content Harmony?
Get your first 10 briefs for just $10
No trial limits or auto renewals. Just upgrade when you're ready.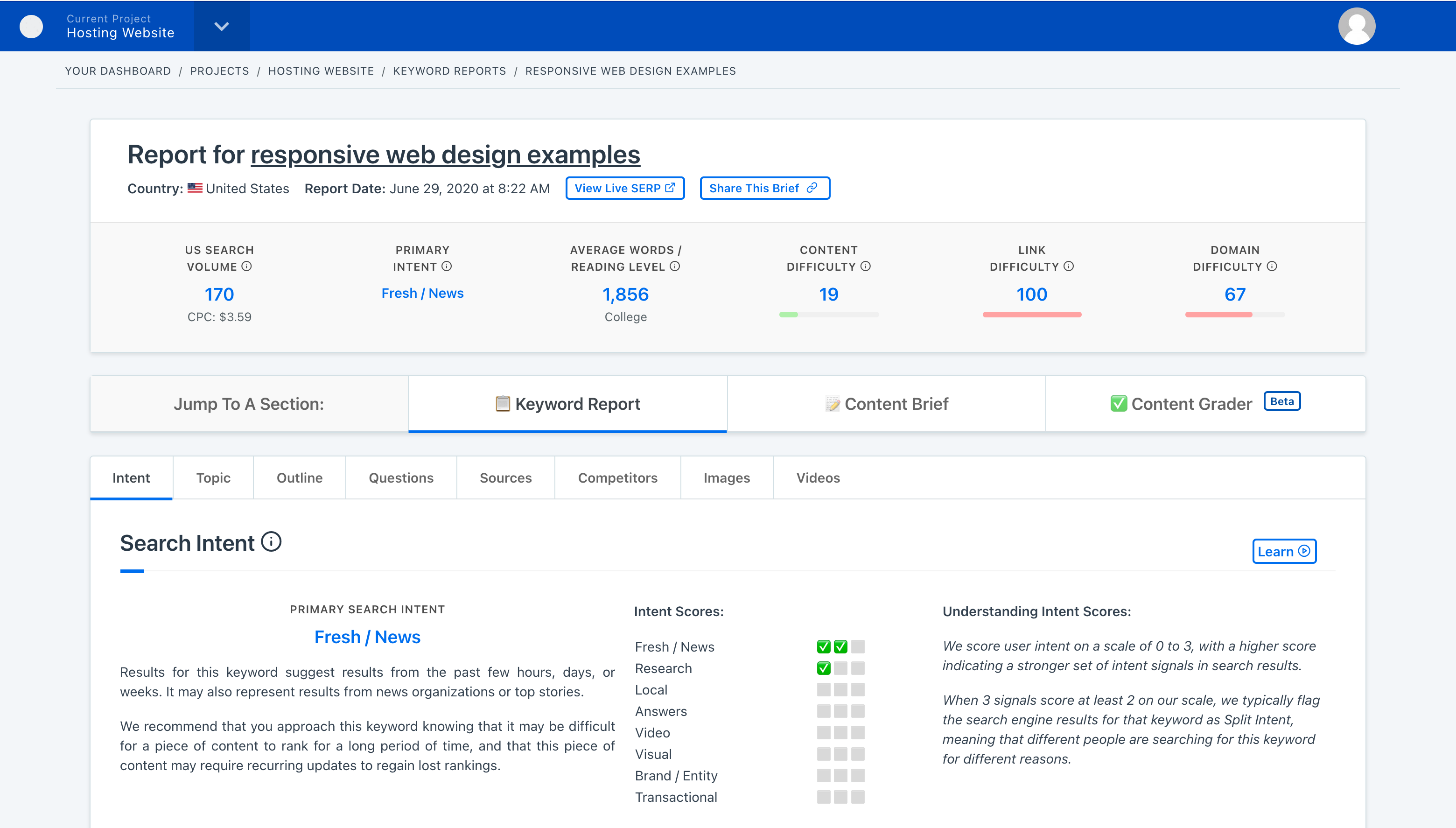 ---