Content marketers & SEOs often focus disproportionately on high-volume search queries. While that's not necessarily wrong, a content marketing strategy must work for all stages of the sales funnel, and some of your best converting organic traffic and highest value content might be for keywords that have zero volume, or don't even exist.
Popular high-volume searches often align with top-of-the-funnel (ToFU) purchase intent. The people searching for them are looking for general information, or just starting their product/topic research process. As a result, a large proportion of those searchers aren't in the closing stages of a purchase decision.
Content marketing that does its job of attracting curious prospects, holding their interest, and ultimately convincing them to become paying customers is one that serves both business and audience needs.
In this post, we'll discuss how BoFU content is an essential part of your content marketing strategy including tips on how to spot it, and examples of popular BoFU formats.
Already past that point? Check out our other post on How To Find Bottom of Funnel (BoFU) Keywords That Convert.
What is BoFu content?
Bottom of funnel (BoFU) content is the final stage of the buyer's journey—where prospects actively consume content to make a purchase decision. BoFU content certainly encourages a sale, but continues to add value wherever possible—just like content aimed for other stages of the funnel.
Bottom of funnel content isn't restricted to formats like sales letters, product pages, or demo videos. The best BoFU formats are those that match search intent (mostly for B2C audiences) or those that shorten the sales cycle and remove objections (for B2B).
For example, if a prospect is looking to purchase a SaaS product, they might want to compare a list of features of your service versus that of your competitors. Or, they may want to read a case study where someone with the same problem as them successfully implemented the solution.
Folks that want to buy a consumer product such as a gaming laptop or hiking boots will have different considerations. They may look at affiliate content at third-party sites or recommendations from a YouTube channel.
Those interested in local services such as furnace maintenance or air conditioning installation might consult with friends and family first and then turn their attention to places like Google Reviews or Yelp.
Irrespective of the use case, the common denominator with BoFU content is that it must instill trust so that the prospect is confident in their purchase decision. It should also highlight why your product or service is the best solution for them—even if it is slightly pricier than the competition.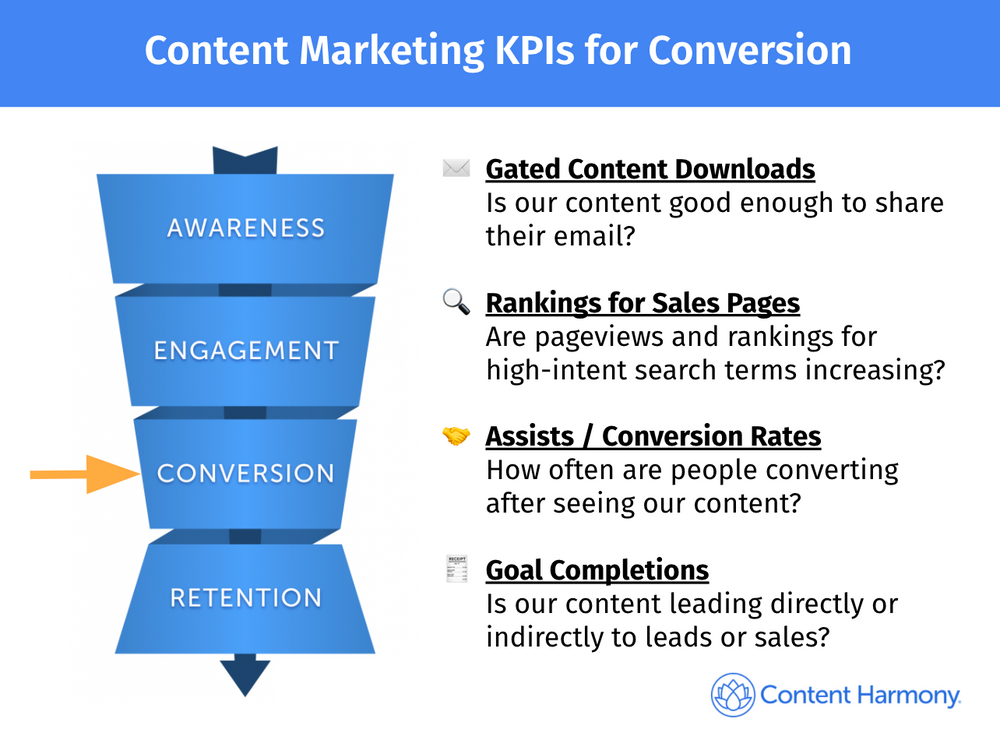 How do I find bottom of funnel keywords?
As marketers, we tend to gravitate towards keyword research tools to unearth content ideas.
There's safety in numbers: search volume, CPC, and keyword difficulty helps us decide whether we can capture demand.
It's reassuring and helps us validate our assumptions: the more folks searching for something means the higher the opportunity for us to swell traffic numbers, right?
BoFu content, however, works a little differently.
The best way to optimize for it is to really understand what our prospects need. Step into their shoes, so to speak.
What considerations do they have when they're about to whip out their credit card? How can you help them overcome objections and placate fears?
Ideally, they'd like to know things like if the product/service can:
Deliver on what it promises
Has a roster of satisfied customers
Extend robust customer support or after-sales service
Offer clear and transparent pricing
Work for your use case and industry
While there's nothing wrong with looking at keyword research tools to help guide a content decision, they can't be the only method.
Keyword research tools might show little to no volume for search terms that might be relevant for your audience. And if you rely on this data exclusively, you could end up de-prioritizing content efforts that could result in higher conversions.
So where can you find potential BoFU ideas, if not in keyword research tools?
Look for places where your audience hangs out, such as:
Slack groups
Facebook communities
Quora threads
Subreddits
There's also a wealth of information in places like:
Sales calls
Helpdesk chats
People also ask
Google autosuggest
Alex Birkett, co-founder at Omniscient Digital, reveals that many of their BoFU content ideas don't come from keyword research tools. His team follows a framework of "pain point keywords"—questions that prospects have when trying to solve a specific problem.
For example, his article "How to convert blog traffic" wasn't a result of keyword research.
"It was a topic that came up on dozens of sales calls, so we knew it was an issue. Only after identifying the topic and pain point did we find and attach a search keyword to it," adds Alex.
The team at Omniscient Digital produces more BoFU content around comparison and listicle pages. And while they're not adding custom event tracking to all of them, they hear frequently on demo and sales calls that their prospects found them via their content.
"I start most of my content strategies by targeting bottom funnel keywords. They quicken the feedback window and payback period of content, allowing us to invest more in content as we grow. Plus, top of funnel keywords tend to be higher volume, and therefore higher competition. People ignore bottom funnel content," explains Alex.
Listed below is a broad framework that will help point you in the right direction when looking for BoFU search terms.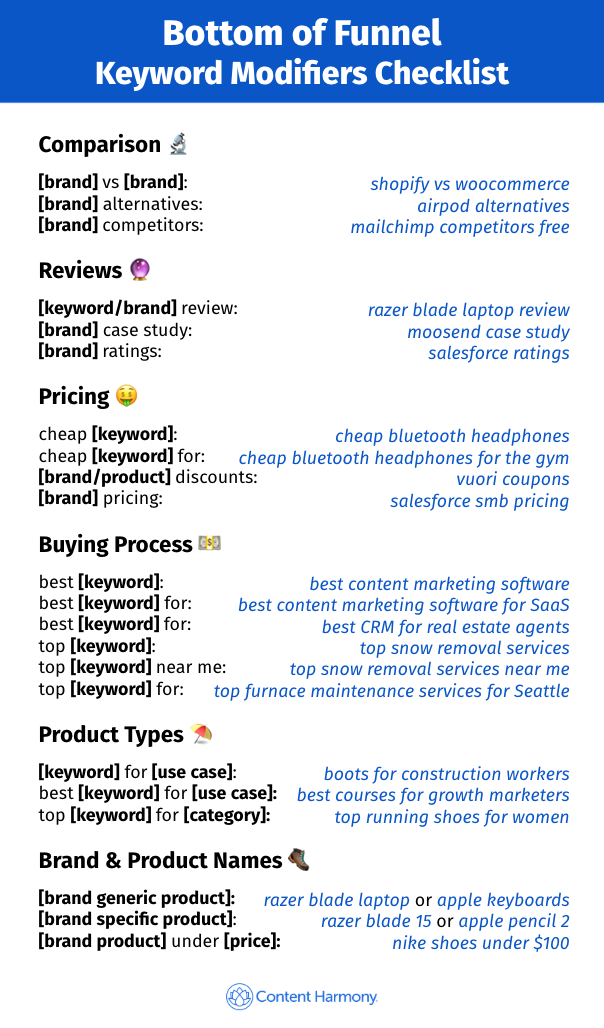 Here's a copy-and-pasteable version of that checklist:
Comparison
[brand] vs [brand]: (shopify vs woocommerce)
[brand] alternatives: (airpod alternatives)
[brand] competitors: (mailchimp competitors free)
Reviews (and other social proof like 'case studies')
[keyword/brand] review: (razer blade review) / (gaming laptops review)
[brand] case study: (moosend case study)
[brand] ratings: (salesforce ratings)
Pricing
cheap [keyword]: (cheap bluetooth headphones)
cheap [keyword] for: (cheap bluetooth headphones for the gym)
[brand/product] discounts: (vuori coupons)
[brand] pricing: (salesforce smb pricing)
Buying Process
best [keyword]: (best content marketing software)
best [keyword] for: (best content marketing software for SaaS)
top [keyword]: (top snow removal services)
top [keyword] near me: (top snow removal services near me)
top [keyword] for: (top furnace maintenance services for Seattle)
Product Types
[keyword] for [use case]: (boots for construction workers)
best [keyword] for [use case]: (best courses for growth marketers)
top [keyword] for [category]: (top running shoes for women)
Brand & Product Names
[brand generic product]: (razer blade laptop), (apple keyboards)
[brand specific product]: (razer blade 15), (apple pencil 2)
[brand product] under [price]: (nike shoes under $100)
Common types of bottom of funnel content
The right format for your BoFU content depends on the business model. We've seen many different formats work, such as:
Comparison pages
Alternative pages
Product Pages
Blog posts
Case studies
Webinars
Pricing pages
Product demonstration videos
Let's take a look at some of these:
Product Pages
The most obvious bottom of funnel content example are the product and service pages of your site. For this example, let's take a look at the search query "law firm seo".
The first four results in the SERPs are all advertisements, which suggests that this is a transactional (BoFU) keyword.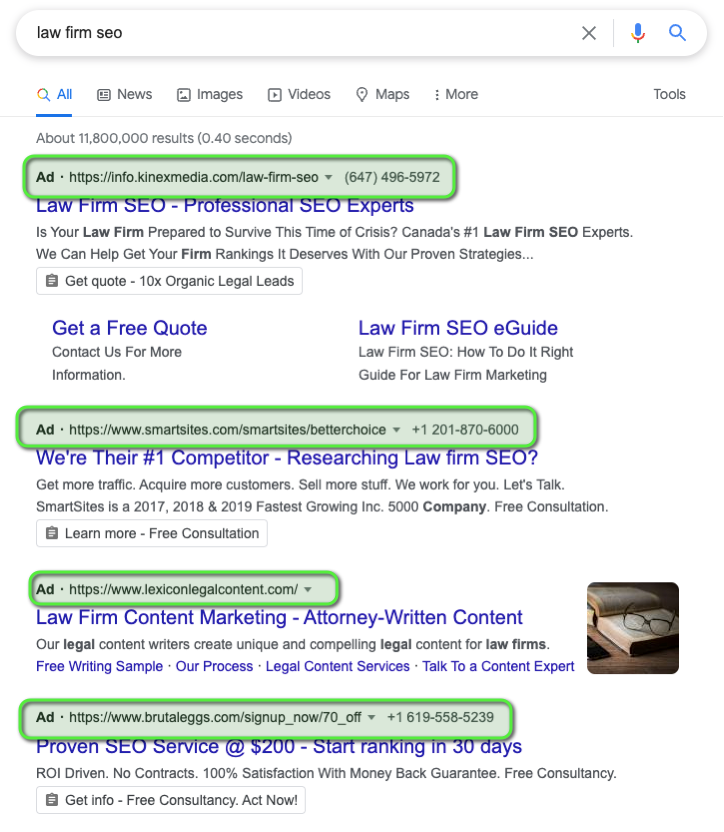 Ahrefs data shows an estimated cost per click of $30, confirming that at least part of the search intent here is to look for services that help lawyers rank better on search engines.

We see local results further down the page. This isn't surprising since lawyers are, for the most part, a local business. Practitioners searching for SEO agencies to help them might also be interested in local businesses nearby.
Lastly, Google serves up DIY guides for those interested in implementing SEO for their law firm. This may suggest split intent — some searchers are looking to buy, while others are evaluating their options of whether to choose an agency or try to implement solutions in-house.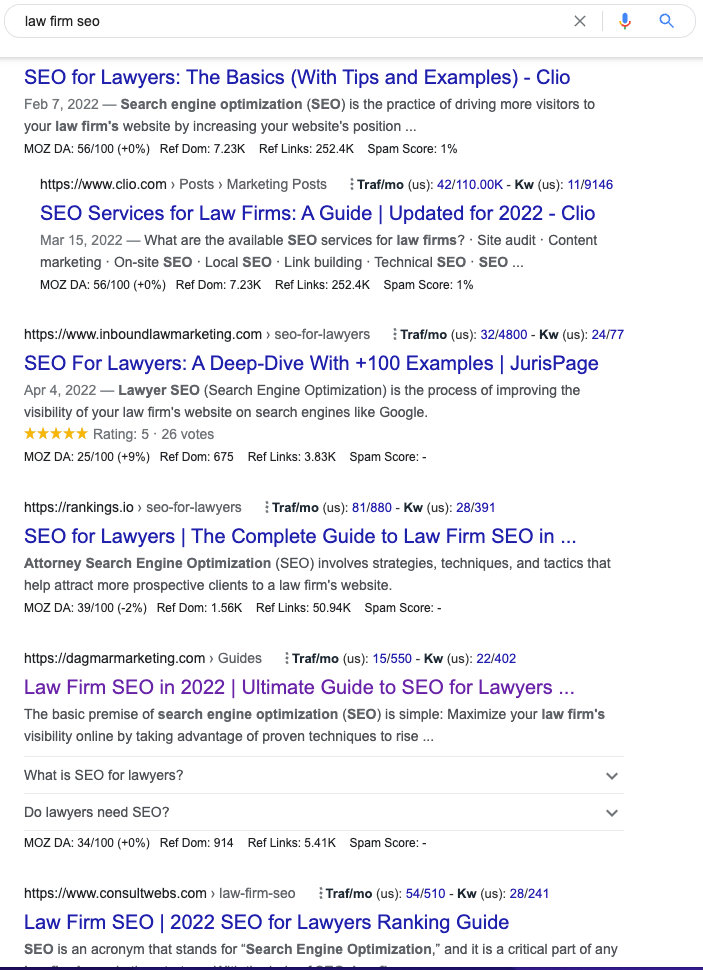 We discussed this search term with Chintan Zilani, Inbound Marketing Director at On The Map Marketing, who explained that their initial goal was to rank for this keyword with a product page.
That led them to update their landing page for "law firm seo agency".
"The updating of the above landing page bore SEO fruit as we started ranking even #1 at one point for the keyword "law firm SEO agency," said Chintan.
Despite this initial progress, the product page started to slip in rankings after a little while. The split search intent meant that a sales-focused product page may not be enough to satisfy search requirements. That's when Chintan decided to create an information hub — the "Step-by-step law firm seo guide" to cater to both sides.
"Our main focus is on getting qualified leads (measured via Salesforce). But we consider SEO traffic and rankings as leading indicators. In a niche industry like "law marketing", there are more informational keyword opportunities. So we concluded that more exposure via ToFU content could help us cast a wider net, leading to more traffic and customers for us," explained Chintan.
Comparison Pages
As we mentioned above, [brand] alternatives and [brand] vs [brand] are often popular BoFU search queries.
The keyword [podia alternative] fits this definition, with 4 paid results at the top of the SERPs.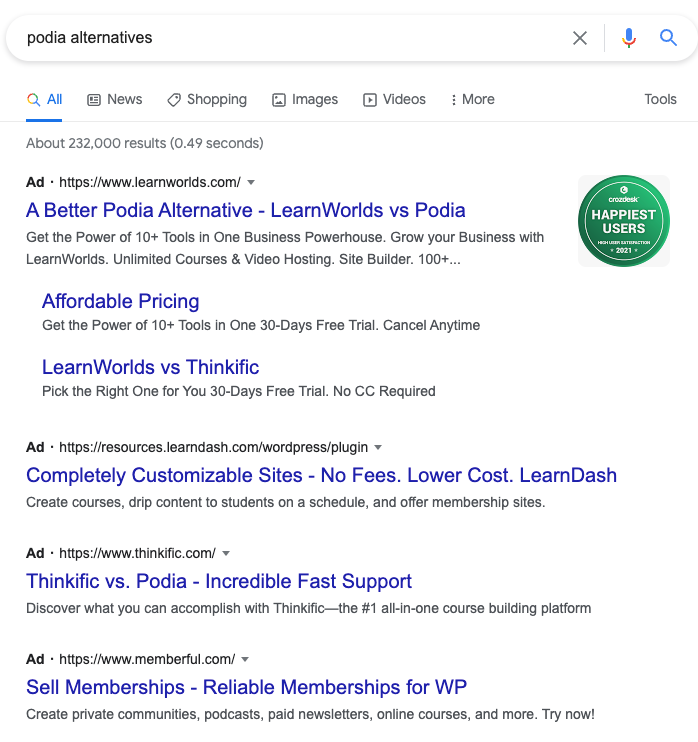 While some of this search traffic may be driven by dissatisfied Podia customers, it's also possible that others are shopping around and haven't made a decision yet. They might have heard about Podia on the grapevine and are looking to see what else is out there.
That's why I like Podia's own page that targets this search term: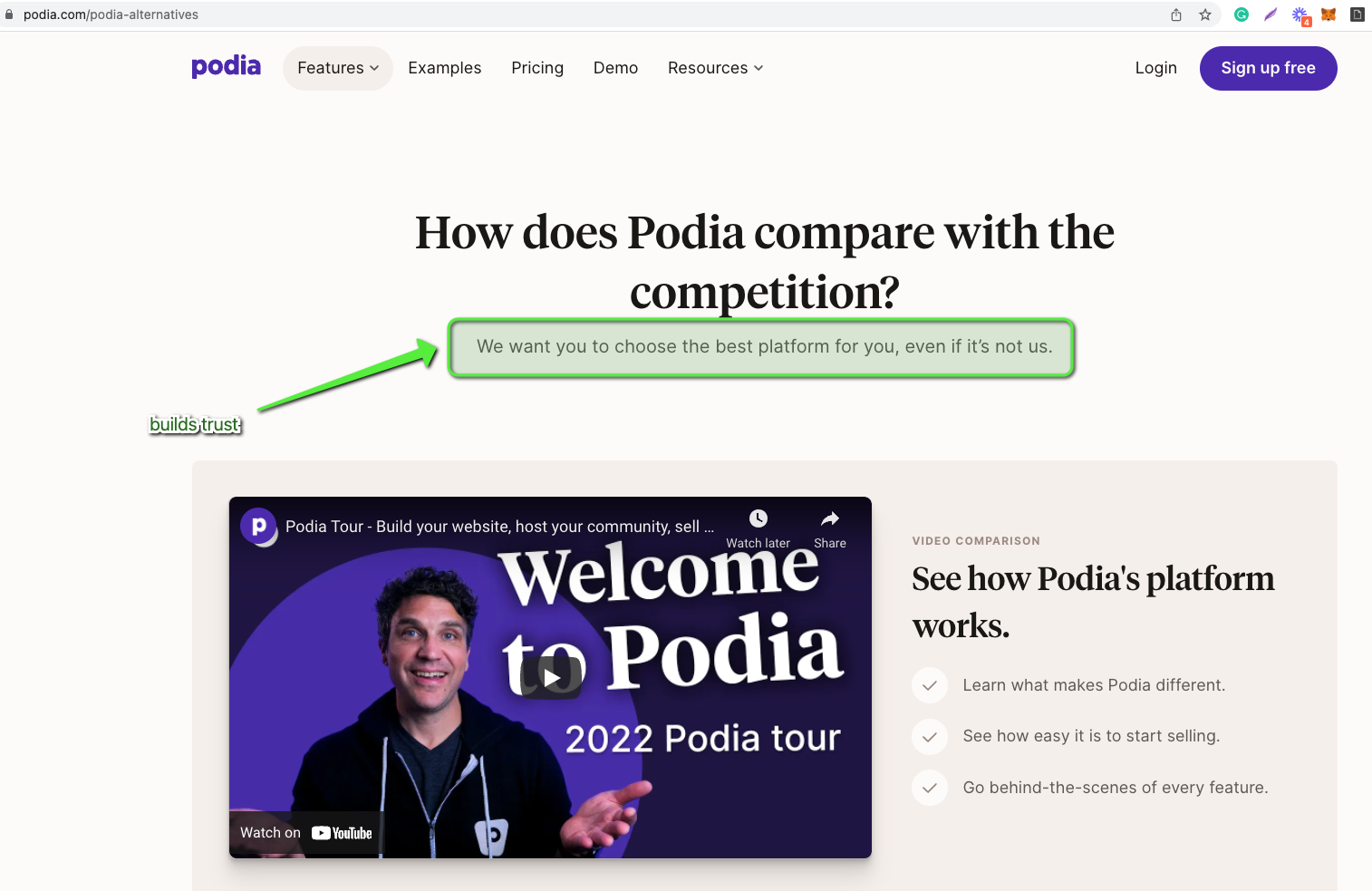 There are a number of specific comparisons further down the page, too. These cater to searchers who might be interested in the merits of Podia vs a specific competitor.

Despite being a large incumbent on its own, Podia understands the value of siphoning away traffic from competitors. Its blog post that targets "Teachable alternatives" brings in an estimated 200 highly-qualified visitors a month.

Long-Form Alternative Pages
"Brand alternative" search queries are generally high buyer intent and while some marketers may build out landing pages to cater to this search traffic, a blog post can work equally well.
Blogs allow you to go into much more detail and build trust by explaining each product / service down to a tee.
Let's take a look at the search term "quickbooks alternative". With a $17 CPC and a global search volume of 4,000, it's clear that this is a very lucrative search query with high buyer intent.

The top-ranking result is a blog post by affiliate review site Fundera. The post itself isn't spectacular—zero screenshots, images, or ranking factors, but it's absolutely slaying it on the SERPs.

Despite Ahrefs suggesting that the maximum traffic potential for "quickbook alternative" is 4,500 visitors / month, this post rakes in approximately 42% more.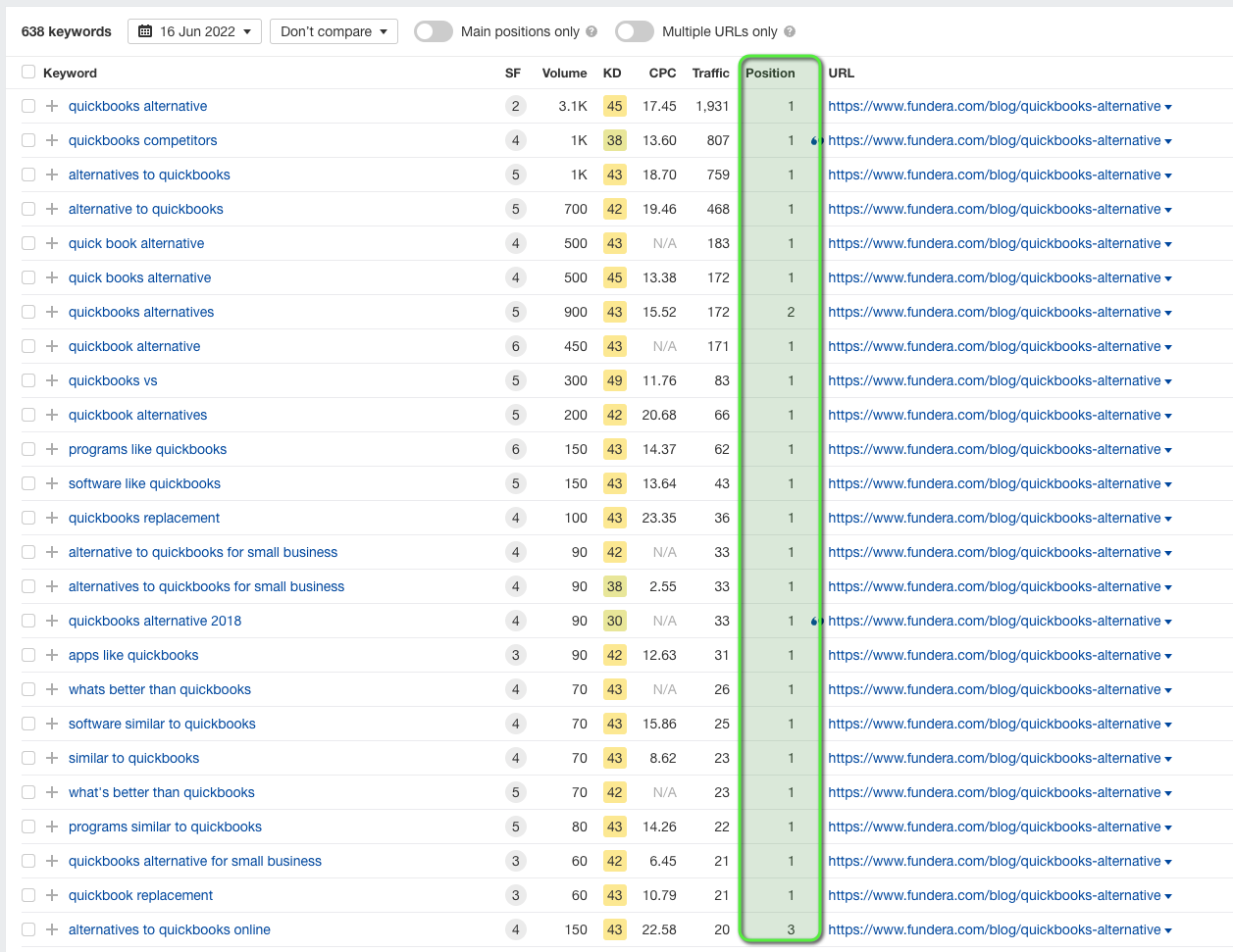 A more nuanced examination of the SERPs for "quickbooks alternative" reveals that all the top 10 search results are blogs, with most of them from software affiliate sites. The key takeaway here is that it's difficult to pigeonhole BoFU search into a specific format. Search engines prefer content that accurately reflects intent and offers good user experience.
Even Podia, which we mentioned earlier as an example of a company that's building out templated comparison pages, sometimes reverts to blog posts for bottom of funnel content.
Its preferred format to rank for "teachable alternative" — which has 1,100 search volume is a blog post.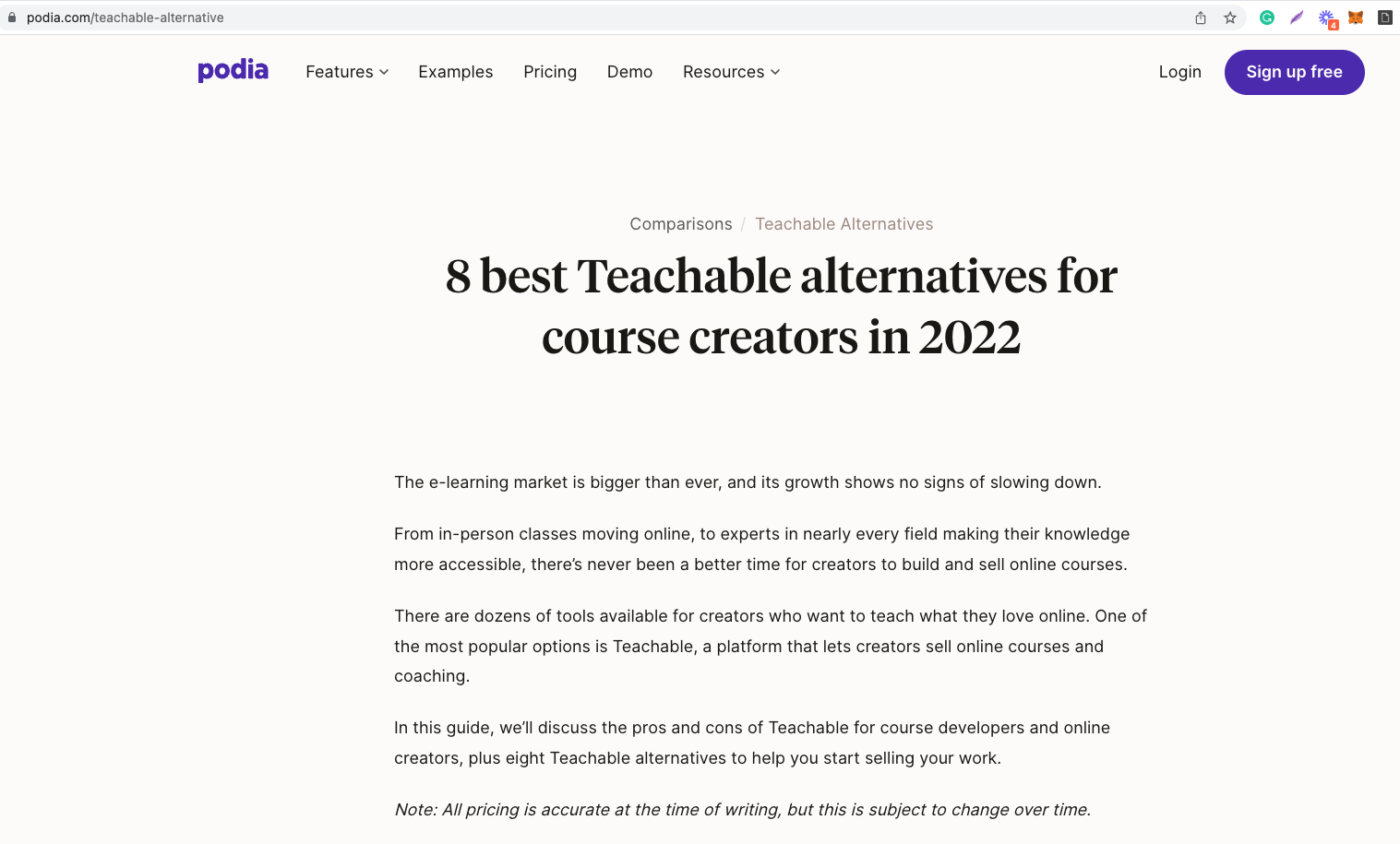 The post does a decent job of capturing search demand, with estimated traffic of 200/month.

It ranks in the top 10 search results for 7 high purchase intent queries, too:

Curiously, Podia has a landing page that targets some of this search intent too.
While the URL suggests that it's trying to rank for the term "Podia vs Teachable", the H1 targets "Teachable alternative".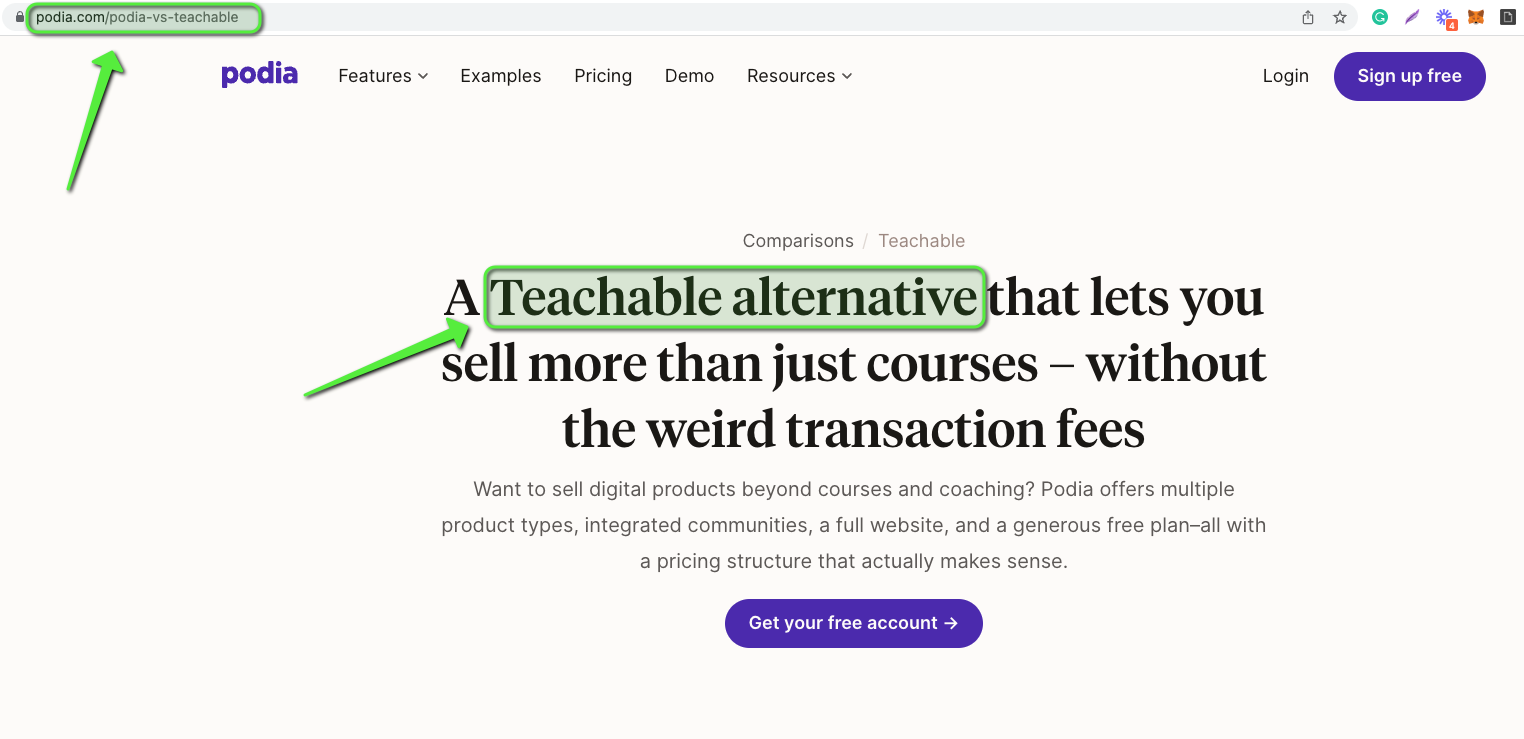 The landing page gets zero organic traffic according to Ahrefs, but it's possible that some users navigate there from the homepage. Either way, it's probably in Podia's best interest to optimize this page a bit further or redirect it to the blog post.

Blog Posts & Articles
It's commonplace to attach informational intent to a "how to" search and categorize it as a top of funnel query, but that's not always the case.
Those searching for answers to very specific and niche problems could be looking for an immediate solution—meaning they're ready to purchase.
Here's a great example from the fitness space: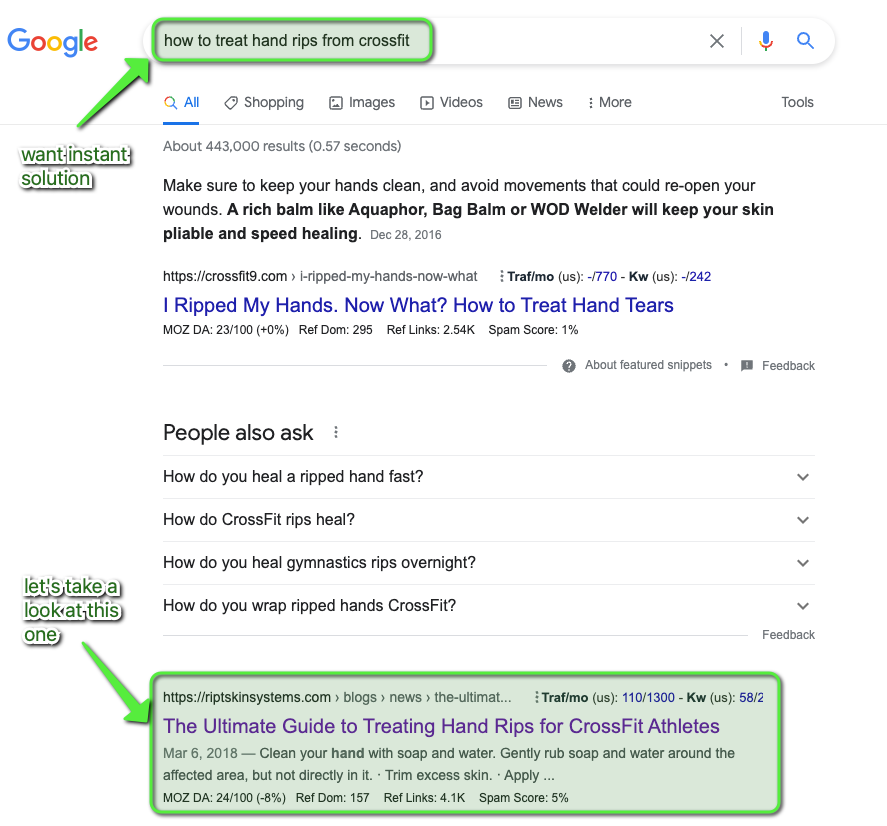 The article from Ript Skin Systems starts off by explaining hand rips, how they're caused, and warning signs. It then goes on to list a step-by-step process of how to treat them. And that's the opportunity to plug specific products that can help alleviate the injury.
(Alright, it's arguable whether this is bottom of funnel or middle of funnel or whatever. But the most important part is that this post probably captures people ready to buy and pushes them through the end of the funnel quickly, regardless of whether they showed up thinking they were going to buy something.)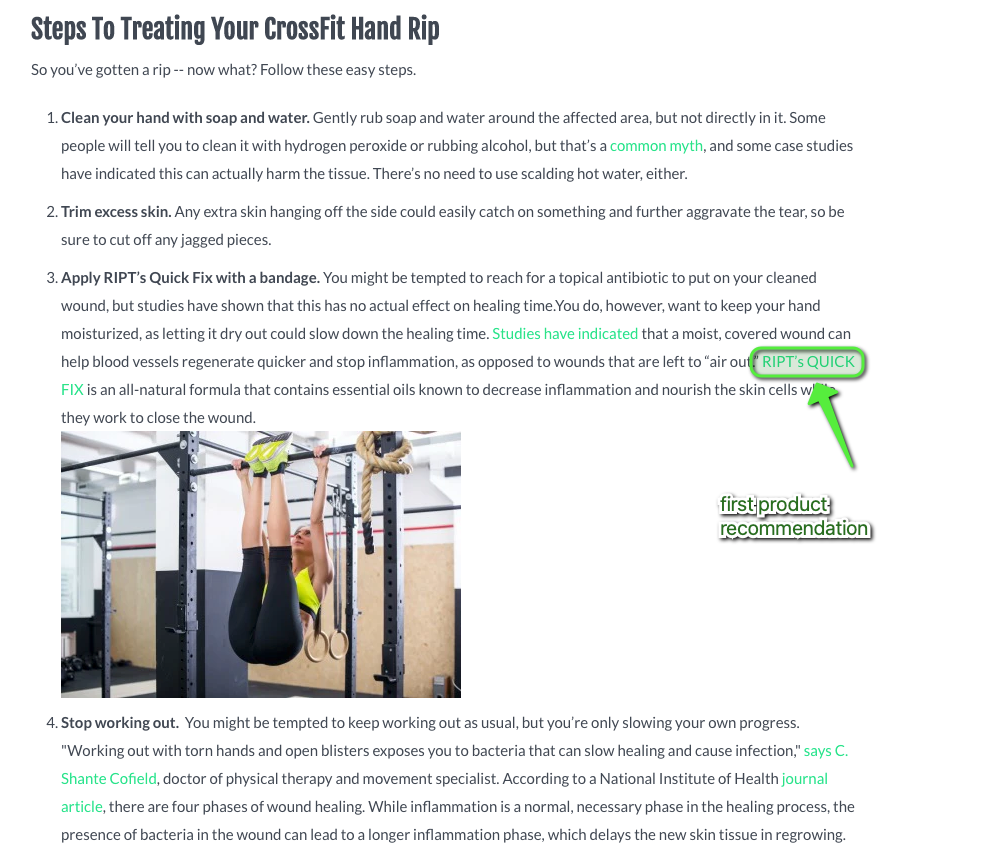 The article isn't forcing a purchase decision on the reader—far from it, actually. It's attempting to build trust by showing it understands the frustration and suggests a DIY solution using common household products. Want to speed up the process? Use a suggested paid product, but no pressure.
There are a couple of more strategic product insertions in the post, but the overall vibe of the article isn't salesy or pushy. That's likely what's helping it rank—the algorithm pushes it up the SERP because it's a genuine attempt to address user concerns and meets the informational intent - but does a great job of product positioning at the same time.
RIPT Skin Systems is an eCommerce store, but it would not have been successful if it had tried to rank for this BoFU search query with a sales-focused product page. The long-form approach displays empathy, and I bet the conversion rate on those product pages is much higher when users click through via the article.
Hence while there is some informational intent here, it overlaps with purchase intent. Best to study the SERPs carefully before planning your content approach.
Some 'how-to' searches will, of course, be solely informational in nature with little to no immediate desire to enter a purchase decision. For example, the search 'how to become fitter' has no specific commercial intent, even if the person searching for it might spend thousands of dollars this year on fitness and health products.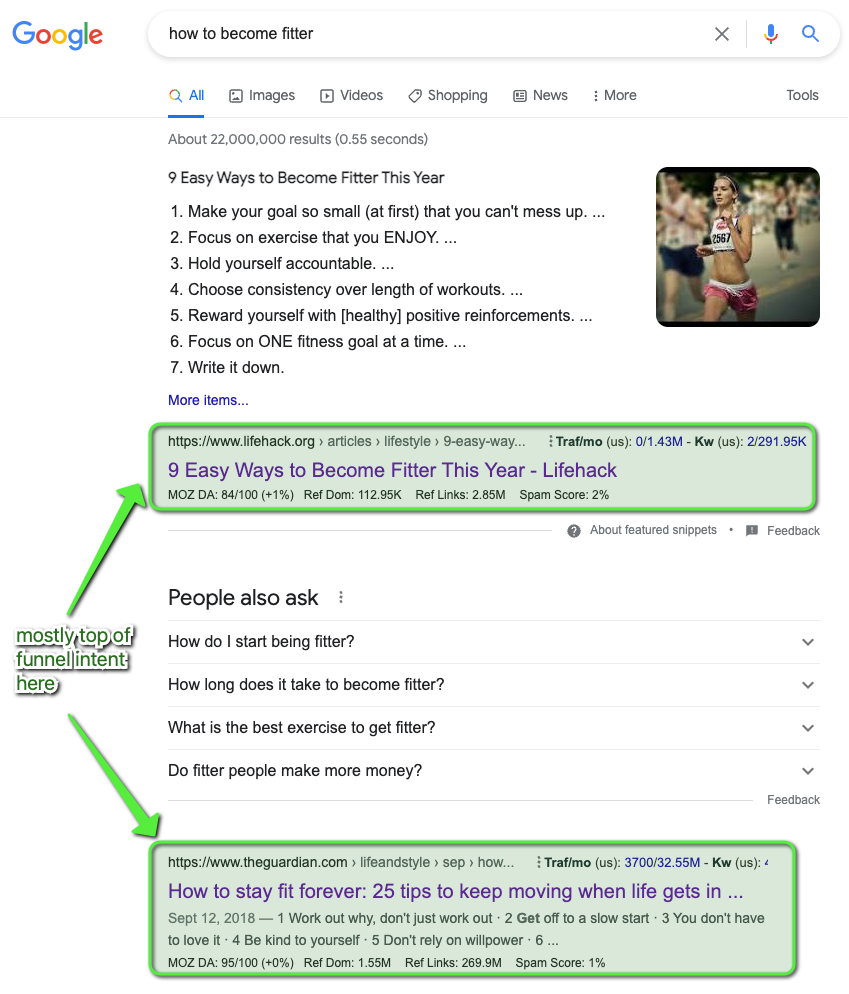 Case Studies
Even if you're one of the most recognized brands in the world, you still need to invest in content that helps your sales team, alleviate buyer concerns, and reduce constraints.
In the cloud computing market, for example, Google Cloud is a distant third with only 10% of the overall pie. AWS at 33% and Microsoft Azure at 22% command first and second place respectively.
Google may not need to convince folks to use its search engine or ad platform, but it certainly has some catching up to do in cloud computing.
And case studies definitely help—especially when your customers are large banks, financial institutions, or giant SaaS companies where monthly server costs can be in the hundreds of thousands of dollars.
Its CoinGecko case study gets healthy traffic numbers—but traffic overall is less of a consideration here.

Case studies work best when they're positioned at related buyers. Imagine a salesperson trying to close a $150 million deal and they're asked for ironclad guarantees that it'll help them—well, here's a case study of someone in the exact same position as you and look at how it worked out!
Google's case study is interesting so let's take a closer look.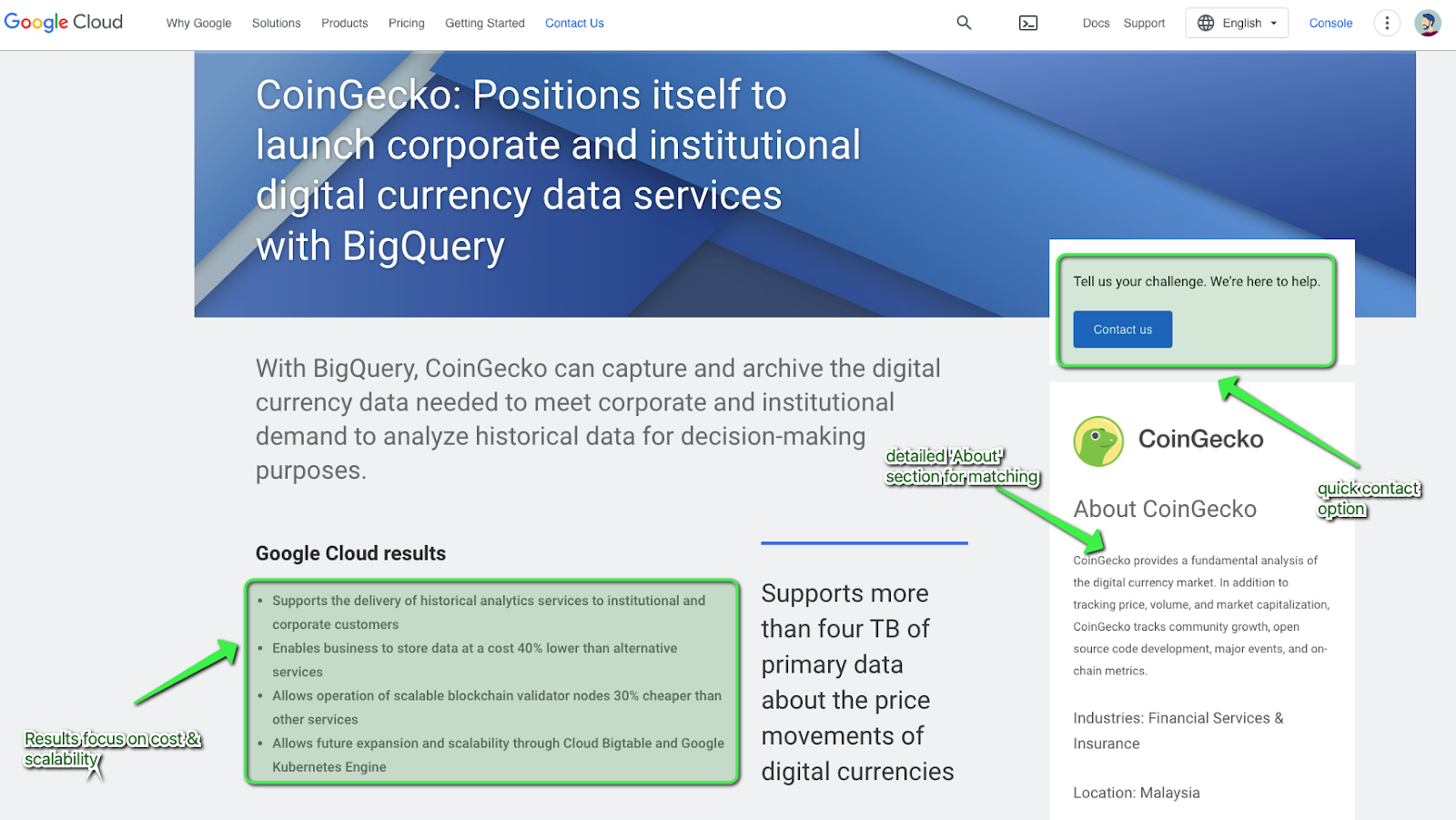 Further down the case study, we see more highlighted points. Is Google trying to position itself as the cloud computing partner of choice for digital exchanges?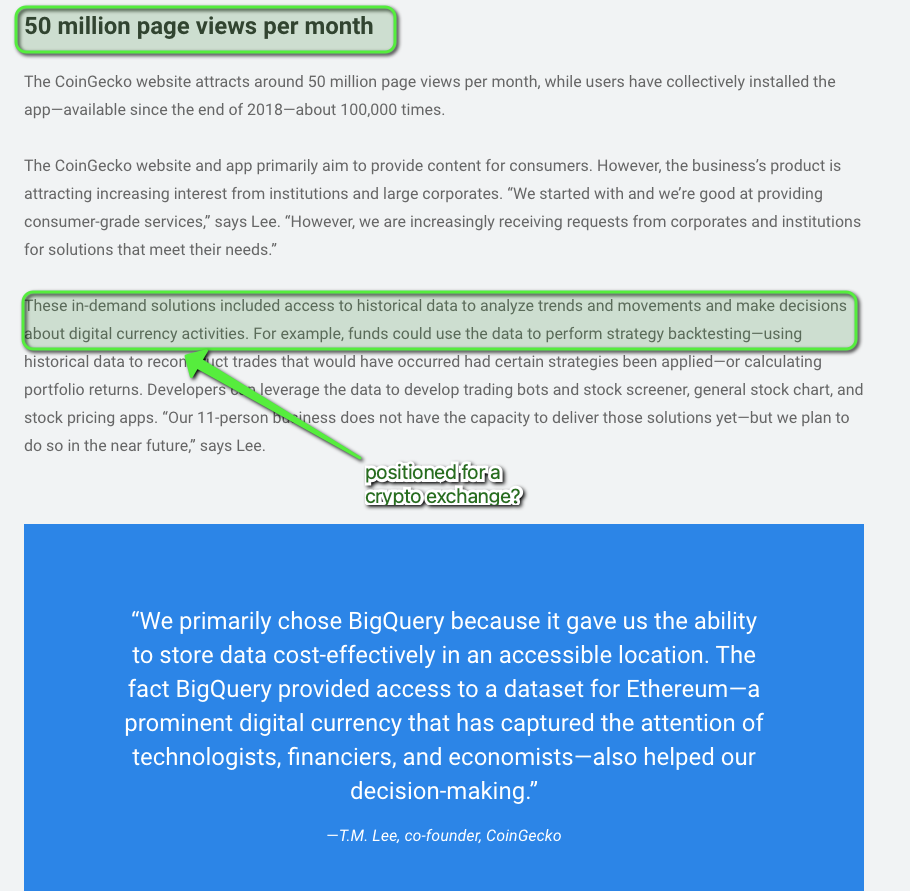 Some internet sleuthing reveals that Coinbase has very similar traffic numbers.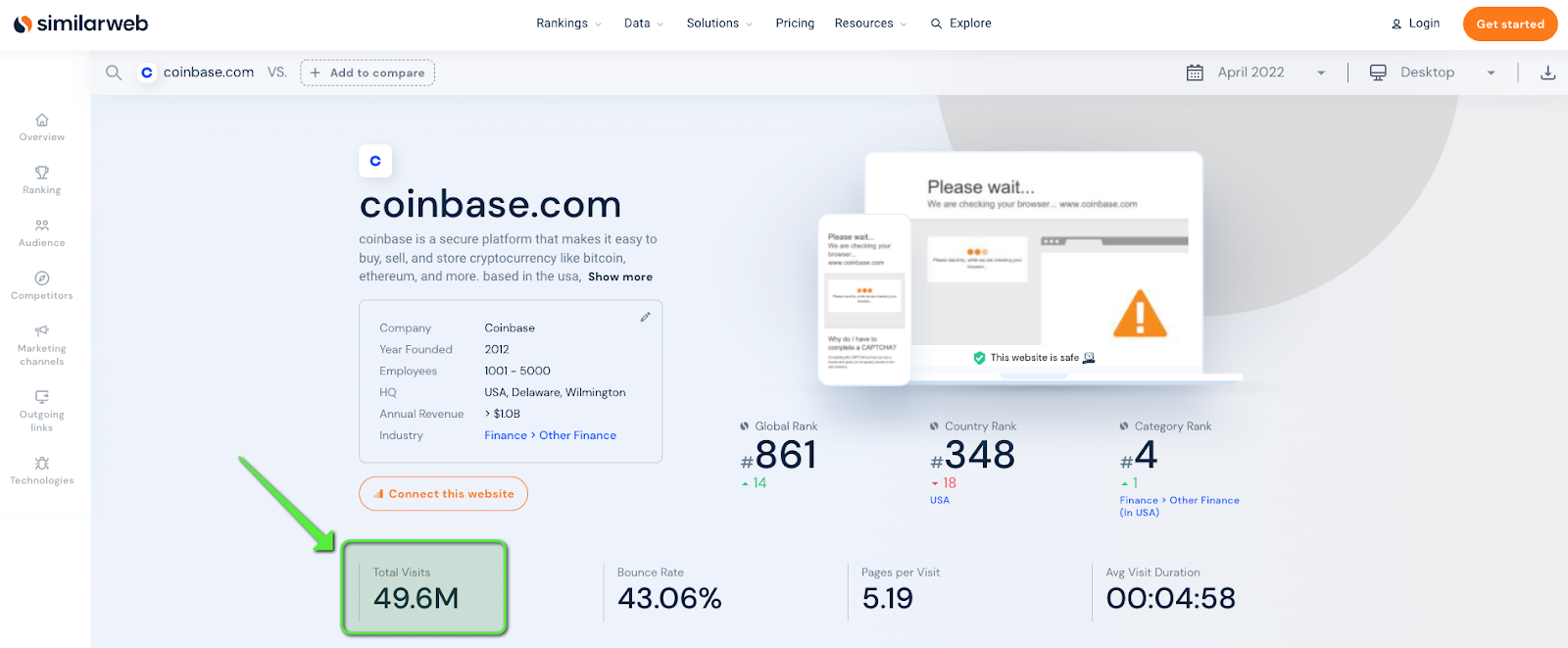 Lo and behold, it seems like Coinbase currently uses AWS.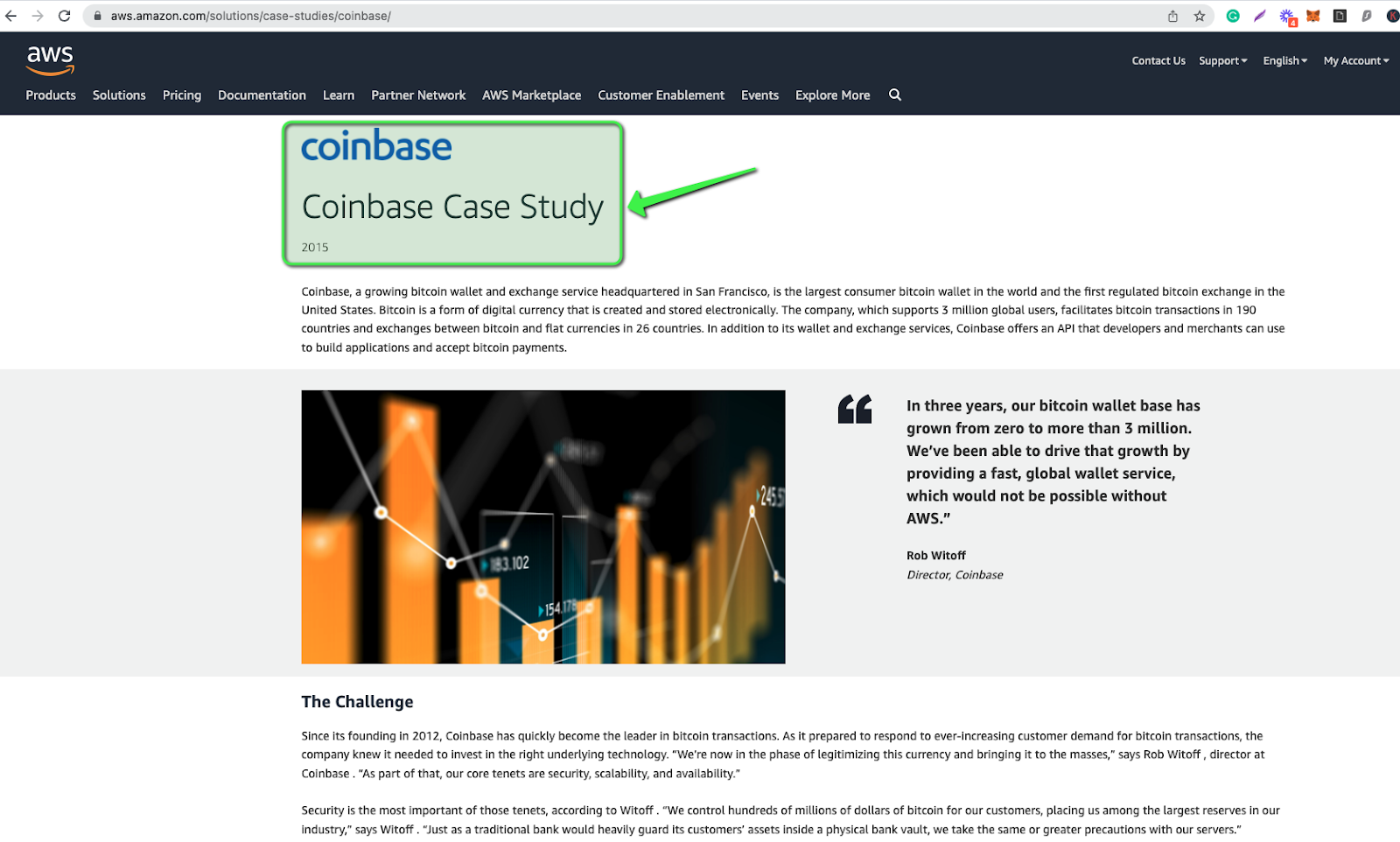 Google's case study with CoinGecko was published approximately six months ago — on Christmas Day, 2021. It's not inconceivable that the sales team uses it during prospecting or demo calls — they could be actively trying to court Coinbase, too.
If Google Cloud actually delivers a 40% cost saving compared to Azure or AWS, that means several tens of thousands of dollars saved a month for an organization of Coinbase's size. Showing how they've achieved those results for other customers via Case Study content greatly bolsters the message that a salesperson is conveying on sales calls.
Webinars

Much of the time, webinars are basically elaborate sales presentations & demos disguised as a masterclass. Sure, most of them offer valuable insights and information that you probably won't find elsewhere. But if a prospect is going to spend the time sitting through a 45-minute presentation, you can bet they're definitely considering a purchase soon enough.
Let's take a look at Talend, a data integration, integrity, and governance platform that serves clients like Dominos and Lenovo.
On-demand video content for bottom of funnel search appears to be a primary component of their marketing strategy. The primary CTA below the fold is an invitation to watch product demos, customer success stories, and keynote presentations.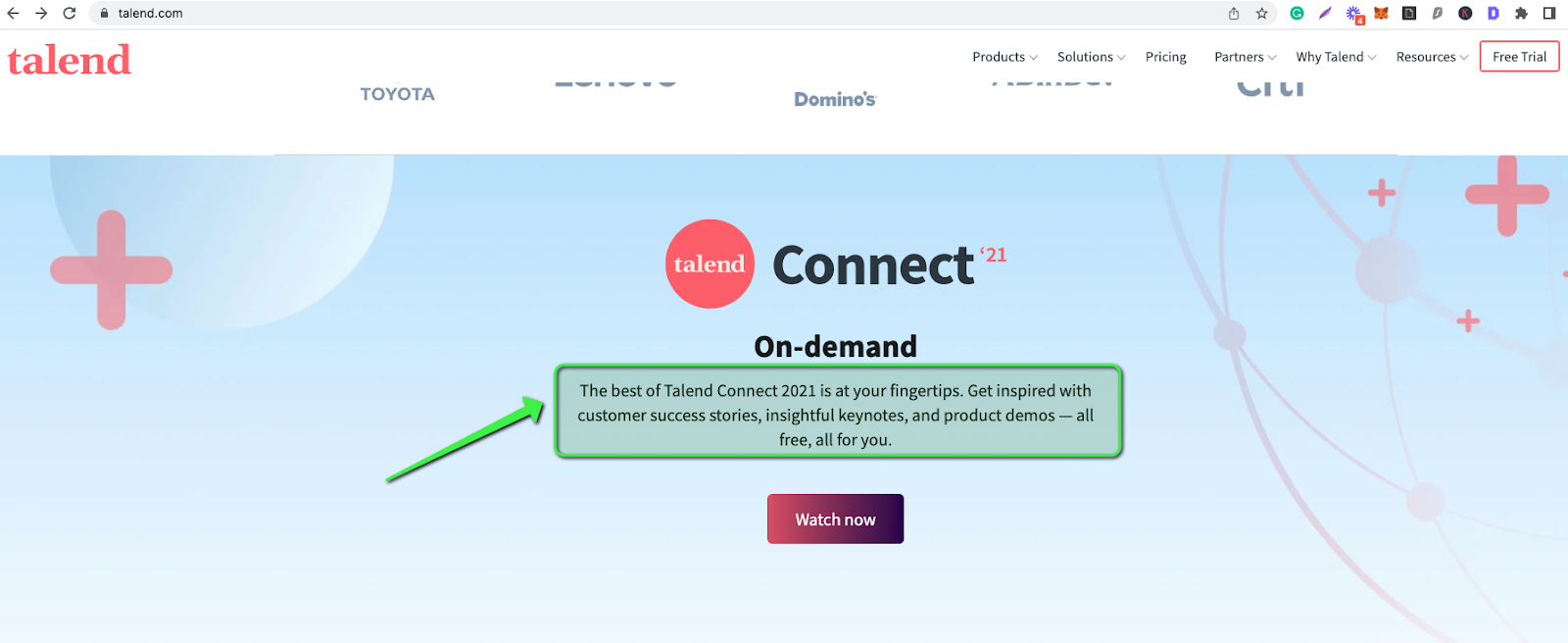 Talend also has a bunch of on-demand webinars for those interested. Again, these are presented as a masterclass but you can bet that there's a sales-enablement element there, too.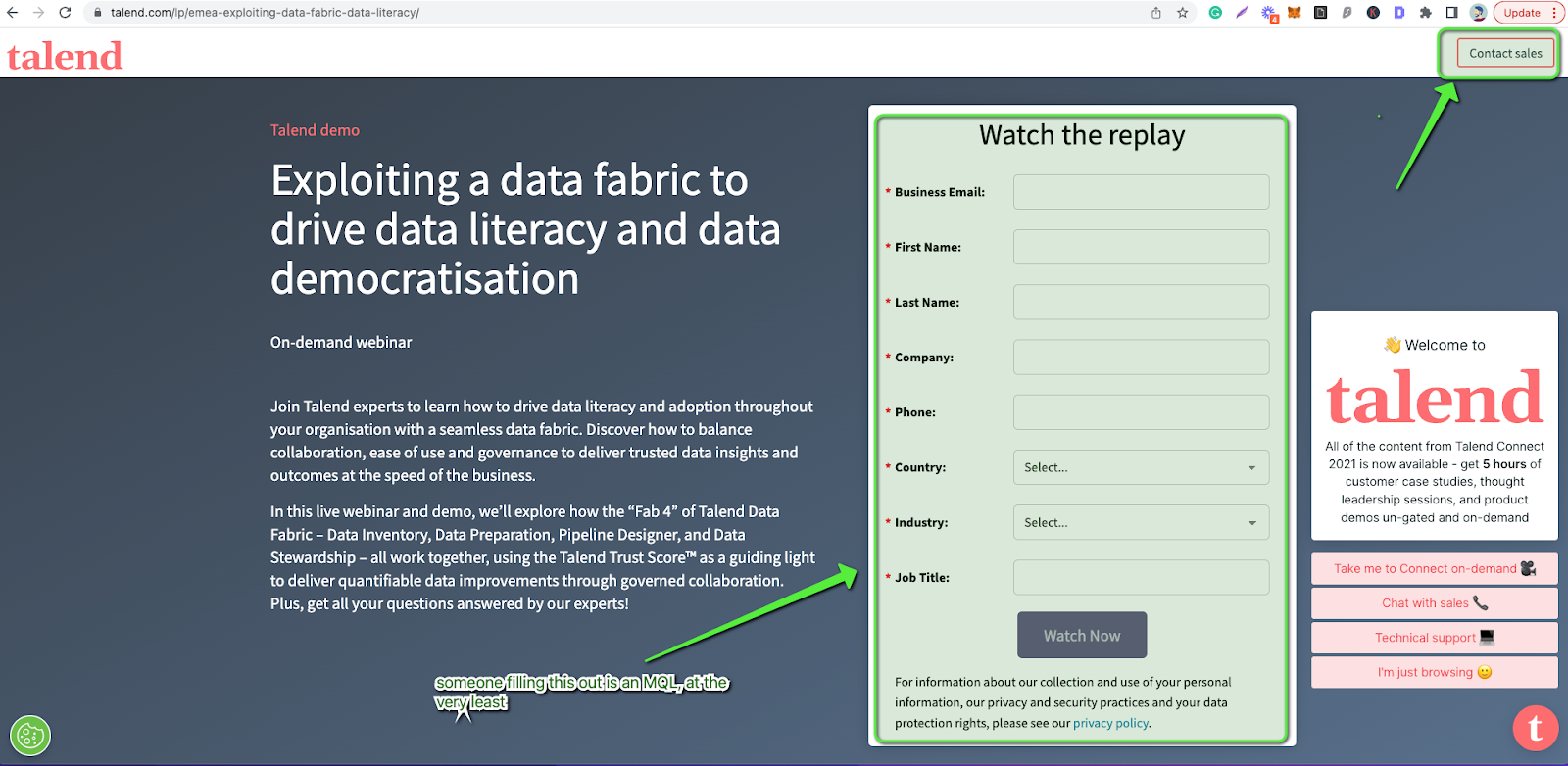 In fact, there's page after page of webinars and Talend demos; available in several languages. Not a bad strategy—reduces the need to speak to a human and allows for self-serve research.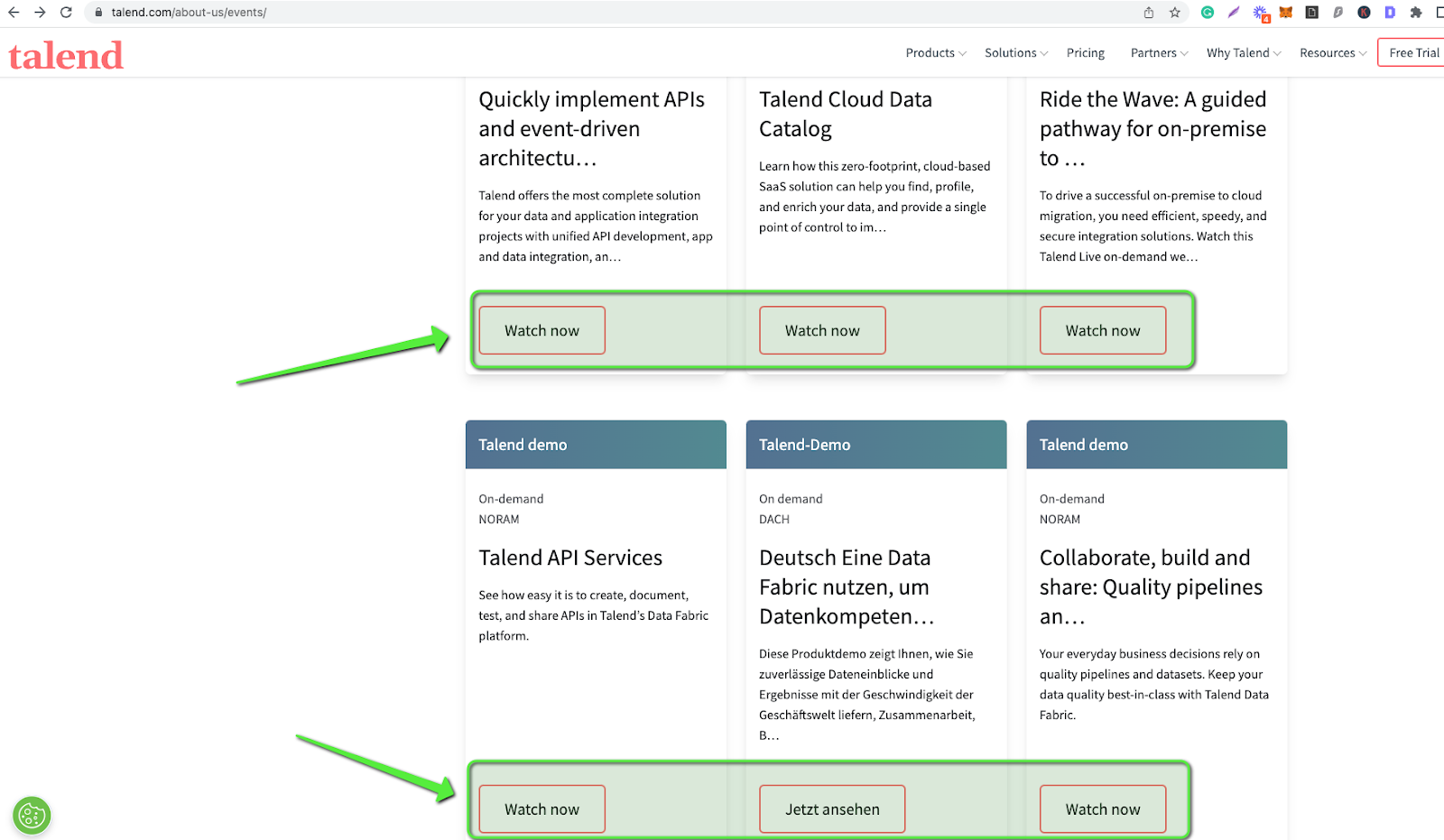 Pricing pages
Some software companies deliberately hide pricing information, either to get folks to commit to a sales call or build out custom pricing plans, but a [keyword/brand + pricing] query is definitely bottom of funnel.
Even if you're an enterprise company or one that only does custom pricing, if you don't create these pages on your site, affiliate and lead gen sites in your market will create them instead. Better for your company to control the message around your pricing, even if it basically is a long-form version of "please contact for pricing."
Another pricing page variation is to add modifiers to find similar pricing-based queries, such as "[product type] under [price limit]".
For example: "nike shoes under $100" for a potential eCommerce page opportunity, or "email marketing software under $50" for a software review site page opportunity.
"Zoom pricing," a branded example, has 9,000 monthly searches with an overall traffic potential of 66,000.

Its actual pricing page rakes in almost 400,000 estimated monthly visitors.

Some of those traffic numbers are skewed by folks with navigational intent — for instance, the pricing page ranks #1 for less bottom of the funnel queries like "zoom" and "zoom meeting".
But we can see there's plenty of purchase intent here, too: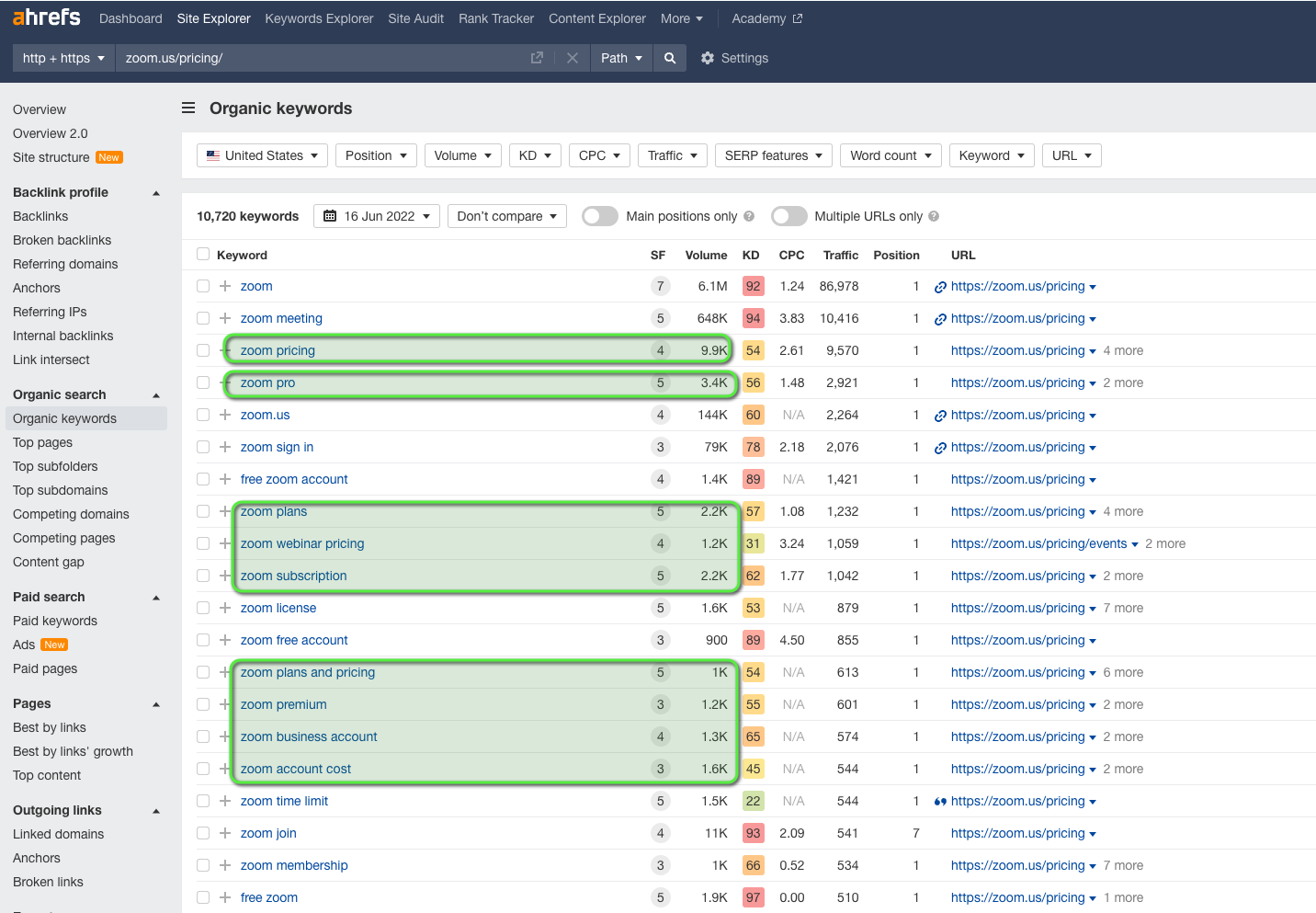 The page itself is well-built, with detailed explanations of the packages and side-by-side comparisons. I like the FAQ section too, which does a good job of allaying concerns and objections.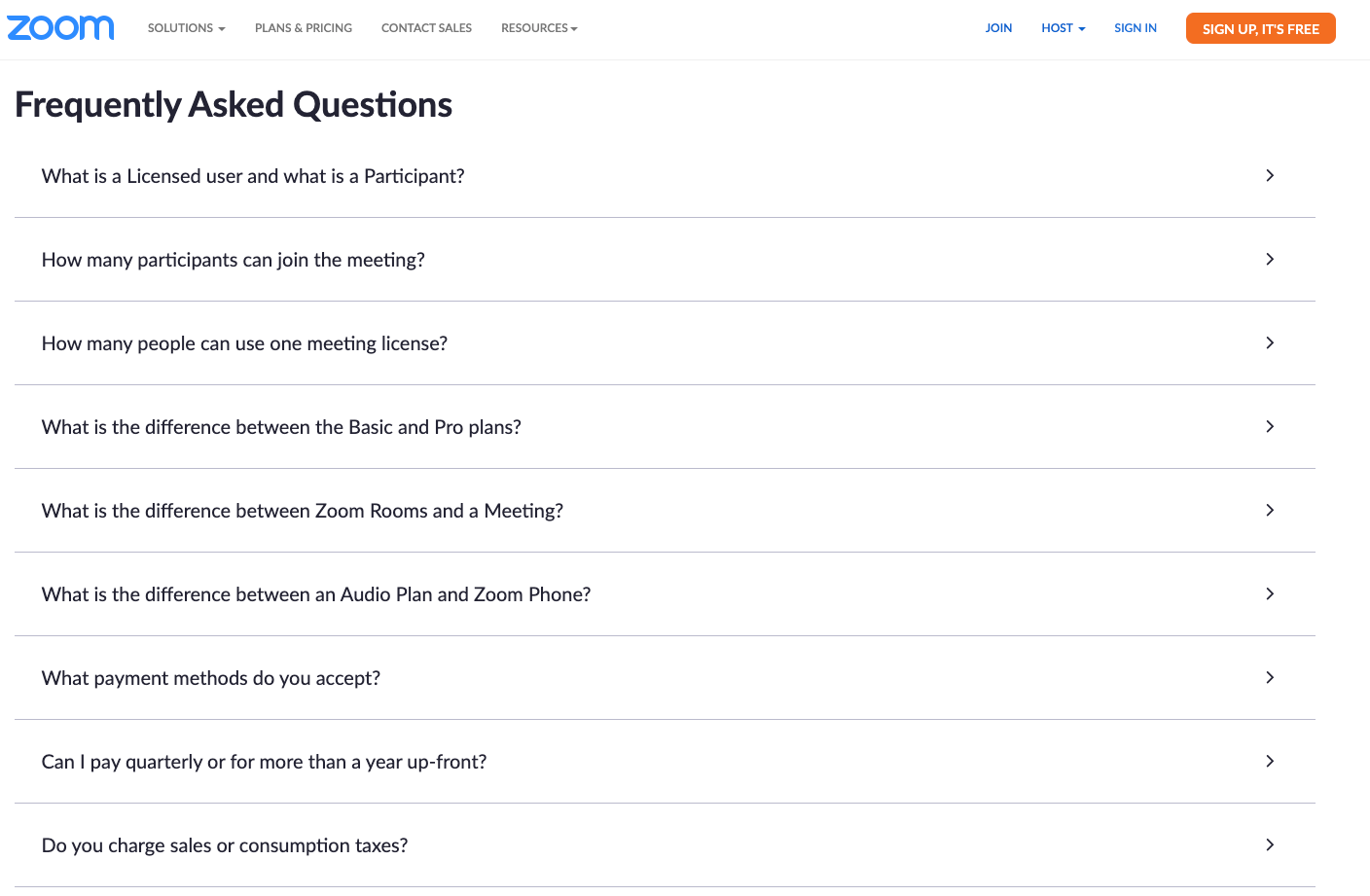 Product demonstration videos

Searches like [product] walkthrough, [product] demo, and [product] overview are an indication that your prospect is close to a purchase decision and wants to go for a test drive before committing.
Said video types can also be used for those users in a free trial stage — the goal here is for them to become power users and help them attain the 'aha' moment quicker. The easier it is for them to explore the product's features, the higher the chances of them converting to paid users.
Meaningful explainer content like the Airtable example above helps show off the product's strengths and functionality. This fast-tracks their journey and helps them become engaged users, quicker.
Product demo videos aren't just for software walkthroughs and online experiences - having dedicated videos for each product is a great example of above-average eCommerce experience.
Zappo's is still one of the few eCommerce retailers we've seen that does dedicated demo videos on almost every pair of shoes they have: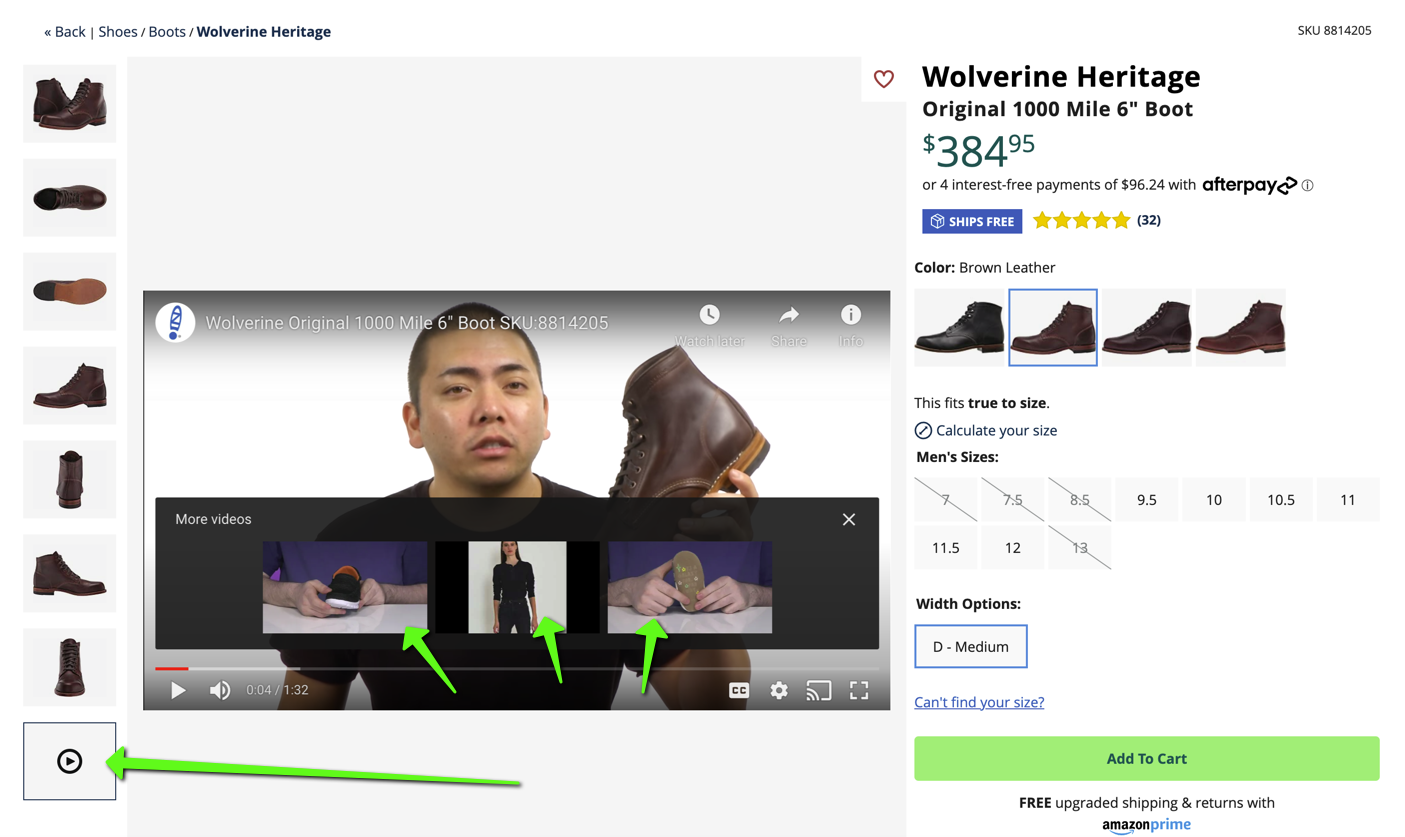 Just look at how quickly and consistently their teams pump out these walk-throughs: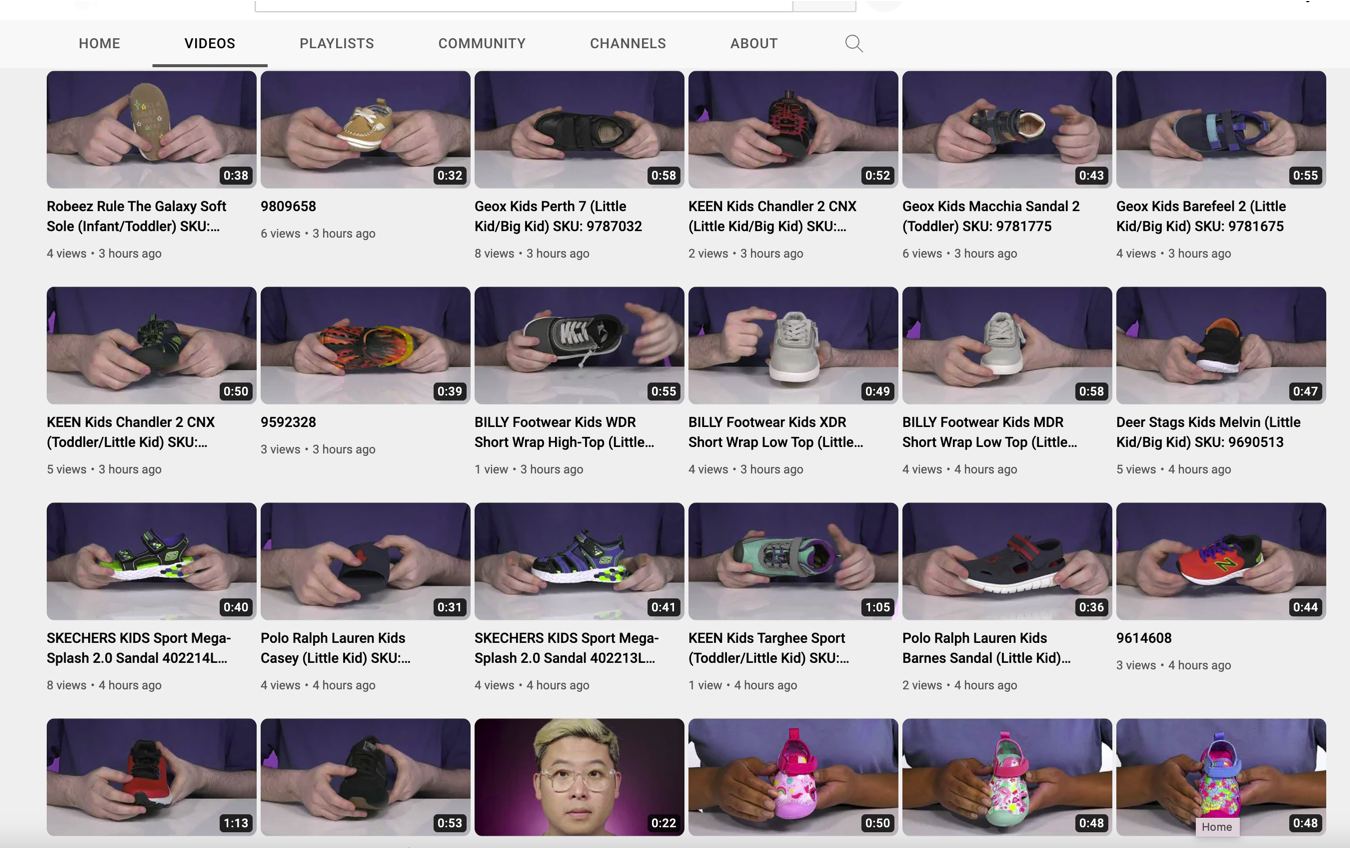 Luke Genoyer, Marketing Director at Global Call Forwarding, said that his team has enjoyed success with bottom of funnel content:
Other than product demonstration videos like the one above, another content format that's seen success is alternative pages.
"We distribute these in the following ways:

SEO - we hope to rank when somebody searches for an alternative.

Google Ads - these pages tend to get higher quality scores as landing pages in our alternative campaigns.

Sales Enablement - we repurpose this content to give "battle cards" to our sales team, so they have talking points and know how we measure up against the competition.

Reddit - a lot of people these days append "Reddit" to their search queries. We post these on Reddit to pick up traffic from these types of searches."
The major talking points from demo videos and alternative pages are also fed to the sales team, to create battle cards during their calls with prospects.
"The key is to optimize your content for SEO and also to repurpose your bottom-of-funnel content for sales," adds Luke.
Bottom of funnel content best practices and FAQs
To recap, bottom of funnel content aims to accelerate a purchase decision by directly addressing pain points, concerns, and objections. The kind of format used will vary by industry and purchasing cycle, but its goals will remain the same.
The best practices for creating conversion-focused bottom of funnel content are:
Include CTAs and make them consistent throughout the page. If your goal is for the reader to sign up for a demo call or avail a free trial, make that step clear and known. Don't confuse them with multiple different CTAs—one which encourages a demo call while another that asks for an email newsletter signup.

Integrate social proof as much as possible. Use quotes liberally and try to add those that directly relate to objections. For example, if a prospect might feel that the price is too high then a quote that talks about ROI or value is key in overcoming this.

Try to target your ideal personas. When you're laser-focused on a specific buyer, it makes the asset much more personable and relatable. That, in turn, spikes conversion rates since the prospect feels like you understand their concerns better than anyone else.

Don't be afraid to highlight your product. After all, the goal of bottom of funnel content is to encourage a purchase. Include images, videos, screenshots, and other methods to show off the product.

Don't worry about traffic & volume estimates in third party tools. Keyword research tools aren't always accurate and bottom of funnel content doesn't require as much traffic as content targeted at top of funnel to be valuable.

Study the SERPs to match intent properly. Make sure to review the types of pages ranking for queries you're targeting so that you understand what formats work best.

Test messaging and page types frequently. These bottom of funnel pages likely have the highest overall page value across the site. While testing requires a high traffic volume to be reliable, these pages may be very high leverage pages to A/B test first after your homepage.
---
Want to see how Content Harmony helps you build content that outranks the competition?
The blog post you just read scores Good in our Content Grader for the topic "bottom of funnel content":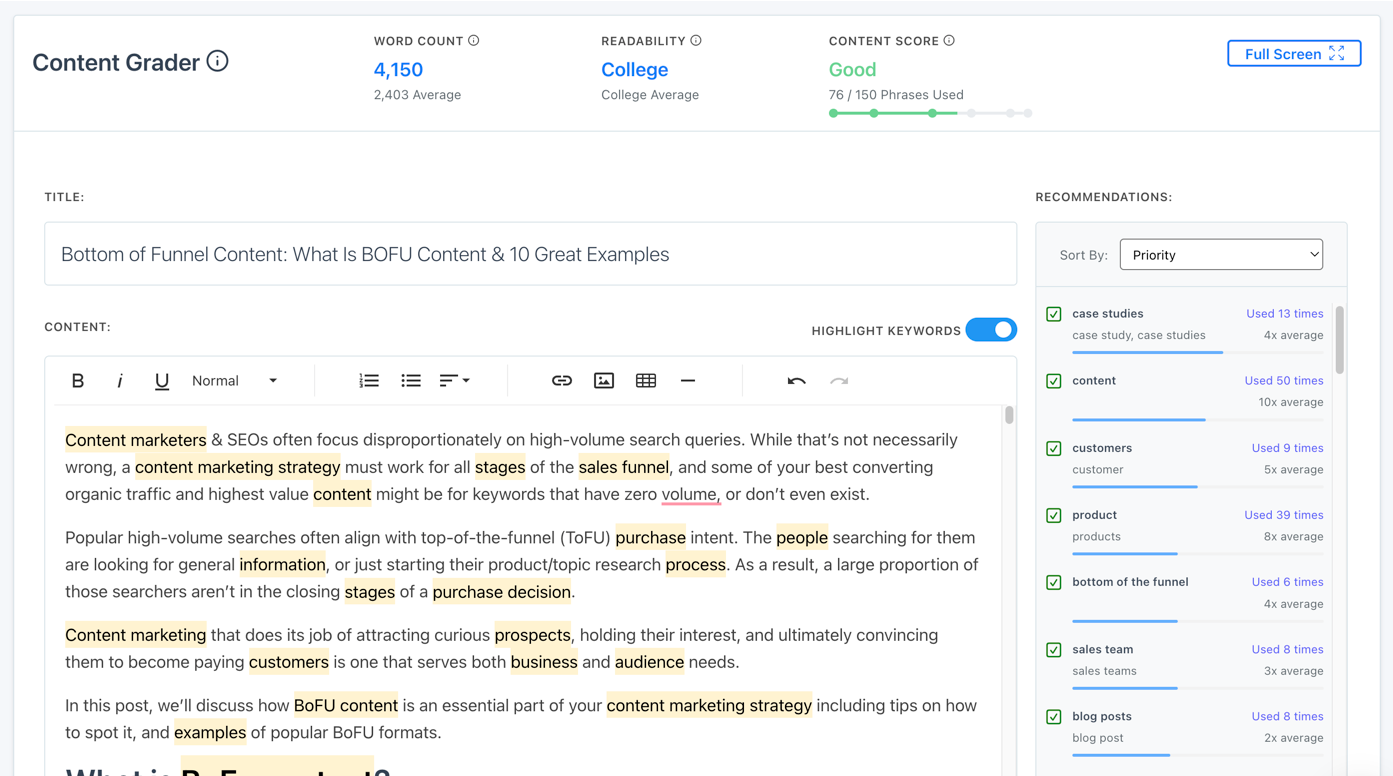 Grade your content against an AI-driven topic model using Content Harmony - get your first 10 credits for free when you schedule a demo, or sign up here to take it for a spin on your own.
---
---
✉️ Get an email when we publish new content:
Don't worry, we won't bug you with junk. Just great content marketing resources.
---
Ready To Try
Content Harmony?
Get your first 10 briefs for just $10
No trial limits or auto renewals. Just upgrade when you're ready.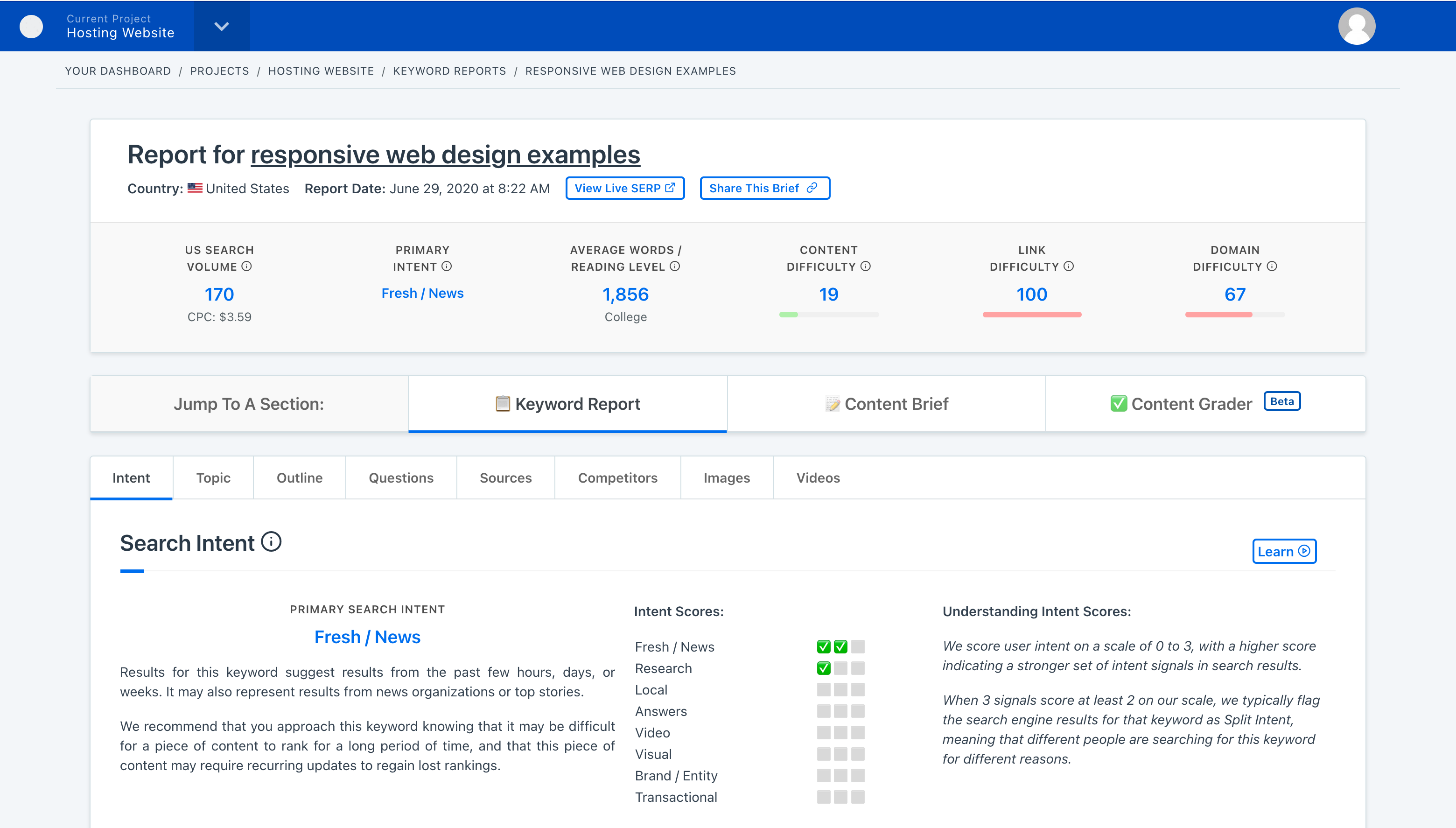 ---