It's perfectly normal to lose organic search traffic for certain posts over time.
If you're publishing content regularly, the traffic to new posts may compensate for or even supersede older ones, making it difficult to recognize the problem.
Fortunately, it's possible to regain both the old traffic and keyword rankings - not to mention create an entirely new content promotion opportunity - with a content refresh.
What is a content refresh?
A content refresh is an update to your existing content so that it addresses search intent with improved data, knowledge, quotes, and examples, and proves to search engines that it is still an authoritative source for that search query.
For example, let's say that you published a guide about digital marketing best practices in 2018. The post did well initially and ranked for several keywords. By 2022, however, it might have started to slip down the SERPs. The marketing landscape has changed, the statistics cited to bolster your arguments may no longer be up to date, and your cited best practices are no longer relevant.
Google recognizes this and will reward those who update their content with the latest and greatest.
Does refreshing old content really help for SEO?
Fresh content has been a ranking factor for Google since at least 2011, and patents filed by the Mountain View company back in 2003 indicate that "data relating to document inception date" is one of the multiple factors that its algorithm takes into consideration when ranking search results.
Google compares fresh content to "🍪 warm cookies right out of the oven" — saying they're best enjoyed when piping hot.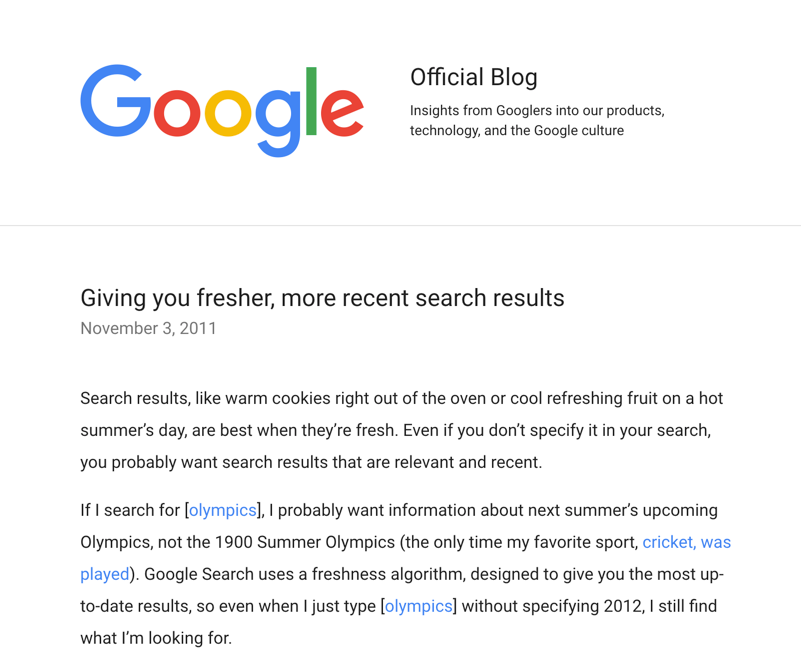 It adds that people want to see the most relevant information for their search query, whether it's related to breaking news, recurring events like the Olympics or even product searches like "best DSLR cameras".
For example, when we ran the keyword "how to refresh content" inside Content Harmony, the results indicated that the average age of the top-ranking posts was less than a year old.

Beyond this, we've seen a number of private and public case studies that show clear search improvements after updating content.
Hence, the answer is an emphatic yes. Refreshing old content definitely helps SEO.
As long as you can prove to search engines that you're adding value to your content, there is an opportunity to regain lost traffic and improve rankings on your old content assets.
Ignore & neglect old content at your own peril.
How to figure out which content needs to be updated
As a general rule of thumb, we don't recommend that you look at major overhauls of your content within the first six months of publishing. That is, of course, assuming that you spent time with keyword research, writing, editing, and distributing it.
Minor changes, such as fixing grammatical errors or changing some CTAs around are fine, but your time is better spent promoting this content since it's likely still being tested by Google on many competitive topics. We often see it take 12-18 months for a piece of content to reach its peak traffic levels, meaning updating content before then may be premature.
This graphic gives an overview of the three main types of content refreshes–keep reading and we'll dive into each one.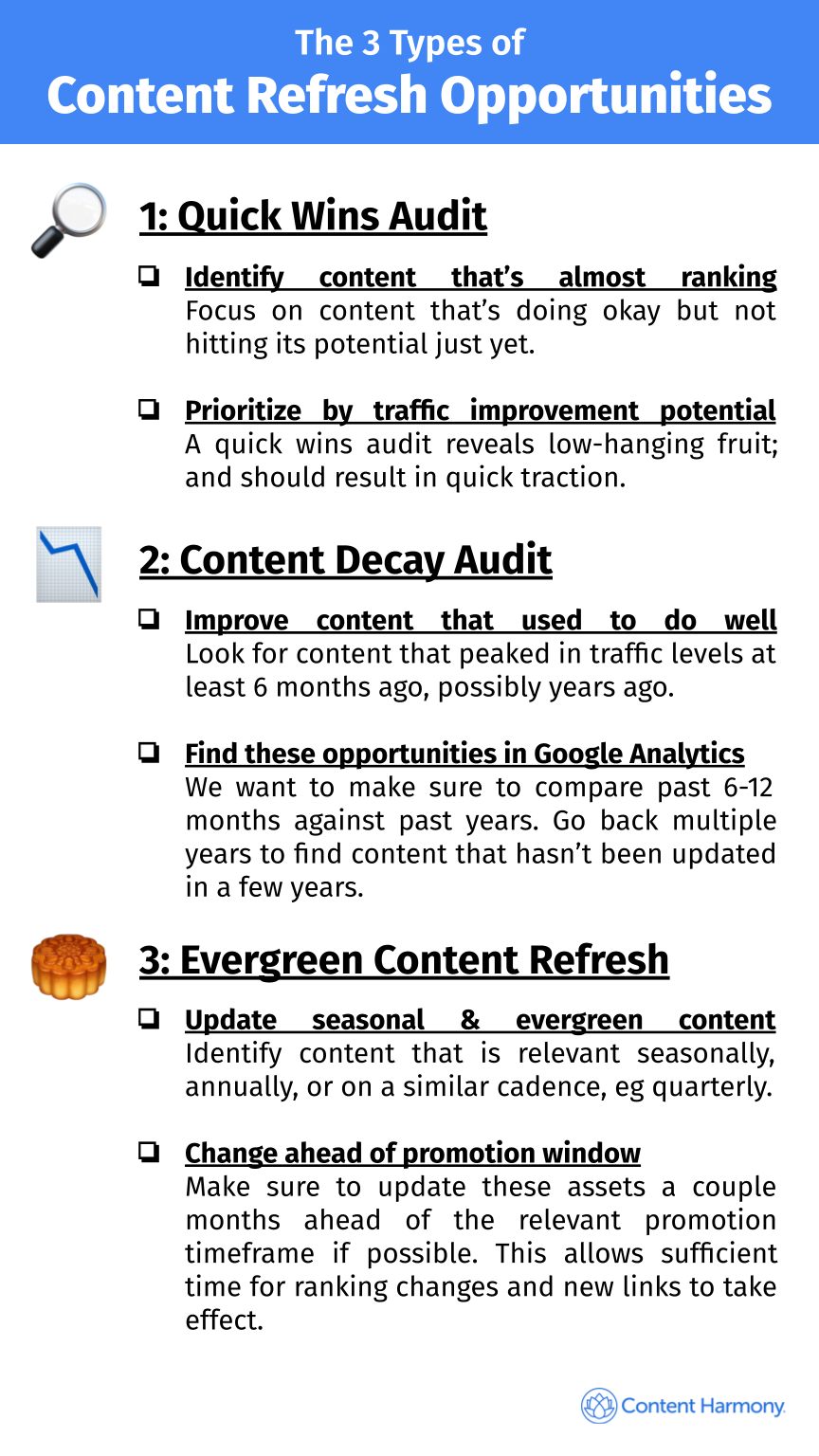 1 - Quick Wins Audit
Goal: Focus on improving content that is almost ranking
Perhaps you published a piece of content about a year ago that's doing very well in the SERPs. It's ranking for several keywords and provides healthy organic traffic. But, it hasn't reached those #1 rankings you wanted it to.
Doing a quick wins audit will help identify content that is ranking moderately well, but could be doing better.
In this content marketing quick wins tutorial, we focus on identifying content based upon rankings gathered from Google Search Console or tools like Ahrefs, and prioritizing the project list based upon traffic improvement potential.
2 - Content Decay Audit
Goal: Focus on improving content that used to rank well
Content decay refers to a period when the article begins to lose rankings for a certain keyword and traffic starts to drop off. This is usually content that did well initially, but growth started to plateau and eventually stagnate since search engines realize it's not serving the topic as well as it used to, or competitors have released better or fresher content on the same topic.
You can find these opportunities quickly by doing year-over-year analysis of the Google Analytics report for Behavior > Site Content > All Pages. If you haven't done this process recently, make sure to compare against multiple past years, eg 2021 vs 2018, to find URLs that had traffic peaks years ago.
3 - Evergreen Content Refreshes
Goal: Update and re-promote seasonal and evergreen content
Most good content marketing programs will have multiple content formats that are relevant seasonally (eg "best holiday gifts for gardeners"), annually ("best ad campaigns of 2021"), or on other recurring calendars (eg "what to expect at your first Consumer Electronics Show")
Such content should be revisited periodically and updated a few months prior to its relevance. For instance, your "thanksgiving turkey recipes" hub should probably be updated during the summer or early fall to improve rankings by October and November.
Refreshing, updating, and promoting such content is often the only way to maintain rankings from year to year. If someone is searching for "TikTok marketing trends 2022" then an article published in 2020 isn't going to serve that search intent very well.
These evergreen assets are also perfect to continually promote, and when done correctly on a single URL if appropriate, any links built will continue to drive value in the future as the page becomes more authoritative over time.
Example Analysis
Let's take a look at Content Harmony's post 11 proven ways to increase ecommerce conversion rates, first published in July 2016.
The blog post started to rank well in the first few months after publishing, but never realized its full potential, which would have caused it to show up in a quick wins audit done a year after publication.
Then it saw a steady increase in the amount of organic traffic, too, which puts it in our content decay category.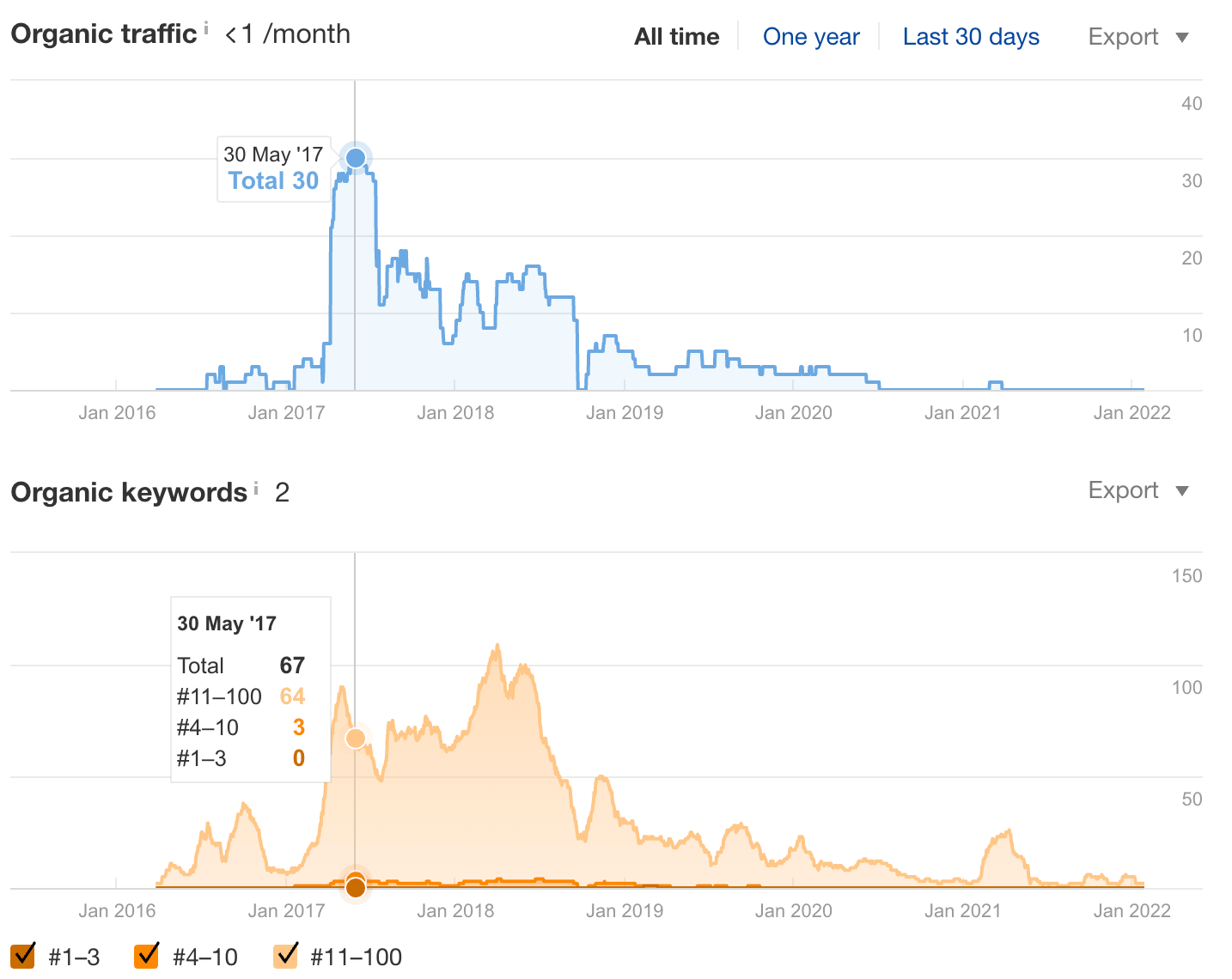 At its peak, it ranked for 4 keywords in the top 10 search results with total monthly traffic of about 30. It's not our top-performing content by any means, but it seems like it was showing potential. If we decide we want to reach an audience of eCommerce marketers or store owners, it would be valuable to invest in updating it.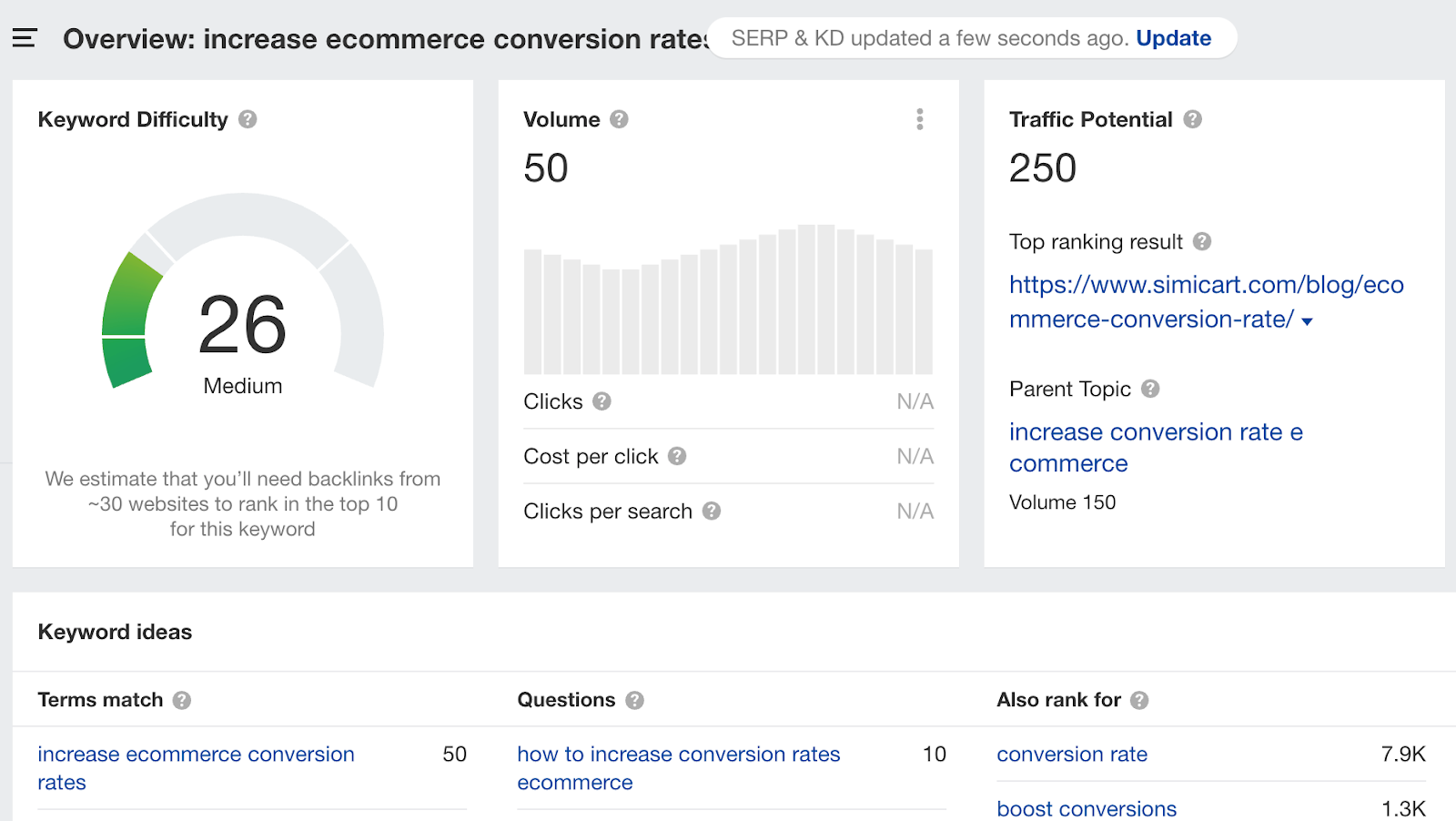 However, towards the end of 2017, the article started to lose monthly traffic—possibly due to lower clickthrough rates. It still maintained organic rankings for many keywords but those started to crater off too in mid-2019. The lower clickthrough rate must have played a role in lower rankings, too, alongside content freshness.
Since then, the article has performed poorly and received only 3 clicks in the past 3 months according to Google Search Console.  
It's clear that the blog post needs to be refreshed for it to start ranking again.
While this is one example from our own blog, it's possible that you have such content on your site too. There are many ways to track underperforming content, but the method we used was to navigate over to Google Search Console > Search Results > Pages.
This will give you the top-performing pages first, but as you scroll down you will see the ones that don't get much traffic. Within this dashboard, you can also input individual URLs to see how well they're performing and filter according to the time period. Try using the Compare feature on the date selection to see which posts have dropped off the most from past years.
Use our Content Marketing Quick Wins guide to go way deeper across your entire site and do a more advanced analysis for all of the keywords that you rank for.
How to update old content for SEO
Let's take you through a 5-step process to refresh any piece of underperforming content on your site.
This graphic gives an overview of the overall process we use on all content refresh projects–keep reading and we'll dive into each one.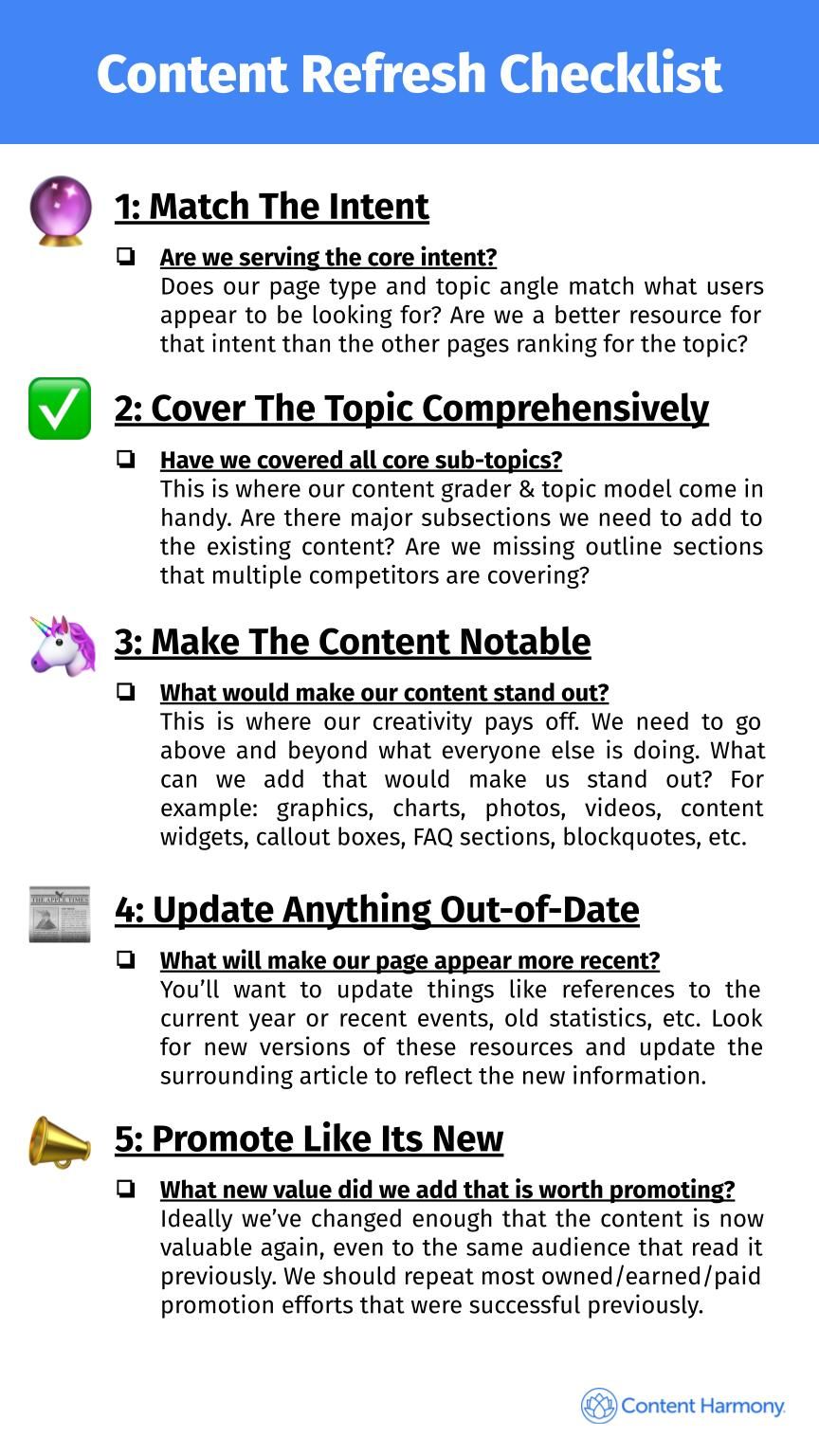 Everything we're going to show you in this guide can be done manually - but we'll run a Keyword Report and use the Content Grader in Content Harmony to show you how to do it faster.
We'll be using the same article from our blog referenced earlier — 11 proven ways to increase eCommerce conversion rates.
That article was published almost five years ago, so let's start by getting a fresh look at the data.
Step 1 - Make sure the content still matches search intent

Our first step has to be revisiting search intent to confirm whether our original approach is still correct and identify if any high-level content focus or structural changes need to be made.
While it's definitely possible to open up dozens of tabs for manual queries and research, we'll skip that step. Instead, we recommend that you run a keyword report for "increase eCommerce conversion rates" in Content Harmony, to give you all the information you need neatly sorted inside a single dashboard.
After running the report, the immediate things that stand out for this post are:
Our current article matches the research search intent, but with statistics that are out of date and best practices that aren't applicable anymore.
The average SERP age is 1 year, meaning that our article definitely should be updated and that's probably a big reason why it's experiencing content decay.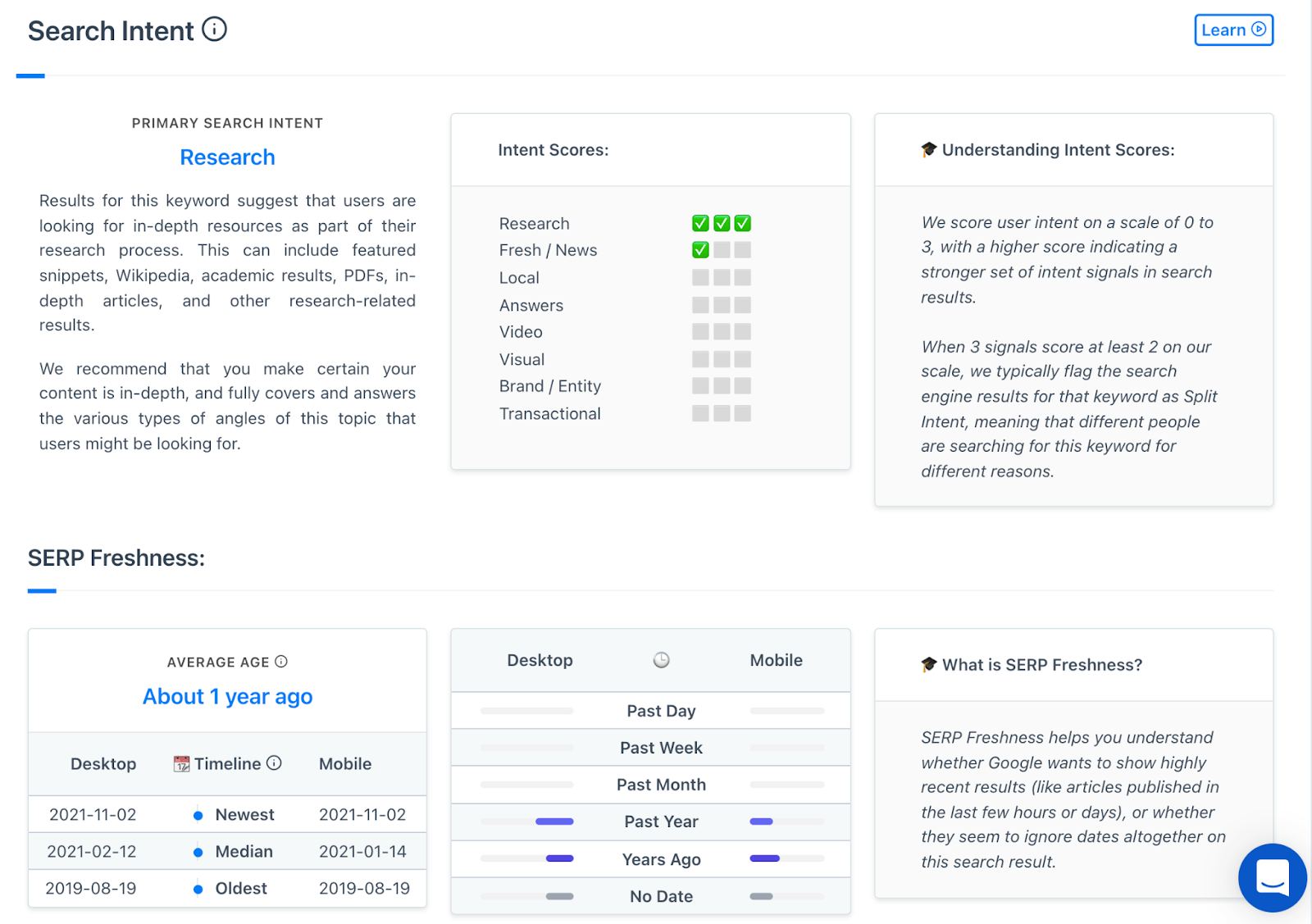 Next, let's head over to the content grading tool to see how it grades the current version of the content, and whether we need to beef up the word count and keyword suggestions.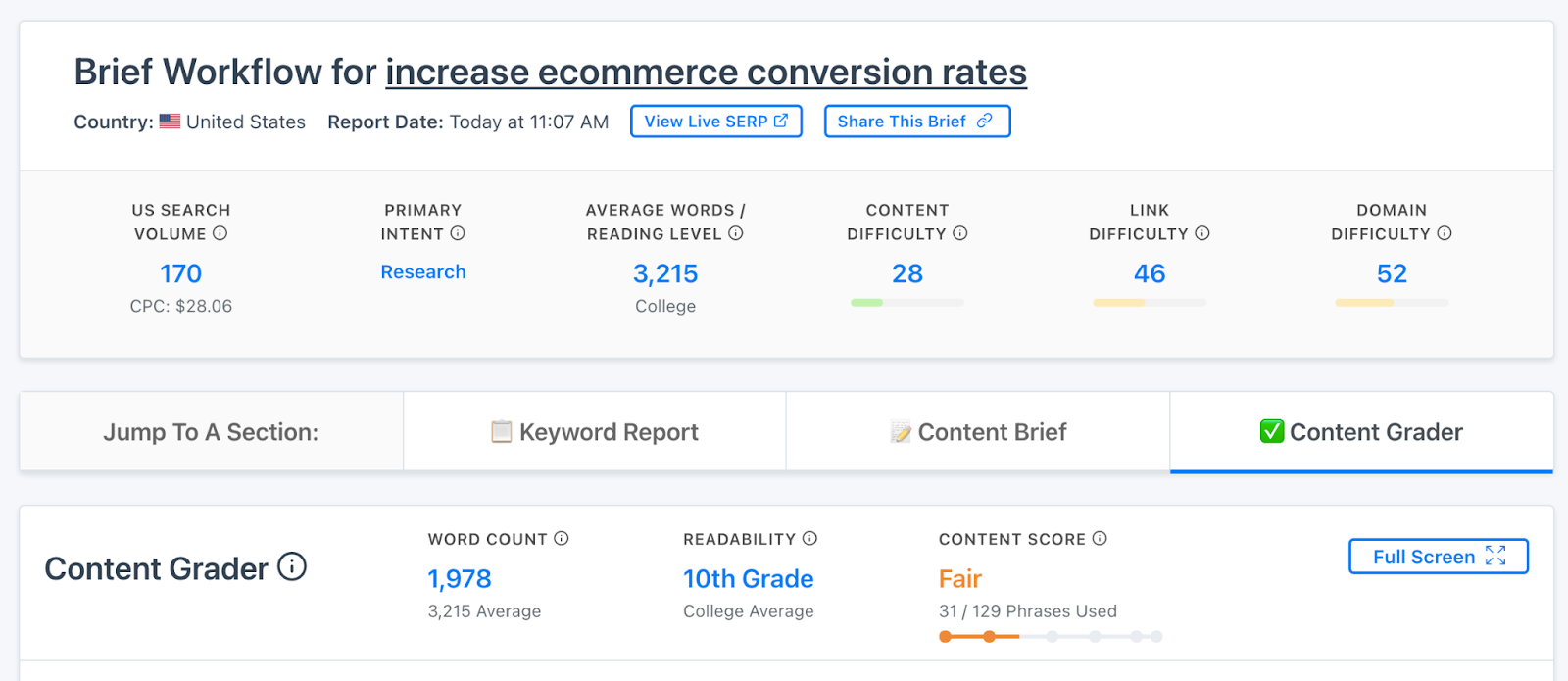 To the best of our knowledge, there is no manual process that you can use at this stage. We couldn't find a free content grading tool — you could always "CTRL+F" for keywords but that's super tedious, time-consuming, and error-prone.
Plugging the existing content into the tool reveals that we've used only 31 out of a recommended 129 phrases — hence it's clear that we need to add a little more context and semantically related keywords to the post. The tool also allows you to toggle between unused recommendations, giving us a solid list of sub-topics we can cover.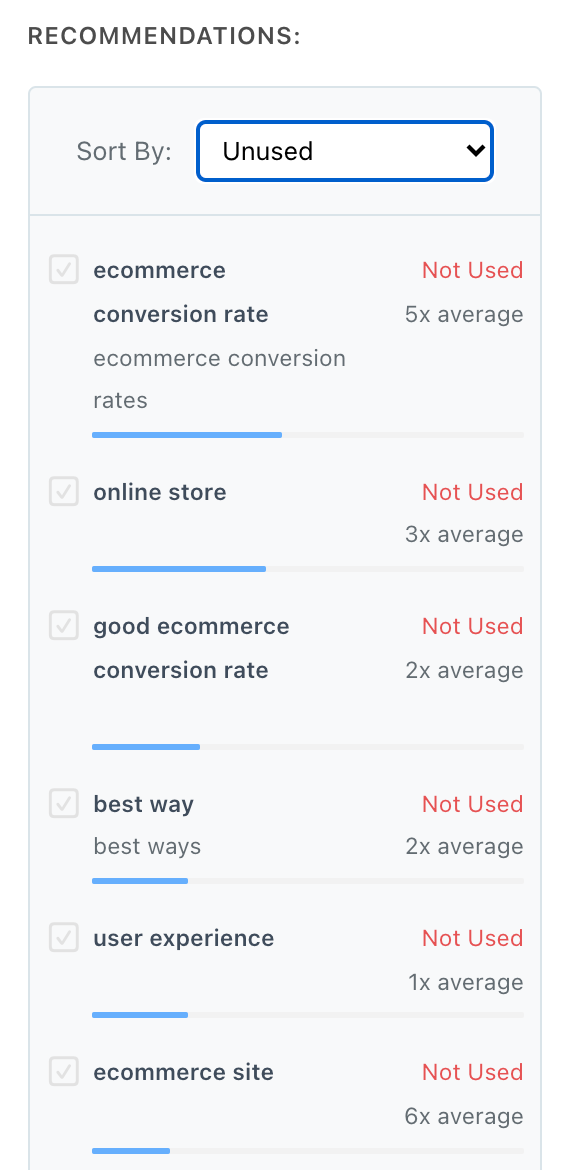 While it's possible that the article covered the eCommerce landscape well in 2016, we're now five years on so it's likely that new eCommerce topics have emerged.
Shopify stock, for example, was $40 CAD in July 2016. It's currently trading at $1,065 CAD, down from its all-time high of $2,139 in November 2021. It's onboarded millions of new users, and the U.S. eCommerce industry has grown nearly 81% since 2017. Clearly, there's a lot to catch up on.
Step 2 - Cover the topic more comprehensively
Our aim now is to uncover new search terms that may have emerged since we last published this article and make sure we don't have any major gaps on core sub-topics.
Content Harmony's Keyword Report section reveals new search queries, questions to answer, and authoritative sources to link to.
The first thing that stands out is the "related searches" section inside the topic model.

Some of these searches are definitely time-specific and can only be addressed with content that's updated periodically. For example:
Ecommerce conversion rate 2021: Self-explanatory, since conversion rates are different each year.
Best converting eCommerce websites: Design and user acquisition best practices are constantly changing — eCommerce stores now eye UGC content delivered natively through TikTok as a big growth channel, which wasn't the case in 2015. Hence, this list will need to be updated, too.
Shopify conversion rate by industry: We definitely didn't have as many Shopify stores in 2015 as we do now, so it's worth addressing this question in the updated content.
It's recommended that you scroll through the "Outline Analysis" tab, too. This helps you browse the top-ranking posts and what H2s / H3s they've used to address the topic. Select whatever stands out to you and add it to the brief.
Refresh title tags and meta description
We recommend that you update both your title tag and meta description when refreshing content. This serves as an additional signal to search engines that your content is new and worth a second look. What's more, a mention of an update in the title tag also helps increase clickthrough rates since readers understand that they'll be presented with the latest facts and data.
You can either write the new title and meta description at the research stage or put it as part of your notes for the writer.

Step 3 - Look for opportunities to make the content stand out
Are you able to add new images, visuals, charts, blockquotes, or videos to your content? Are there sections that need more examples to show the reader what you're talking about?
Does it make sense to spend time optimizing for featured snippets and FAQ Schema? Do you need to answer more reader Q&As in an FAQ section?
If you're refreshing something that's a few years old, there will be an opportunity to update more than just rewriting a few paragraphs.
For example, if we're answering questions about eCommerce conversion rates and best-converting websites, we'll be sure to include screenshots of which stores are knocking out of the park. It's also possible to have charts showing the fluctuation of conversion rates by year or compared by industry so that it's clear that you're doing the best job in trying to address the freshness in that topic's search intent.
Content Harmony's visual analysis feature gives you the top-ranking images for that keyword, so you're able to automate this step too. Look for ways to differentiate your visual assets or to improve on the ones that are currently ranking.
Step 4 - Update anything that is out of date
Refreshing old content means there's an opportunity for you to add fresher data, statistics, and examples. Scan your article for sections where updated stats are necessary — in our eCommerce conversion rate post, for example, we can discuss 2021 conversion rate data.
It's also possible that you've published a lot more content since this last post. Some of that content will be related to this new blog, so it's always a good idea to double-check what new internal links you can add. This could be a combination of blogs, product pages, or features — whatever is relevant.
It's possible to do this manually, but you might miss out on a few pages especially if you're publishing a lot of content.
Content Harmony scans your site for topical relevance and top internal link targets so that's another step that can be easily automated.
For this article, we found two articles on our blog that were not interlinked with the eCommerce conversion post, so we'll be adding those too.
Step 5 - Publish and promote like new
The primary aim of updating old content might be to regain lost rankings in the SERPs, but that doesn't mean you should ignore all of your normal promotional channels that you would use on a new piece of content.
If your content performed well earlier, it's likely that users found it engaging and informative. Now that it's updated, there's no reason why they won't enjoy reading it again.
Treat this like any other big content launch–tweet it, email it to your list, etc.
Some ways to promote your updated content are:
Email it to your newsletter subscribers, with a mention that it's updated with the latest statistics and data.
Re-post on all owned social media channels.
Send a personal email to subject matter experts who might have contributed to the updated article with a quote or comment.
Share in relevant communities across Reddit, Quora, Slack, Facebook groups, & Twitter lists.
Closing thoughts
A content refresh project should be viewed as an opportunity to address search intent better and provide the most comprehensive answer for that query. The idea here is to devote sufficient time to the content update process so that you're giving it the best possible chance at performing.
Minor updates such as a couple of hundred extra words in an existing sub-heading won't accrue the same benefits. As outlined in the sections above, the full process gives you the opportunity to rank for more keywords, boost existing SERP rankings, and obtain both more traffic and backlinks to your content.
---
Want to see how Content Harmony helps you build content that outranks the competition?
The blog post you just read scores Good in our Content Grader for the topic "how to refresh content".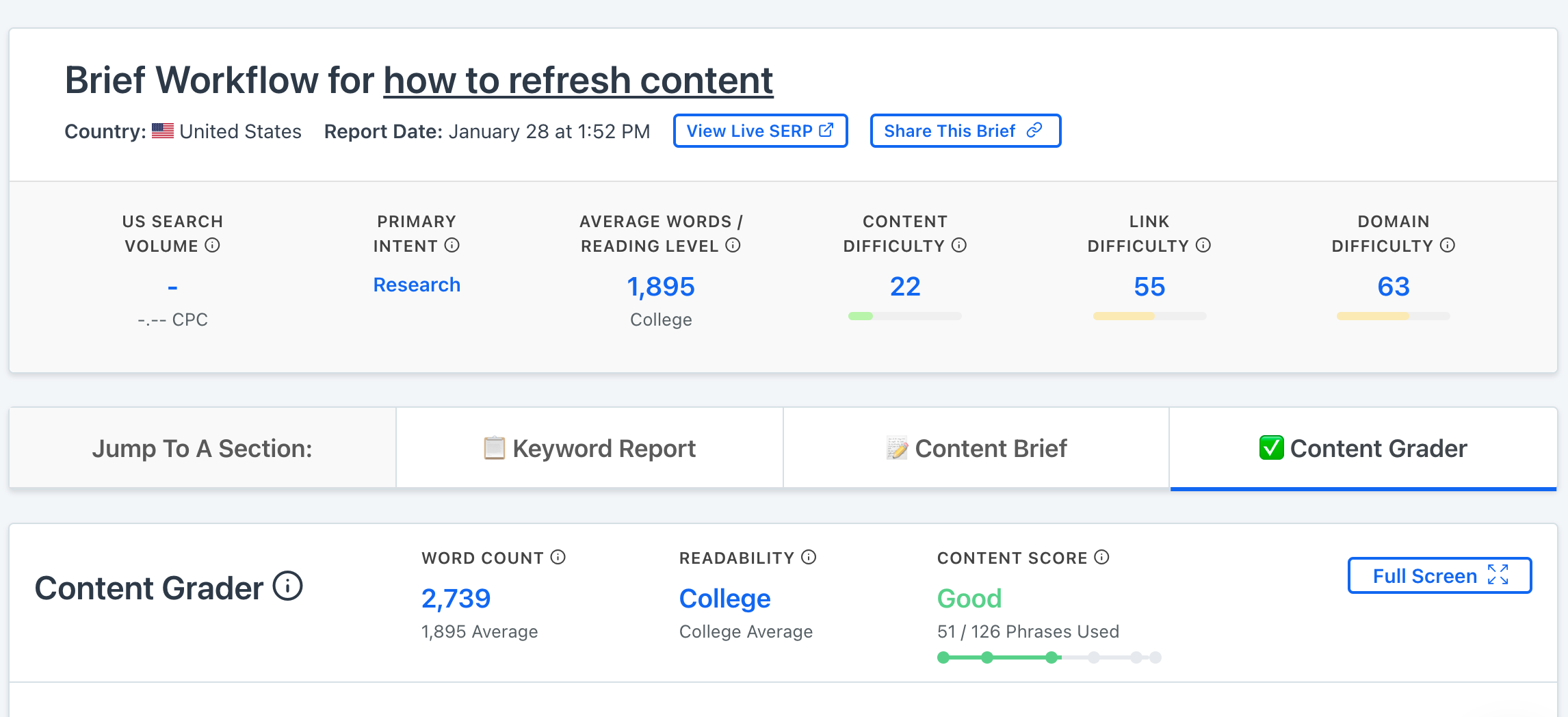 Grade your content against an AI-driven topic model using Content Harmony - get your first 10 credits for free when you schedule a demo, or sign up here to take it for a spin on your own.
👉 Get Your First 10 Briefs For $10
---
---
✉️ Get an email when we publish new content:
Don't worry, we won't bug you with junk. Just great content marketing resources.
---
Ready To Try
Content Harmony?
Get your first 10 briefs for just $10
No trial limits or auto renewals. Just upgrade when you're ready.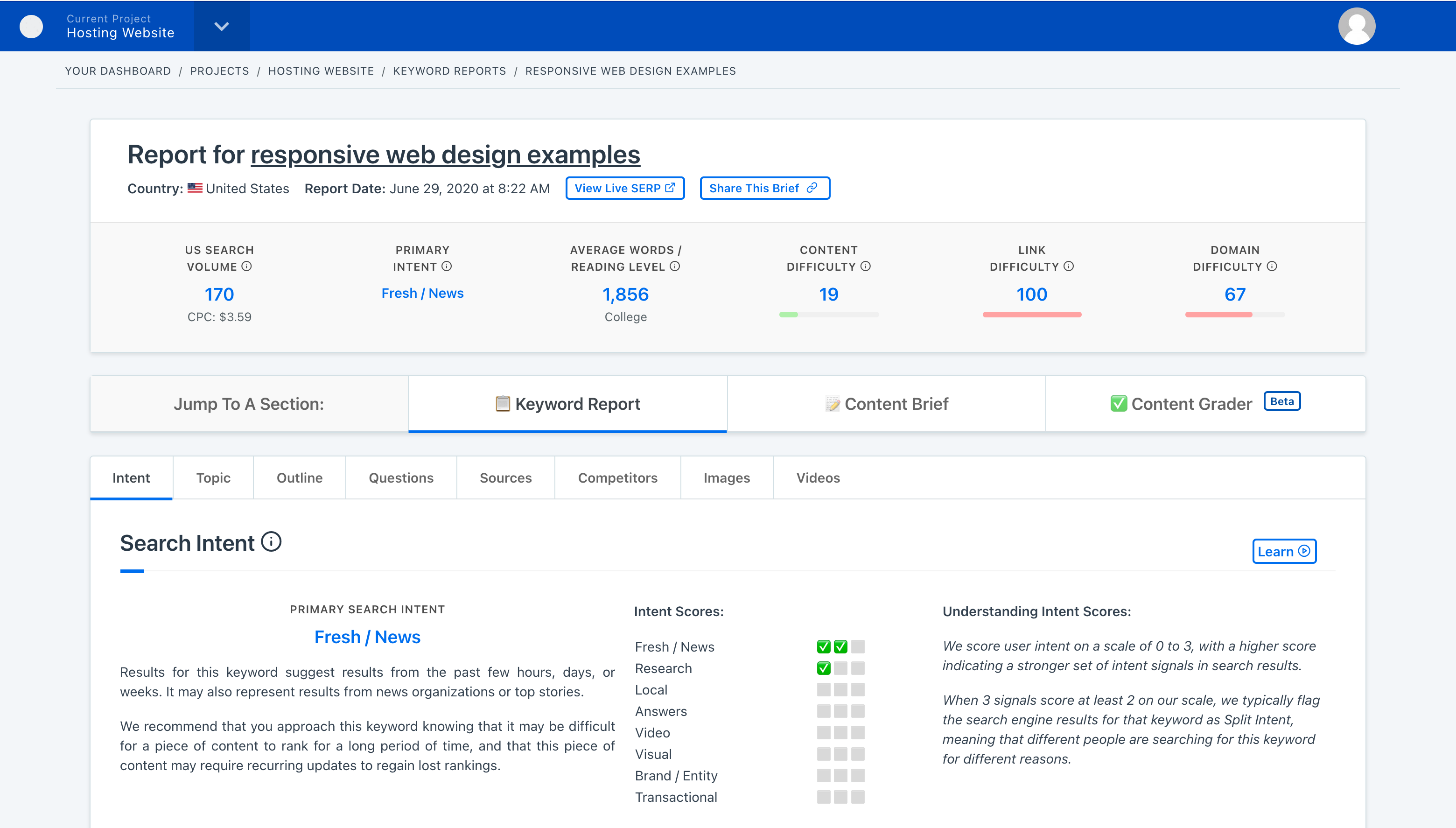 ---