People are shopping online now more than ever. According to a study from Mintel, 69% of internet-connected adults in the United States shop online at least once a month. In 2015, 33% made an online purchase once a week, which was an increase from 24% in 2014.
However, the conversion rate for eCommerce stores is often very low. They typically range from 1 to 5%, according to the Bigcommerce blog.
Though it's positive for a business to be converting even 1% of visitors, it's best to always aim for higher rates and more sales.
If you're hoping to increase the amount of visitors you convert, start with the following steps to make it happen.
1. Offer Free Or Reduced Shipping For Certain Purchases
When customers see a price tag on a product, they might be excited about how little it's going to cost them. But once they get to checkout and see how much the shipping is, they may be dissuaded from making a purchase. By providing free or reduced shipping for certain shopping carts, you're going to see an increase in conversions.
Sheplers, a website that sells cowboy boots and western apparel, did research and found that conversion was low for customers in a specific group of states including Texas. To see if it was because of their shipping costs, they conducted a test. They reduced or eliminated shipping costs based upon the distance a customer was from a warehouse, competitors' stores, their particular location, or the purchase amount. The company also reduced or waived shipping for a specific time period and for various categories on the site. In just four days of running this experiment, Sheplers saw a 20% increase in the bottom line and a 48% increase in new customer acquisition.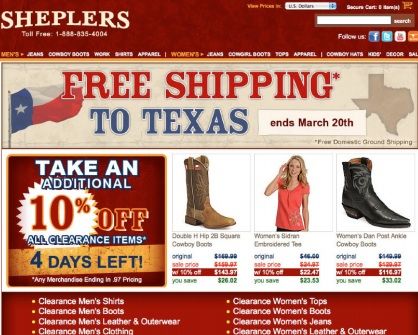 To follow Sheplers's lead, analyze what kind of customers are abandoning their carts at checkout and see if lowering or taking away shipping costs helps.
2. Send An Abandoned Shopping Cart Reminder
Nearly 69% of online shopping carts are abandoned. Be it shipping costs, a complicated checkout process, a better price on another site, or a simple lack of motivation to purchase, many customers just don't take the final step.
To solve their abandoned shopping cart issues, Radley London, an accessory brand, sent shopping cart recovery emails to customers within 30 minutes of the carts of being abandoned. By implementing this strategy, they were able to recover 7.9% of sales that would have been lost.
Another company, Movies Unlimited, was losing 75% of their carts every month.  They started sending emails 24 hours after the carts were abandoned with a message stating that the customer had left items in his or her cart. They also included images in the emails. If the customer didn't take action, then five days later, another reminder with a different subject line was sent. A third and final email was sent out following that. In the end, the campaign resulted in a 26% conversion rate.
To achieve similar results, test out different abandoned shopping cart emails. Incorporate various subject lines and personalization strategies, and figure out what timing works best as well.
3. Match Your Web Copy For The PPC Visitors
If you've invested in pay per click ads on Google or other websites, you have the opportunity to easily increase your conversions.
For example, travel site Secret Escapes had taken out PPC ads on Google that popped up when users searched for "spa vacations." Within the ad were the words, "Save up to 70% on spa breaks." If users clicked it, they were taken to the website, which included a photo of a spa and the words, "Save up to 70% on luxury spa breaks." The company increased sign ups by 26% after making this change.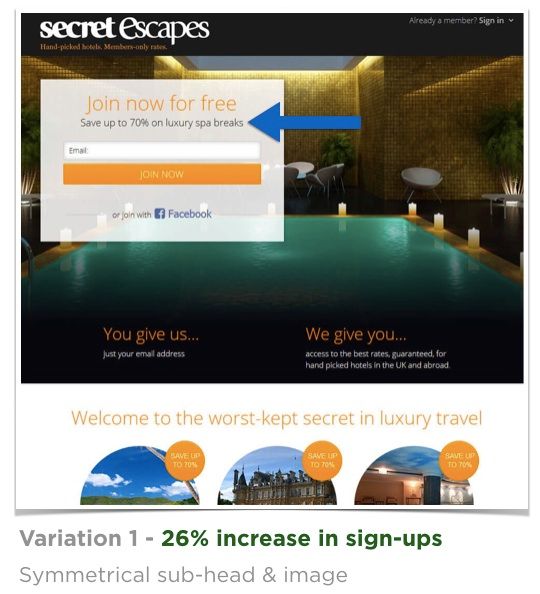 Make sure that ad copy is the same as your web copy so that customers have a seamless shopping experience. As an added bonus, the web copy will feel personalized for customers.
4. Create A Deals and Promotion Page
eCommerce stores will often provide a box where customers can enter promo codes. When it's there, many customers abandon their carts to go and look for codes on Google. Sometimes, they find codes that don't work, and then they just leave the site. Or, in a worse scenario, they end up locating a better deal on a competitor's website.
To avoid this from happening, one eCommerce company created a page on their website explaining that they didn't even offer discount codes. They also took the opportunity to outline how they have a price-match policy, competitive low pricing, free shipping on certain purchases, a rewards program, and stellar customer service. After launching this page, the company received 21,000 visits and $1.58 million in sales.
If you don't place a promo code box in the first place, but instead show what deals you do offer and include the benefits of shopping with your company, customers will be persuaded to make purchases.
5. Vary Your Call-To-Action Button Language
Online shopping can end up being more trouble than it's worth for customers. Entering their credit card numbers and shipping information, as well as having to create sign-in accounts may be frustrating to some. It causes additional stress if customers are doing shopping online on small screens through their mobile devices. If the process is annoying 30% of mobile eCommerce shoppers and 70% of desktop users, you have to modify it.
Insound, an online record and vinyl store, found that many of their customers weren't converting. It was determined that this was because on every page of the checkout process, the call-to-action button was "continue." Customers didn't know when they would finally be done, and they gave up. On the second to last page, Insound changed the call-to-action button to say, "review order." By doing this, they increased conversions by 8%.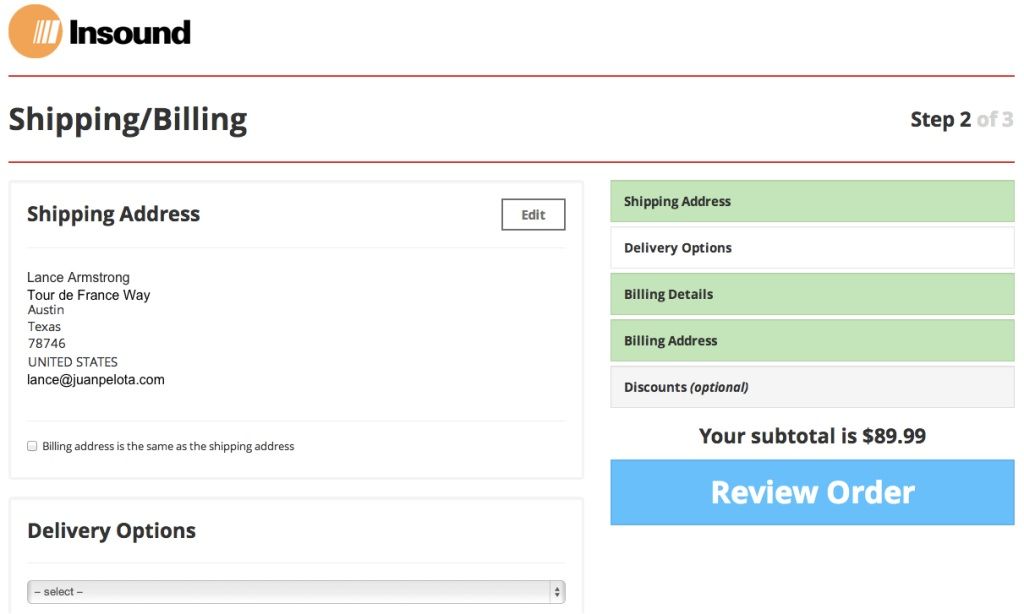 Your call to action buttons should be unique as well. Using language like "review order," "next page," "checkout here," etcetera instead of "continue" and "next" multiple times will show customers that they're making progress through the checkout process.
6. Integrate The Right Content To Attract The Right Customers
Your eCommerce store is going to be doomed from the start if you aren't attracting your target audience. You can't expect anyone and everyone to love your business; instead, you want to find your niche demographic.
To ensure that they'd make sales, Beardbrand created content that played into their overall brand story and image. They included photos on their site of what their customers might look like, and kept the content and storyline consistent across all marketing platforms and advertising campaigns. Today, they are a successful eCommerce business that makes an average $120k per month in online sales.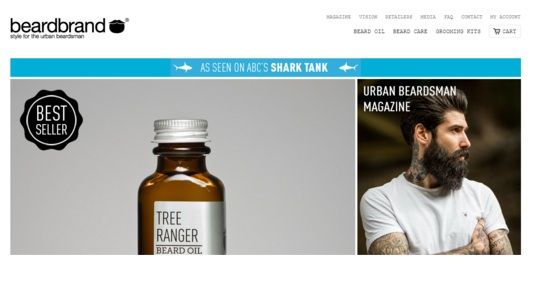 Content marketing, or inbound marketing, needs to be a crucial part of your eCommerce website to build brand awareness with your target audience. You should write blog posts, create videos, post photos, and produce content for social media that plays into what your brand is all about.
7. Include Customer Reviews Of Your Products
You know you're a great company, but customers won't always take your word for it. They'd rather rely on the reviews and opinions of other customers. According to one study by Econsultancy, 61% of customers read online reviews prior to making a purchasing decision. Another study by Reevoo found that reviews lead to an average 18% increase in online sales.
One eCommerce site, Express Watches, added a widget called "Trust Pilot" onto their site in an attempt to increase sales. On it, they showcased customer reviews of their individual products on the specific product pages. They also included the full names of customers and photos of them. In the end, they increased conversions by about 58%.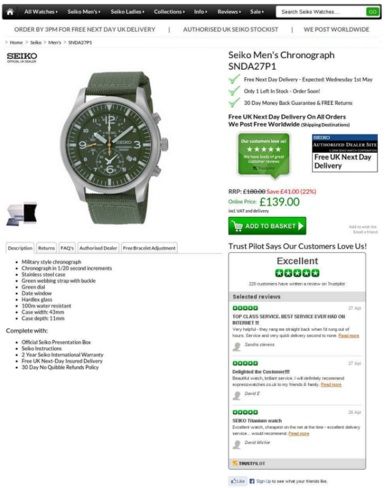 Make sure you give customers the chance to leave you reviews and showcase your best ones alongside your products. If your customers log in to your website, make sure they use them to leave reviews so that they're deemed more trustworthy by other potential customers. Putting a face and a name to the review is the best option.
8. Add Photos Of Happy Customers
People need to visualize themselves enjoying your products. By incorporating photos of satisfied customers on your site, you're going to see conversions jump.
In one well-known example, a CRM called Highrise sought to increase sign-ups for their product. Their former landing page contained text and a screenshot, along with the sign-up button. The new landing page included a photo of a smiling woman and a quote from her exclaiming how happy she was with Highrise's product. The company then saw a 102.5% increase in paid subscriptions.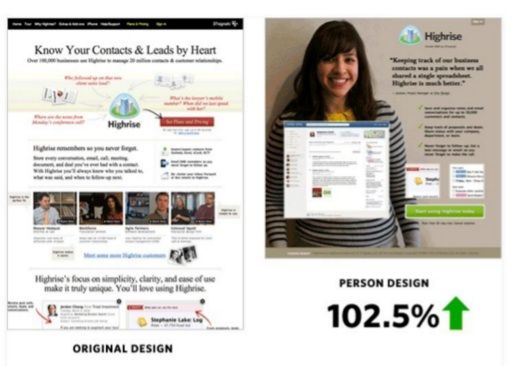 You can add professional photos that you take of your customers and let customers upload photos of themselves using your products. If you choose the latter option, you can also use the user-generated content on your Instagram and Facebook pages to show off your happy customers and let them be your brand evangelists.
9. Improve Your Site Load Times
There are countless case studies demonstrating the ROI of fast-loading websites. Radware conducted an experiment in 2013 by adding a 2-second delay to half of their shoppers, and found that the delay caused more than a 50% drop in conversions on the site.
A 2014 study from Portent found that reducing page load time from 8 seconds to 5 seconds resulted in an overall page value increase of 18%. However, the greatest value increase came from reducing page speed to 1 second or less as shown here: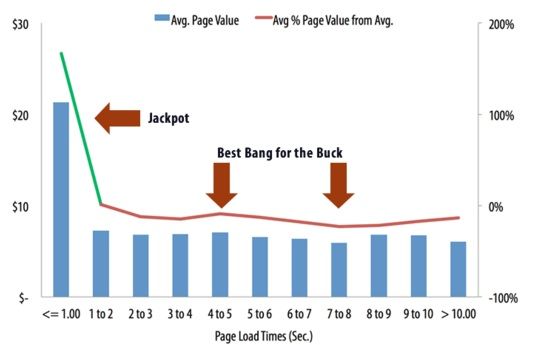 Chart via Portent.com
eCommerce sites with large photos in particular can easily take 4-8 seconds to load, but with some very basic page speed improvements, those times can be reduced to 1-2 seconds or less. Take one of your product page URLs and your homepage URL and test them with Google's PageSpeed Insights tool in order to figure out where your fastest improvements will come from.
10. Tactfully Link To Products From Your Resource Driven Content
Once you start investing more heavily in content marketing, one of the best investments you can make is in large, evergreen resources that will be useful to your audience for years to come. Great examples from the eCommerce marketplace include REI's Tips For Packing A Backpack, Zappo's Running Shoe Fit Guide, and Turntable Lab's Beginner's Guide to Turntables.
Each of these guides are perfectly positioned, both in search rankings and in messaging, to inform customers at an engaged consideration stage of the customer lifecycle on how to make an educated purchase. So long as the links are presented as a resource to users, and the guides don't come off as sales pitches, they'll be useful to those readers.
Here's a great example from the Beginner's Guide to Turntables that helps their audience understand how to properly set up the cartridge on a turntable:

These in-content links to product pages highlighted in yellow serve two important purposes:
They give product examples to customers as they're looking for information on a specific topic (such as turntable cartridge alignment) and guide them directly to the page where they can purchase that item.
They build strong connections to those product and category pages, which helps SEO.
11. Keep The Page Simple And Uncluttered
Your eCommerce store should be all about your products and the purchasing process. You don't necessarily need sign up forms, social media buttons, or extra links on it.
This is what hardware eCommerce store Taloon.com discovered through testing. On their former product page, they had buttons for Facebook, Google Plus, and Pinterest below an image of their product. Then, they deleted the buttons to see what would happen. It turns out, it worked, and conversions increased by 11.9%.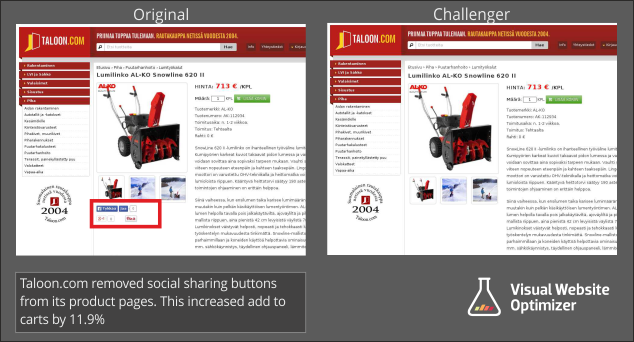 Keep your page simple, and make sure the focus is on the products and nothing else. You don't want customers getting distracted and clicking on links that take them off your site.

---
---
✉️ Get an email when we publish new content:
Don't worry, we won't bug you with junk. Just great content marketing resources.
---
Ready To Try
Content Harmony?
Get your first 10 briefs for just $10
No trial limits or auto renewals. Just upgrade when you're ready.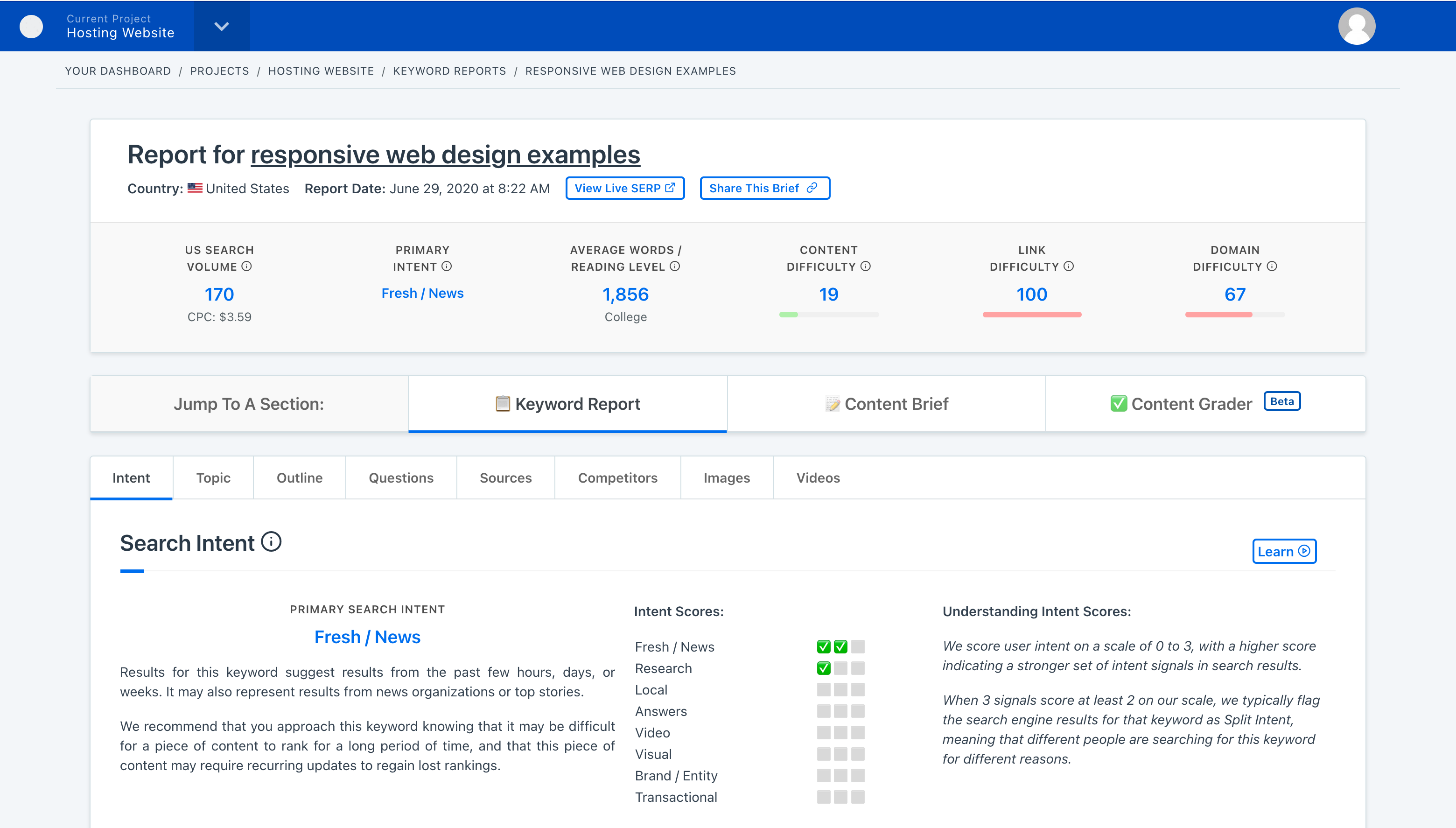 ---