Are you building out a company editorial calendar to keep track of your blog posts? You've come to the right place.
As a group of people invested in creating quality blog content efficiently, we know that a helpful calendar is a must-have for any serious writer or manager. In fact, an editorial calendar is the most important component of your marketing team's toolbox next to the almighty content brief.
Grab your content marketing strategy and your roadmap; we're going to help you create an editorial calendar that everyone on your team will find useful.
Why Are Editorial Content Calendars Important?
If you're interested in creating an editorial calendar, you already understand how challenging it is to routinely create high-quality content without an effective organizational tool.
Who is writing what, and when will we see the first draft? What's the publishing date for this post? What angle are we taking on this article? These questions and many more can result from poor calendar design, or worse, no calendar at all.
Below are some of the benefits we've seen from implementing successful editorial calendars.
1. Improved Workflows Across the Entire Content Team
A calendar provides an enhanced workflow by creating a content schedule that spreads demands out over time. It does so by creating realistic deadlines and by giving an understood cadence.
By providing a publicly accessible calendar file, link, app, or spreadsheet that contains important dates, topical relevance, and content notes, you'll be giving writers, designers, content managers, and SEOs the ability to see weeks or months into the future.
Pro Tip: For the best workflow success, create content calendars built to cover 2-6 months. Having at least a 60-90 day content plan gives editorial teams enough time to get into a rhythm, creates sustained focus on a longer-term strategy, and will save you from making a calendar every month. Trying to plan too far ahead can make it difficult to adjust strategy or priorities, however.
2. Increased Communication and Transparency
In today's world of calendar apps, Google Workspace, and project management platforms, everyone should have access to the information that they need to. This includes if your team chooses to let your clients, an outside agency, or your boss' boss access your editorial calendar to monitor project updates and build trust via increased transparency.
In addition, most digital editorial calendars will give team members such as writers the ability to update their status directly in the calendar or spreadsheet itself, or ask follow up questions. Comments and notifications keep everyone in the loop and allow them to respond promptly.
Pro Tip: Choose who you share an editorial calendar with carefully, especially if you're thinking about allowing a new client to see your calendar. Commonly, many adjustments are made to calendars as you both sync up on approval processes. When deadlines are sure to need adjusting, a shared calendar can give a client a bad impression.
3. Meet Deadlines More Consistently
The key to content production is mitigating risk and managing deadlines; just ask any traditional publisher who has had to endure physical content and news production schedules.
By creating an editorial calendar, content marketing teams can prioritize their schedules around other project needs, vacations and make necessary accommodations with coworkers when necessary.
Related Reading: How To Automate Campaign Calendars in Google Docs
Building An Editorial Calendar
Let's begin the process of assembling your team's future content calendar.
Step 1) Choose a Calendar Format and Style That Fits Your Team
There are a lot of effective ways to host your calendar. They will require you to think about your budget, tools you might already have access to, and the convenience associated with them. Below are some of the most common formats we've seen calendars created.
Spreadsheet Editorial Content Calendars
The spreadsheet calendar serves many purposes in content marketing. It's straightforward, allowing you to layout your calendar in easy-to-understand columns and rows.
In addition, these tools contain powerful features such as functions, date and checkbox functionality, APIs, and the ability to be uploaded into other tools, such as Asana, Trello, or Google Calendar as CSV files.
Pros
Easy to build a very basic calendar
Easy to Share
Often free to use, or low cost of entry
Powerful functionality and API options
Pair well with other calendar apps and project management platforms
Easy to develop in a way that syncs with building the content strategy
Cons
Often look quite plain or simple
The more powerful features require advanced knowledge of functions
Most common spreadsheet programs for editorial calendars
Google Sheets
Airtable
Google Base
Notion
Microsoft Excel - Preferably an XLSX hosted online via Office 365
Download Our Free Editorial Calendar Template For Google Sheets (Click "Make A Copy" To Save Your Own)
Simple Calendar Apps (i.e., Google Calendar)
The traditional calendar view is another available format for your editorial calendar. Your team is likely already using a shared calendar application (such as Google Calendar), making this a quick and affordable option.
This type of editorial calendar focuses on visualizing deadlines associated with content, such as blog posts that need to be created. You'll be able to store all relevant information inside of the event or meeting info spaces. HubSpot themselves have reported using this format internally.
Pros
Most likely already have access to this type of application
Some of them allow you to upload CSV spreadsheets into them
Clearly show blog post due dates
Free and paid options available
Cons
Not often built to conveniently display many categories (Writer, Keywords, etc.)
Challenging to visualize blog post projects that have multiple deadlines
Good ones can be expensive or are hidden in more expensive software suites
Most common traditional calendar programs
Workflow and Project Management Apps
Project management apps often serve as useful editorial calendars as they need to provide many visual layouts to be helpful. These typically allow for plenty of detail, appropriate tagging, and often custom design for each blog post task that you create.
In addition to calendar view, you'll likely be able to create subtasks, all with different deadlines that will populate your appropriate team member's calendar, taking the guesswork out of when each step needs to be completed.
Pros
Include added features such as assigning, tagging, categorizing, etc.
Viewable via lists, boards, or traditional calendar views
Easy for entire teams to see the workflow of each account
Cons
Often come with a more significant expense
Robust features and options require thoroughly learning the capabilities of the platform
Most common project management tools used for calendar building
Step 2) Decide What Information Your Content Calendar Will Hold
Your calendar should strike a balance between offering too much and too little information. One mistake people make in developing a blog calendar is that they recreate a brief in calendar form. That's too much information.
Try including an overview of the content, who is assigned, and the important dates. Link out to the content brief where the people involved in a specific project can learn more detailed information.
Below are some of the most common inclusions we see, but don't be afraid to start simple and add new columns over time.
Writer's or Author's Name
Including the author's name (and tagging them) next to specific blog posts allows the content manager and anyone involved in monitoring the completion of a task to quickly engage with a writer when progress-related questions arise.
Should a freelancer writer stop writing blogs for you, this will allow you to quickly understand which pieces of content now need a writer to fill her or his position.
Most apps will allow you to tag the author in some way so they can see their assignments or get updates on comments.
Due Dates That Correspond With The Deliverables
If you're creating a content calendar for articles, you know there will be multiple drafts and rounds of editing. Include, at least, a first draft date to be sure you'll meet any deadlines dictated by further approvals.
Publish Date
The publish date gives everyone a clear goal and announces when that piece of content will be completed and unleashed to the world.
Title (Even If It's Only Tentative)
A tentative title should be established as part of the content calendar. It allows teammates to understand which content piece is being referred to and give the writers and clients an idea of what the blog post will discuss.
Description For The Writer
Occasionally, you might have a relatively robust network of freelancers with whom you won't have an opportunity to discuss a project. Some content marketing teams also allow writers to choose their projects from a list of needs. It can be helpful to offer up a very brief, one to two-sentence description of the overall piece.
Unique positioning notes might also give a writer a quick idea of how it relates to the target persona or company it's being written for. It is also entirely appropriate for save these types of notes for the brief.
Topic Or Keyword Targets
Throwing in a quick keyword target or topic is also great context. It gives a writer a chance to search the query in a search engine and get an immediate sense of the competitive landscape before looking at the brief.
Keywords can be optional depending on the skill level of your writer and their familiarity with your account. Writers who don't know how to use keywords appropriately will be better off following a guided brief and outline than seeing a keyword in your calendar.
CTA
It can be a nice touch to include the Call-to-Action to give the writers a sense of the overall goal for the piece. Will their writing style be more sales-related, is the company running any landing page tests, or will this article be used to encourage reading more related topics?
Buyer Persona(s)
Identifying the target persona for each piece of content is important for a couple of reasons. First, it tells the writer who their target audience is and how they should frame the topic. Second, it can also be helpful to ensure that you're targeting each persona the appropriate amount of times over a given calendar period.
Link To Content Brief
For each row, task, or event in your calendar, it's necessary to include the content brief for convenient access to all the information the project requires.
In addition, including a content brief will dramatically simplify the content calendar - many of the content requirements will appear in the brief where they belong.
If you're using Content Harmony, you can either drop in a logged-in URL, or a public shareable URL, depending on who has access to the calendar and whether you want them to see the full brief and content grader or not.
(Optional) Checkboxes, Dropdowns, or Subtasks to Illustrate Content Creation Status
Editorial calendars can serve many purposes. If you're using one to track progress as you go along, then find a way in which team members can communicate when a particular part of the creation process is complete or has advanced. A very simple system can include statuses like:
Pending
Assigned To Writer
In Progress
In Review
Published
Step 3) Establish Your Content Publishing Cadence
After you've picked a calendar format and established what information will be included, you'll need to set a publishing cadence. This will set your team's tempo and communicate how many pieces of content you expect to complete each month.
For blog posts or articles, it's often a best practice to publish consistently, both in frequency and the day(s) you choose to publish.
Publishing consistency has multiple benefits:
For SEO, it's long been theorized that Google algorithms value regular posting to give an impression of freshness and priority for crawling and indexing.
Your blog post is going to live in other teams' calendars. The paid ads team, the e-mail marketing department, and devoted readers may all be counting on predictable blog post publishing.
Step 4) Assemble Your Editorial Calendar Templates
Now the assembling begins. After you purchase or create a team account for your chosen format, start assembling a replicable template. If a template can't be created, find the simplest way to layout a calendar so that it can be duplicated.
Calendar templates will change over time as you begin to perfect your writing and publishing systems. As your team encounters hurdles or inefficiencies in the current template, allow for feedback and adjustments (always keeping it as a template).
A template also creates the quickest way to bring new employees into the calendar development process without forcing them to recreate the wheel. It will also minimize the amount of time you spend onboarding staff as it acts as a historical knowledge base.
Step 5) Fill In Your Calendar
Once you've established the calendar template of your choice, begin putting the details into their proper positions. This step is straightforward.
It's normal to add more details as the project progresses from early status to a finalized status. For now you might just want details like working title or target keyword.
Step 6) Share With Content Managers, Writers, and Clients
Next, via links, e-mails, or shared communication platforms, make sure you send your interactive calendars to all the people invested in the project.
All you'll have to do next is monitor progress.
Editor's Note: Try making the editorial calendar the focus of your weekly team meetings - it forces everyone to keep the calendar up to date with changes, and makes sure you review any projects that might be stalled or blocked in some way.
Free Editorial Calendar Templates & Examples:
No matter what template you start with, you'll want to customize it quite a bit, so we've included a bunch of examples to get you started.
Content Marketing Institute's Editorial Calendar Spreadsheet
Content Marketing Institute released this template years ago - it is focused on daily content which may not be useful for all companies, but can be easily modified.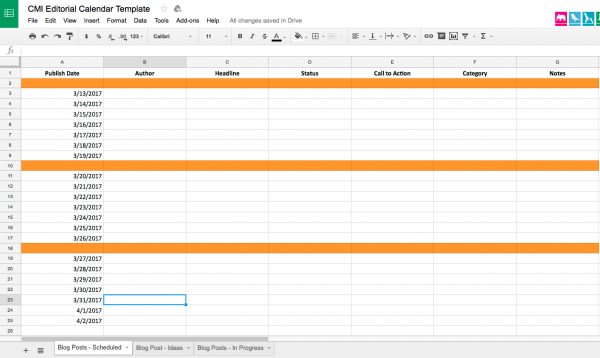 Content Harmony's Simple Spreadsheet Editorial Calendar
Content Harmony built our first editorial calendar years ago with a heavily modified version of CMI's template above. You can download or make a copy of the Google Sheet template for free here (click File > "Make A Copy" to save your own).
This template is basic, but shows you how to do a few 'advanced' features like:
Data Validation to create dropdown menus for Authors or Project Types (this would be a good way to handle project statuses as well)
Automatic Dates based upon draft due date (eg review deadline automatically set to 'draft due date + 5 days')
You can also use this template as a baseline for building more advanced templates in Airtable or Google Base, or uploading into Office 365 if your team isn't on Google Apps.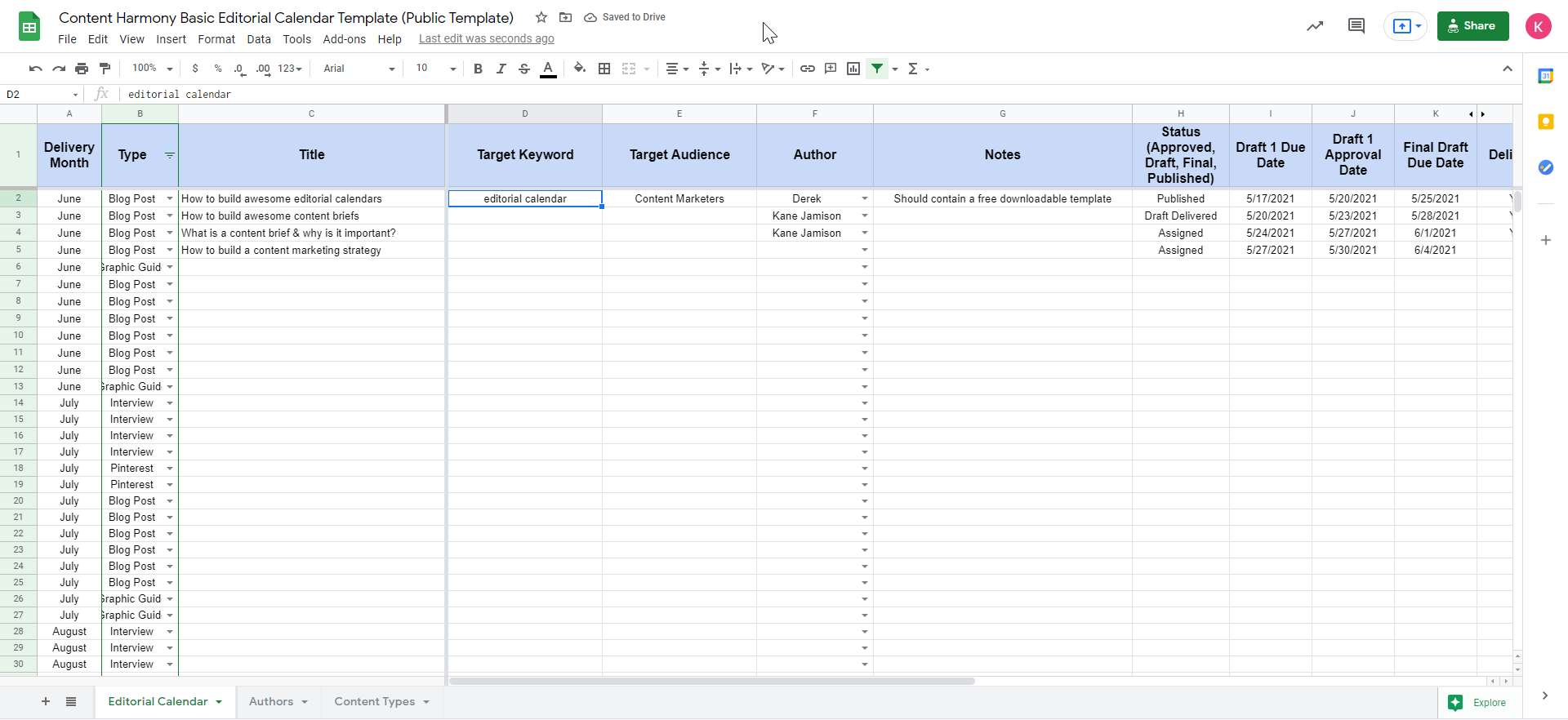 Animalz's Airtable Content Base for Agencies
One of the first companies we spotted building content plans on Airtable was the Animalz team, who publicly released their Content Agency Manager template for Airtable here.
Their template helps manage not just editorial calendar requirements, but broader agency needs across clients related to client engagements, internal and external team members, and more.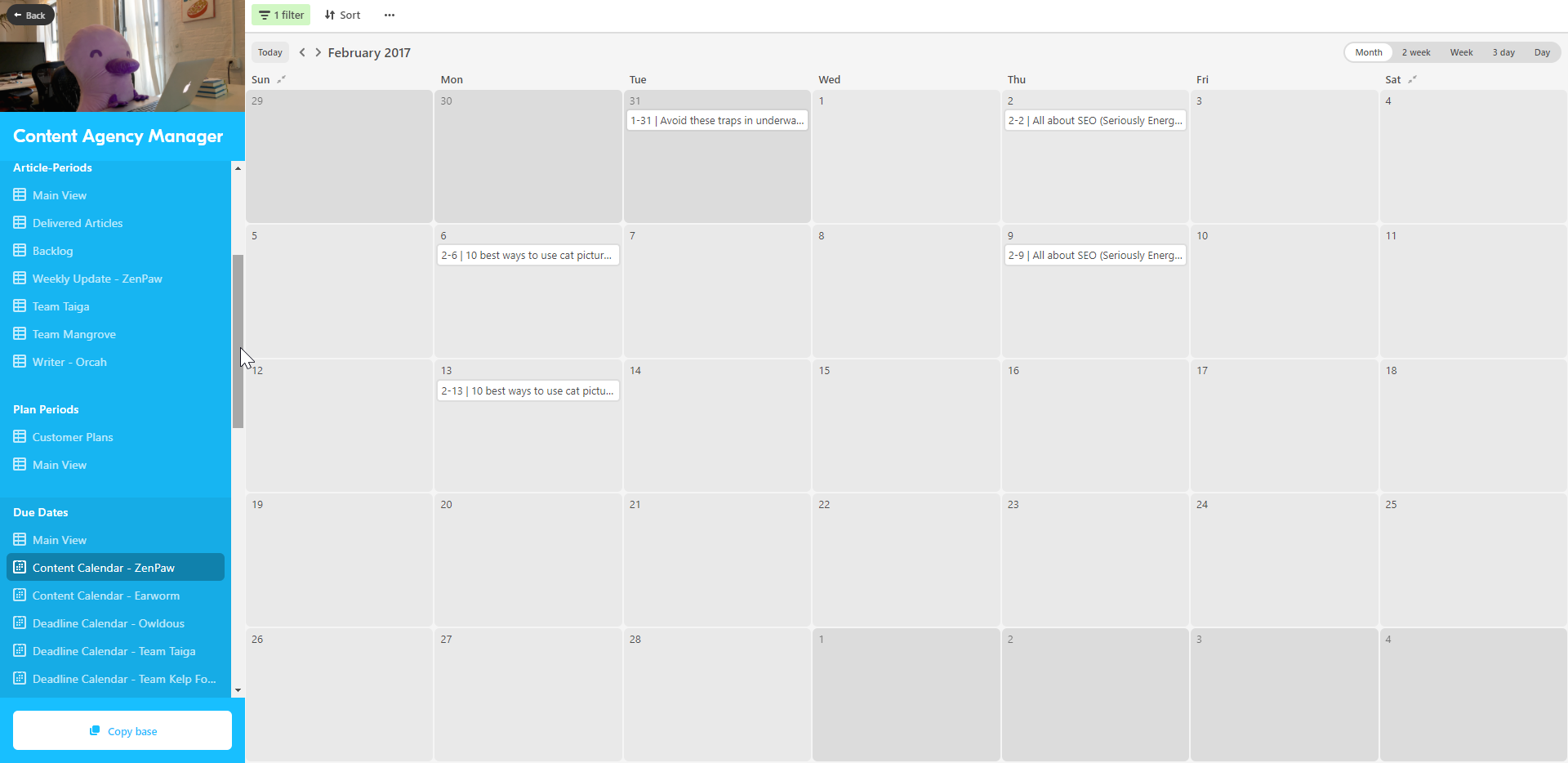 HubSpot's Google Calendar Editorial Calendar
According to their own blog post, Hubspot's own powerful CRM platform offers a calendar-like option for tracking content, but their team prefers using a shared Google Calendar.
This is likely due to their robust content creation teams and the ease of sharing a calendar within the Google suite of tools.
They also offer a free downloadable template which is similar to the CMI template above.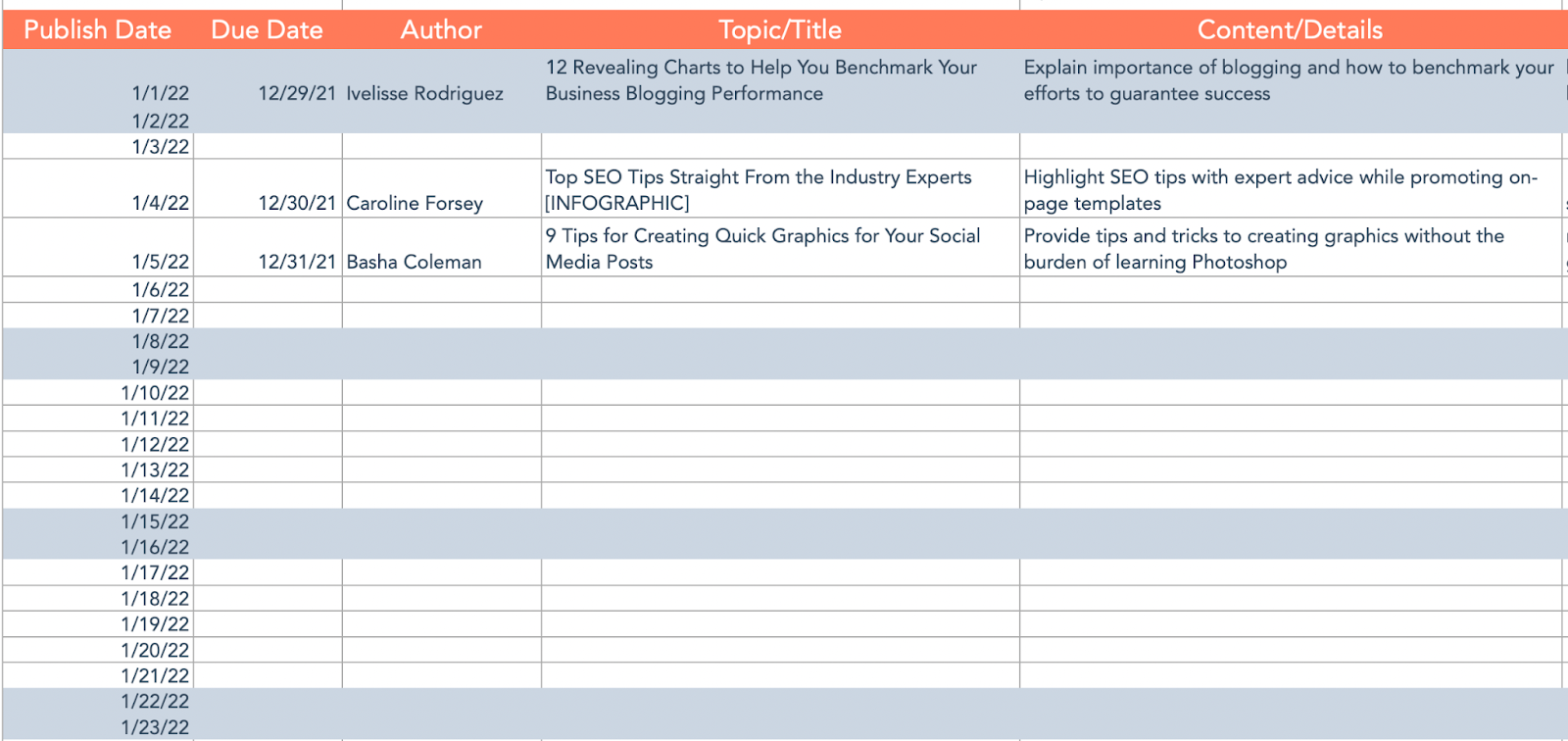 CoSchedule's Free Calendar Spreadsheet Templates
CoSchedule is a calendar tool, but in a related post, they offered a unique annual calendar that uses an Excel spreadsheet. The calendar organizes the months into separate tabs, with each month providing both a traditional calendar and an important key for all participants to understand the project.
The keys provide everything from project details to a customizable color-coding system that makes filling in the calendar simple.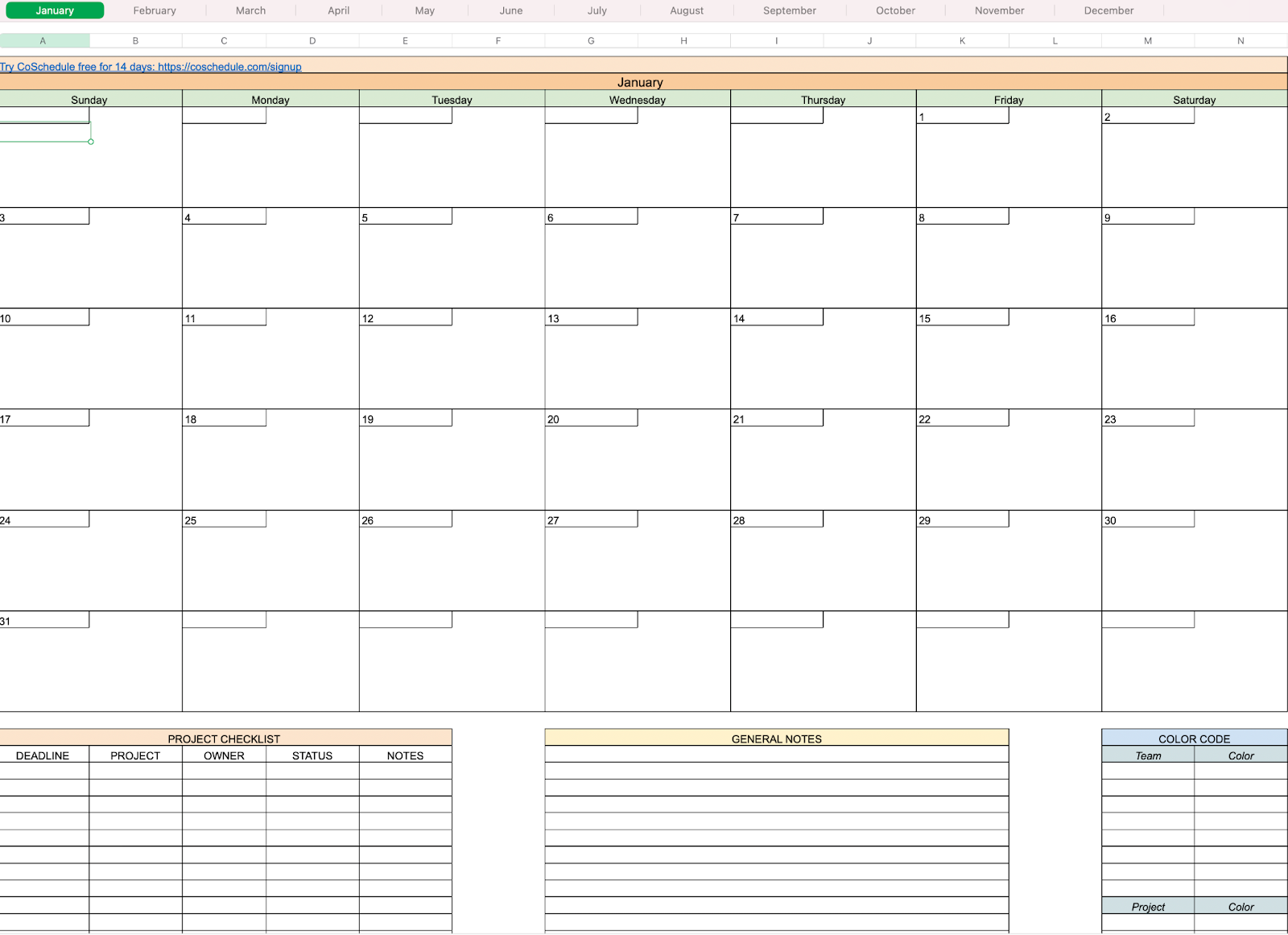 Ten Speed's Google Sheets + Asana Process
At Ten Speed, the agency where I work, we use a mix of blog content calendar options.
For initial strategy development, a simple Google Sheet is built out. This simple spreadsheet provides the team with two things. It is shared with clients for transparency and approval via convenient workflow tracking (made possible with columns that feature checkboxes at each creation process stage).

The Google Sheet is also designed to be downloaded into a CSV format and later uploaded into Asana. This makes sure that tasks for all internal teams have access to progress and the ability to understand the dates on which deliverables are due.

Your editorial calendar is just an organizational tool
Editorial calendars can help keep everyone on the same page, but they can also grow to be behemoths that the team hates using.
It's important to consider what belongs in the editorial calendar for project management purposes, and keep excess data and content assets in the content brief, in the content draft, or even in a shareable Dropbox or Google Drive type of folder.
Got a great editorial calendar template to share? Drop us a comment and we're happy to add new templates over time.
---
Want to see how Content Harmony helps you build content that outranks the competition?
The blog post you just read scores Good in our Content Grader for the topic "editorial calendars".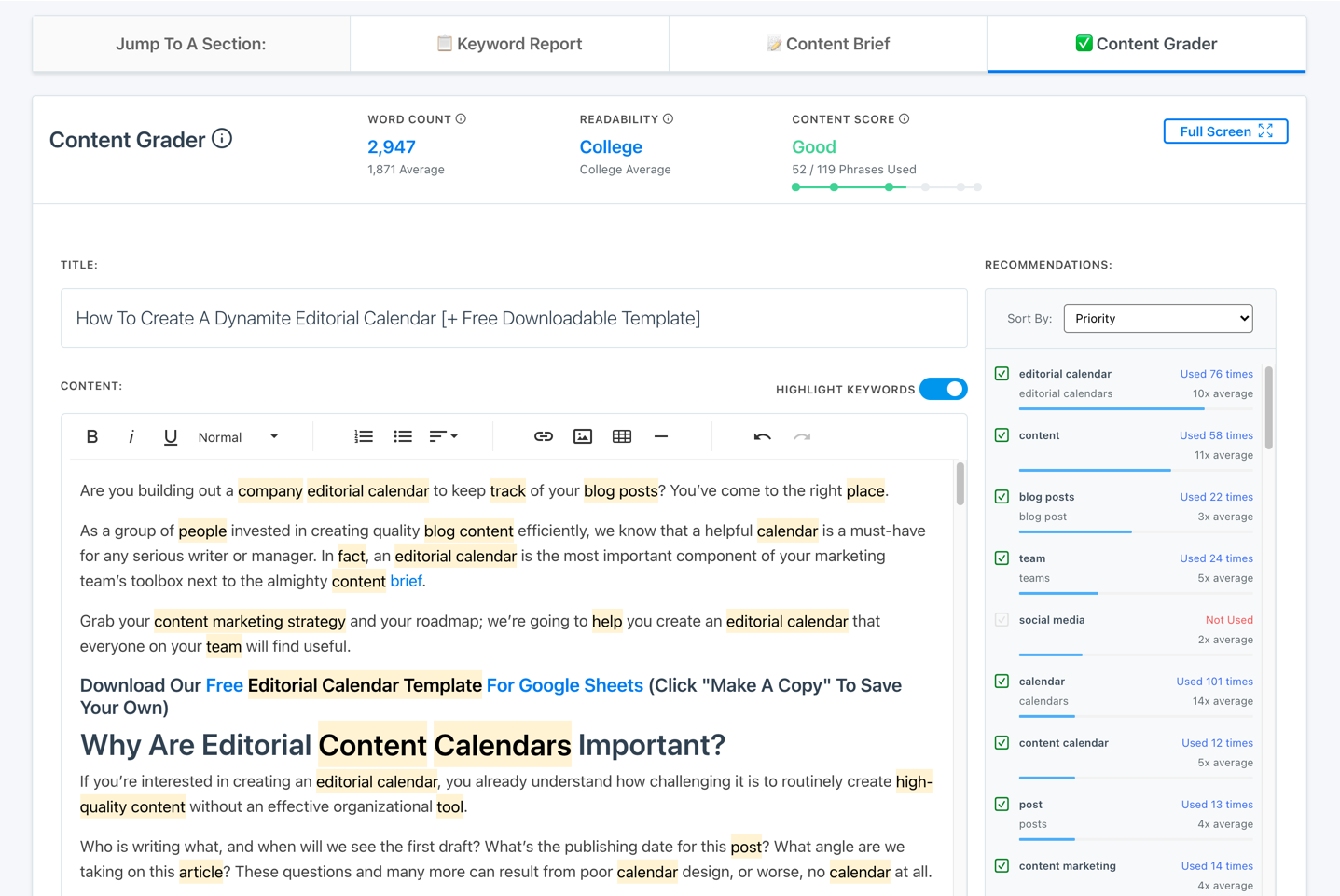 Grade your content against an AI-driven topic model using Content Harmony - get your first 10 credits for free when you schedule a demo, or sign up here to take it for a spin on your own.
---
---
✉️ Get an email when we publish new content:
Don't worry, we won't bug you with junk. Just great content marketing resources.
---
Ready To Try
Content Harmony?
Get your first 10 briefs for just $10
No trial limits or auto renewals. Just upgrade when you're ready.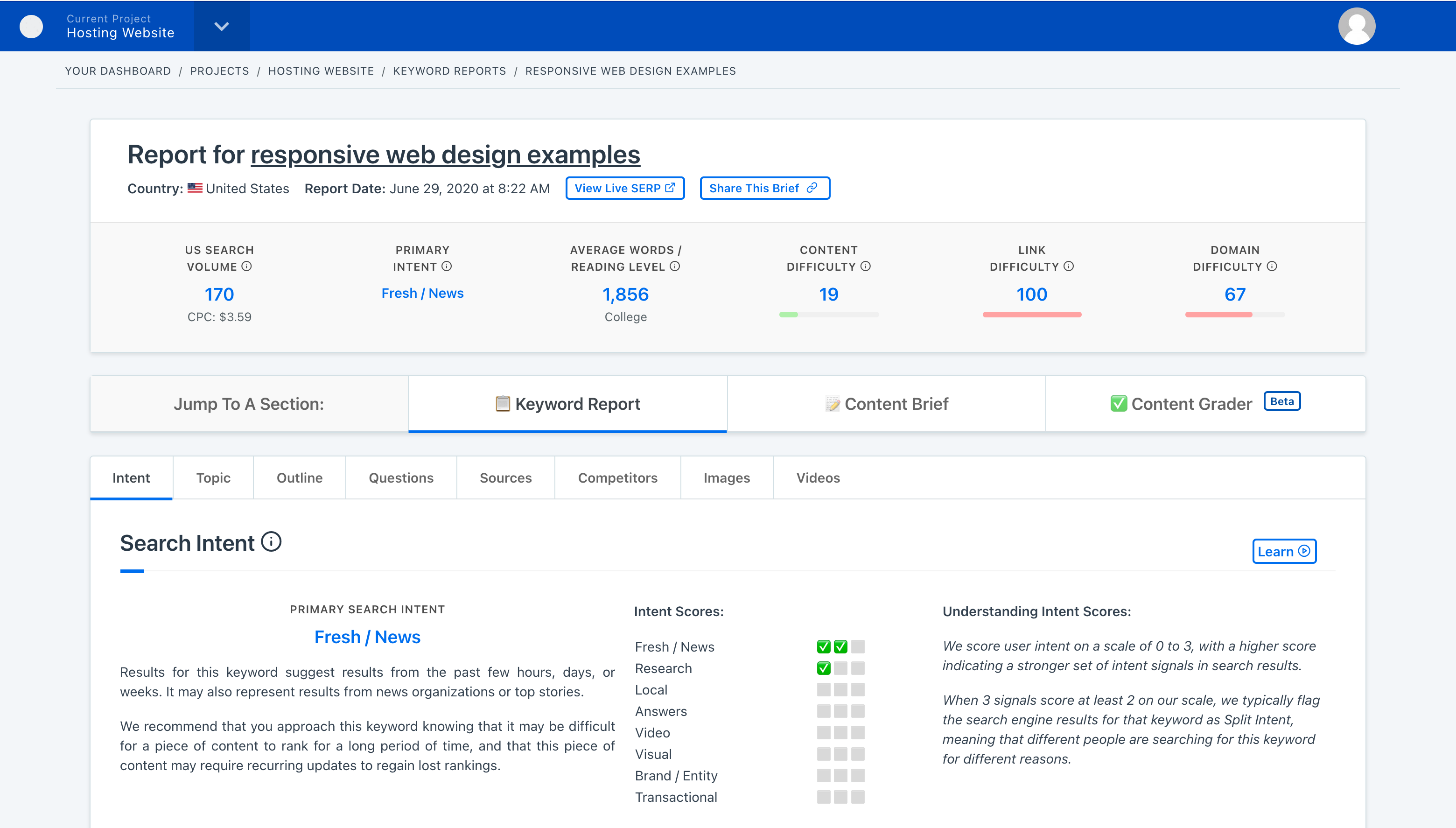 ---