Buyer personas are one of the best ways to gain powerful insights into your audience. While your personas aren't modeled after any one customer, they are useful cross-sections of the traits that make up different demographics in your audience.
When they're done well, your personas help you hone your messaging, find gaps in your content offerings, and strategically approach pain points your customers grapple with.
While you could build all of your personas in a Google doc and share it around, they often get lost in the shuffle and not properly shared with the rest of your team, other departments, freelancers, and agencies.
On the other hand, hiring a professional market research firm to create a "persona book" for your company seems great in theory, but it comes at great expense and gets pricier when you need to update your personas or build new ones. This is especially true for startups and growing companies, which might re-evaluate their target markets many times within their first few years.
Luckily for you, the number of free templates and tools to build personas has greatly improved in the past couple of years. The benefit of using a tool or a template to craft your persona is that they allow for easy organization and coordination that can simplify the process of building personas.
Subscribe for weekly content marketing updates:
Every week we send out 📱 new content marketing articles and great content marketing examples 👀 we've spotted.
Here's a list of the ten best tools and templates available that we've test driven:
1. Bootstrapped Customer Persona Template (Content Harmony)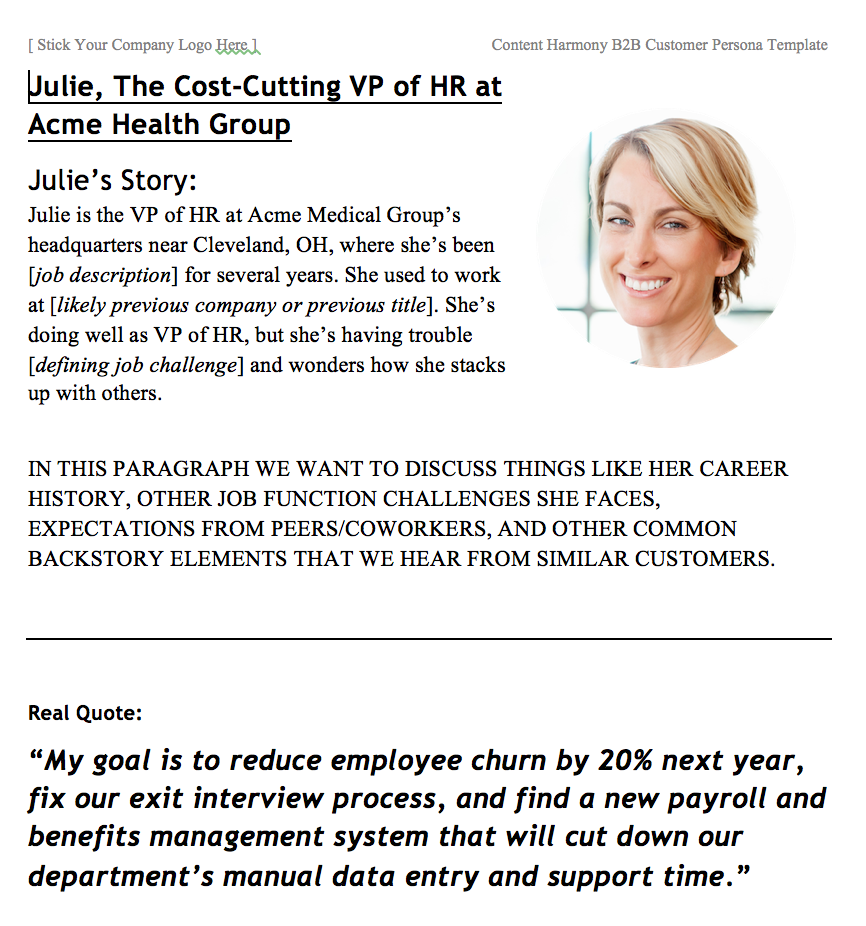 Site: contentharmony.com/blog/bootstrapped-customer-persona-validation/
Our free customer persona template is easy to understand and gives you a compact, two-page snapshot of what a typical customer might look like, so that's a good place to start.
We help you fully realize who your audience is and how you might appeal to their wants and needs by breaking our persona template down into eight sections:
Photo – Including a photo humanizes your persona and helps your team picture a human being whose problems need to be solved.
Backstory – Plug CRM data into your persona to flesh out their interests and hobbies.
Psychographic Attitudes – Here you list typical buy habits and preferences. Try to find some patterns in your marketing and web analytics.
Demographic Identifiers – Competitive audience research and CRM data will help you hone in on your target market. Demographic identifiers are great for targeted email campaigns.
Goals & Motivations – List what makes your persona prioritizes. List any personal and professional objectives you've uncovered during your research.
Roadblocks – Draw on quotes from your customer support tickets and any FAQs you see frequently to figure out what stops your audience from achieving their goals.
Sales Objections – These are your persona's pain points. Here you list why a sale might fall through.
Quote – Your quote sums up your persona in one bite-size example. Consult your sales team and revisit sales emails to figure out what statement best reflects your persona.
For more information on our Customer Persona Template and to download it free, check out our Bootstrapped Guide to Validating Your Customer Personas.
---
2. McorpCX Persona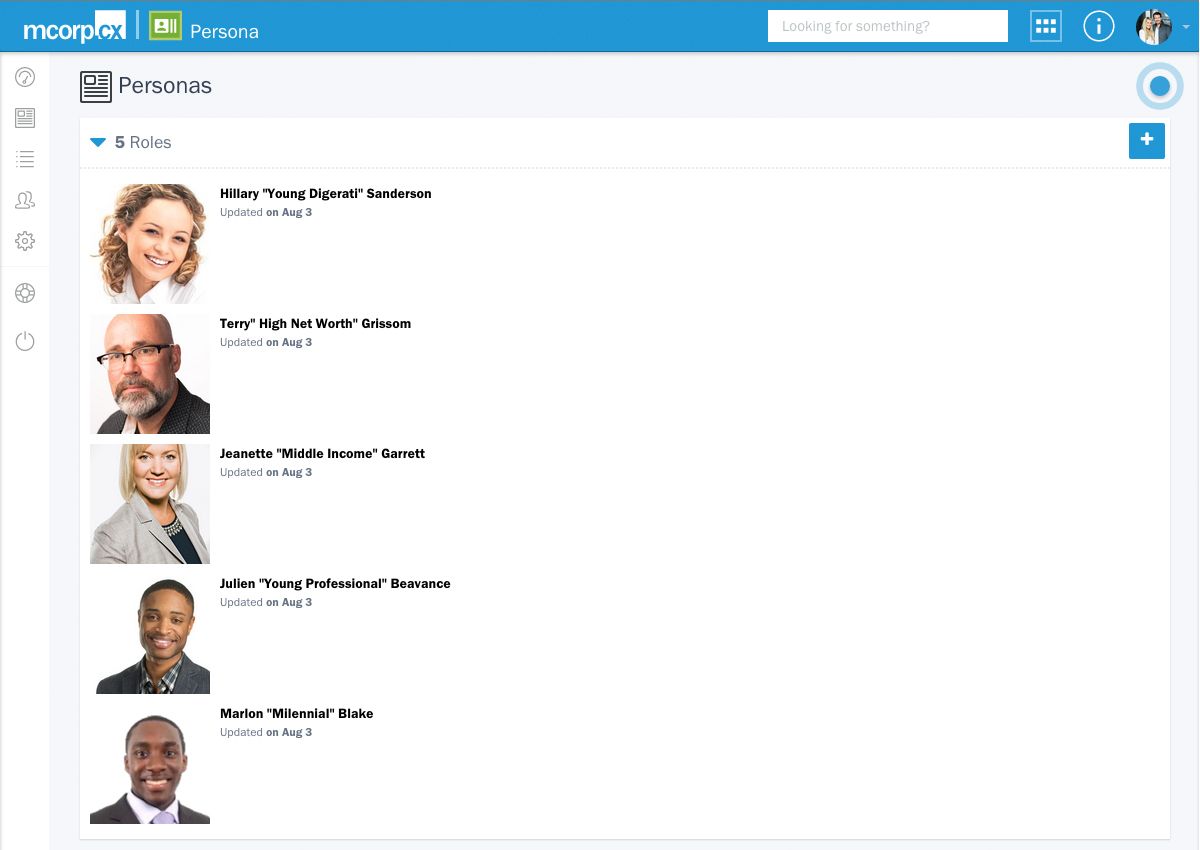 Site: persona.mcorpcx.com
Looking to up your persona game? McorpCX's Persona does away with static personas by giving you a highly interactive platform. With this program you can map personas to specific projects, organize your qualitative research data under each persona tab, and export your personas into PDF form for easy accessibility later on.
They have a free trial option to try out the tool, after which plans start at $99 per month.
---
3. Akoonu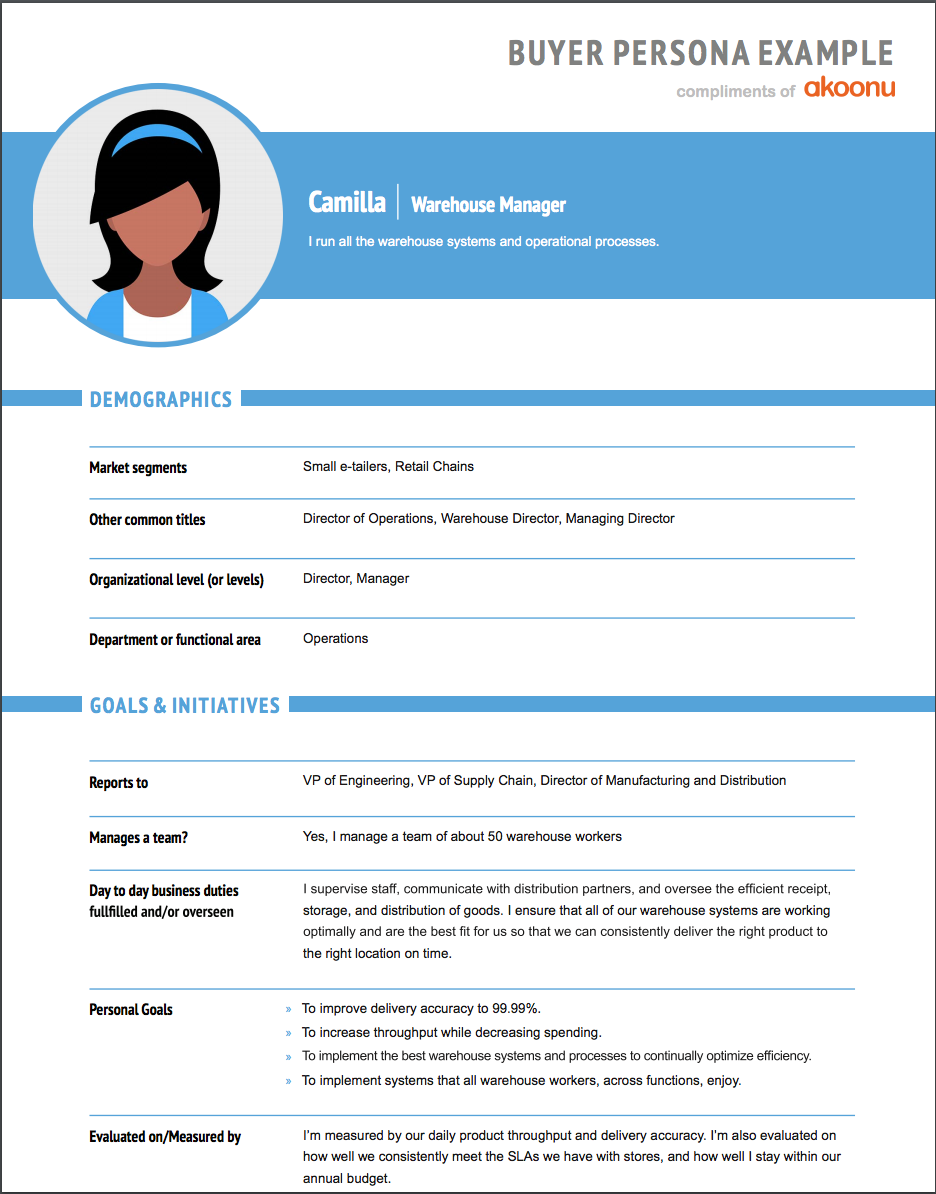 Site: akoonu.com
If you're willing to invest in Akoonu, this software has some of the best functionality on the market. Not only does Akoonu let you create beautiful customer personas, but it also fully integrate with your MA/CRM software. It also includes CRM Journey Map data, messaging and branding style guides, automated content inventories and more.
Even the free version of Akoonu is packed with features which make collaboration, dashboard administration, and audience targeting a cinch. Their extensive research library and support features don't hurt either.
Akoonu's slogan claims that it "delivers value across all of marketing and sales," and with the integration options plus the modules for audience, brand, and planning management, they're one of the better full-featured options out there.
---
4. Xtensio (Fake Crow)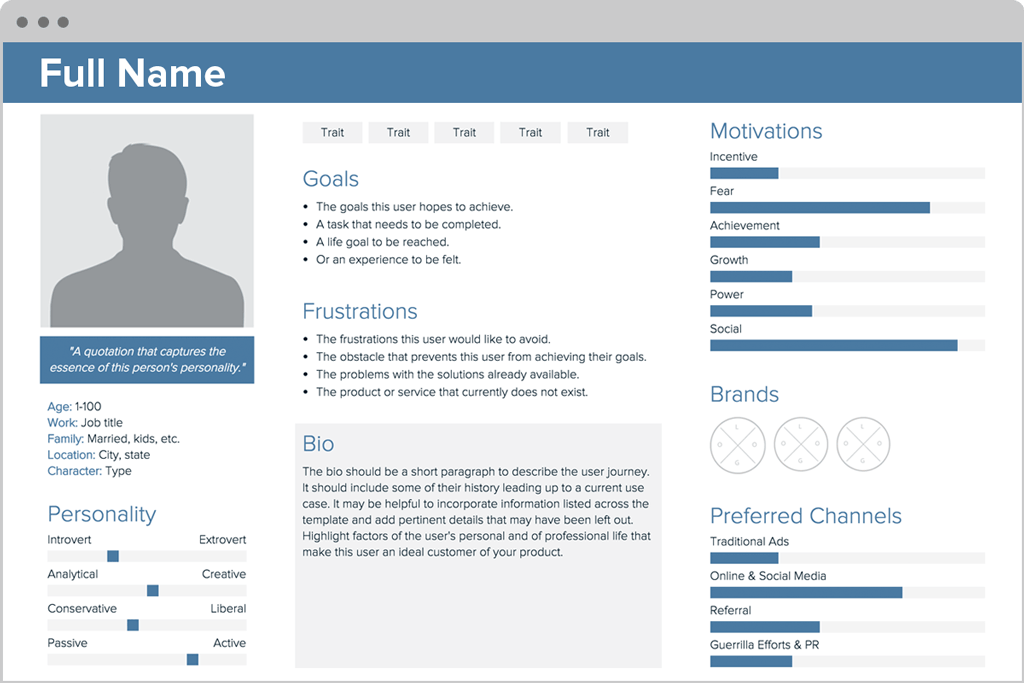 Site: xtensio.com/user-persona/
Xtensio's received some upgrades since the last time I checked out this tool. This robust platform goes way beyond your typical persona creator, because it now includes support for a variety of documents such as:
Persona Creator
Persona Comparison Chart
Team Agenda
Content Strategy Calendar
Strengths, Weaknesses, Opportunities, and Threats (SWOT) Analysis
Competitive Analysis
Business Model Canvas
Lean Canvas Creator (For UVP Analysis)
Startup Page Builder
Media Kit
Press Release Newsfeed
Fundraising Summary
SMBs should find full value in the free version of Xtensio, which lets you create up to 5 personas and gives you access to all of the software's tools and modules. Or, if you want to upgrade to Xtensio Plus, you can create any number of folios, enjoy unlimited exports of your personas, and remove the Xtensio branding from your documents.
Xtensio is pretty packed full of features, but may suffer from some UX problems. For example, Dan Richardson from UXorbust found that headlines reverted to body-text formatting when he tried to edit them, and that other formatting options are "fairly far removed from the canvas and not always visible.|
While you can create nicely fleshed out customer personas using this tool, you may need to experiment before you learn the ins-and-outs of Xtensio's formatting quirks.
---
5. Make My Persona (HubSpot)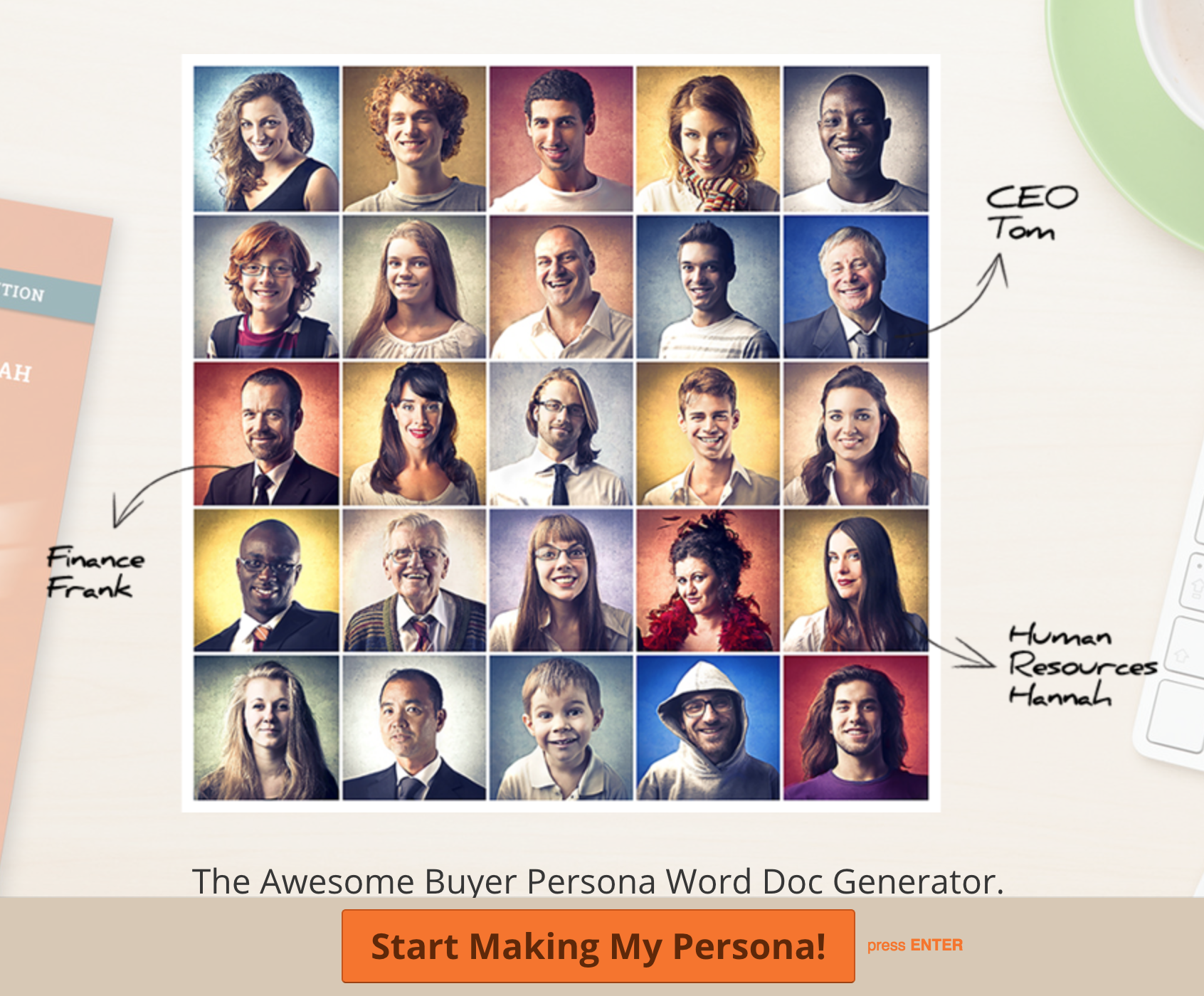 Site: https://www.hubspot.com/make-my-persona
HubSpot's step-by-step guide is similar to ours. This tool walks you through nineteen questions that help you flesh out a facsimile of your flesh-and-blood customers. The result is a customer snapshot that you can fall back on when you need to target different segments of your audience.
This tool is especially valuable for HubSpot customers, because you can use your personas in conjunction with other HubSpot software to track buyer habits through the sales funnel.
Or, if you don't love the constraints of Make My Persona's 19 questions, you can create your own personas using HubSpot's free template. This template breaks personas down into four sections (Who, What, Why, and How) and includes space for you to start brainstorming solutions that overcome their common objections.
You can also use templates like this to create "negative personas" (i.e. representations of the audience you don't want as customers).
---
6. Persona Topic Matrix (Inflow)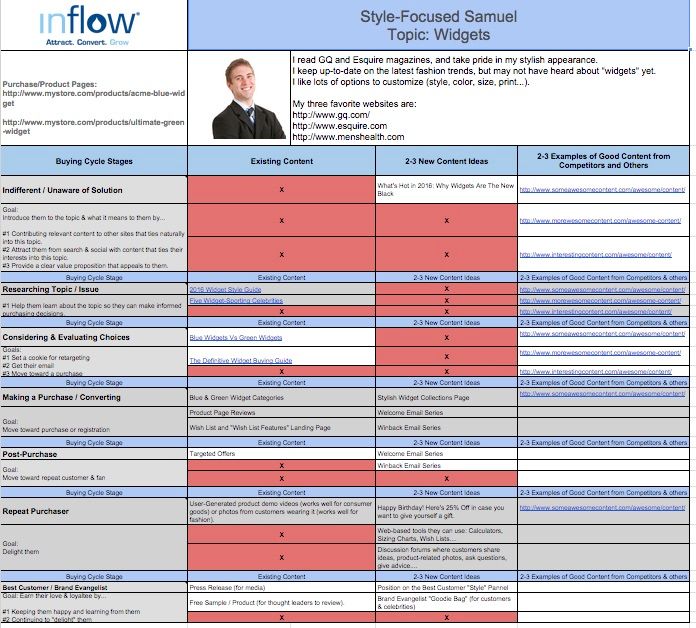 Site: goinflow.com/persona-topic-matrix/
Inflow's Persona Topic Matrix is a free tool meant to help you analyze segment-based content gaps. While this tool doesn't leave very much room for the "persona" part of a buyer persona, it's great for organizing your existing and upcoming content along the buyer's journey. If you want a tool that points out your strengths and weaknesses and helps you retarget your content marketing, this is the one for you.
Note that while this tool slides nicely into the topic of persona development, you need to have pre-existing personas to use it effectively. This tool aids your persona research and content strategy, but it won't develop your personas for you.
---
7. UserForge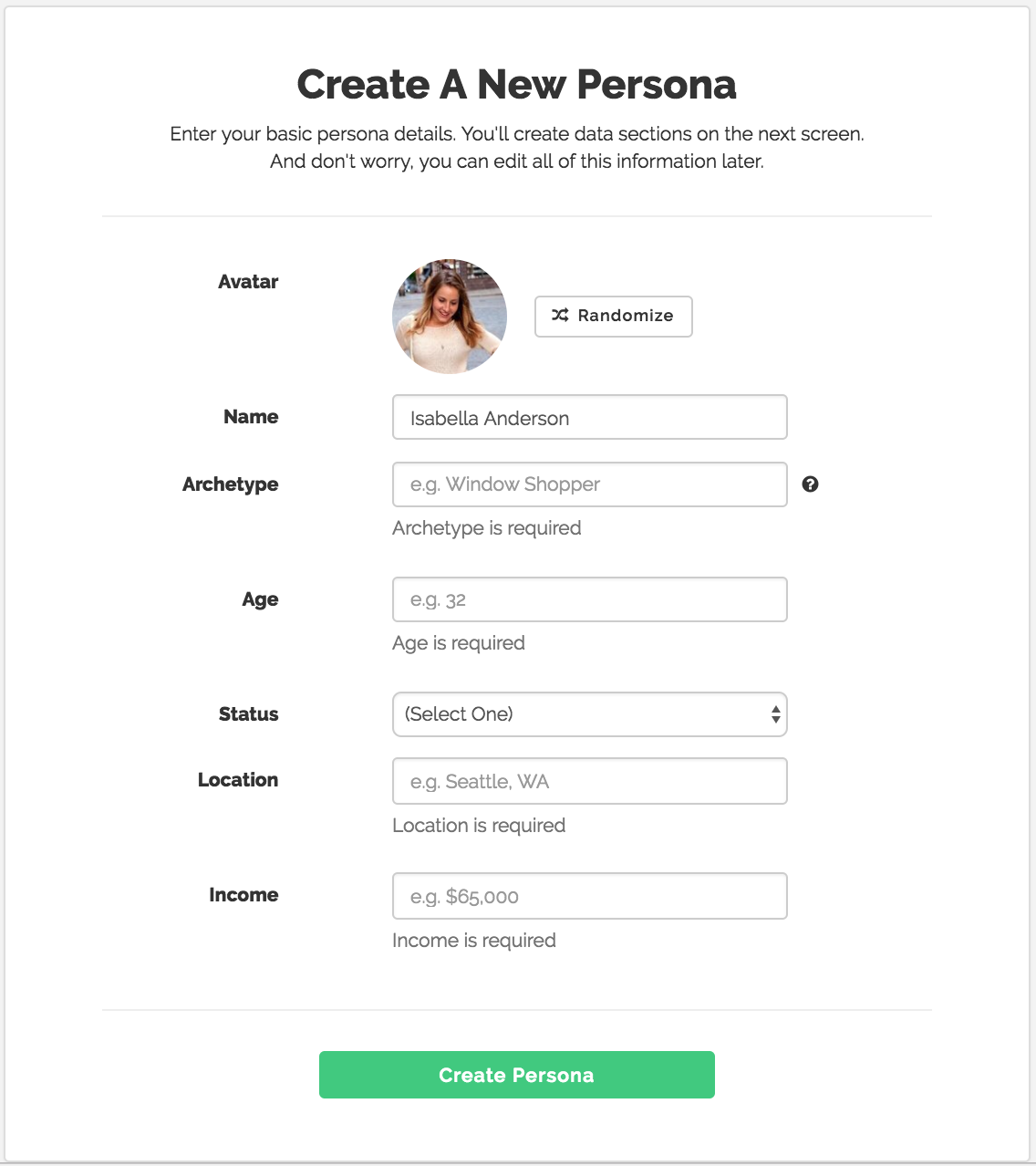 Site: userforge.com
UserForge is another free tool, that's beautifully designed—if a little stark. UserForge lets you create very simple customer personas which are limited to:
Name
Title
Age
Status
Location
Income
Quote
Goals
Pain Point
Like Xtensio and PersonaDrive, UserForge is another tool that makes collaboration between a team easy. There are also rumors that UserForge 2.0 is on the horizon. We'll have to wait and see if that adds more functionality to this tool.
---
8. Up Close & Persona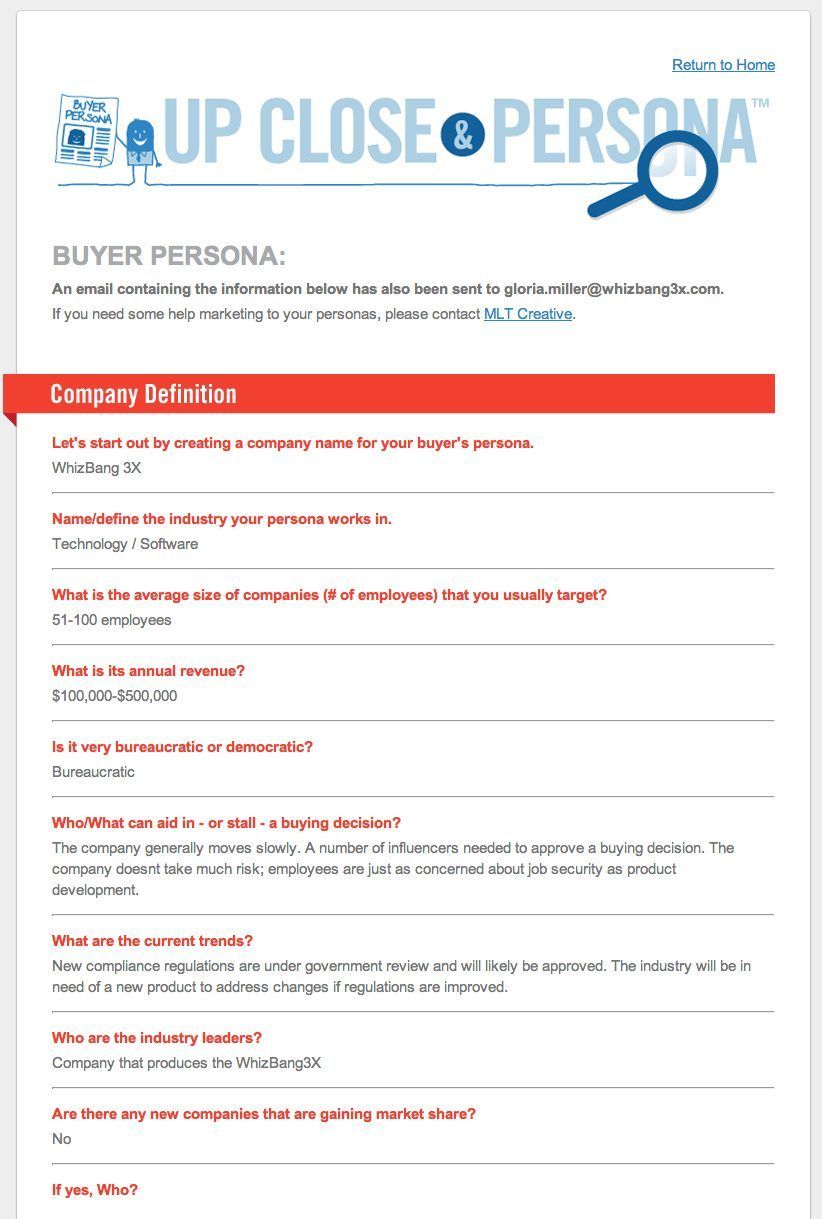 Site: upcloseandpersona.com
Up Close & Persona is a straightforward little tool that asks you a series of questions to create buyer personas. These questions are organized into three categories: Company Definition, Problem/Solution, and Buyer Definition.
This tool's a little simplistic and some of the questions are less helpful than others (e.g. after asking what problem your customers face, one of the questions is "What is the solution?"). Still, if you're looking for a simple form to get team members or investors on the same page, this might do the trick.
---
9. Personapp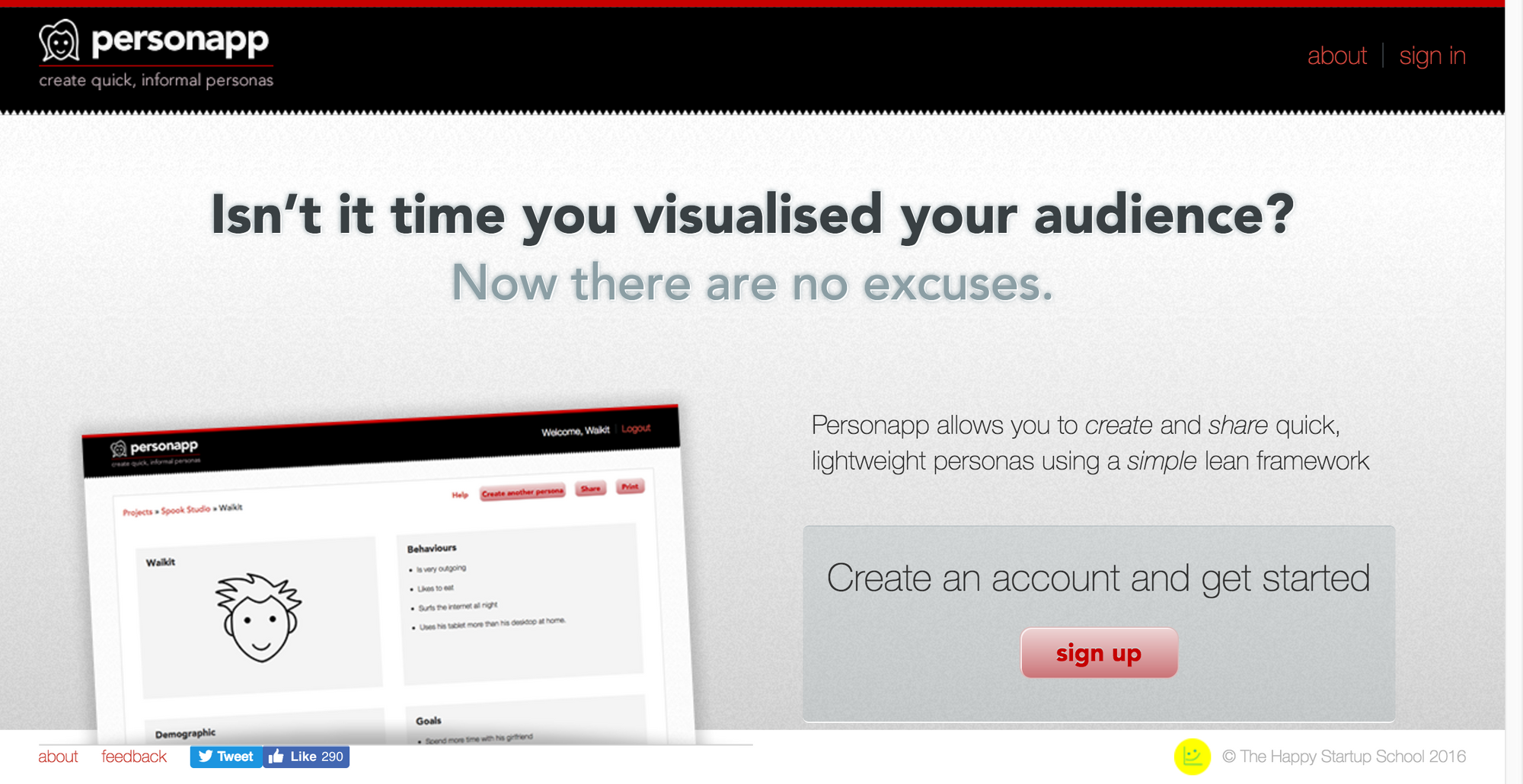 Site: personapp.io
As with Up Close & Persona, Personapp is a very lightweight tool. The draw of this tool is that you can set up a simple persona in no time at all, and it includes options for easy sharing across your entire company.
Personapp doesn't give you much direction, but it is a handy tool if you're willing to enter all of the data yourself.
---
10. Buyer Persona Templates (Buyer Persona Institute)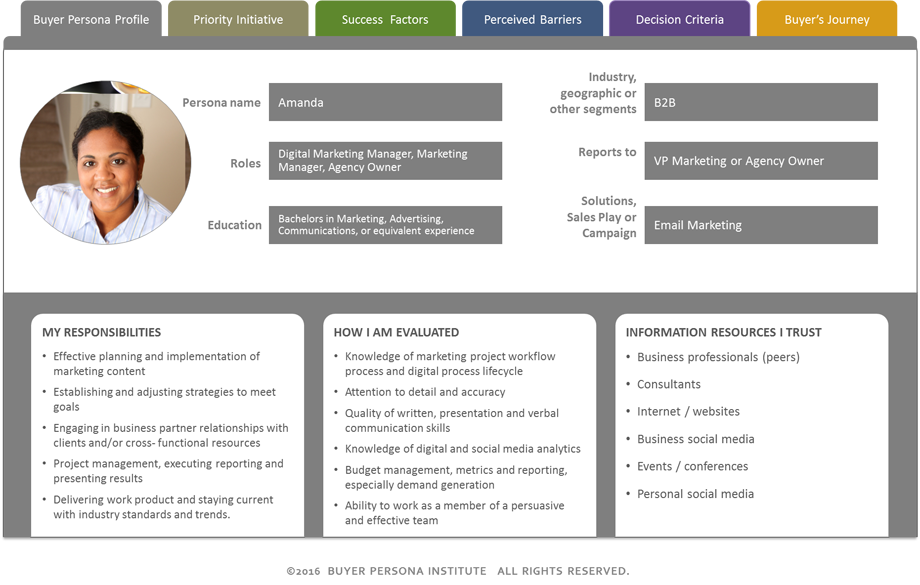 Site: buyerpersona.com/buyer-persona-template
Adele Revella's free buyer persona templates draw on her "5 Rings of Buying Insight." Essentially, it breaks your buyer personas down by their:
Priority initiatives
Success factors
Perceived barriers
Buyer's journey
Decision criteria
These templates are more jargon-heavy than the other options I've listed here, but it still offers valuable insights into why your customers make the decisions they do.
How to Use Your Buyer Personas
Now that you have the tools you need, it's time to put your buyer personas to work. The best way to do this is by creating a content map and considering it alongside your buyer's journey. Then you can ask yourself:
What are my customers needs and how can I better solve them?
Does my content cover every stage of the buyer's journey?
Am I creating content that appeals to different demographics of my audience?
Can I personalize or retarget my content to reach my target demographic?
How can I hone my messaging to avoid negative personas?
Remember: to truly see any return for the time you've invested, your buyer personas must be informed by data-driven research.
By accurately representing your current audience, you can fine-tune your content marketing approach. Customer personas are an asset that you can tweak whenever your content offerings or demographic changes and consult for years to come.
---
---
✉️ Get an email when we publish new content:
Don't worry, we won't bug you with junk. Just great content marketing resources.
---
Ready To Try
Content Harmony?
Get your first 10 briefs for just $10
No trial limits or auto renewals. Just upgrade when you're ready.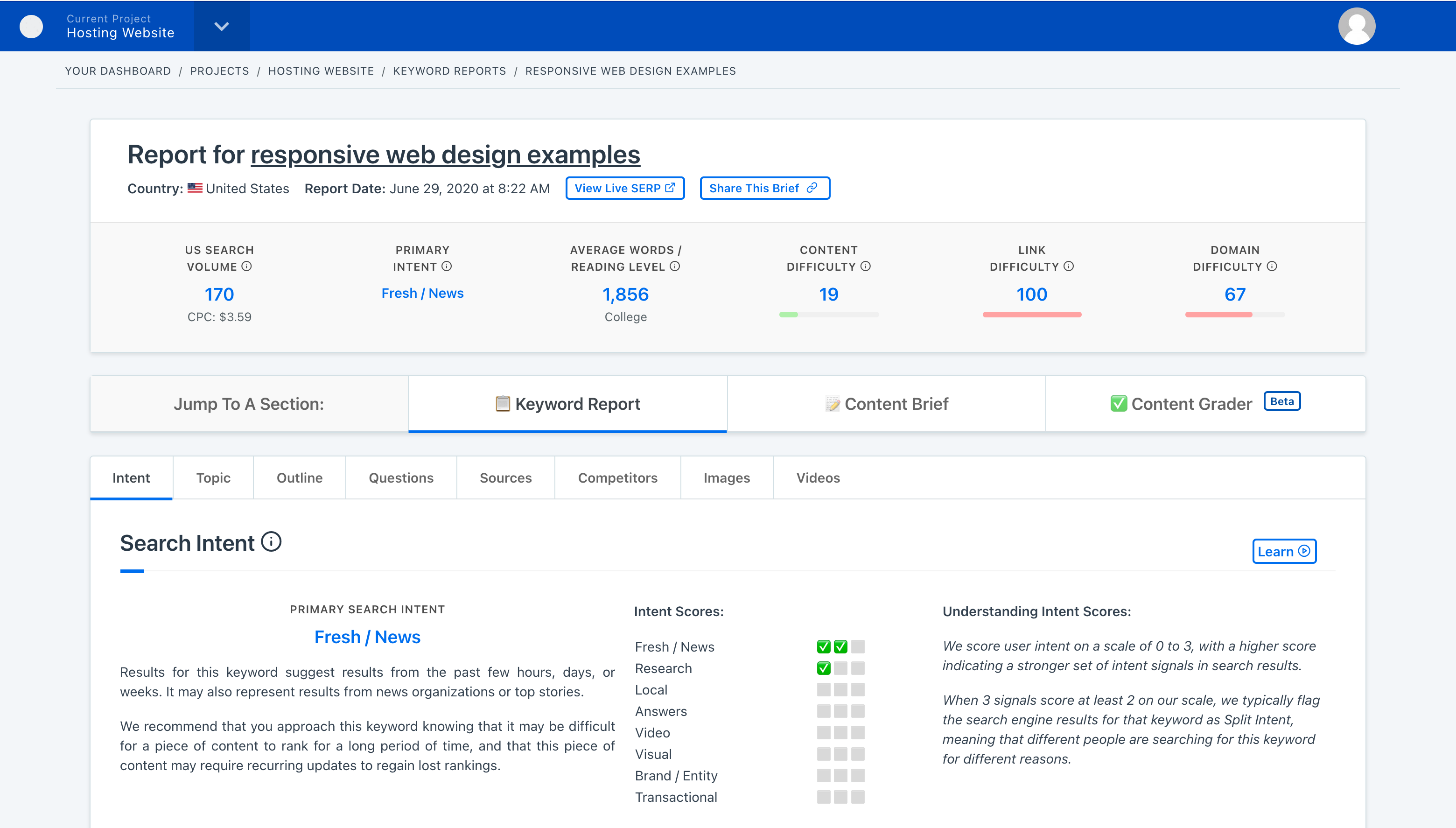 ---