Content briefs are critical to managing and streamlining your content program, but building your content brief templates from scratch is a painstaking process, and you're often reinventing the wheel.
In this post, we'll list 19 free and paid content brief templates for you to get started faster. We'll also show you how Content Harmony's content brief software allows your team to quickly generate more consistent briefs for your writers, so you can publish more of what works — blog posts, product pages, or landing pages.
How To Automate Your Content Brief Templates
If you really want to make your content brief template into a robust process for your team to work more effectively, you'll need more than a single template. What most teams need is a templating system that allows you to quickly customize briefs to each client, project, page type, and more.
Content Harmony's new Content Brief generation workflow and our content brief templating system allow your team to build completely customized brief templates and easily populate them with data-driven research from our Keyword Reports.
The end result? Professionally-formatted content briefs, based on live data, built in minutes instead of hours with your current brief building process.
Take a look at how easy it is to build a brief in Content Harmony:
👉 Try our full-featured trial for $10 and build the best briefs in the world
---
Free Content Brief Templates
1. Content Harmony's Free Content Brief Template
[Scroll down to download versions for Google Docs, Notion & MS Word]
Content Harmony's brief template is based on our experience building out a content marketing agency and working with dozens of writers during that timeframe.
We believe that the best content briefs do most of the heavy lifting and provide structure for the intended piece of content, while giving a writer creative freedom and flexibility to approach the topic as they wish.
That's why Content Harmony's content brief template starts with the high-level details — the intended title tag, H1, meta description, target audience, and estimated word count so writers can factor that in when they're beginning their work.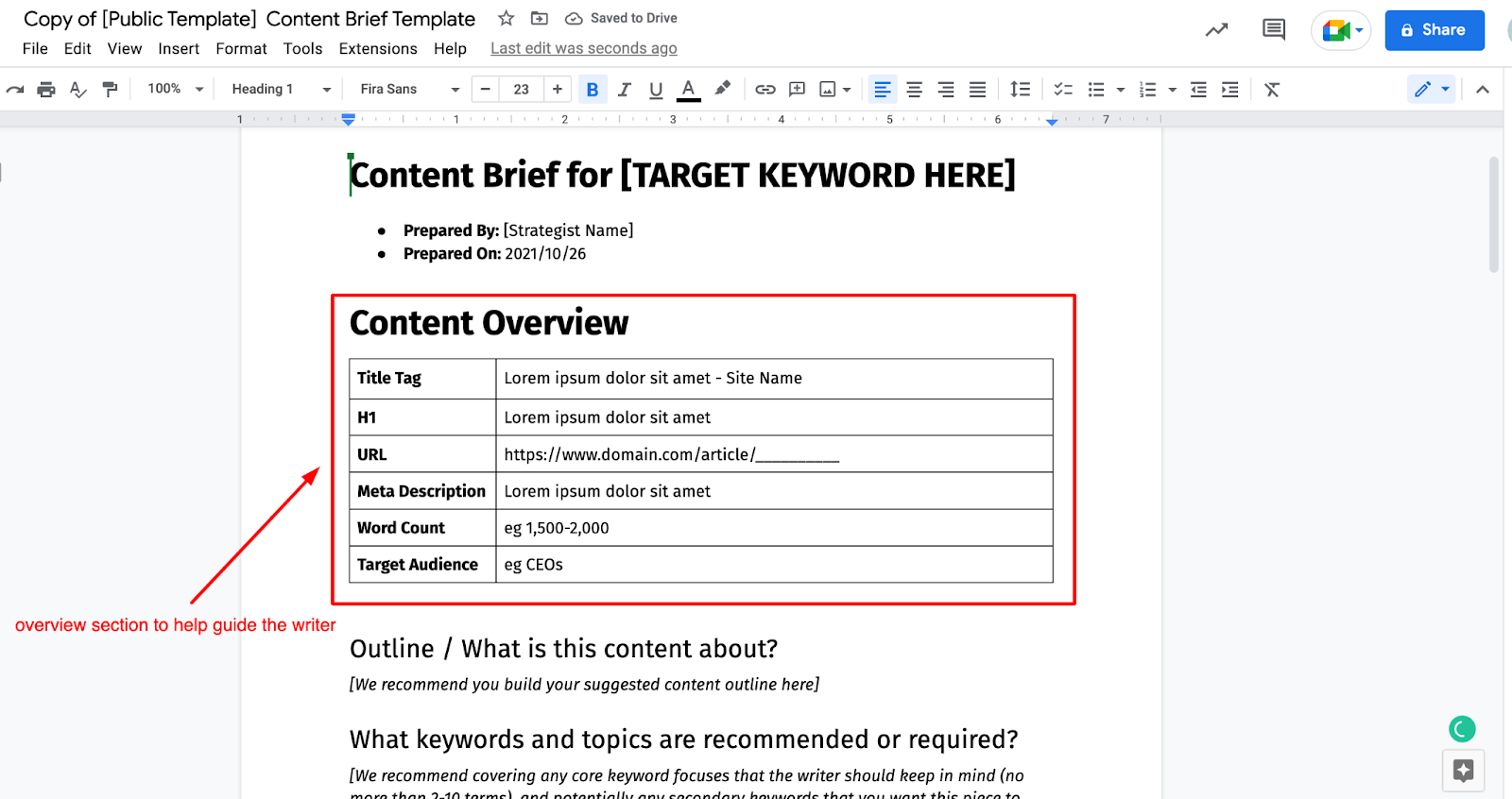 Directly below the 'Content Overview' section is where the magic starts. Here, you can dive into the details of what the content is about, including suggested H2s, H3s & H4s. This section also covers the business & SEO essentials such as:
Primary & semantically related keywords
Common questions people ask on the topic
Additional page elements such as tables, screenshots, or featured snippet attempts
Internal & external link suggestions
Other resources to help the writer
Further down the brief is where you can help your writer understand who they're writing for and the kind of tone you want them to infuse into the content. Audience-specific details go a long way in guiding a writer—the more information you can provide them about the targeted readers and the brand's stance on the topic, the better.
An expert-level audience will be turned off if they find the content to be high-level and lacking in technicality. Expect the reverse if your audience is newbies or folks just starting out. And as the marketing adage goes: content that speaks to everyone ends up speaking to no one.
Skilled writers can tailor their copy for specific audiences and encourage readers to take certain actions—but they'll need the strategist to fill in the gaps before getting started. That's where you're going to need to fill in as many details as possible to prevent content rewrites.
---
2. Portent's Content Brief Template
---
3. Avo's Content Brief Template (Google Docs)
---
4. Writing Studio's Content Brief Template
---
5. Convince & Convert's Content Brief Template
---
6. Brafton's Content Brief Template
---
7. Content Folks' Content Brief Template
---
8. Orbit Media's Content Brief Template
---
9. Zapier's Content Brief Template
---
10. Daniel Cheung's Content Brief Template
---
11. Smart Blogger's Content Brief Template
---
12. Jake Sheridan's Content Brief Template
---
13. Kameron Jenkin's Content Brief Template
---
14. No Brainer Agency's Content Brief Template
---
Paid & Gated Content Brief Templates
In this section, we've included a couple of content brief templates that are paid or are behind an email paywall.
While we haven't had the chance to purchase the paid versions and take them for a spin, all of the templates below come from credible and experienced content marketers that are worth learning from.
Kaleigh Moore's Content Brief Template [Paid]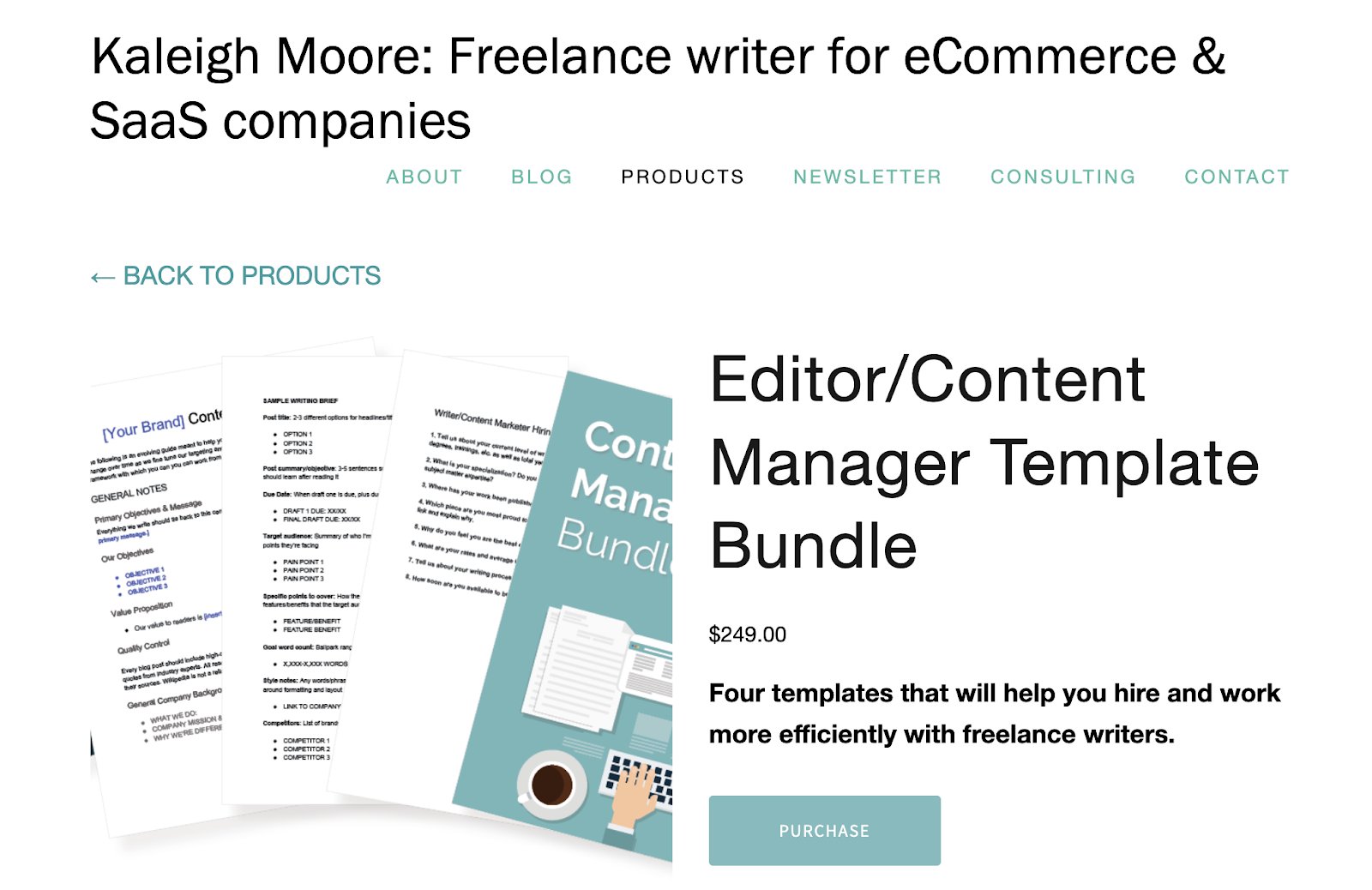 Kaleigh Moore is a freelance writer with bylines in Forbes, Shopify, ConversionXL, and many other SaaS brands. She offers her content brief template as part of a wider content manager template bundle, including a style guide template, an onboarding deck template, and a writer screening template.
The Blogsmith's SEO Content Brief Template [Paid]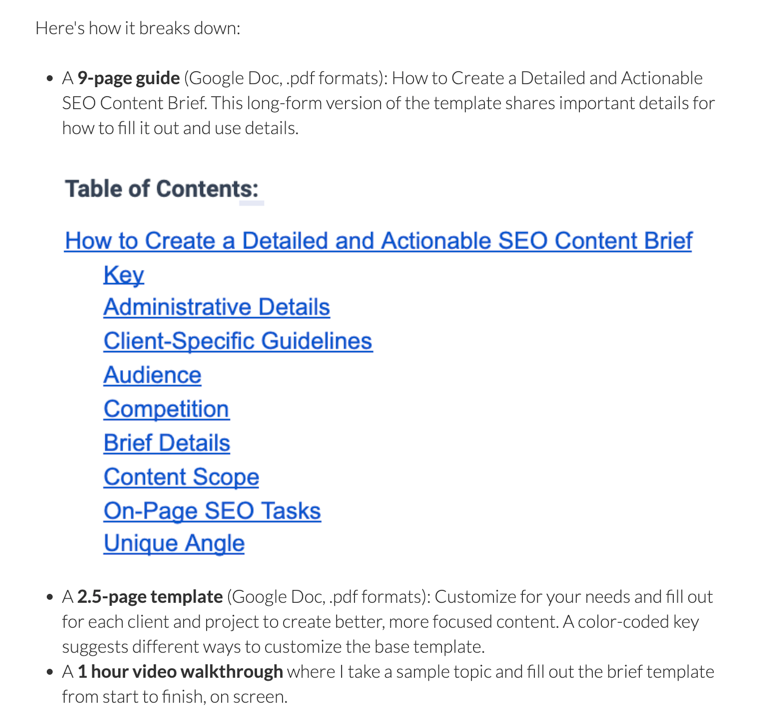 The Blogsmith is a content marketing agency founded by Maddy Osman that's worked with Adobe, Hubspot, and Trello. It offers a paid bundle comprising of an editorial calendar template and an SEO content brief template — there's also an option to apply for a scholarship if the fee is out of reach.
Ashley Cumming's Content Writing Brief [Paid]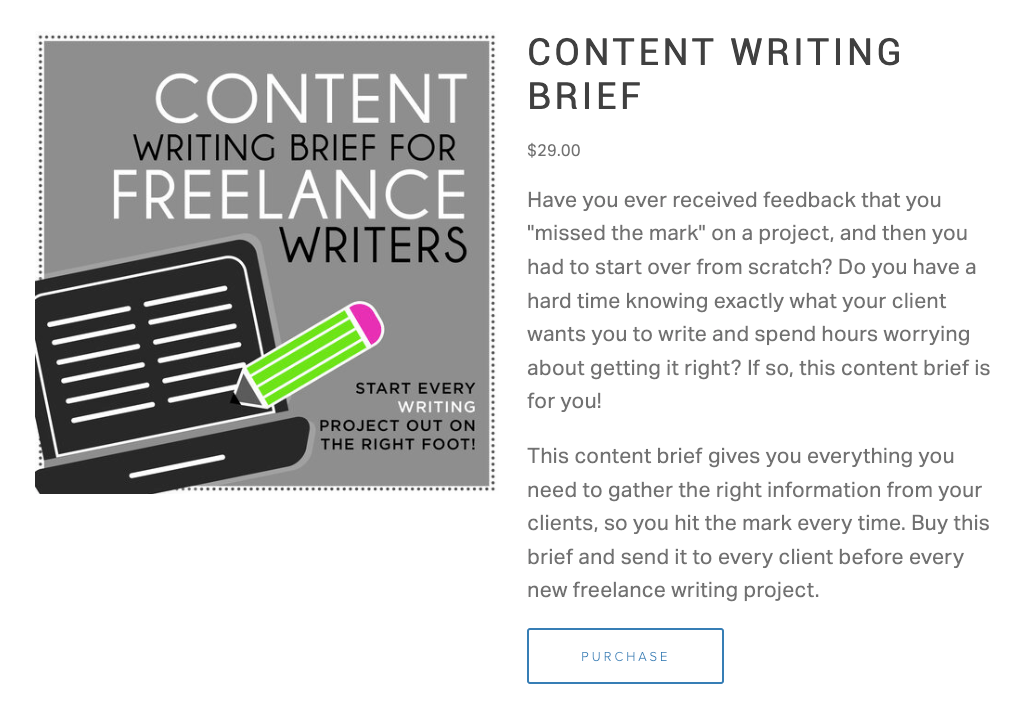 Ashley's a prolific freelance writer who's written for Shopify Plus, DTC Newsletter, Salesforce, and more. She also runs Content Connect — an email newsletter for writers and content marketers of all backgrounds. Ashley's content writing brief template is a paid resource, and is meant for freelance writers looking to streamline new client onboarding.
Canny Creative's Template [Requires Email]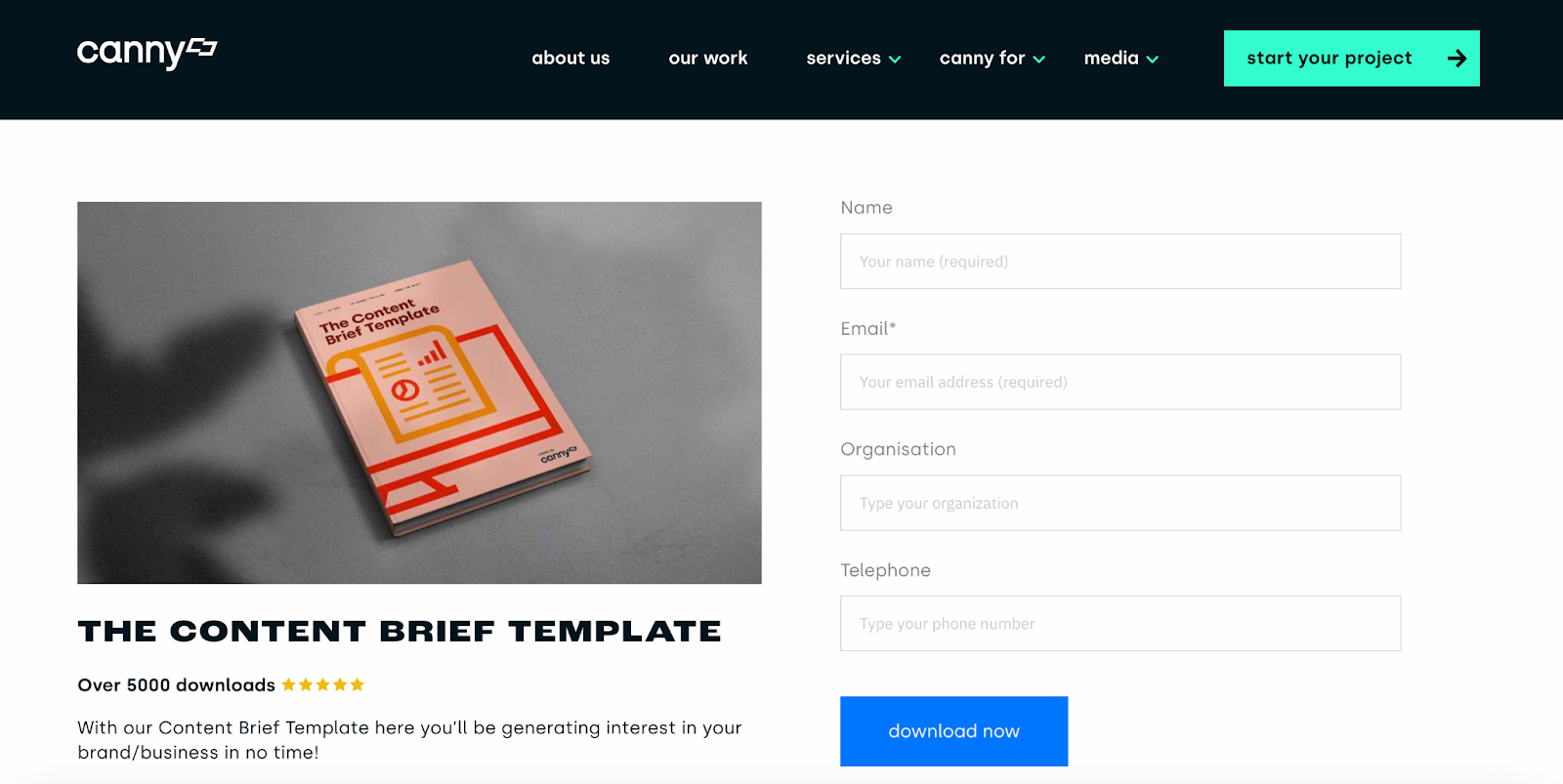 Canny Creative's content brief template is free, but requires an email address to unlock access. It claims to cover the basics though, including content overview, objectives, keywords, competitor analysis, research, and other SEO details.
Landmark Lab's Template [Requires Account Setup]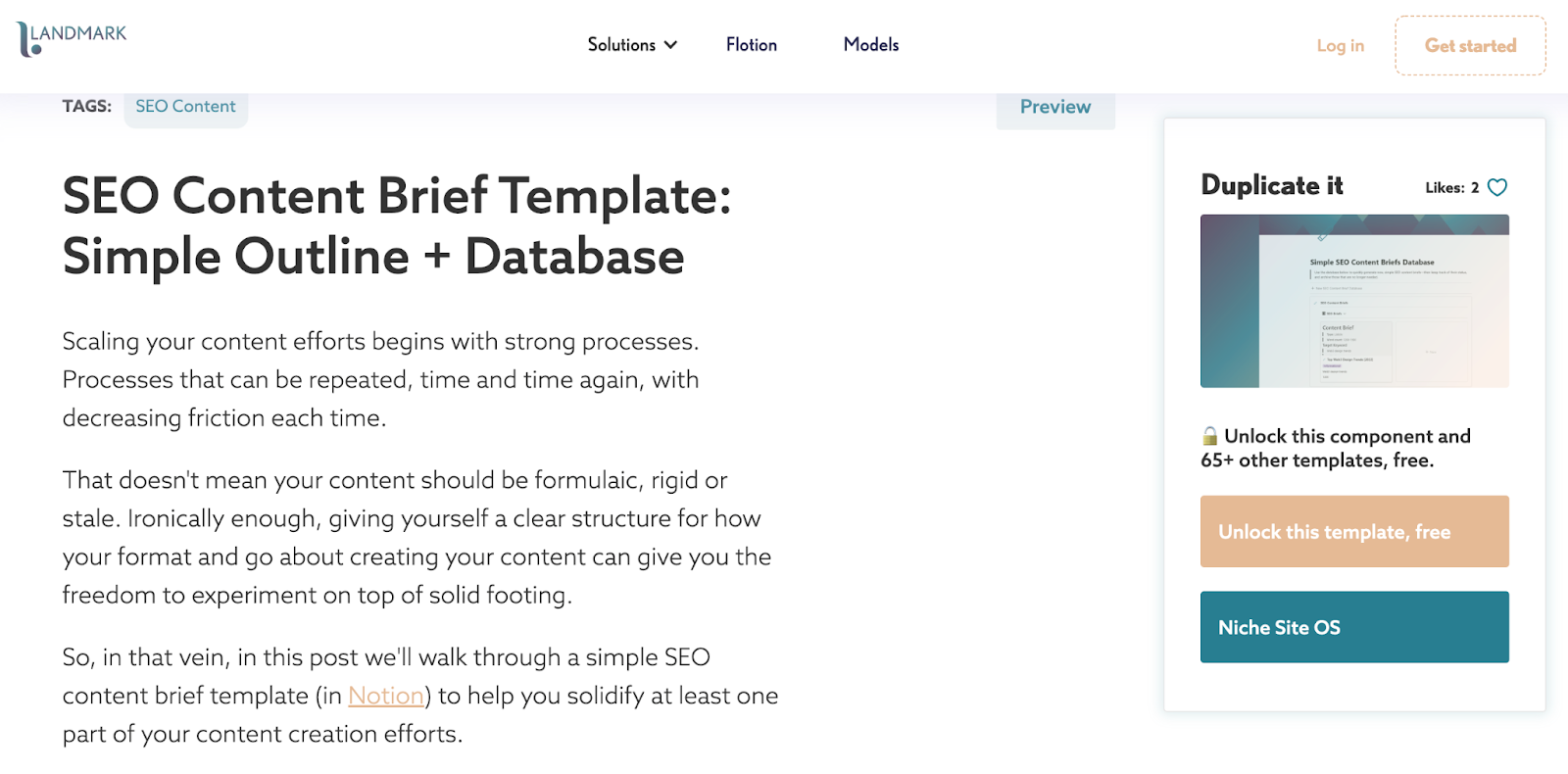 Landmark Lab's content brief template is built out in Notion and includes the usual details such as word count, target keywords, audience background etc.
Apart from that, it also uses Notion's database elements to look at the status of each brief and sort by dates. The only downside is that you're going to need to create an account to be able to access it.
---
Want to see how Content Harmony helps you build content that outranks the competition?
The blog post you just read scores Good in our Content Grader for the topic "content brief template":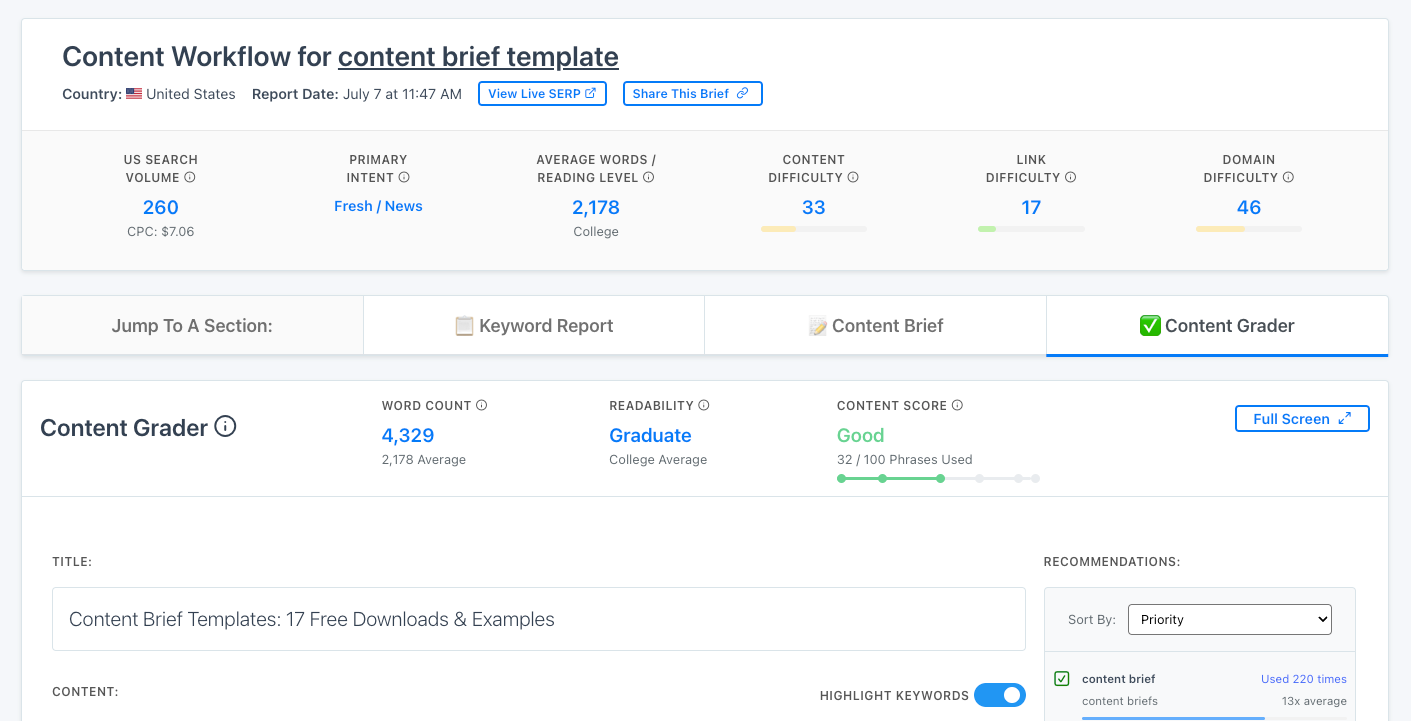 Grade your content against an AI-driven topic model using Content Harmony - get your first 10 credits for free when you schedule a demo, or sign up here to take it for a spin on your own.
👉 Get Your First 10 Briefs For $10
---
---
---
Ready To Try
Content Harmony?
Get your first 10 briefs for just $10
No trial limits or auto renewals. Just upgrade when you're ready.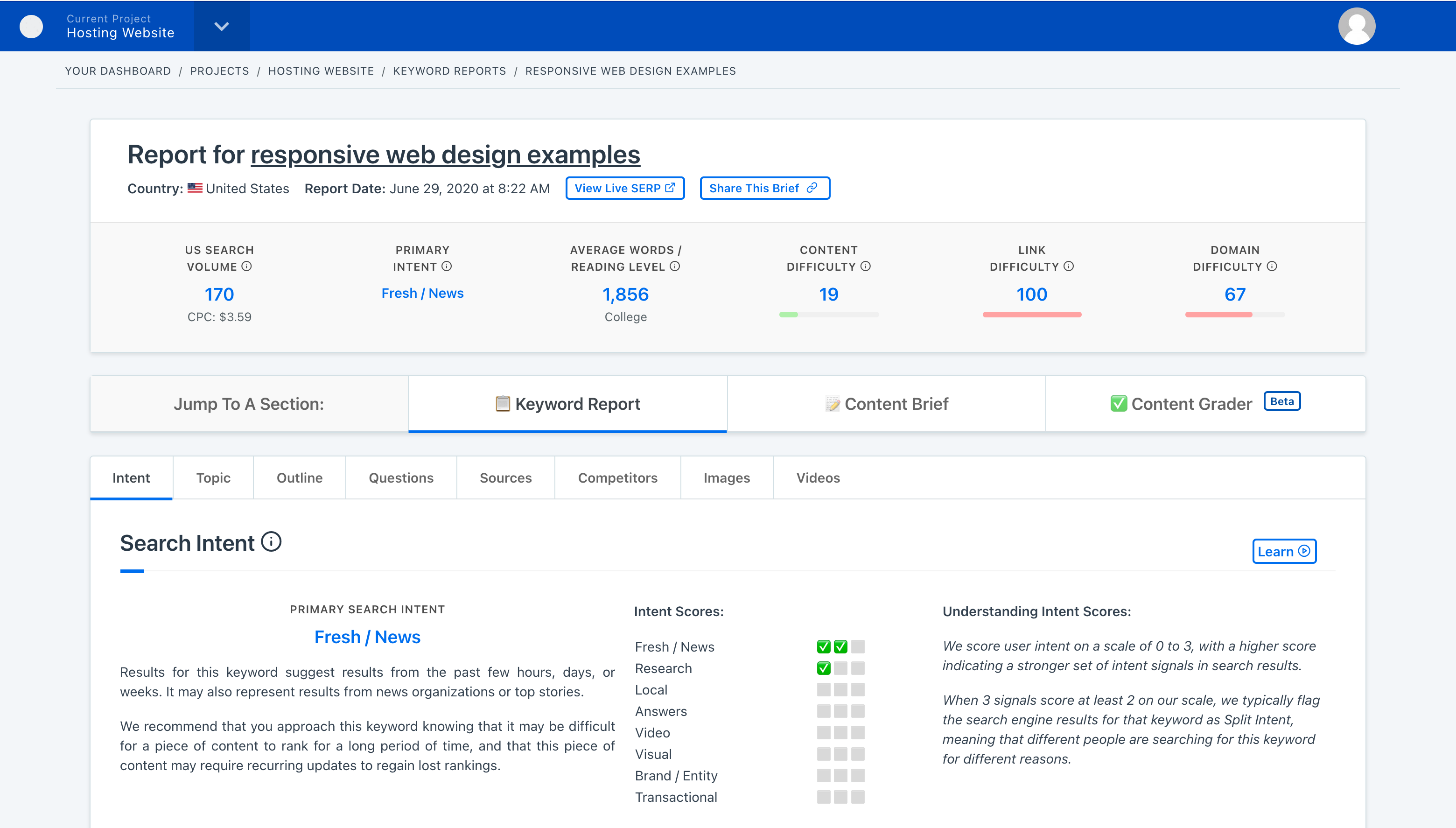 ---