Hi there! This guide is meant to serve as a quick start for writers who are receiving Content Harmony briefs and content grader URLs.
In many cases, content teams will have one person creating content briefs, and then delivering those briefs to a writer. This guide should work similarly whether you're a freelance writer, an agency writer, or a staff writer at the company you're writing for.
Here is the process most writers will use:
Review the Content Brief for any requirements related to the content they need to write.
Go off and write the content in their preferred tool, like Google Docs.
Come back to the Content Grader periodically to actually grade the content.
Of course, you can write the entire piece of content inside of our content grader, too. But it's always a good idea to have a copy stored in Google Docs or another file since Content Harmony does not currently have the ability to track changes over time.
You can always go back to the Keyword Report section of the brief as well, however, most of the time this information has already been curated by the person creating the briefs. Nevertheless, we leave these URLs open to you to explore in case you want to see additional research, sources, and background data.
How to use Content Harmony's Content Briefs:
Content Harmony's Content Briefs are designed to work the same way as any other content brief you might encounter as a writer.
A good content brief should give the writer a list of requirements for the final content, but leave enough room for the writer to be creative and make the content work well for the reader as well as the brand.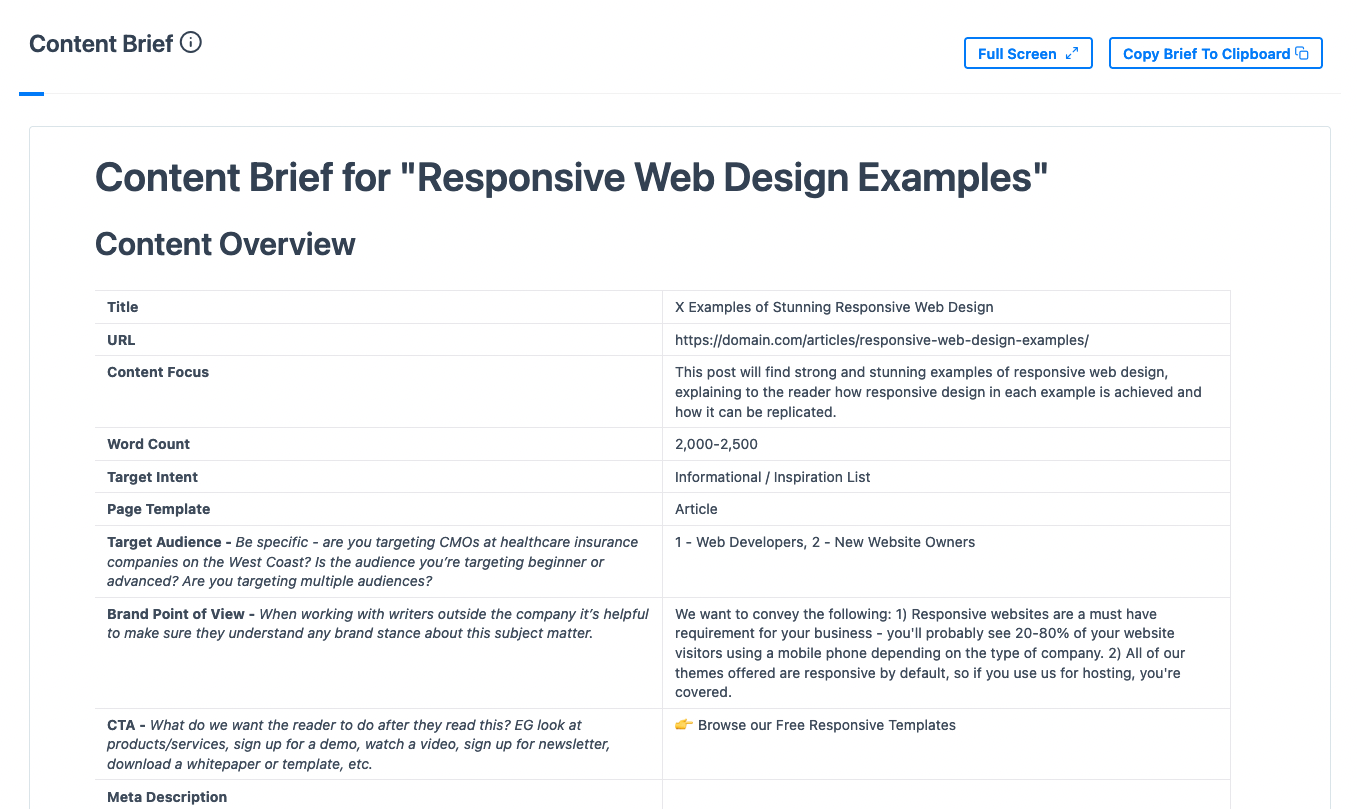 Different teams will use different approaches to building briefs in Content Harmony. In general, we coach teams to be explicit with writers on how they want each type of highlighted data that shows up in the brief. If they're not, you may need to ping your team with a few clarifying questions about the brief, or use your best judgment and then leave a note in your draft for the editor requesting a closer review.
If you are a writer who has been tasked with building your own briefs (instead of receiving a finished brief from another team member), take a look at our guide to building a good brief inside of Content Harmony.
How to use Content Harmony's Content Grader:
Our Content Grader is designed to help you make your content more comprehensive.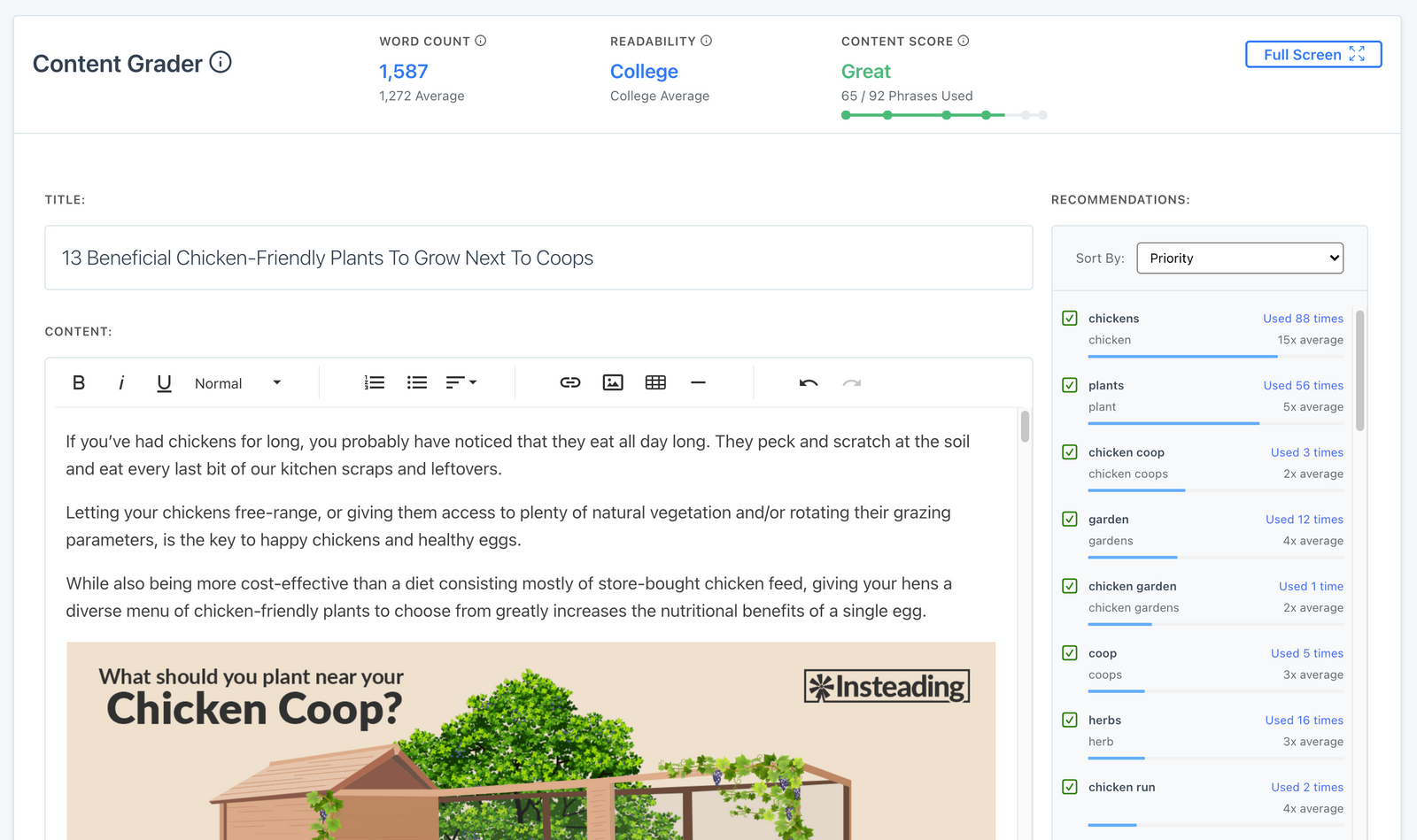 It is not designed to grade your content subjectively - we can't tell you how compelling your content is, how well it fits into brand requirements, or if users will like it.
What we can tell you is that Google currently understands a topic model based upon the target keyword, and how well you are currently covering that topic model.
There are a couple of things to keep in mind while using our Content Grader:
The content score is based on how many recommended phrases you are using.
The phrases are weighted. A keyword used by 80% of competitors will count as 4x more important than a keyword used by 20% of competitors in our scoring model.
You only get credit the first time you use a phrase. We don't give you 'credit' for using a phrase multiple times (that concept is called keyword density and it's not a useful metric for assessing how well content will rank).
We don't want you to use 100% of the phrases we recommend. In most cases, using somewhere around 50-80% of the phrases we recommend will earn a score of Good or Great, which is what we recommend most teams aim for.
If you have other questions about using the content grader, please reach out to us in live chat and we can help you there.
FAQ
Does Content Harmony have a Google Docs add-on?
Not yet, but we expect to release it within the next year. Until then, you can feel free to write inside of Google Docs and paste your draft into the Content Grader as often as you like.
I noticed a bug in the Content Grader.
Whoops - we do our best, but sometimes we are unable to probably find a phrase in your document. Sometimes keywords that appear in unusual places (like a single bulleted word inside of a table) don't track correctly, but we're actively working on improving edge cases like that.
If you notice a phrase not getting highlighted that you've used, please ping us in live chat to report it.
If you're able to use the word elsewhere in the content that is usually sufficient to mark it as used for scoring purposes.