One of the hardest things for business owners and marketers to figure out is what they should expect to spend on content marketing, and what kind of output they'll see in return.
Furthermore, they're not sure where to spend their money even if they've figured out what their budget should be.
In my full-day content marketing basics workshops, one of the more popular components is my walkthrough of how I'd build out content marketing programs for the following monthly budgets:
20 Hours + $1000/mo
$5000/mo
$15,000/mo
$50,000/mo
So, I'm going to share that with you and hopefully that will give some insight into how I prioritize content marketing spend for a wide variety of businesses.
Caveats
Agencies Are Helpful, But Not Required
I'm including agency support as a factor in 3 of these 4 price levels. Yes, you can build a great content program without agency support. But their expertise can come in handy for many business types. So, I'm including notes below on how you should be using the agency wisely at different cost levels, knowing that their time costs more than an in-house team member's time.
Promote Your Content:
The other thing a lot of you might be surprised at is the amount I'd put towards paid media. Please, if you take nothing from this post, take this: you need to spend as much money promoting your content as you do making it.
Your Mileage May Vary:
Some of you looking at the salaries below will think "wow that's really high" or "wow that's really low" depending on the position. My staff costs are what I think that candidate is worth "all-in" with salary, health benefits, and other basic employee overhead. If you think I'm low, it's because I'm hiring a talented junior person for the role and giving them some room to grow. If you think I'm high, it's because that role demands a solid candidate with proven results. Your mileage may vary. If you're in San Francisco or New York, just multiply everything by 1.5.
The Solopreneur Content Marketing Budget: 20 Hours + $1000/mo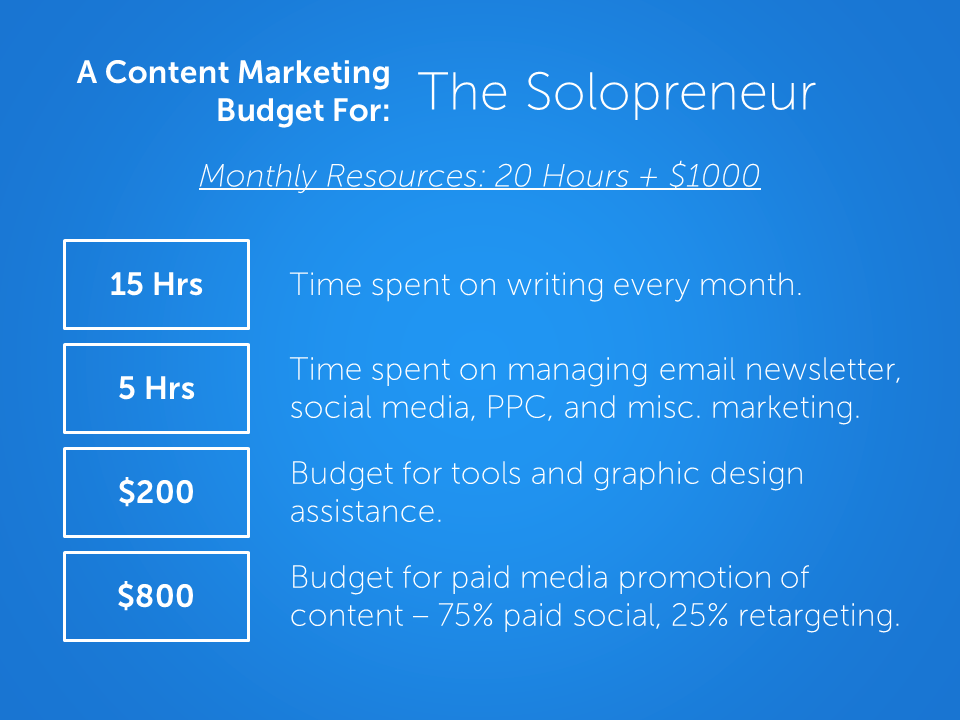 If you're running your own business and want to get started with content marketing, roll up your sleeves. In some cases, like an established attorney or high-paid consultant, you can afford to outsource marketing for a one-person shop. In most cases, you're going to have to do it yourself – just like everything else in a one-person business.
If it were me, I'd spend 17 out of the 20 hours purely on writing, 1 hour assembling a monthly newsletter (use Mailchimp), 1 hour scheduling out social media channels with my own content and industry content relevant to my target audience (use Buffer), and 1 hour on paid ads.
$100-300 would go towards monthly graphic design assistance. $600-800 would go almost entirely to paid Facebook, Twitter, or LinkedIn posts. Only in-feed content – no sidebar ads. Finally, up to $200 a month on paid retargeting on FB or Google. A tool like AdRoll or Perfect Audience can simplify this a little bit.
If you dislike writing, then spend $400-800 on having a journalism-oriented writer interview you for articles around 800-1200 words in length, and focus on bottom-of-funnel topics that will help you close sales. Spend the remainder on paid ads.
Output: Depends on your own content abilities. I devote a lot of time to writing posts and I'm experienced at it, but I also go much longer form than most people. Anywhere from 2-5 blog posts in 17 hours is reasonable. If you're spending less than 60 minutes on blog posts, you need to go into more depth, and consider producing more elaborate supporting assets like graphics or templates (PDF, XLSX, DOCX). Also, read up on 30 ways to improve your blog content.
The Small Business Content Marketing Budget: $5000/mo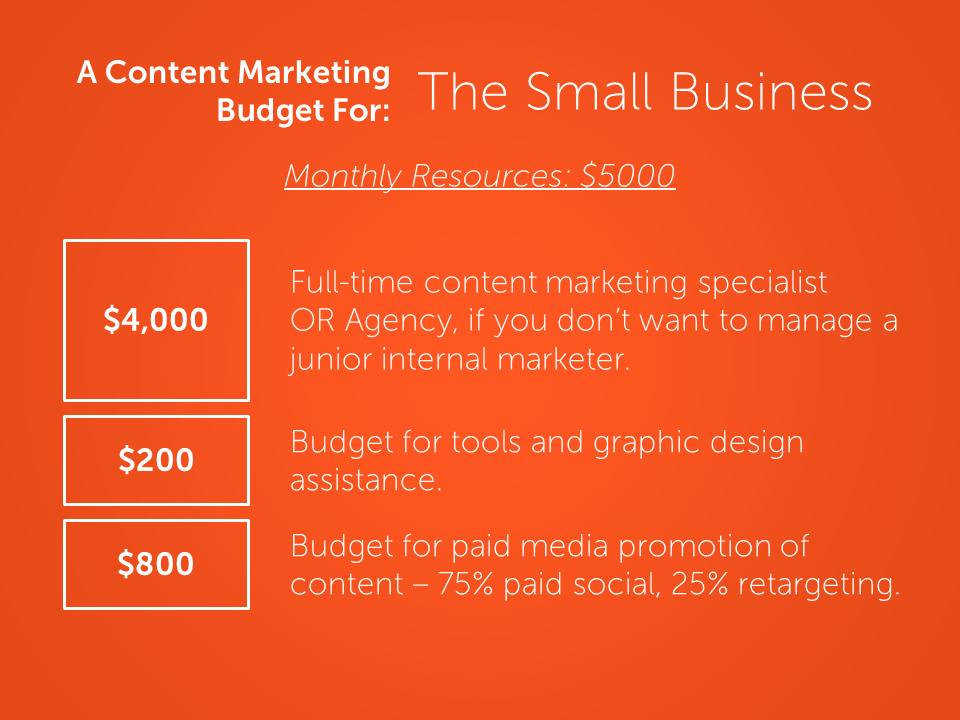 OK, now your options have opened up a bit. You have a budget for a full-time employee, or a decent agency budget if you don't want to manage an in-house marketer.
I'd hire a younger writer with a journalism background and 1-3 years experience in journalism or content, and who has the ability to do their own graphic design. I'd spend $3500-4000 on that person all-in including benefits.
From there, I'd spend $100 on misc tools, and the remainder on paid social ads + retargeting.
If you prefer to not manage an in-house person, your outsourced alternative at this price point is to stay involved on some level (probably 5-10+ hours) and opt for agency help. Expect less total content output than with the in-house writer, but the trade off is access to a full team that likely has more experience across the board and will have much better guidance on content strategy than the junior in-house option. Depending on your business type, you'll need to give up some of your time to answer questions for your agency and their writers, so don't expect to disappear completely.
Output: Will vary a bit between the two scenarios. With the in-house person, you should expect a couple blog posts per week and a larger monthly project, along with time managing a monthly newsletter, once daily social content and your paid media budget. With an agency, you should expect a couple blog posts per month, a larger monthly project, and some time for promotion/consulting and possibly management of the paid social budget.
The Growth Startup Content Marketing Budget: $15,000/mo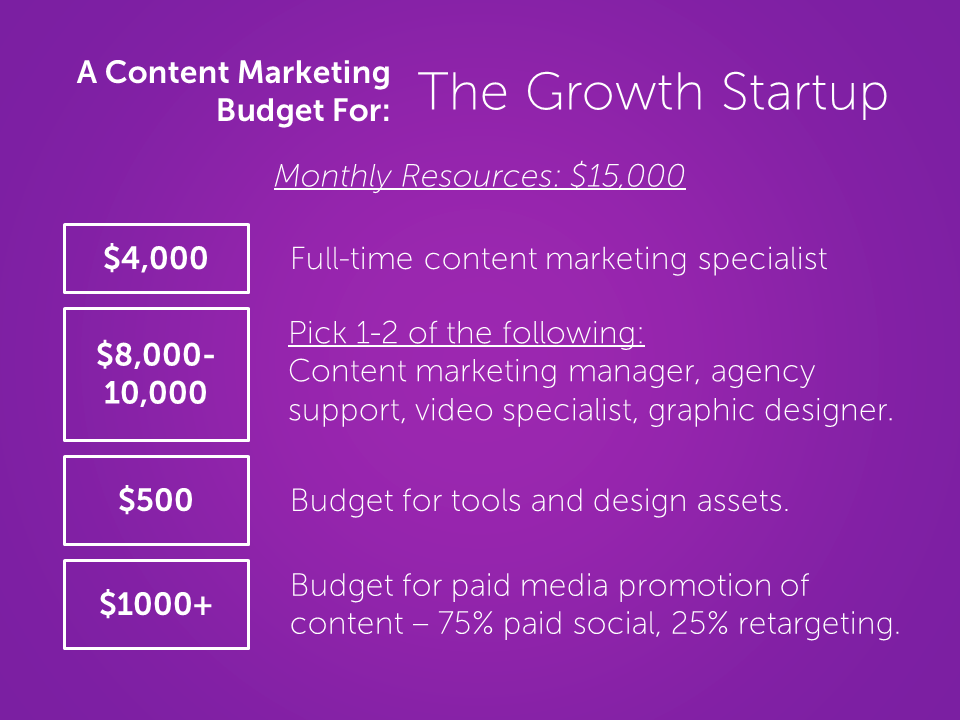 Alright, now we have the budget to put a real dent in the internet. That means we're going to have a proper team, not just an individual, and we'll be working on some larger content projects as well.
I'd hire the same in-house writer at up to $4000/month. Then I'd go a couple routes depending on your particular situation and how closely you want to manage the team:
Get a senior content marketer at a Manager level. $5000-7000/month.
Get an agency. $5000-10,000 per month. Focused on mix of content creation, promotion, and consulting with you on strategy and operations.
Get a video person with good portfolio who can handle design. $4500-6000 per month.
All 3 have their merits, and you have room to possibly do 2 of the options on the low end. Your overall goal should be to increase output on large-format projects (not just blog posts) and increase promotion efforts, both paid and earned.
Output: 2-4x per week blog content, and 1-2 medium/large monthly projects.
The Enterprise Content Marketing Budget: $50,000/mo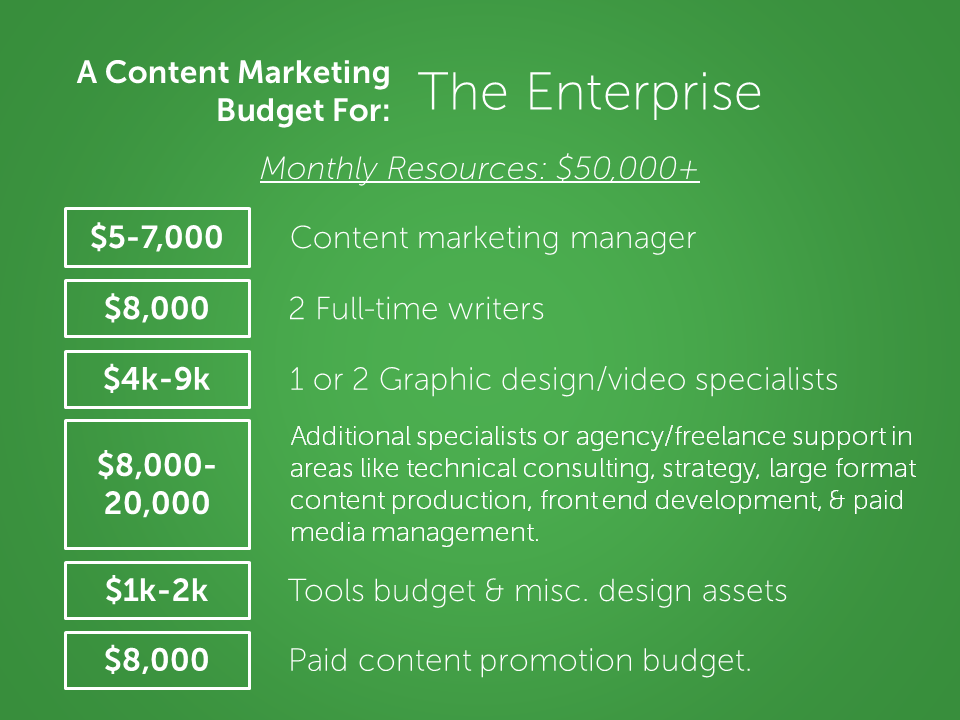 Huzzah, welcome to the enterprise level. Here's how I'd staff this out:
Content team manager – $5000-7000/month.
2 Writers – $8000/month total.
Design/Video – $4500-6000 per month.
Additional Specialists, Agency, or Freelance Support – $8000-20,000 – This budget will fill your biggest needs in areas like technical consulting, marketing strategy, large format content production, and paid/earned media promotion support.
Monthly tools budget – $1000-2000
At this point you've spent between ~$26,000-$43,000 in the scenario I outlined above. If you're on the low end of that, I'd look at elements like adding a marketing automation specialist who can take over email marketing & lead nurturing. Once those 2 are complete, everything else is going towards paid media and promotion budget. At this point the paid media program is heavy on all social channels and content amplification networks, and I've got a strong, multi-stage retargeting system in place to pull users in based upon where they are in the customer lifecycle.
You're also entering the territory of over-priced enterprise level tools, ranging from marketing automation to analytics and beyond. In most cases, these are overkill, but everyone's situation is different. Nevertheless, I think spending more than 5% of your total budget on tools is getting excessive unless you've legitimately reached an advanced content marketing maturity level, or your team can specifically demonstrate the time savings of purchasing that additional tool.
Output: In terms of content production, you should be looking at 2-4 larger monthly projects, 2-5x weekly blog content, and a few monthly projects related to multimedia in the form of video and graphic assets.
Beyond The Enterprise: $60,000/mo and up
At this point, it makes less sense for me to tell you what your program looks like. You'll be getting into some advanced content formats and optimization methods, moving into enterprise software solutions, building out some strong marketing automation programs, and getting access to some interesting paid media budget options.
In short – you've got plenty of places to optimize your content marketing budget for your own program, and there's nothing close to a cookie cutter solution that I can share with you that would be relevant to your team. Keep innovating and keep optimizing and you'll be on track.
---
---
✉️ Get an email when we publish new content:
Don't worry, we won't bug you with junk. Just great content marketing resources.
---
Ready To Try
Content Harmony?
Get your first 10 briefs for just $10
No trial limits or auto renewals. Just upgrade when you're ready.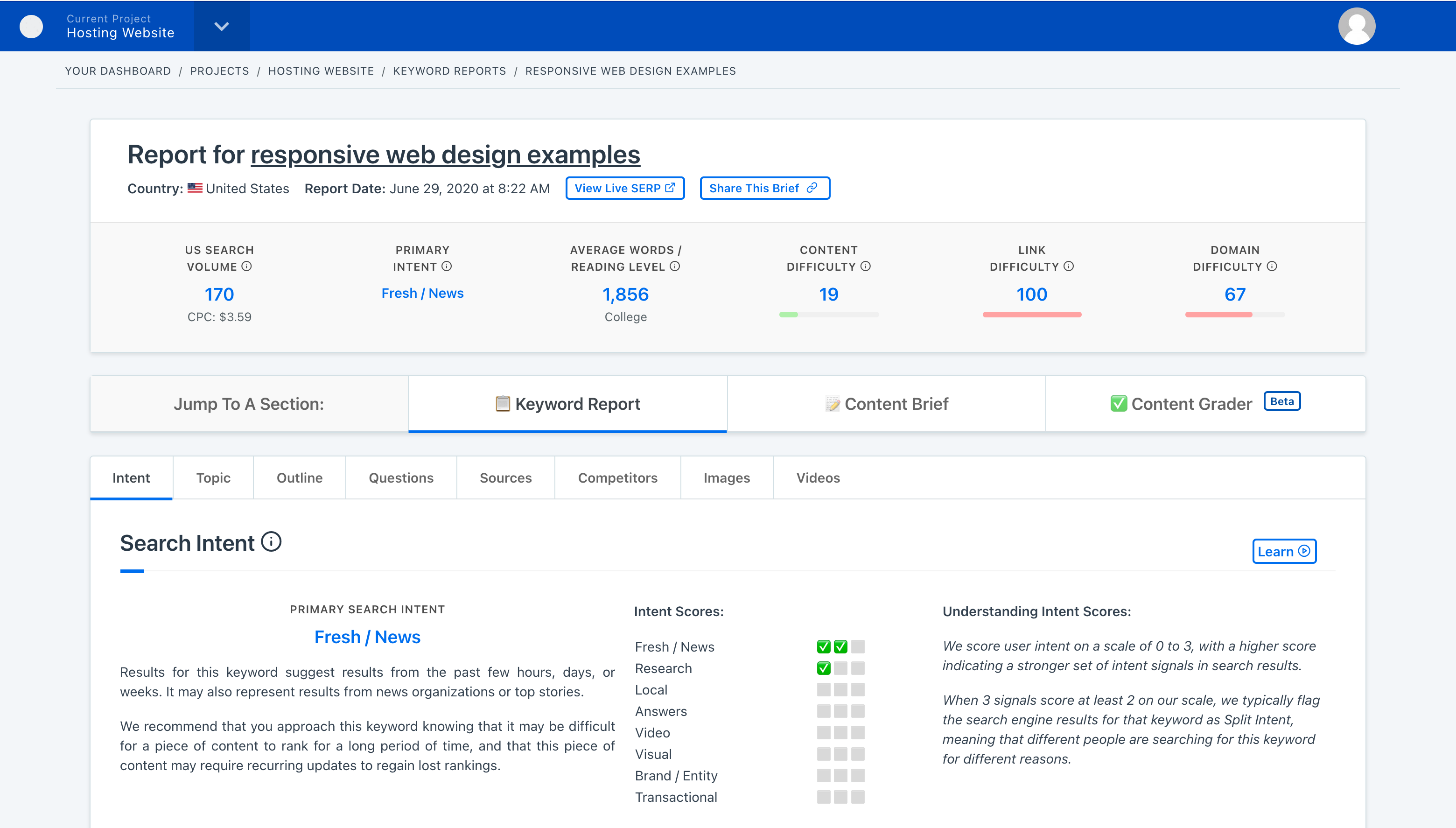 ---