A note to readers in 2021 and beyond:

Heads up, this guide was first publishing in 2015, and the sections themselves were last updated in 2018.

Since then... well let's just say that Facebook targeting ain't what it used to be.

Nevertheless, I'll leave this guide up as a reference for the types of things that Facebook lets you target, or used to allow.

-Kane
---
More than any other paid media platform out there, Facebook Ads have revolutionized the way marketers are able to distribute their content and other messages to a highly targeted audience.
In the past, advertisers and media buyers have always been able to go after specific customer segments where they're likely to be – specific TV channels, specific magazines and print media, and even specific websites with display ads.
However, over the past decade, Facebook has built the most complete database of demographic and psychographic data that has ever existed.
It's taken our targeting abilities to levels that those other options couldn't come close to.
Want some examples of Facebook's targeting powers?
Let's say you own an auto dealership, and you want to get more young professionals in to test drive your latest compact car.
Through Facebook, you can now target 290,000 millennials ages 18 to 30, who live within 25 miles of Seattle, and who love the Seahawks.
Now – through Facebook's data partners and the behaviors section – you can drill down further into that audience to target the ones who have shown signs of being in the market for a new vehicle.
Run a giveaway from free Seahawks T-Shirts for anyone who takes a test drive during September plus a chance to win an autographed Russell Wilson jersey, and see what your engagement rate looks like.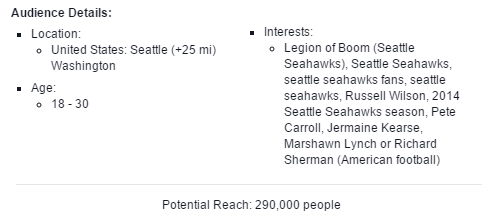 Now – let's say you run a gluten-free e-commerce subscription service. You might want to target 180,000 women in the United States with more than $100k in household income who love gluten free products and blogs and who have a record of shopping in luxury stores.
See if they're interested in subscribing to a monthly delivery of your gluten free snacks with a 15% coupon for their first month's order.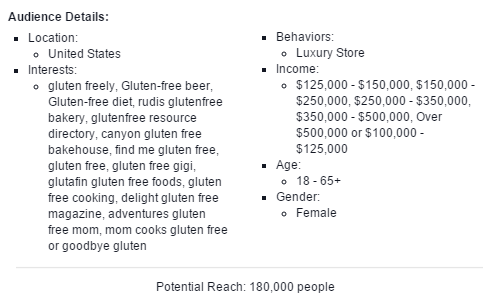 Pretty powerful stuff, right?
Now what if I told you that we often reached audiences like these for $0.20 to $0.60 per click?
That's correct. While early campaigns can often cost $1 to $4 per click (still a decent price for highly targeted audiences), we can often get those costs down even further after some testing and refinement.
(Sidenote: Our most successful campaigns have ranged from $0.02 to $0.10 per engagement. You'll only see these rates on content that Facebook users really love.)
Wish you were doing targeting like this for your brand? In this post, I'm going to breakdown every category of targeting you can use on Facebook.
Facebook Ad Targeting Overview
Facebook ad targeting can be broken down into 8 categories. This is the high level overview – we'll cover them all in more depth shortly.
Custom Audiences (these are groups you create based upon your email lists, phone numbers, app users, or website retargeting)
Location (DMA, zip code, city, county, state, or country)
Age & Gender
Demographics (income, job title, employer name, language, relationship status, education, financial, home ownership, parental status, etc.)
Interests (everything from brand pages to celebrities and most topics you can think of)
Behaviors (charitable activities, online shopping habits, car shopping, financial spending, mobile devices, travel habits, etc.)
More Categories (expats of specific countries and their friend/family)
Connections (people connected to your page, app, or event)
Here's how they're laid out in the Facebook Ad Targeting section labeled "Create Your Ad Set":
OK – got all of that? Excellent – let's quickly dicuss how these targeting sections add and subtract from one another, and then we'll get into the nitty gritty breakdown of every targeting section.
How Targeting Sections Interact
Facebook Ad Targeting sections are a bit tricky the first time you use them when you're trying to go after two targeting options in the same section.  Sometimes you add a targeting option thinking your audience will get smaller – but it gets bigger. And sometimes you select another option and the audience gets smaller – or disappears entirely.
Here's how that all works:

Update: Shortly after this article was written, AND/OR targeting changed in a big way. The new version of AND/OR in the example above would look like this:

And here is what the actual audience building section of the ad platform looks like for that 3rd column: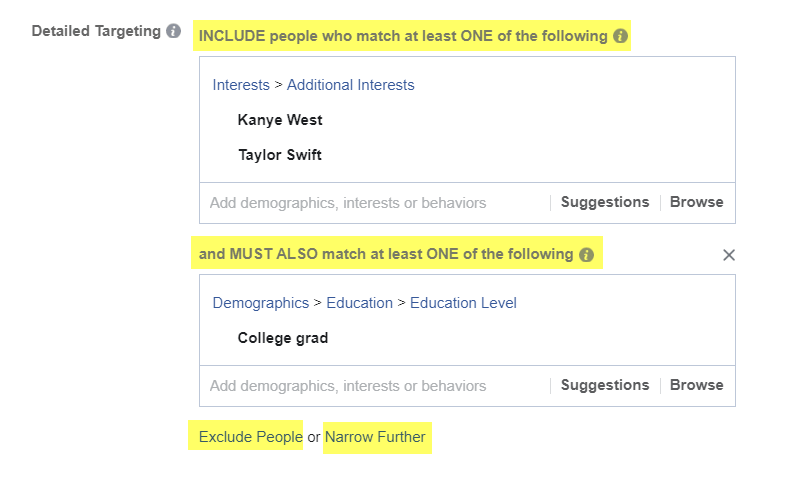 So – when we add new options to the current category, like multiple interests, our audience size gets bigger. When we add new targeting categories like education level, our audience size gets smaller.
Make sense?
Great – let's move on and look at the sections in more depth.
Targeting Audience Sizes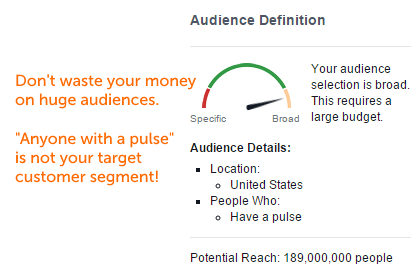 You have to get your target audience size larger or smaller based upon your campaign goals and budget.
In some cases, you'll want small audiences – 1,000 to 10,000 people. In other cases, it will make more sense to go after a mid-sized audience of 10,000 to 500,000 people. I don't recommend targeting audiences with millions of people unless you have a monstrous budget and zero accountability for how it's spent.
Even if you do want to reach audiences that large, it's still better to slice that group into smaller segments and create custom creative assets for each segment. By doing this you'll see better performance than using one large set of creative.
Another thing I have found is that when promoting content, we often get cheaper results (on a CPE, CPC, or CPM basis) from audiences of 10k-100k than we do from a smaller audience of 1-10k. I suspect that this is somewhat baked into Facebook's pricing model – charging you for more tightly targeted audiences the same way you'd pay more for any niche advertising in print or digital.
Facebook Custom Audiences
Custom Audiences are typically built in one of 3 ways: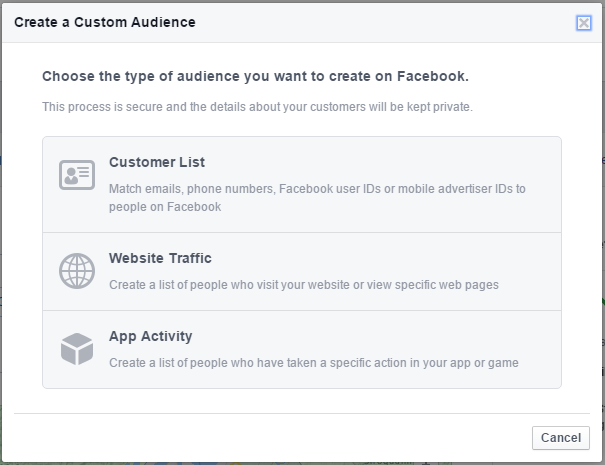 Import A Customer List – Match your customer email lists, phone numbers, Facebook user IDs or mobile advertiser IDs to people on Facebook.
Tracking Your Website Traffic– Create a list of people who visit your website or view specific web pages. This requires you to place a tracking pixel on your website that Facebook provides.
Tracking Your App Activity – Create a list of people who have taken a specific action in your app or game. This requires you to connect Facebook to your app or game.
You can Include OR Exclude a custom audience from the group of people you're targeting, which can be really handy for excluding users who have already seen your "thank you" pages after a transaction is finished.
Facebook Location Targeting
Location is one of the more obvious targeting options, but has some unexpected characteristics depending on when the user was in that location.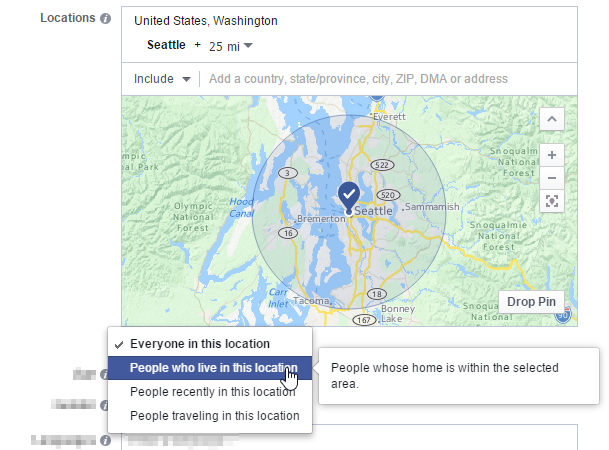 You can choose from the following location types:
Countries
Counties/regions
Cities
ZIP/postal codes
Addresses
Designated Market Areas®
You can filter these further based upon time frame:
Everyone in this location (default option)
People who live in this location
People recently in this location
People travelling in this location (these are people who are visiting right now but normally live more than 100 miles away)
Notes: Location targeting isn't available in all countries, and Facebook will not include the radius of an address or city that extends into neighboring countries.
Facebook Age, Gender, & Language Targeting
This is the simplest section you'll deal with.

Age
Defaults to 18-65+, but you can select users as young as 13. Users over 65 are always grouped together as "65+".
Gender
Defaults to all, and you can filter to just men or just women.
Language
Open ended list of languages to choose from.
Facebook Demographic Targeting
Language is typically shown as its own drop down box, while the rest of the Demographic options are lumped together in a large drop down labeled as "More Demographics":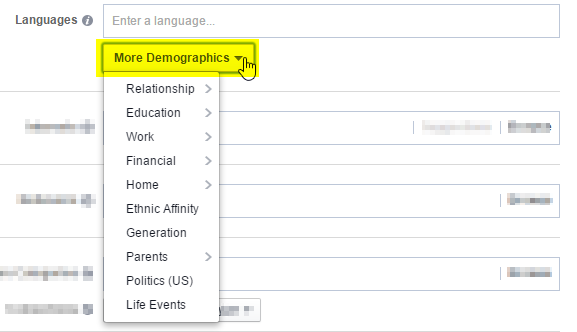 Relationship
(Interested In, Relationship Status)
Education
(Education Level, Field of Study, Schools, Undergrad Years)
Work / Job
(Employer, Job Titles, Industries, Office Type)
Financial
(Income, Net Worth)
Home
(Home Type, Home Value, Property Size, Square Footage, Year Built, Home Ownership, Household Composition)
Ethnic Affinity
Generation
Parents
(Child's Age, Mom's Style)
Politics (US)
Life Events
Anniversaries, Jobs, Relationships, Engagements, Weddings, Birthdays, Etc.
Facebook Interests Targeting
Interests are one of the targeting areas where things get really interesting, because you can type in just about any topic, brand, place, or other concept and target those users if the audience is large enough.

Facebook also has a number of pre-set interest groups that you can browse, grouped as the following sections:
Business and Industry
Entertainment
(Games, Events, Music, Movies, Reading, TV)
Family and relationships
Fitness and wellness
Food and drink
(Alcohol, Beverages, Cooking, Cuisine, Restaurants)
Hobbies and activities
(Arts/Music, Home/Garden, Pets, Social Issues, Travel, Vehicles)
Shopping and fashion
(Beauty, Clothing, Fashion, Shopping, Toys)
Sports and outdoors
Technology
(Computers, Electronics)
Facebook Behaviors Targeting
Much like Interests and Demographics, Behaviors has a ton of depth hiding under one single drop down.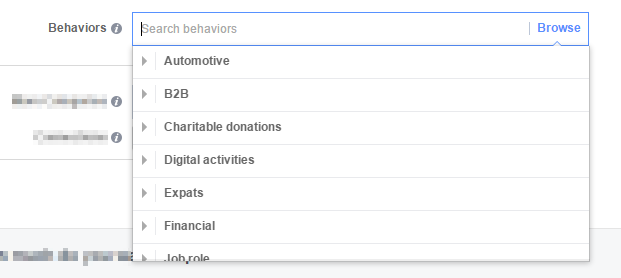 Behaviors cover the following target options, most or all of which are pulled from Facebook's third-party data partners like Acxiom, Epsilon, and Datalogix.
Automotive
(Motorcycles, New Buyers, New Shoppers, Owners, Purchase Type, etc.)
B2B
(Company Size, Industry, Seniority)
Charitable donations
Digital activities
(Gaming, Facebook Page Admins, Browser, OS, Email, etc.)
Expats
Financial
(Banking, Investments, Spending Methods)
Job role
Media
(Radio, TV)
Mobile Device User
(By Brand, OS, Connection Type, Tablets)
Purchase behavior
(Business, Buyer Styles, Clothing, Food/Drink, Health/Beauty, Home/Garden, Household, Kids, Pets, etc.)
Residential profiles
(Length of Residence, Likely to Move, Recent Homebuyer, etc.)
Seasonal and Events
This section changes frequently – the attached are examples we've spotted since July 2015. Build audiences with these groups and save those audiences to access them in the future.
Travel
(Business Travel, Casinos, Cruises, Timeshares, etc.)
Facebook "More Categories" Targeting
This section has fewer options – and doesn't show up for all users. Currently the only section I have within "More Categories" is a long selection of expats of various countries. I expect that this section will be one that tends to have more experimental categories over time.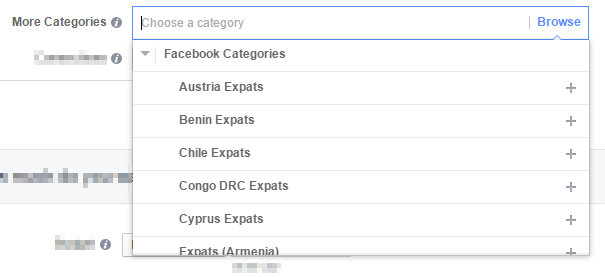 Expats
46 Countries Available, plus:
Family of expats
Friends of expats
Other Targeting Options We've Seen In The Past:
Government Employees
Nurses
Facebook Connections Targeting
The final section, Connections, allows you to target users based upon their connection to your Page, app or event. This will narrow your audience to include only people with that specific connection who also meet the other targeting categories you've selected.

Facebook Pages
People who like your Page
Friends of people who like your Page
Exclude people who like your Page
Facebook Apps
People who used your app
Friends of people who used your app
Exclude people who used your app
Facebook Events
People who are going to your event
Friends of people who are going to your event
Exclude people who like your page
---
---
✉️ Get an email when we publish new content:
Don't worry, we won't bug you with junk. Just great content marketing resources.
---
Ready To Try
Content Harmony?
Get your first 10 briefs for just $10
No trial limits or auto renewals. Just upgrade when you're ready.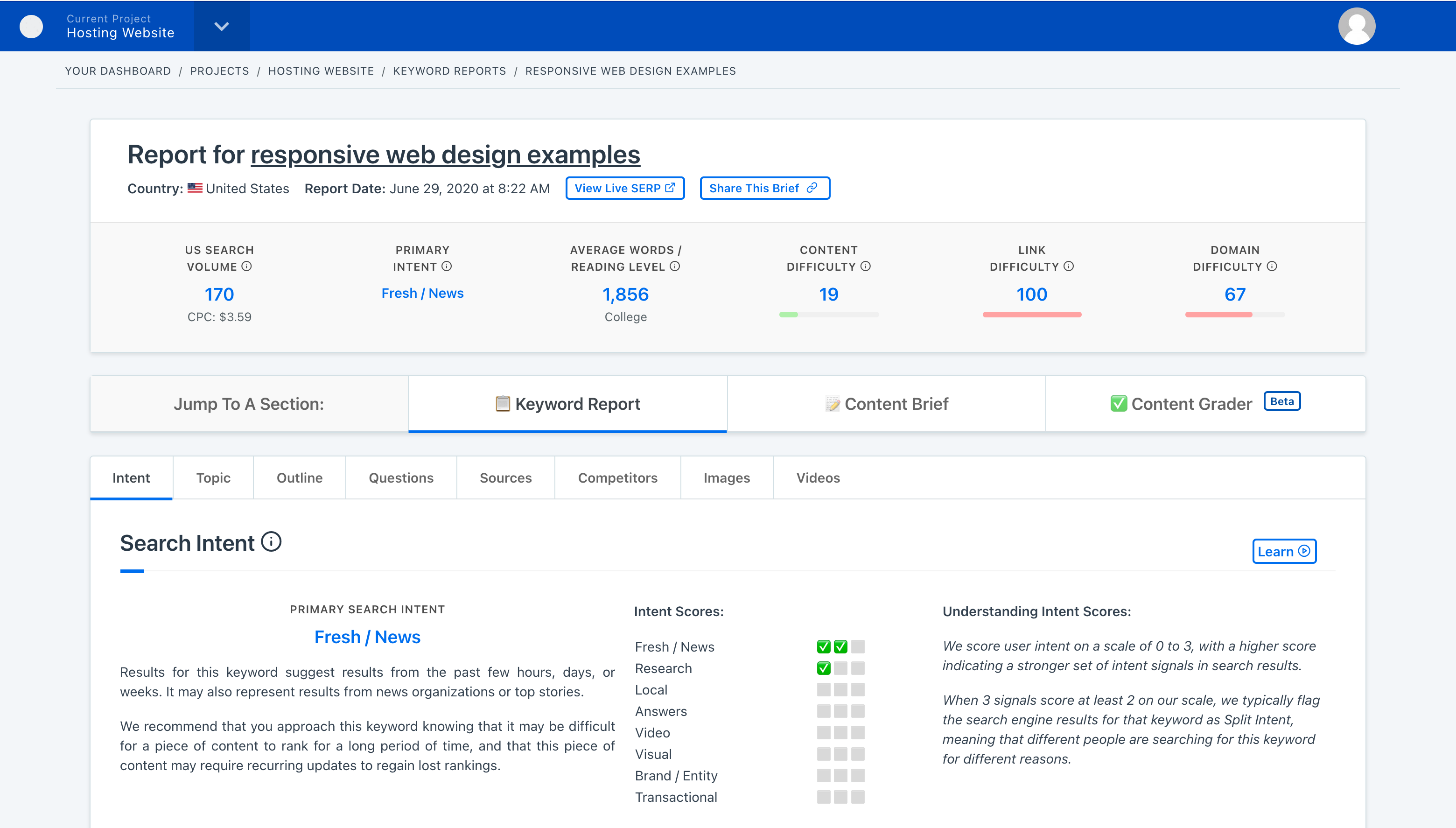 ---