Podcasting started years ago and started to gain initial popularity around 2004.
But it wasn't until a decade later that it gained traction among content marketers and content creators in general.
In 2013, iTunes celebrated one billion podcast subscriptions and counting from the 250,000 podcasts on the platform. As of January of 2015, 35% of cellphone-owning adults had listened to online radio while in their cars, which was an increase from 21% in 2013 and 6% in 2010.
Though listening numbers don't quite match up, more people are aware of podcasts now than they used to be. In 2006, 22% of Americans aged 12 and older knew about podcasts. As of early 2015, that number had risen to 49%.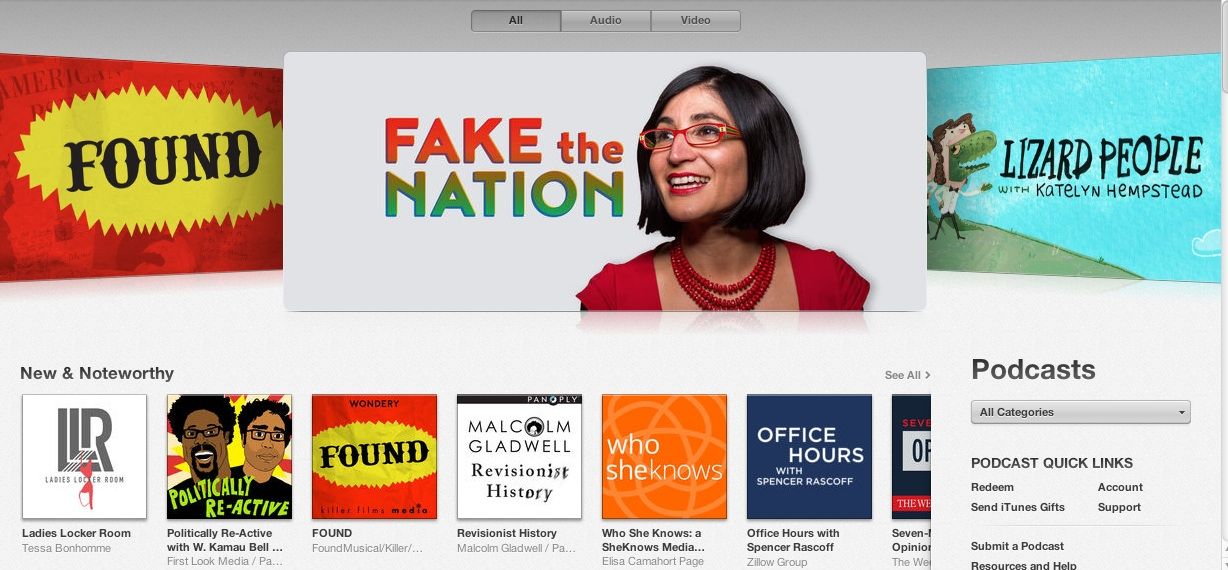 The homepage for podcasts on iTunes
Podcasting is going to break through to the mainstream public soon, and continue to be a useful way for businesses to get their content out into the world. Marketers that are willing to define a new niche that their audience will love and release audio that can't be found elsewhere will have a strong first-mover advantage in their market.
What's the state of podcasting right now?
Public radio programs, terrestrial radio shows, sports broadcasts, and books have all been transformed into popular podcasts. There are podcasts about television shows and ones that feature commentaries on movies. These are all spin-offs or replications of already existing media properties.
Mostly, podcasts are original productions established by individuals like business leaders, comedians, YouTube stars, radio DJs, entrepreneurs, religious figures, authors, and educators. Companies, traditional publishers, and dedicated podcast networks also produce them.
Podcasts appear on platforms like iTunes, SoundCloud, Spotify, and Audible. On iTunes, there are multiple categories like arts, business, comedy, education, games and hobbies, society and culture, technology, and science and medicine.
Though podcasting is still growing, a few shows have captured the attention of the mainstream audience. There's "Serial," which was the fastest podcast to ever reach five million downloads. By the end of its season, it boasted 3.4 million downloads per episode.
Another significant moment for podcasting was when President Barack Obama appeared as a guest on comedian Marc Maron's podcast "WTF" in June of 2015. Maron's show receives 450,000 downloads per episode and has inspired a TV show called "Maron" on IFC.
Some podcasts have reached the masses, but overall, terrestrial and satellite radio still dominate the audio content market. According to NiemanLab's Rex Sorgatz, terrestrial radio encompasses 52% of all audio consumption, and satellite is at 8%. In total, they both make up 74% of all audio revenue.
In the future, podcasts will emerge as a worthy competitor to traditional and satellite radio, and offer marketers the chance to capture the attention of leads and current customers.
Where businesses can make their mark with podcasting
The market may seem saturated with 250,000 podcasts, and more are being created every single day. However, there is still a lot of potential in it for businesses.
Podcasting is reaching an increasing number of people every single year. It'll continue its upward trend, which means that businesses will be able to capitalize on the rise in podcast listeners.
In addition, the people listening to podcasts are between the ages of 18 to 44. As the younger portion of this audience gets jobs and starts working, they'll be willing and able to spend money on products. Data suggests that podcast listeners are mostly wealthy and educated, though it's unclear what age group the wealthy are in.
Terrestrial and satellite radio may dominate the audio space at this point, but they offer little choice for listeners. Podcasting puts the power in the hands of the people, as they're able to determine what they want to hear. In this on-demand culture, people are used to seeing content targeted to them specifically, so they expect the same with audio.
Even if podcasts aren't directly contributing to most business' bottom lines, like any form of content marketing, they have the power to increase brand awareness, attract leads, and establish creators as thought leaders in their industries.
If you want to connect with your audience in a new way, as well as attempt to draw in even more customers, you may want to consider starting your own podcast for your company.
How to launch a podcast and stand out from the crowd
According to Kapost statistics from 2015, only 3% of marketers are using podcasts in social media marketing. However, 23% said they planned to increase their use of podcasting. If you're part of that 23%, and you want to start your own show, there are a few things to keep in mind.
1) Have a plan
Dan Shure, owner of Evolving SEO, runs the podcast Experts On The Wire. Though his show is in a saturated podcast niche, digital marketing, he says he differentiates himself by asking questions to his guests that have never been asked before. Even if guests appeared on other podcasts, he's not putting out the same information as those shows.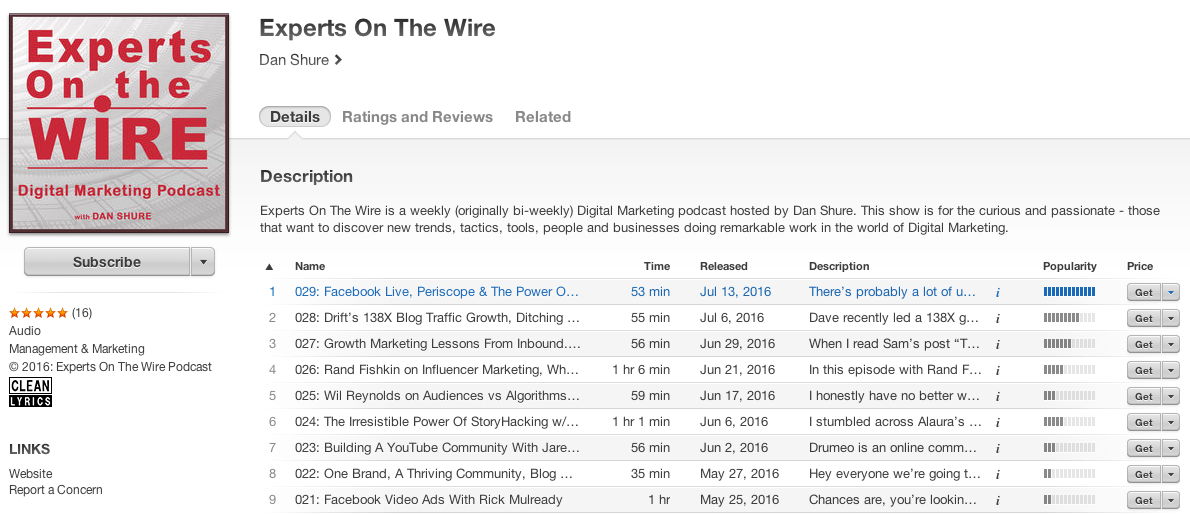 Podcasting should be taken as seriously as any other form of content marketing that you're creating. That means that you determine the direction an interview or show will go in, and how you will tell an engaging story for your listener, according to Shure.
Shure says that many times, podcast hosts who interview guests, "simply just fire up Skype without much of a plan. That can work sometimes, if you have a special relationship with the guest." On his own show, he says he tries "to at least plan out where the 'story' will end up, and everything in the interview is driving towards that ending."
2) Use at least mid-grade podcasting equipment until you can afford better
In terms of the technical aspects of podcasting, you have to invest in solid audio equipment. Clark Buckner, a co-founder of Relationary Marketing, says, "If something sounds bad, someone is not going to want to listen to it. If you have a great-sounding piece of content that's well produced and has good interview quality, it goes a long way."
3) Sweat the details
Your podcast should also have album artwork that distinguishes it from other shows and stands out on platforms like the iTunes store, according to Buckner. Length-wise, it should be about 25 minutes, the average commute time for Americans. "Make it bite-sized," he says.
If your industry is heavily covered already, you can also put a unique spin on your podcast by going into a highly targeted niche. There are "plenty of business podcasts, but I've seen a few niche business podcasts rise to popularity lately," says Shure. For example, let's say you sell women's clothing in your e-commerce store. You could do a podcast on how women can find the best clothing for themselves, one on the stories behind your fashion designers, or one on all the latest fashion trends emerging in your industry.
You could also make your podcast targeted towards a hyper-local audience, says Shure. This may include a small town or even a neighborhood. If you're a restaurant owner, you could do a podcast about events going on in that city throughout the year or a show on the stories of the customers who frequent the business.
4) Podcasting won't be right for everyone
When you create a high-quality podcast, you are increasing your chances of reaching a new audience, cultivating loyalty with your current customers, and demonstrating your expertise in your industry. But you should only do it if it aligns with your business goals, and you have the time and energy to dedicate to it.
"Podcasting is a fun and rewarding content medium," says Shure. "But definitely only seek to get into the audio format if you feel like it's the best medium for you or your business to communicate."

🎙️
Ready to start your podcast? Transistor.fm is a great place to host it, and we're big fans of their full guide on
How To Start A Podcast
.
---
---
✉️ Get an email when we publish new content:
Don't worry, we won't bug you with junk. Just great content marketing resources.
---
Ready To Try
Content Harmony?
Get your first 10 briefs for just $10
No trial limits or auto renewals. Just upgrade when you're ready.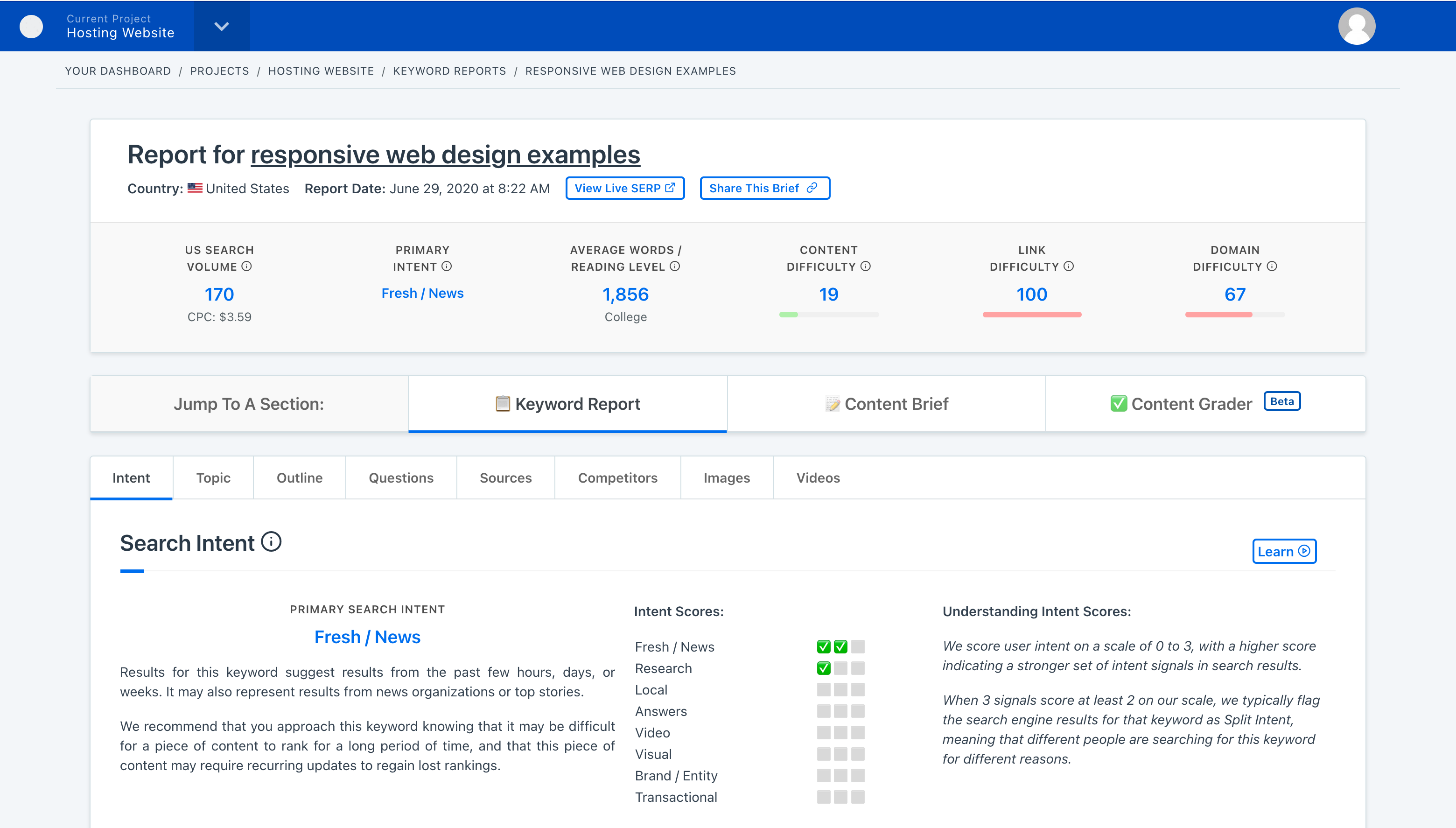 ---