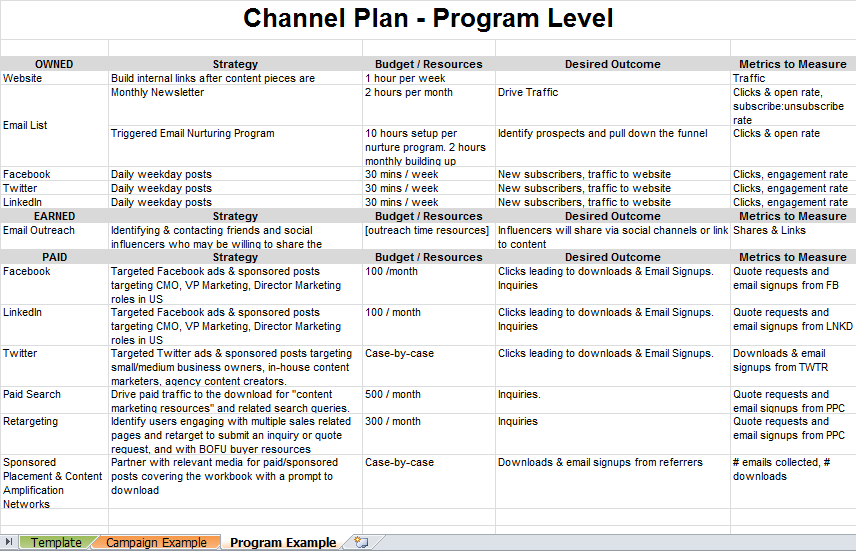 If you simply build content without a plan for how this content will reach its intended audience, then you are setting yourself up for failure.
Channel plans can vary quite a bit in complexity, but at Content Harmony, we define a channel plan as the breakdown of resources for how your content will be distributed and promoted once it has been published. The idea is to generate a plan that earns buy-in from clients, stakeholders, and team members on exact resources that will be devoted to promoting a project and prevents you from wasting valuable promotional resources.
You can download our full template here – Content Promotion Channel Plan XLSX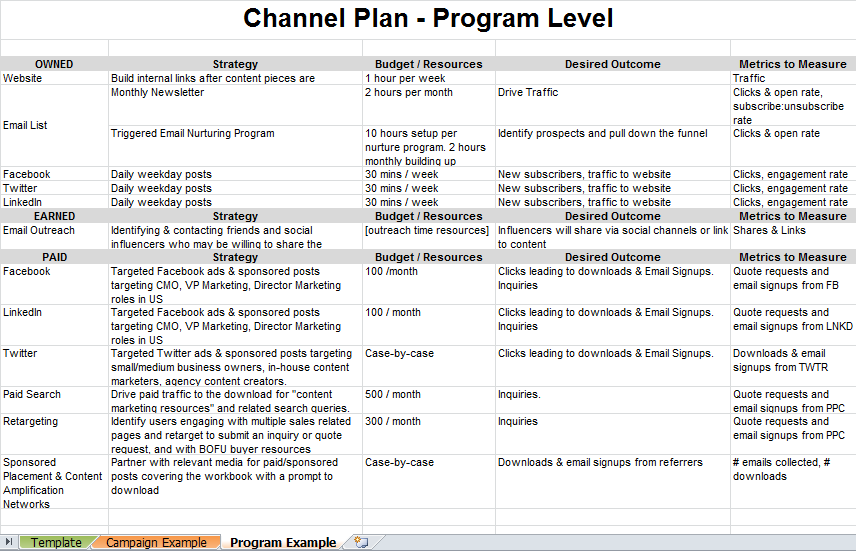 Stakeholder-Friendly Promotional Roadmaps
Our clients are entrepreneurs and marketers who are building successful organizations and are asking us to help them get to the next level.
At the same time, not all of our clients are digital marketing specialists – that's why they hired us. Our plans and presentations need to be plain-spoken and legible for a non-industry expert to understand. When working on our Channel Plan template, this balance was a priority. We created a basic outline that you can customize for each unique client.
Decoding the Channel Plan
There are so many ways to create a plan, and so much information that can be included. You want to be thorough, but try not to be jargon-heavy and overwhelming.
Your channel plan will be bigger or smaller depending on the scope of promotion for a specific project type. For example, if you are creating an updated landing page you would likely publish something like this:
Website: Publish page update
Facebook: "Check out our new service page for ______!"
Twitter: "Check out our new service page for ______!"
For a basic content update, you would probably avoid press releases or paid promotion. This basic process would be similar for much of your blog content or basic articles.
Things become more elaborate when you start working with bigger content projects. Big content projects will require more channels of promotion, usually require a defined budget, and often involve multiple parties in the promotion effort. It's important to develop a clear plan that will define these efforts for clients and stakeholders.
Content Harmony's Channel Plan Template
Our downloadable Excel file comes with a few tabs. You get a blank template, but also some examples of how you'd complete this channel plan both for an ongoing program and for a single campaign.

Different template tabs.
We divide our promotional efforts into a traditional owned, earned, and paid framework. In each of these sections, we want to define the following:
Strategy
Budget/Resources
Desired Outcome
Metrics to Measure
Example Channel Plan – Single Content Project
An example of how this could work would be based on creating a single blog post – we'll use our "Minimum Viable Content Marketing Strategy" post as an example.
Our primary goal for this piece of content is to add subscribers to our newsletter list. Our secondary goal is to earn links and generate long-term leads. Promotion would take place during November.

After defining our project, it's time to select our channels. In our case, we will start with our website and blog, and back up this promotion with Facebook and Twitter. We add in our other resources like PR, email outreach and LinkedIn; plus some paid search opportunities. For each of these channels, we will need to define a simple strategy – essentially answering "Why are we promoting this on Facebook?"
Answer: "We want to use Facebook to drive new site visitors to the landing page by promoting twice weekly prompts to read the content."
We will add in our budget for this and our other available resources – usually time required. Then we define our desired outcome, in this case "Email sign-up from downloads."


Finally, we need to determine our metrics for measurement. This is an important, but often overlooked step.
Clients look to their marketing agencies to drive traffic, create business, and ultimately – generate sales. Expecting a simple Facebook post to single-handedly increase sales isn't realistic, so we have to measure success in another way. Defining goals ahead of time lets us measure at defined stages of the sales funnel, which ultimately shows how well our campaign is doing. In this example, we define our metrics as the number of emails collected and the number of downloads via Facebook referral.
Using these same strategies, complete the given fields until the plan is complete. The idea is to create a concise and simple plan, yet cover all the necessary topics.
You can download our full template here – Content Promotion Channel Plan XLSX
Once your channel plan is created, it's time to create your social media editorial schedule. More on that in my next post, where I'll show you how to auto-populate your social media calendar inside the same Google Docs spreadsheet as your website editorial calendar.
---
---
✉️ Get an email when we publish new content:
Don't worry, we won't bug you with junk. Just great content marketing resources.
---
Ready To Try
Content Harmony?
Get your first 10 briefs for just $10
No trial limits or auto renewals. Just upgrade when you're ready.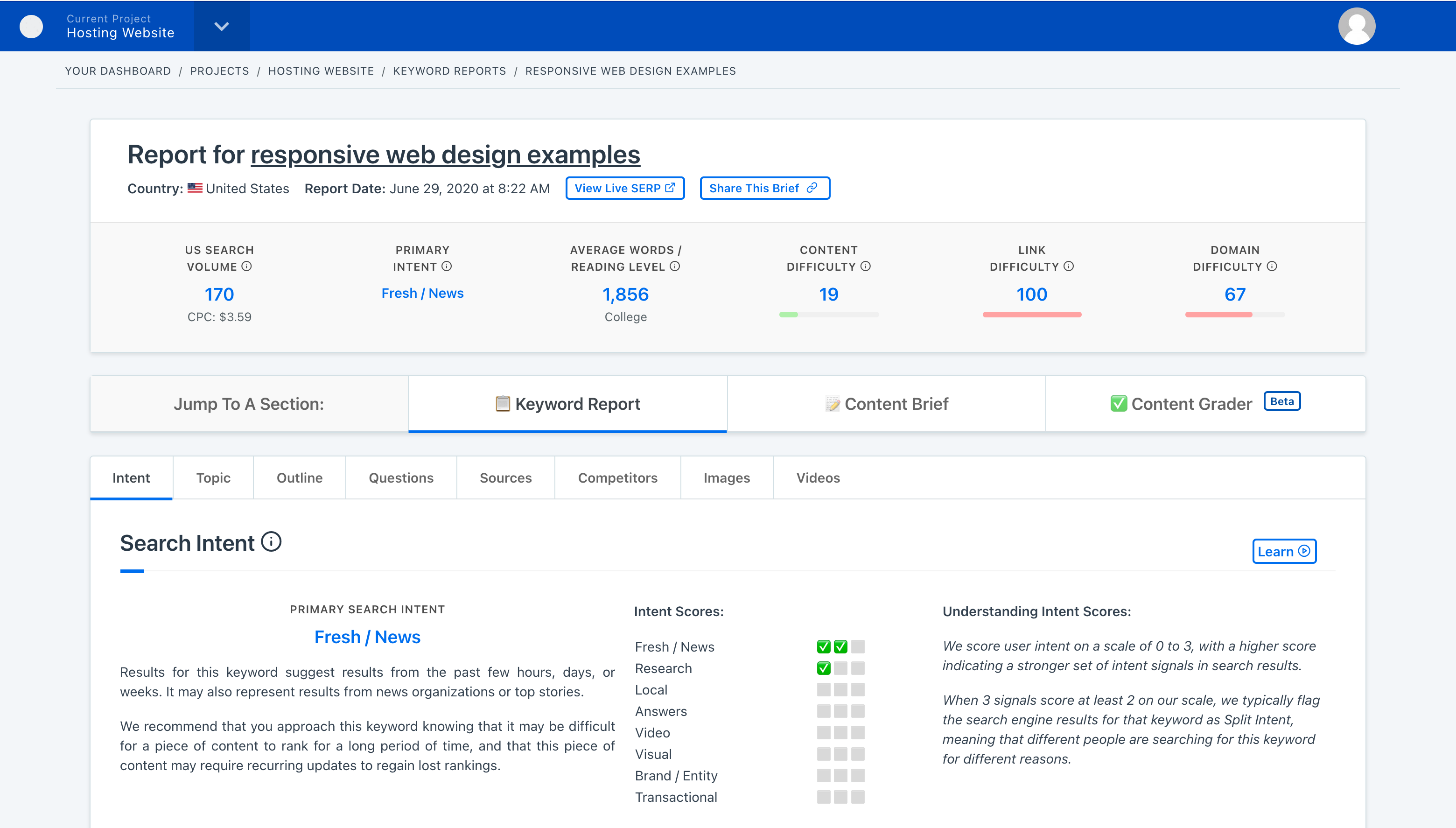 ---