We're back again this year with our favorite quotes from every MozCon speaker. Choose a speaker below to see their quote images, each of which is perfectly sized for Twitter sharing.
Notice something we missed?
Please email info@contentharmony.com or tweet @kanejamison and we'll get it added!
Speakers – we've done our best to quote you accurately – please let us know if we can improve any of these quotes to better reflect your presentation.
One final note – all of these images have a Creative Commons w/ Attribution (CC BY-SA 4.0) license. Please feel free to use them on blog posts, slides, etc., but please link back to this post for attribution. Let us know if you use them and we'd be happy to share your content. Thanks!
Day One
Rand Fishkin
Kerry Bodine
Lindsay Wassell
Richard Millington
Kyle Rush
Cindy Krum
Mike Ramsey
Lexi Mills
Mike King
Day Two
Pete Meyers
Stacey Cavanagh MacNaught
Mark Traphagen
Stephanie Beadell
Zeph Snapp
Justin Briggs
Marshall Simmonds
Jeremy Bloom
Justin Cutroni
Elizabeth Marsten
Phil Nottingham
Day Three
Wil Reynolds
Paddy Moogan
Sarah Bird (Interviewed by John Cook)
Richard Baxter
Annie Cushing
Dana DiTomaso
Nathalie Nahai
Rand Fishkin
---
Day One
Rand Fishkin – Welcome to MozCon 2014!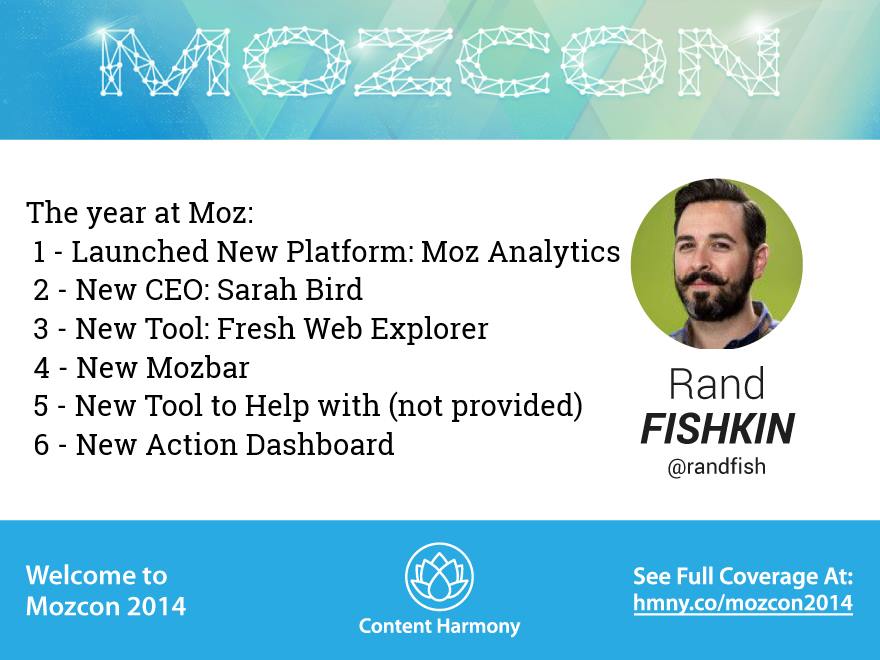 Kerry Bodine – Broken Brand Promises: The Disconnect Between Marketing & Customer Experience
Lindsay Wassell – Improve Your SEO by Mastering These Core Principles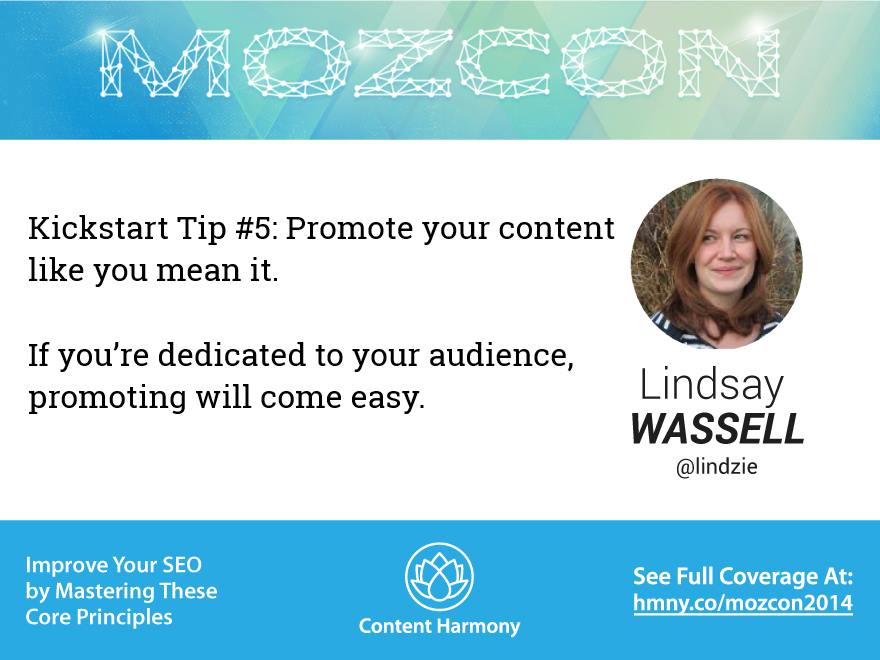 Richard Millington – How to Use Social Science to Build Addictive Communities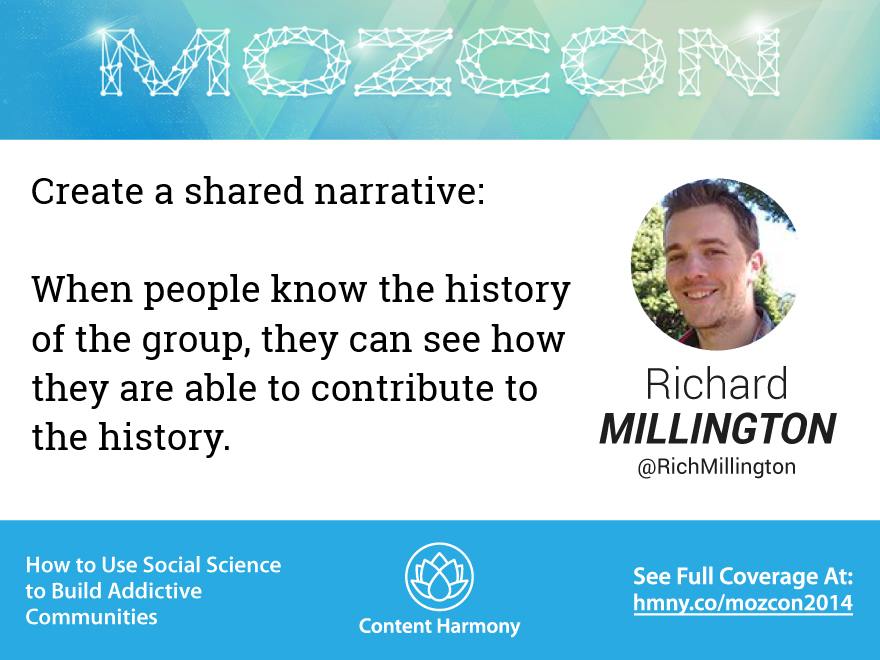 Kyle Rush – Architecting Great Experiments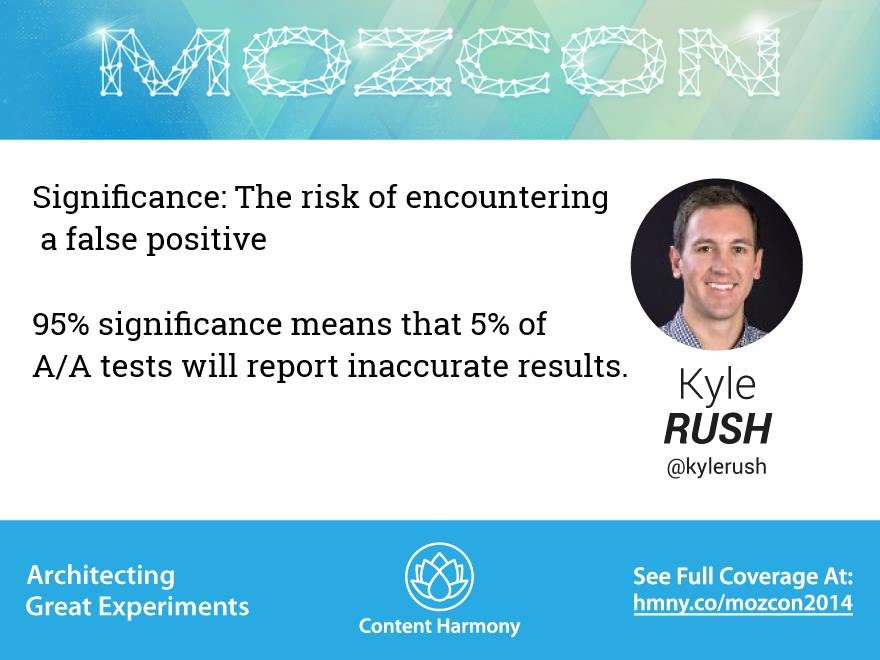 Cindy Krum – Mobile SEO Geekout: Key Strategies & Concepts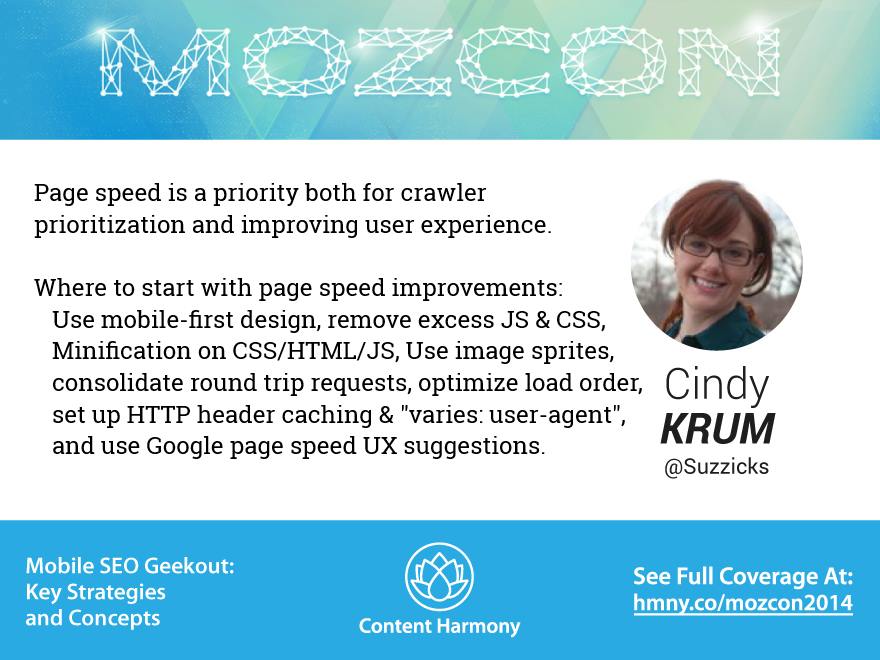 Mike Ramsey – Local Lessons From Small Town USA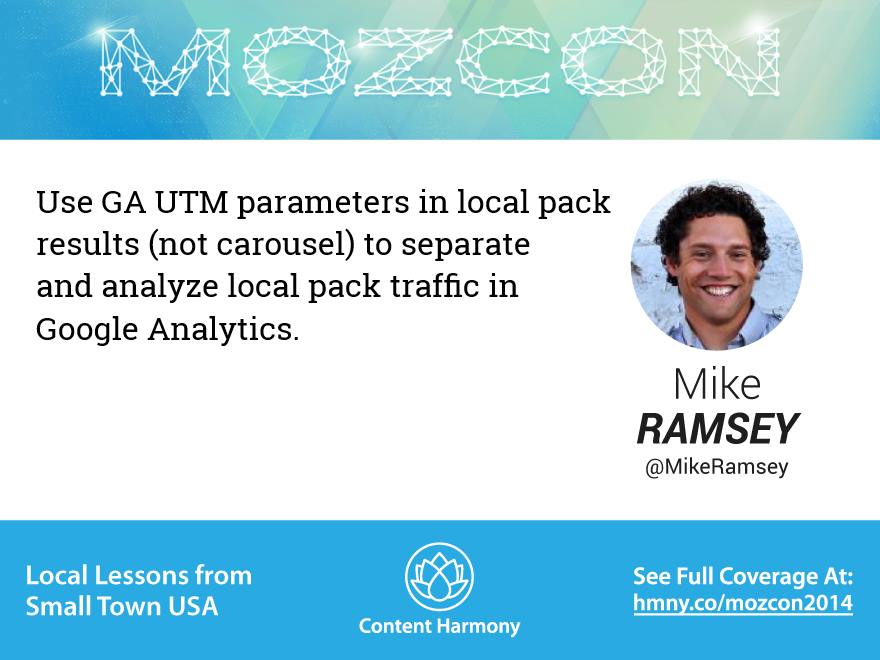 Lexi Mills – Top 10 PR Tactics & Strategies of Successful Content & Link Building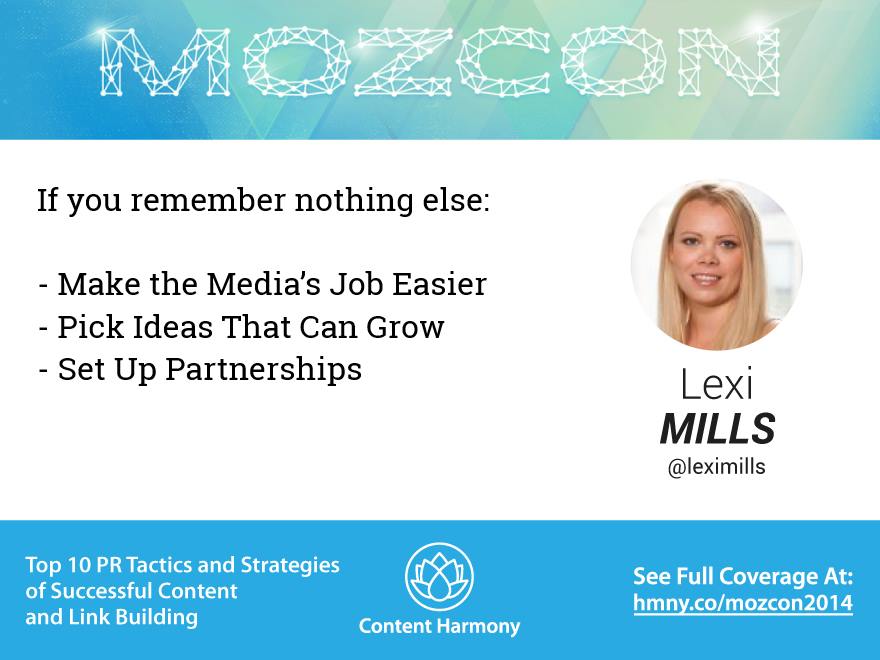 Mike King – Digital Body Language
We don't have any of Mike's slides. Check out https://www.contentharmony.com/blog/mozcon-2014-tools/#user-research-tools for the huge list of tools and API's he shared, and go to ipullrank.com/quantum-leads to learn about the tool he's offering for free.
Day Two
Pete Meyers – How to Never Run Out of Great Ideas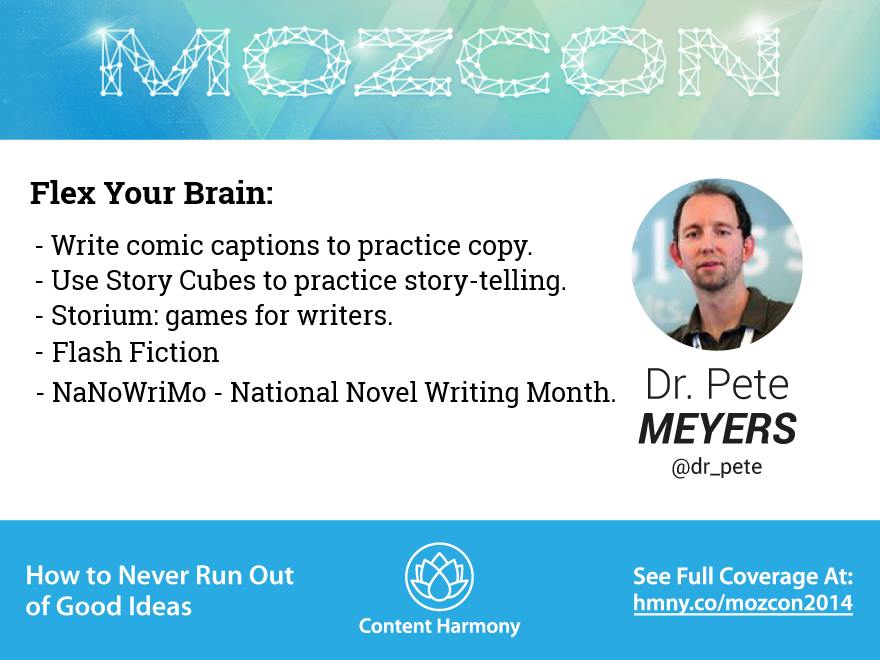 Stacey Cavanagh MacNaught – Scaling Creativity: Making Content Marketing More Efficient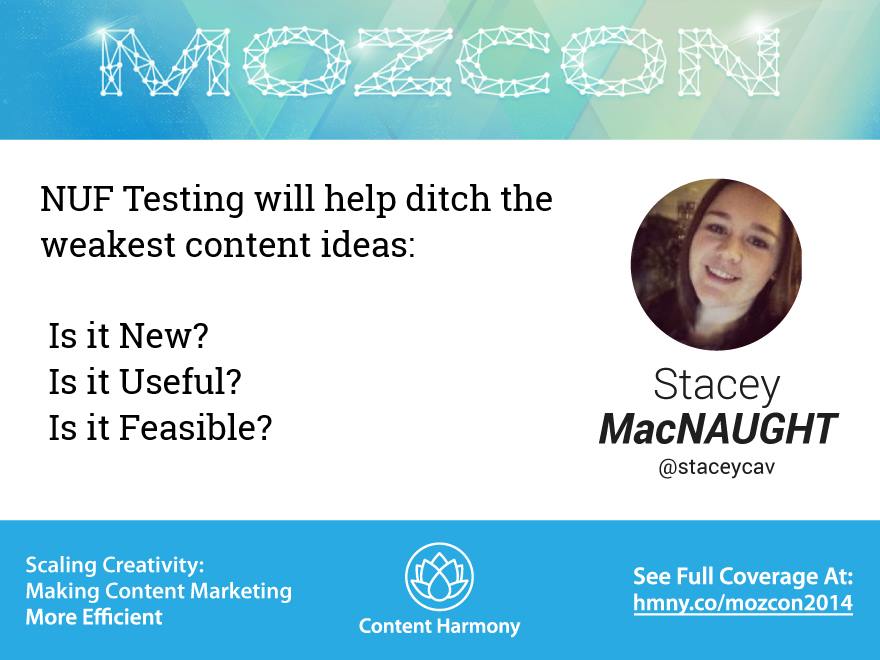 Mark Traphagen – Google+ Game of Thrones: Claiming Your Kingdom for Brand Dominance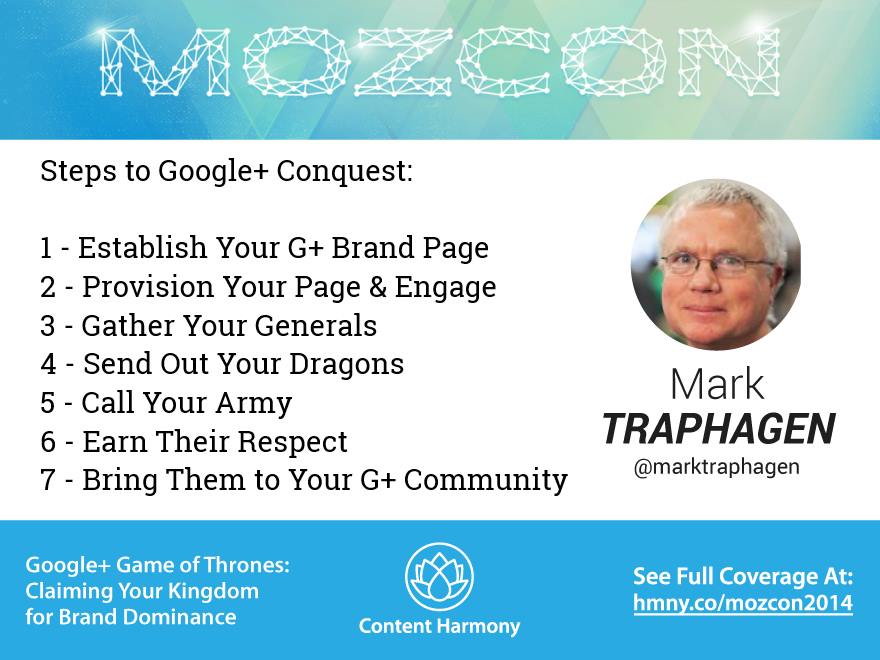 Stephanie Beadell – Bad Data, Bad Decisions: The Art of Asking Better Questions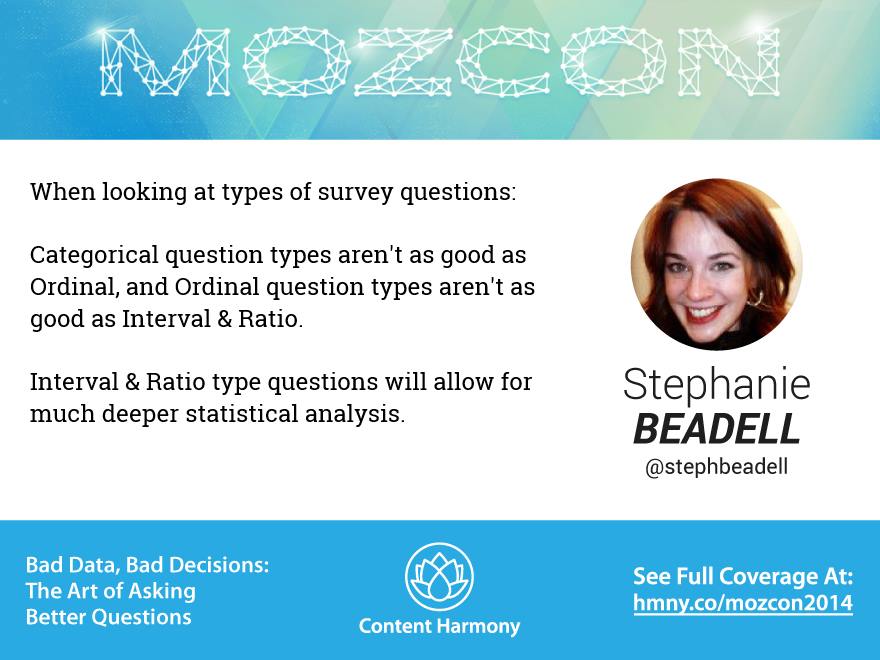 Zeph Snapp – More Than Words: Localizing Your International Content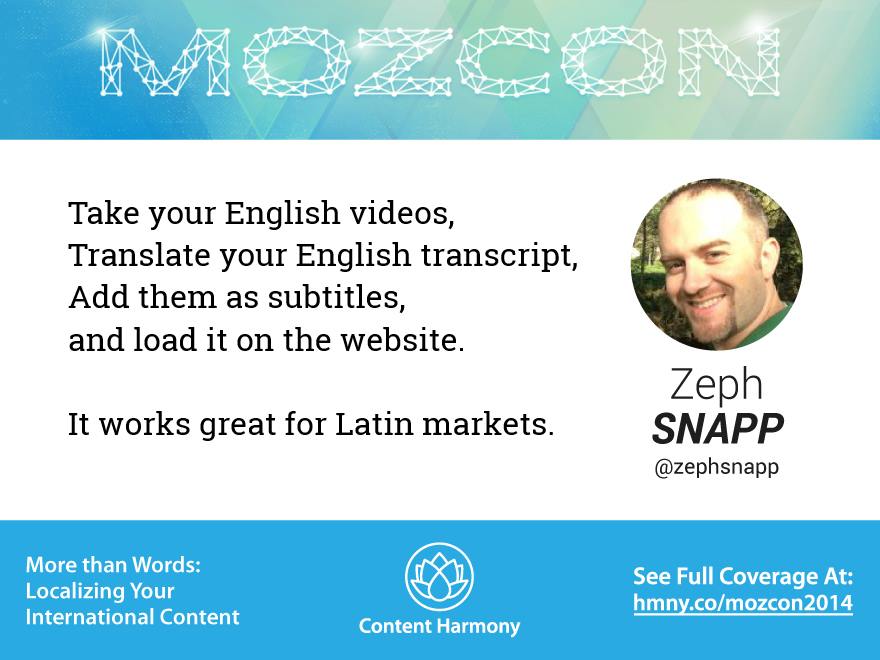 Justin Briggs – Talking Back to Conversational Search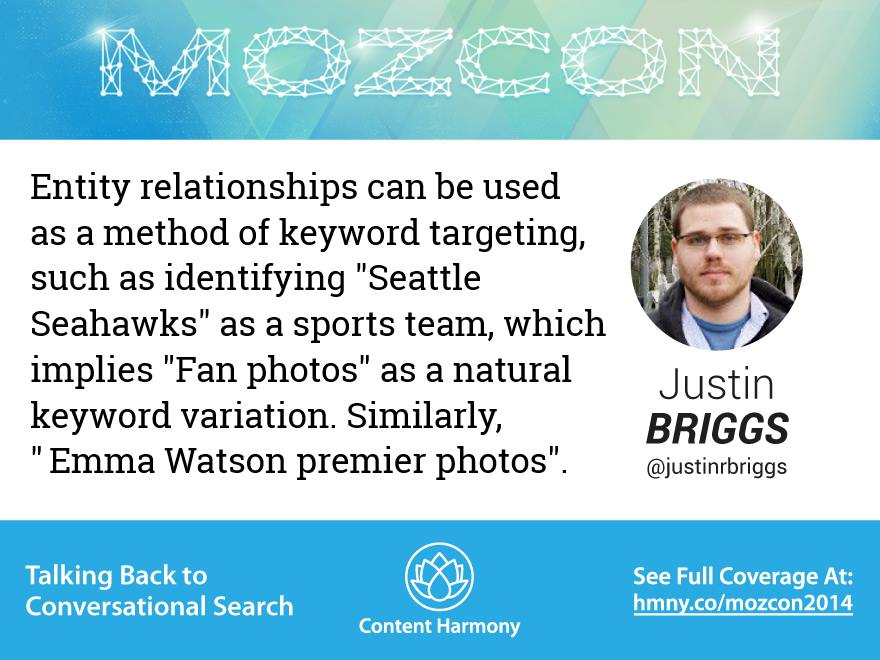 Marshall Simmonds – Keep the Focus on the Doughnuts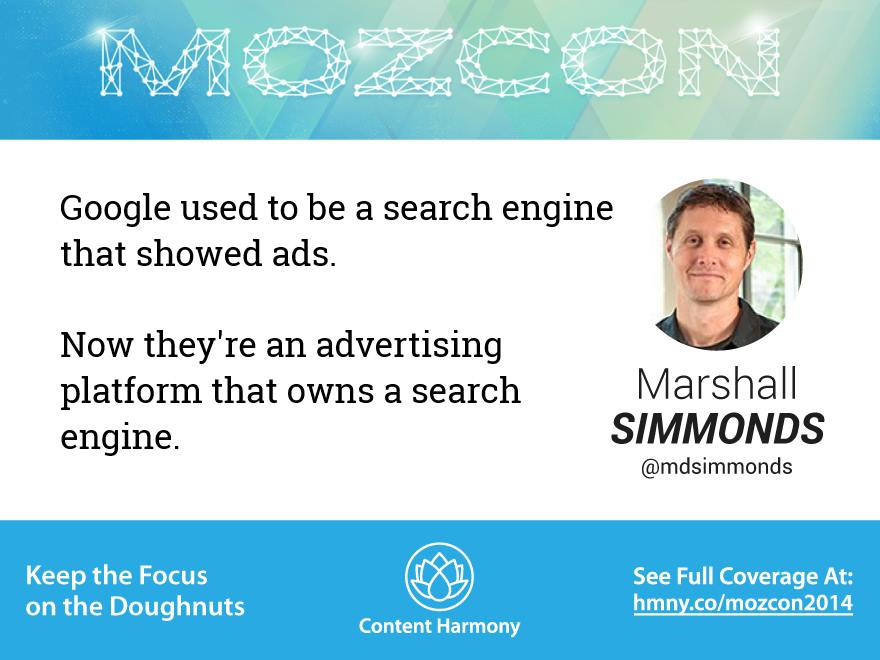 Jeremy Bloom – Dare to Fail: How the Best Lessons Come in the Form of Defeat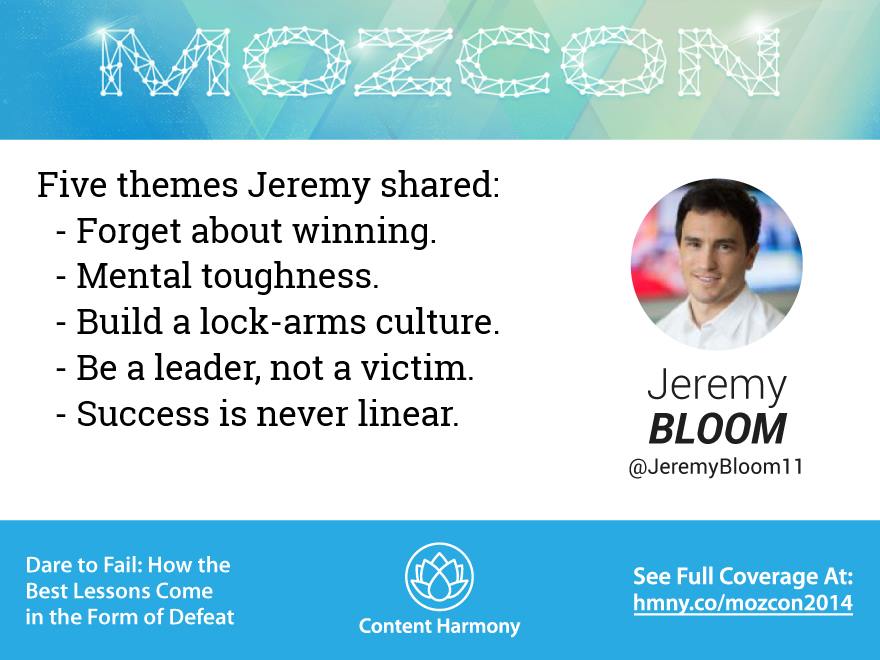 Justin Cutroni – Supercharging Your Digital Analytics!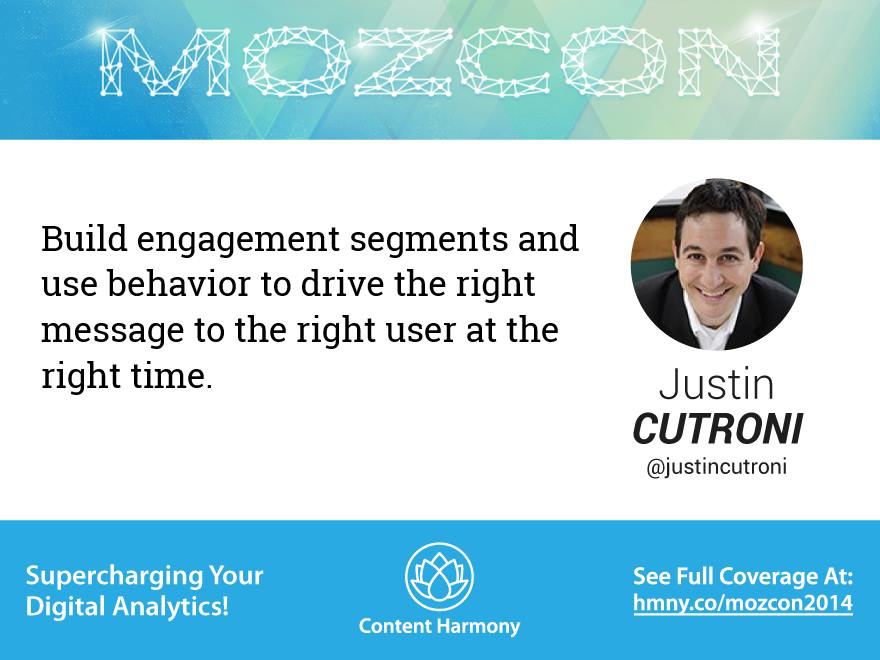 Elizabeth Marsten – Shop 'til You Drop: Google Shopping PPC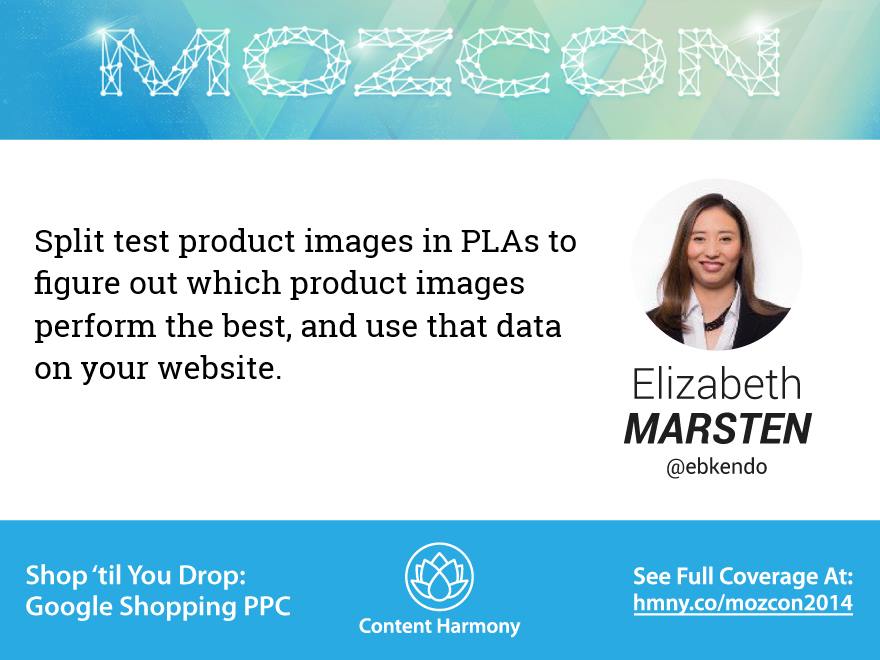 Phil Nottingham – YouTube: The Most Important Search Engine You Haven't Optimized For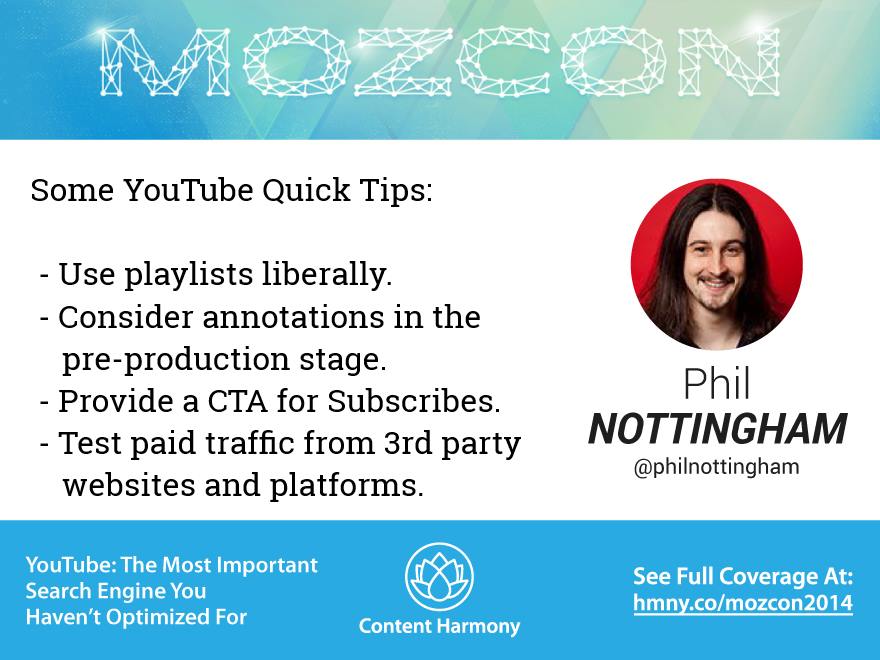 Day Three
Wil Reynolds – You Are So Much More Than An SEO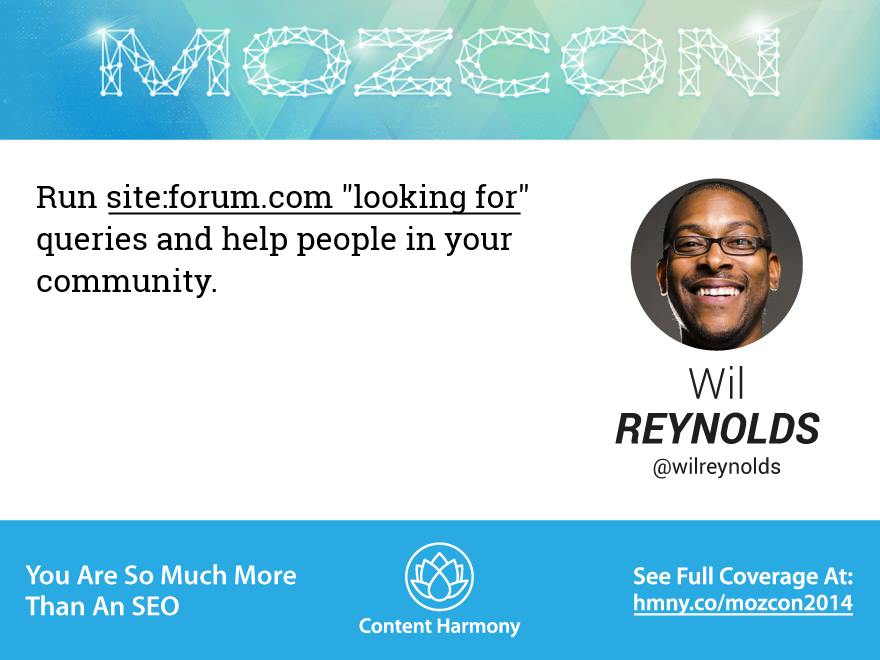 Paddy Moogan – Beyond SEO: Tactics for Delivering an Integrated Marketing Campaign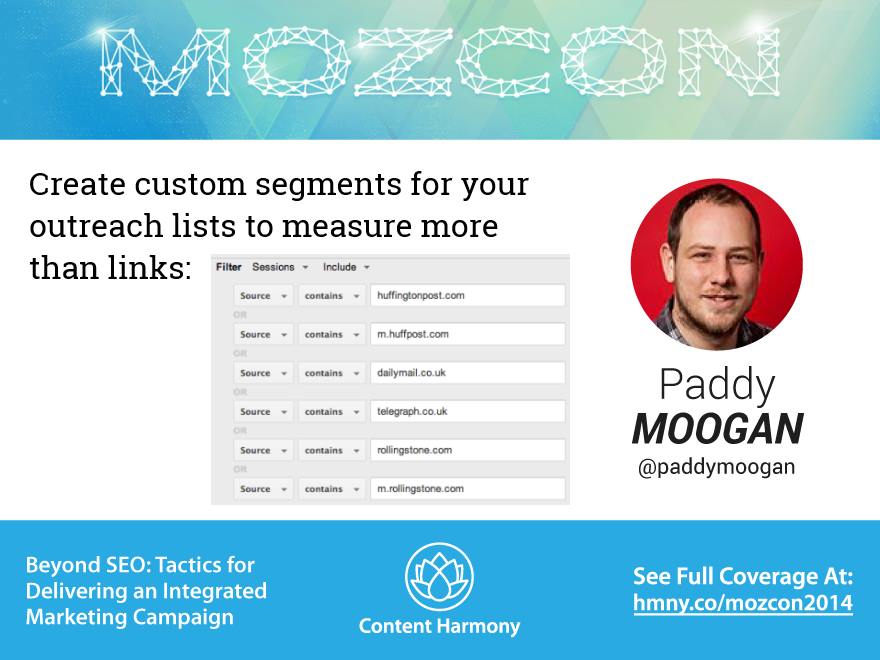 Sarah Bird (Interviewed by John Cook) – A Mozzy View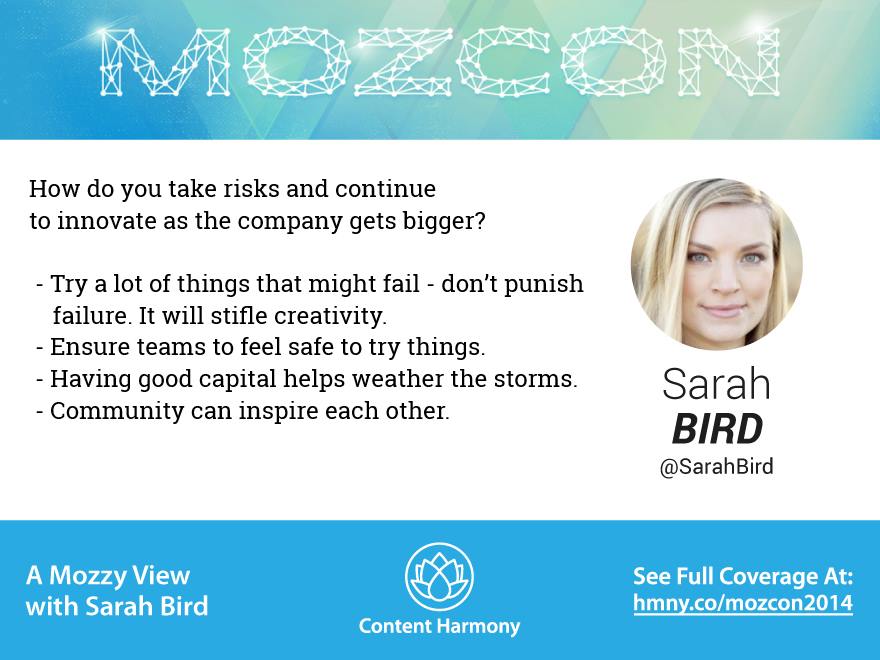 Richard Baxter – Developing Your Own Great Interactive Content – What You'll Need To Know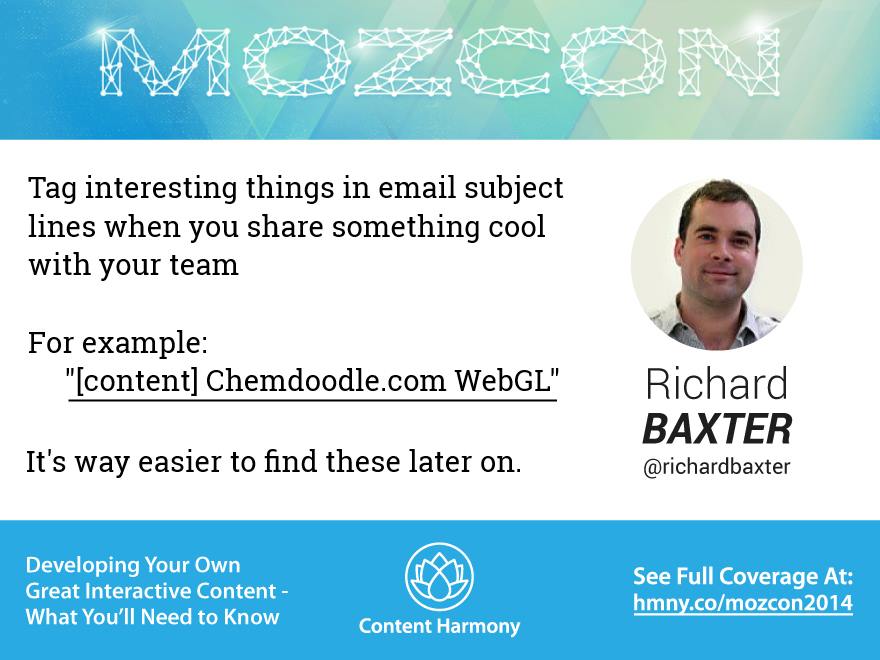 Annie Cushing – Demystifying Data Visualization for Marketers
OK… So Annie covered some technical stuff that was hard for me to "quote" despite how great it was, and I had to leave the room for a bit, so we're gonna get back with some images here soon!
Dana DiTomaso – Prove Your Value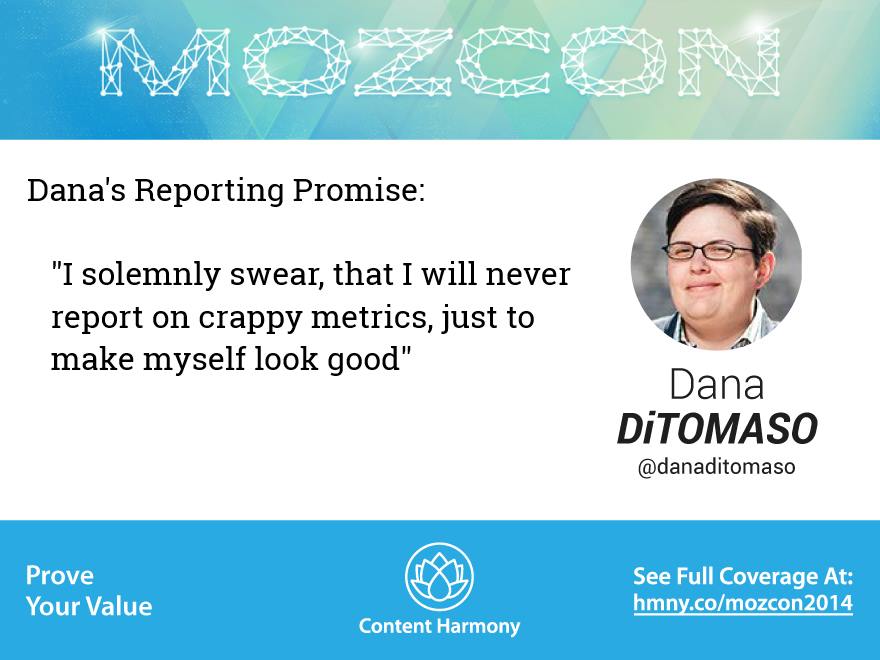 Nathalie Nahai – The Psychology of Persuasive Content for "Boring" Industries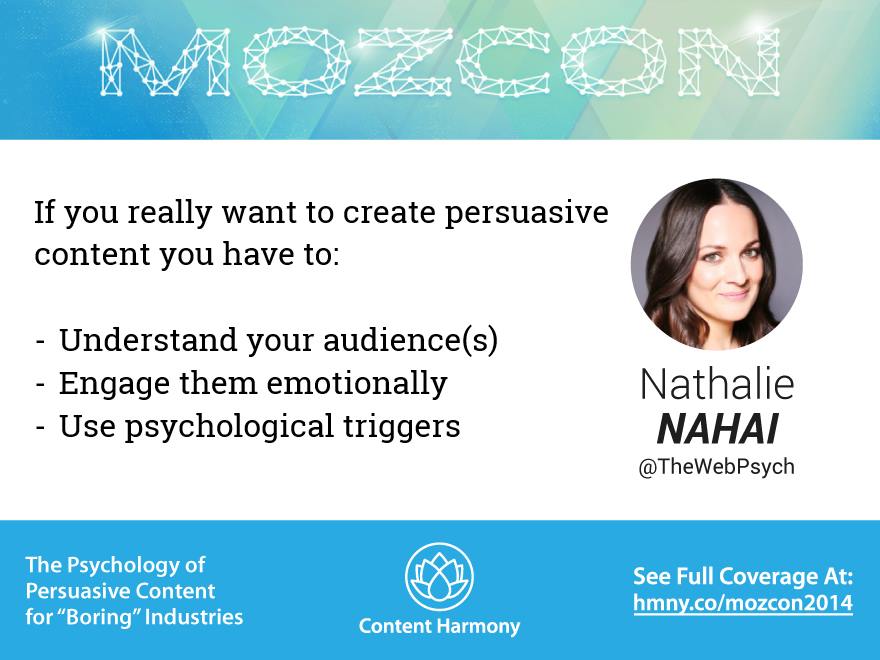 Rand Fishkin – Mad Science Experiments in SEO & Social Media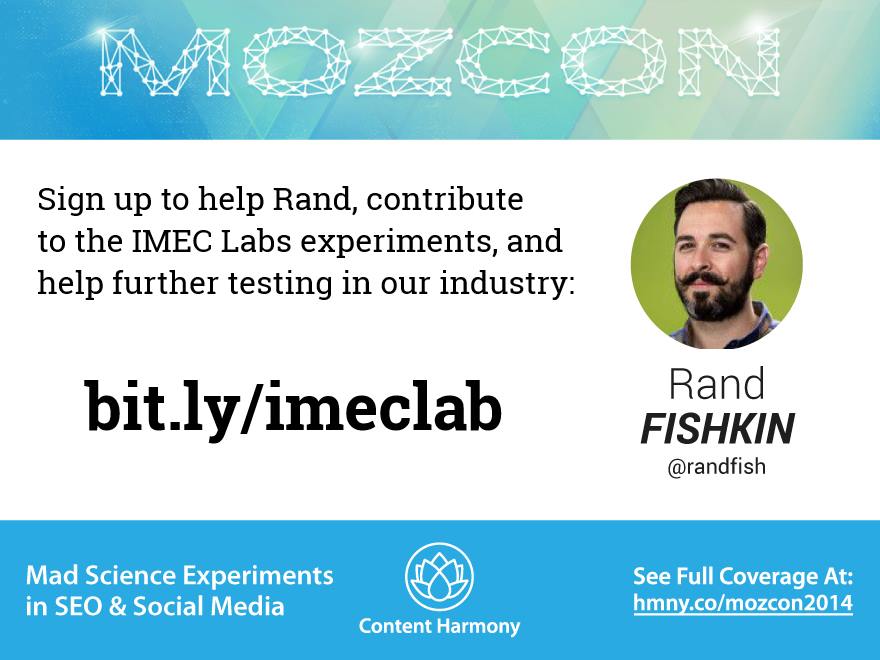 ---
---
✉️ Get an email when we publish new content:
Don't worry, we won't bug you with junk. Just great content marketing resources.
---
Ready To Try
Content Harmony?
Get your first 10 briefs for just $10
No trial limits or auto renewals. Just upgrade when you're ready.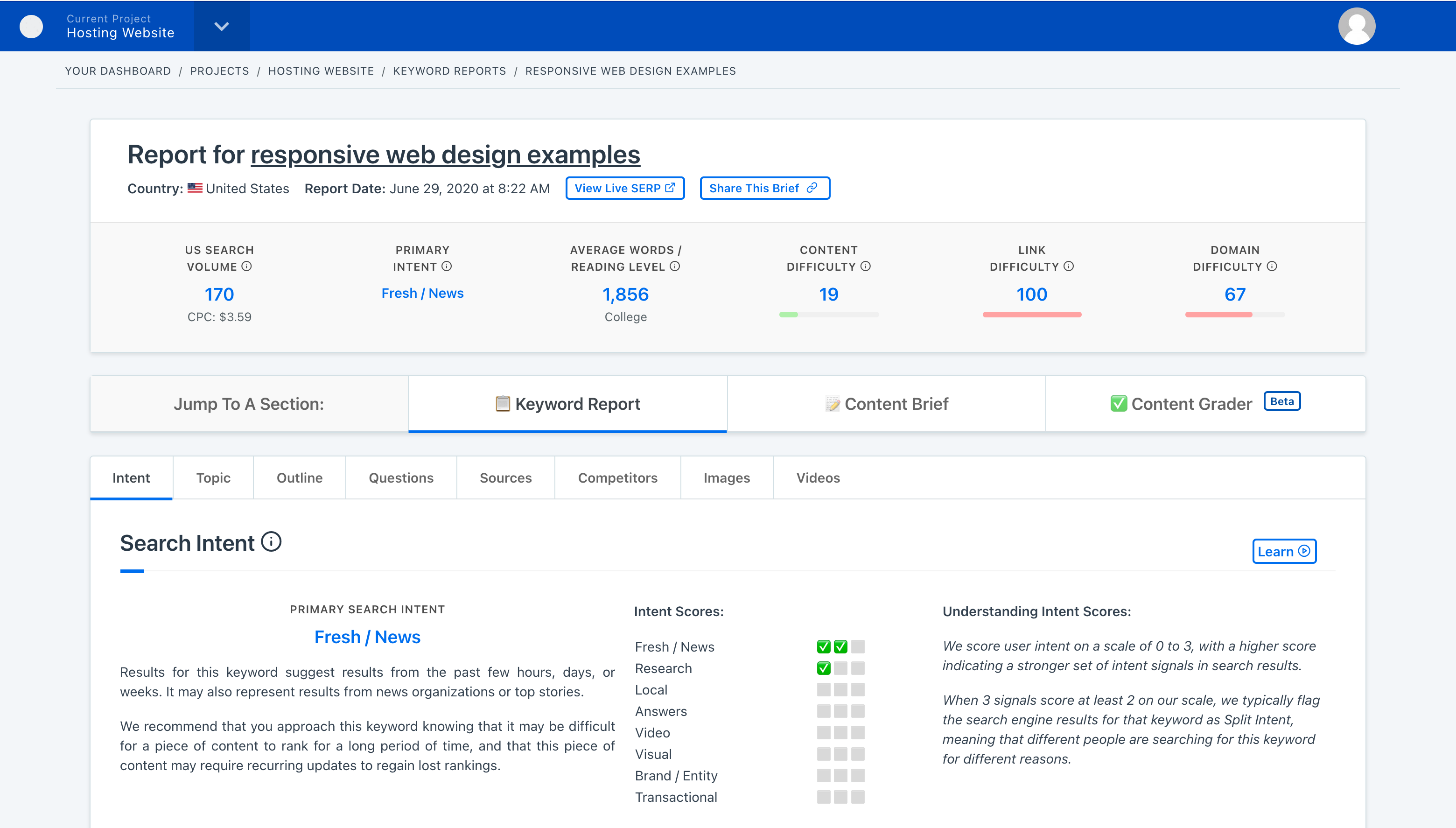 ---