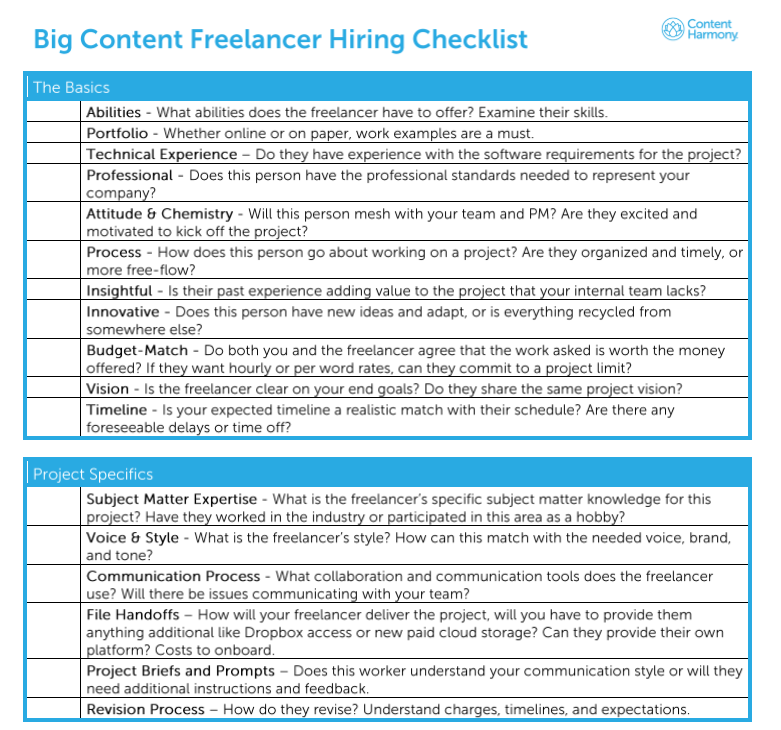 Over the past 10 years we've found that hiring freelance contributors for big content projects requires asking a lot of questions.
On top of that, our freelance hiring mistakes typically occur when we forget to ask questions we were already aware we should have asked. This has applied across the board for freelance writers, freelance graphic designers, and freelance programmers and web developers.
So what's a project manager to do? Build a checklist!
DOWNLOAD PDF OR DOCX VERSIONS HERE.
The Basics To Cover With All Freelancers
Abilities – What abilities does the freelancer have to offer? Examine their skills.
Portfolio – Whether online or on paper, work examples are a must.
Technical Experience – Do they have experience with the software requirements for the project?
Professional – Does this person have the professional standards needed to represent your company?
Attitude & Chemistry – Will this person mesh with your team and PM? Are they excited and motivated to kick off the project?
Process – How does this person go about working on a project? Are they organized and timely, or more free-flow?
Insightful – Is their past experience adding value to the project that your internal team lacks?
Innovative – Does this person have new ideas and adapt, or is everything recycled from somewhere else?
Budget-Match – Do both you and the freelancer agree that the work asked is worth the money offered? If they want hourly or per word rates, can they commit to a project limit?
Vision – Is the freelancer clear on your end goals? Do they share the same project vision?
Timeline – Is your expected timeline a realistic match with their schedule? Are there any foreseeable delays or time off?
Project Specifics To Cover With All Freelancers
Subject Matter Expertise – What is the freelancer's specific subject matter knowledge for this project? Have they worked in the industry or participated in this area as a hobby?
Voice & Style – What is the freelancer's style? How can this match with the needed voice, brand, and tone?
Communication Process – What collaboration and communication tools does the freelancer use? Will there be issues communicating with your team?
File Handoffs – How will your freelancer deliver the project, will you have to provide them anything additional like Dropbox access or new paid cloud storage? Can they provide their own platform? Costs to onboard.
Project Briefs and Prompts – Does this worker understand your communication style or will they need additional instructions and feedback.
Revision Process – How do they revise? Understand charges, timelines, and expectations.
Rates and Contract Details To Discuss With All Freelancers
Rates – Hourly Rate vs Set Fee vs Per Word?
Timeline – Payout milestones? Early Completion Incentives? Late Completion Penalties?
Tax Considerations – (I-9, W2, Non-citizen)
Invoice Guidelines – Who sends the bill to who and when?
Authorship – Will the freelancer have rights to use the materials in their portfolio?
Payment Terms – Upon completion / upon approval / pay-when-paid.
Freelance Hiring Checklist for Specific Roles
Freelance Writer Hiring Checklist
Interest – Good writing comes from knowledge and insight. Is the writer interested in learning more about your company and client?
Research – Writers who don't research properly will only give you fluff.
Sourcing & Citations – Do they properly cite sources in their portfolio entries?
Accuracy – "Their" does not mean "there", and direct quotes must be verbatim.
Spelling & Grammar – What is their editing process? Any issues with their portfolio entries?
Software – How will collaboration occur? MS Word Track Changes, or Google Docs comments?
Versatility – Do you only need technical writing, or do you also want conversational blog posts? Hire copywriters or journalists to meet the exact specifications of your project.
Nickel & Diming – If word count seems like a bigger priority than telling a complete story, it's obvious this person's priorities lie elsewhere.
Copyright – Discuss who will own the completed work, and what right the writer may have in using this for their own use or portfolio.
Authorship – Is the writer allowed to attach a byline or bio? Will they be a named author?
Graphic Designer Specifics
Software – Do they know Adobe Photoshop and Adobe Illustrator?
Research – Is the designer able to go elsewhere to get background on the image? Can they supplement things on their own?
Base Materials Rights & Budget – Does this designer have a stock of vectors and free-share images to work with? Will they be creating everything from scratch or need budget for design assets? Can they provide licensing documentation for any stock assets used in the project?
Spelling & Grammar – Even with limited text, spelling and accuracy matter.
File Exchange – Graphics take up a lot of space. How will these be shared and submitted?
Copyright & Authorship – Discuss who will own the completed work, and what rights the designer may have in using this for their own use or portfolio.
Questions – Are they the type of person who will ask if they don't have a clear understanding? Are they comfortable with the guideline materials that your team is able to provide?
Freelance Web Developer Specifics
Coding – Are they experienced with the CMS and other software for the project? Consider using services like testdome.com or codility.com that run programming skill assessments.
Mobile & Responsive – Have they worked with the mobile format used by the project?
Translation – Engineering and creative backgrounds don't always speak the same language. How good is the person at translating between tech and non-tech requests?
Comprehensive Design – Quality web design requires more than a pretty looking page. What is this person's understanding of Information Architecture, SEO, and Usability?
Scope – For the sanity of everyone, discuss scope in depth.
Updates – Websites need to managed and updated. Will this developer be open to ongoing work? If not, what are his or her plans to make the hand-off accessible to others?
Design Prompts – What level of work needs to be done beforehand? Will this person need an operational wireframe, or can they work from sketches and written or verbal descriptions?
Looking for other resources for hiring web designers?
Check out my presentation on "What To Expect When You're Expecting A Website: The website owner's guide to hiring a web designer".

---
---
✉️ Get an email when we publish new content:
Don't worry, we won't bug you with junk. Just great content marketing resources.
---
Ready To Try
Content Harmony?
Get your first 10 briefs for just $10
No trial limits or auto renewals. Just upgrade when you're ready.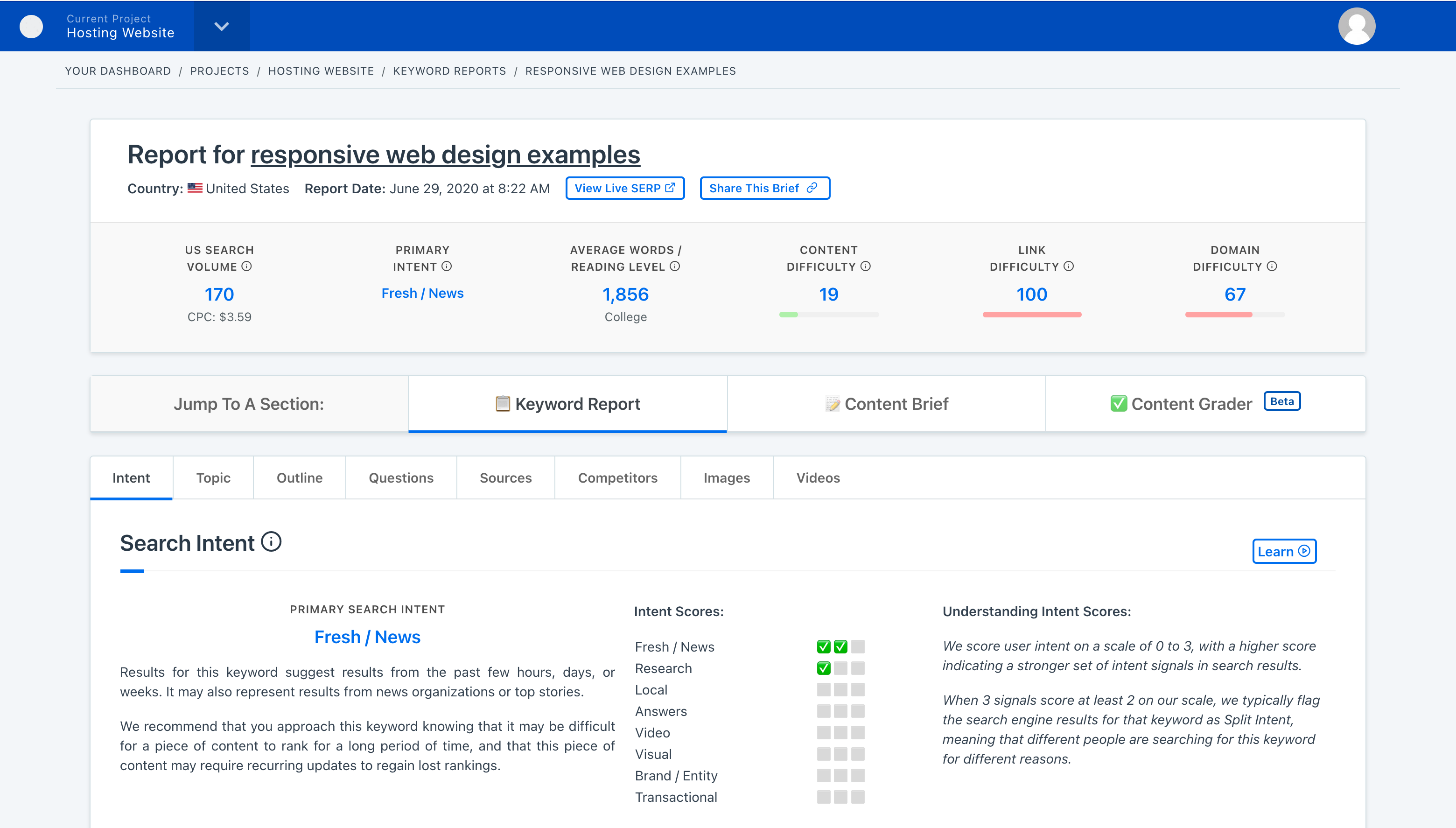 ---