Instagram is one of the most popular social media platforms worldwide. It has 500 million monthly users and counting, and is especially prevalent among millennials and younger people.
Fifty-five percent of all the 18- to 29 year-olds online in the United States use the app, followed by 28% of people who are 30 to 49 years old. Among teens 13 to 17 years-old, 17% of boys and 23% of girls are on Instagram.
Businesses large and small are utilizing Instagram for marketing purposes. Among the top brands, the platform has an 85% adoption rate. These brands are experiencing a 4.21% per-follower engagement rate, which is 58 times higher than that of Facebook, and 120 times higher than Twitter's.
The photo-sharing platform is an excellent way for e-commerce companies to showcase their products and entice customers to check out their websites. They can also use it to link up with customers on a more personal basis, and boost brand awareness in general.
If you're attempting to make more sales through social media, Instagram should be a big part of your strategy. If you're already on the site but not generating the desired results, it may be time to revisit your marketing plan and modify how you're utilizing the app.
The following are a few ideas for e-commerce marketing on Instagram whether you're just getting started or you want to improve your conversion rates.
1. Create A Lifestyle Look Through Your Collection of Photos
Your demographic wants to see themselves reflected on your Instagram page. Or, they want to see images of a lifestyle they're trying to achieve. Your brand appeals to a certain type of person, and your photos should highlight your audience's current way of living or desired lifestyle.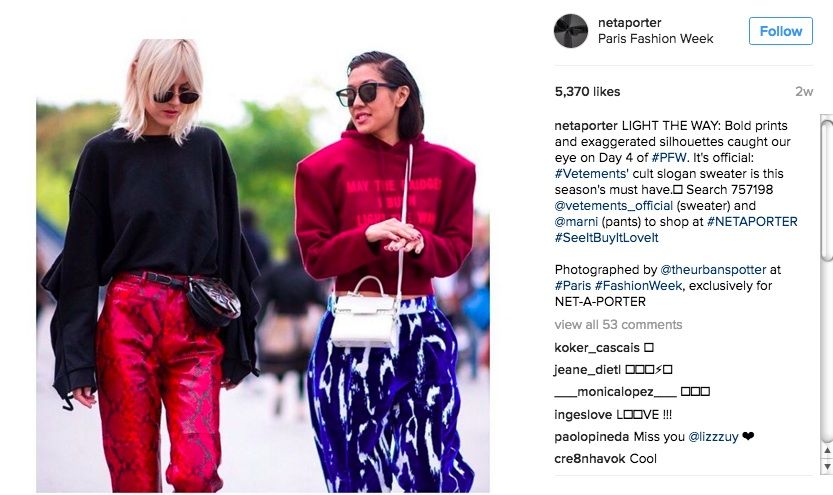 Luxury fashion store NET-A-PORTER uses their Instagram, which has 2.4 million followers, to curate a specific luxury lifestyle look. They post photos of women wearing their high-end clothes and jewelry in urban locations like New York City and Paris. There are photos from runways around the globe and ones of celebrities popular in the luxury niche like Victoria Beckham and Alicia Vikander. Whether their followers are part of the 1% or aim to be, the NET-A-PORTER Instagram provides inspiration for their followers.
2. Repost Your Customers' Photos
Customers will hashtag or @ your brand on Instagram, and it's your job to keep track of these mentions. These are likely your most loyal customers. To keep them interested in your company and encourage them to promote you in the future, give them some recognition on your own account.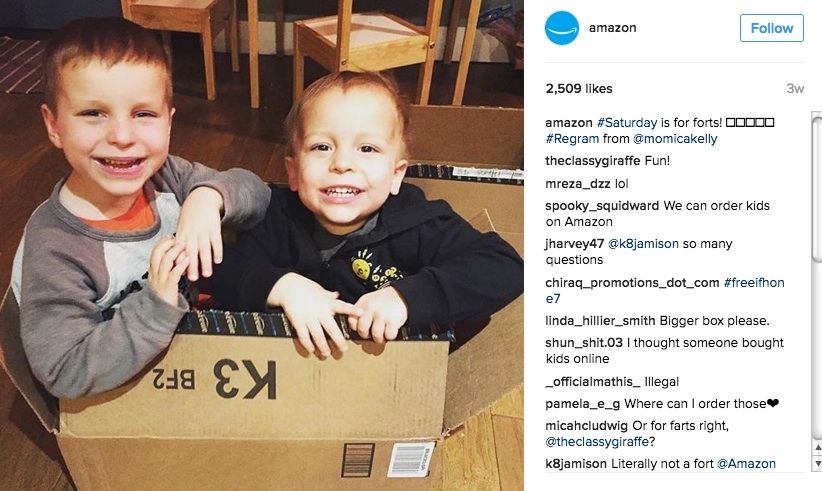 For example, Amazon recently reposted a photo of a customer's children hanging out in an Amazon box. The company, which has 690k followers, tagged it "#Saturday is for forts!" and shouted out to the customer @momicakelly. This photo sparked a lot of positive conversation among followers, and gave @momicakelly a reason to stay connected with the brand.
3. Show A Behind the Scenes View of Your Company
Humanizing your brand is crucial. Posting photos of your staff, the dogs in your office, shots of the neighborhood where your office is located, and staff members using your products is going to give customers a glimpse into the personalities and quirks that make your company unique. It shows that you're not just trying to sell them products; you also want to converse with them on a personal level.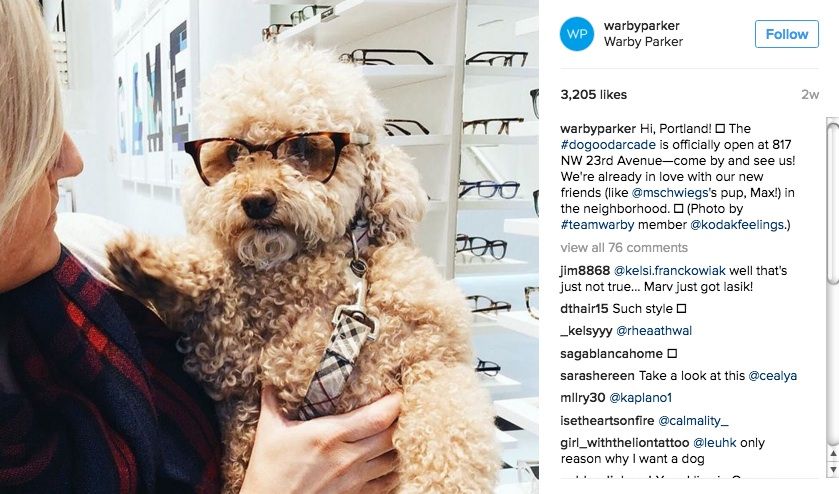 An e-commerce store doing this right is Warby Parker, which has 276k followers on the app. On the Warby Parker Instagram, there are photos of tree-lined streets around the company's headquarters, pictures of the staff enjoying the glasses they sell, and photos of dogs wearing the brand's glasses. They tag posts with the handle of the team member who took the shot as well to give it an extra personal touch.
4. Use Images of Pop Culture References
You know who your target demographic is. By posting photos of celebrities and images from movies and TV shows your audience loves, you're going to draw them into your brand. They're going to relate to your brand on a deeper level and follow you on the platform to get their dose of their favorite pop culture references.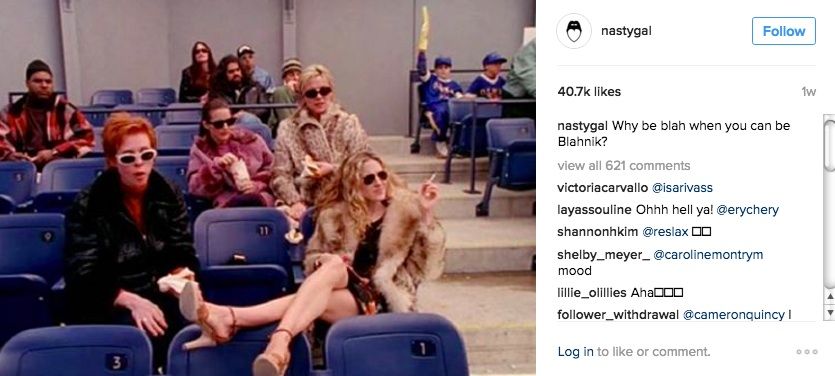 One e-commerce brand that has mastered this art is clothing retailer Nasty Gal, which has 2.2 million followers on Instagram. They post photos of Alicia Silverstone, cast members from "Beverly Hills, 90210," and screenshots from movies like "The Addams Family" and "What's Eating Gilbert Grape." These are movies, TV shows, and celebrities that their target audience, millennials, grew up with and cherish. It's no surprise that the typical post gets thousands of likes for this very reason.
5. Include Relevant – *and Active* – Hashtags Within Your Posts
Along with high-quality images, you'll also need to incorporate hashtags that relate to your photos within your posts. You should start unique hashtags only for your brand, as well as utilize ones that are already popular. To find hashtags that are being used, do a search in Instagram and look at other accounts that your customers are following. Leap onto a popular hashtag to get people to visit your page.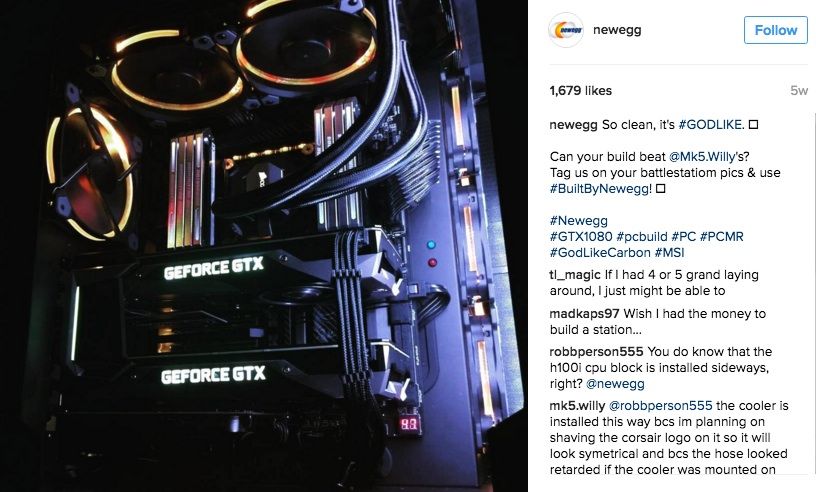 Electronics e-commerce store Newegg has 65.4k followers and uses its brand hashtag #newegg. Each picture will include specific hashtags like #GTX1080 #pcbuild #PC #PCMR #GodLikeCarbon #MSI, which relate to the image at hand and get people taking about their products.
The important thing is to use active hashtags that people regularly browse for photos, to make sure there's a chance of them being seen.
6. Inspire Your Followers With Images and Quotes
People will follow certain brands on Instagram because they love their products. Others simply want to see inspirational content and images in their feeds that make them stop, think, and reflect upon their lives. Your account should provide followers with some thought-provoking posts that will break up the monotony of their feeds.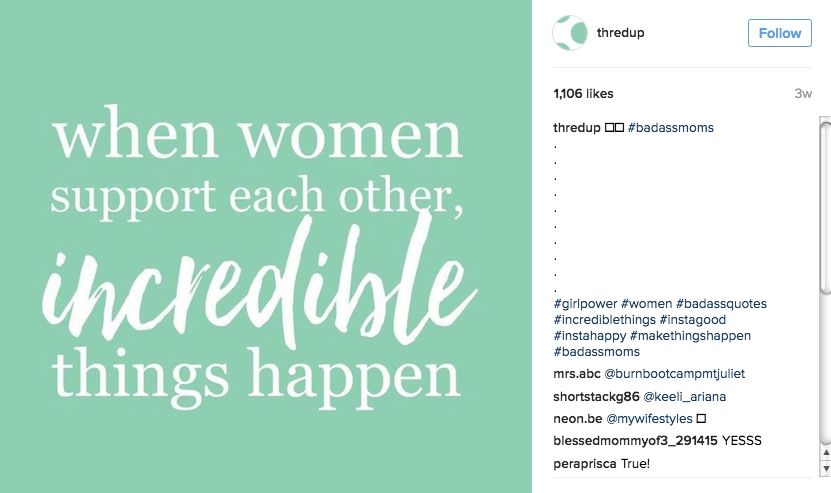 You can take a cue from thredUP, an online store that sells secondhand clothes and has 69.6k Instagram followers. Using the hashtag #badassmoms to attract their demographic, they post inspirational quotes and photos for mothers. They also showcase customers and their families, bringing a humanizing aspect to the brand.
7. Give Context To Your Products
Customers can't always look at a picture of a product on Instagram and automatically know how they'll use it in their own lives. Since these products are exclusively online, brands have to work that much harder to get customers to purchase from them. Brands have to sometimes do the work for the customers and show where products can fit into their everyday environments and routines.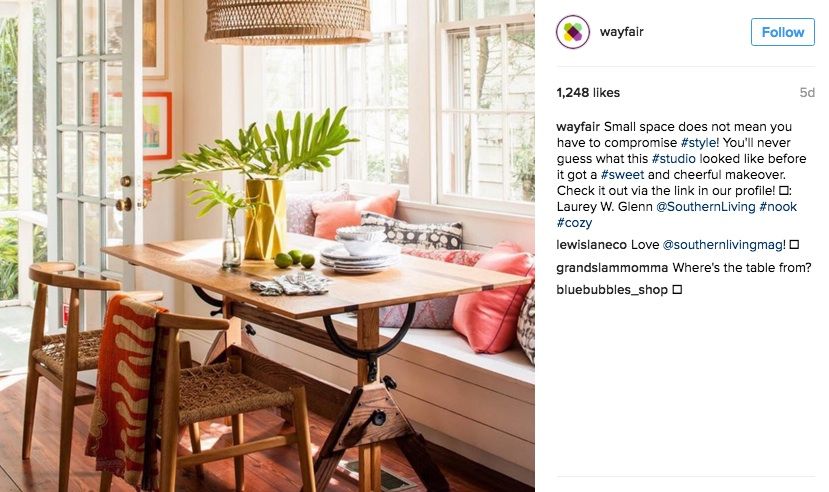 Online furniture retailer Wayfair does this perfectly. The company has 215k followers on Instagram and puts its products into living rooms, dining rooms, kitchens, and other spaces. By doing this, they're showing how products can complement one another and how they can spruce up your home. Customers may not have any visualization or home decorating skills; Wayfair is showing them that they've got these customers covered.
8. Hold Contests For Your Followers
Customers want to feel as if they're part of your brand narrative. If they are engaging with you on Instagram through commenting on and liking your posts, as well as hashtagging your brand on their own account, you should figure out more ways to include them on your page. A great way to do this and generate additional content for your brand at the same time is to host a photo contest.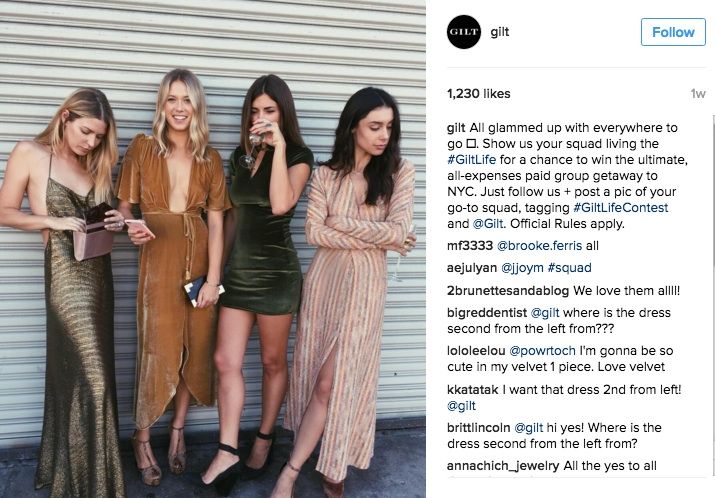 Gilt, an online retailer that does flash sales, recently posted up a call for submissions for a contest. The brand, which has 97.4k followers on Instagram, asked for customers to post photos with their friends. If customers hashtag the photos with #GiltLife, they're entered into a contest where they will receive an all-expenses paid group getaway to New York City.
Instagram is only going to keep growing and providing more ways for brands to connect with their customers. It's time to use it to grow your audience and build a following for your e-commerce store.
Have you used Instagram for marketing purposes? Let us know your most successful methods in the comments section below.
---
---
✉️ Get an email when we publish new content:
Don't worry, we won't bug you with junk. Just great content marketing resources.
---
Ready To Try
Content Harmony?
Get your first 10 briefs for just $10
No trial limits or auto renewals. Just upgrade when you're ready.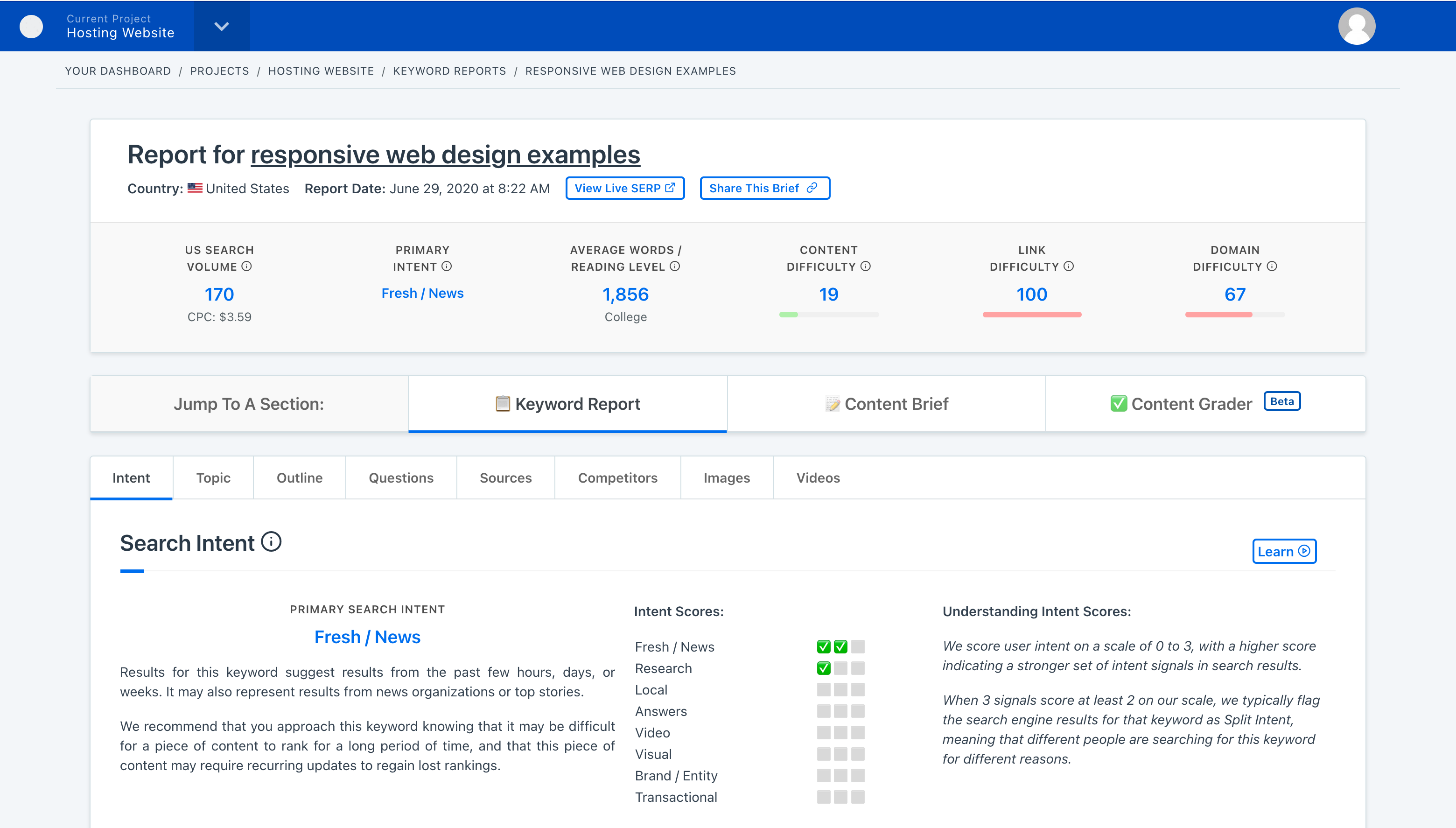 ---