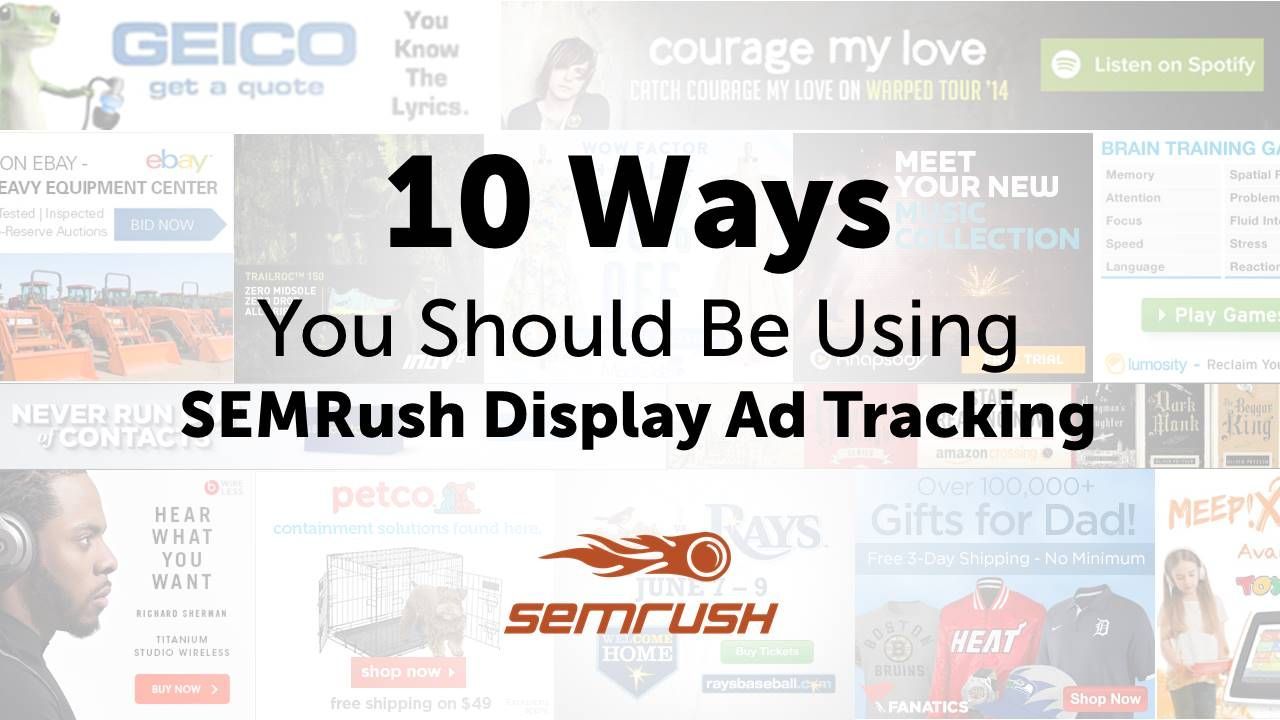 Overview:
1 – Researching Before Client Pitches
2 – Researching Before Job Interviews
3 – Rapidly Learn A New Marketplace
4 – Pluck Content Ideas From Competitor's Best Performing Ads
5 – Find Guest Post Ideas
6 – Find Non-Indexed Landing Pages
7 – Find Paid Social Audience Targeting Ideas
8 – Breaking Copywriter's Block
9 – Breaking Graphic Designer's Block
10 – Build Bootstrapped Brand & Design Guidelines
---
SEMRush launched their Display Ads product awhile back and I've found myself using it a ton recently.
This post is going to walk you through a number of the ways I've used the SEMRush Display Ads section to do things like:
Improve client pitches
Speed up our ability to match brand guidelines
Find hidden landing page URLs
1 – Researching Before Client Pitches
Before client pitches, I've been using the Display Ads tool to get to know the company's visual brand guidelines as well as copy style. The tool also lets me see what types of products and services their paid team might be focusing on.
If the company's PPC team is focusing on a particular product line, I can bring that up during the pitch meeting when I talk about potential product or topic priorities we want to explore. If the customer has been talking about that exact product or topic internally for months, it'll certainly get the point across that you've done your homework and are in tune with their brand.
CAUTION – Just because it's in SEMRush's database doesn't mean the company is still running those ads. We've shown old banners to clients before who not only cringed when they saw them, but said that they would never let those banners out in the wild nowadays. Make sure you don't form an opinion one way or the other on ads that don't appear to be currently running (check for a "last seen" date within the past 2-4 weeks).
2 – Researching Before Job Interviews
Going in for a job interview with a company? Your research process shouldn't be much different than the research process we'll conduct before pitching a client.
So – you'd better do the same research. When glancing through display ads, be sure to keep an eye on what ads you weren't expecting in case it's a good topic to ask about during the interview.

3 – Rapidly Learn A New Marketplace
Whether you're agency-side or in-house, one of the hardest aspects of getting started in a new industry is rapidly learning the marketplace so that you can hit the ground running.
This tip comes from David Cohen at Goliath Technologies, an IT operations software company with multiple products spanning multiple vertical markets in multiple countries. IT operations is a market that doesn't come naturally to anyone except IT operations professionals, and David was able to pull a variety of insights from the Display Ads tool to get up to speed on the industry quickly.
Here's an easy example: head over to the Publishers report for a competitors domain using a query like "competitorname.com (by adsense_publishers)" in the SEMRush search box, or a URL like this:
Here's an example of the report for Specialized.com, a cycling company, and the domains where their display ads show up: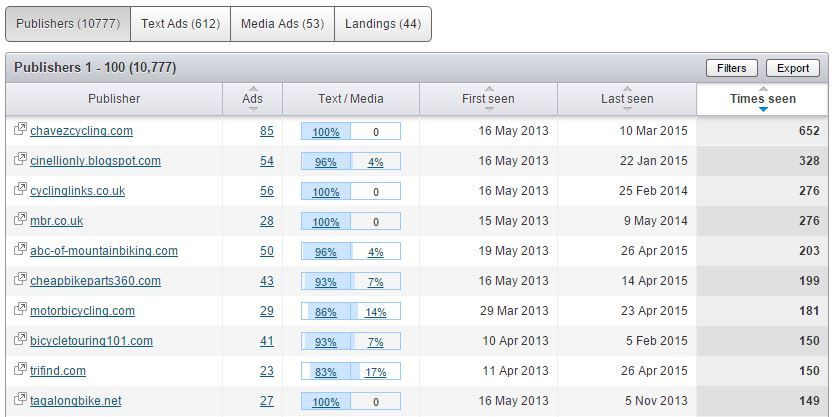 If I'm a competitor in the cycling space, the first thing I want to do is start exporting these lists for all of my competitors that are doing display advertising, merge them in Excel, and build a pivot table of cycling industry display opportunities. The more advertisers pushing banners on a domain, the more important it is to take a closer look at that website's audience and content and see how we can learn from them or partner with them.
This spreadsheet will double as my "industry research list" for getting up to speed on what blogs and publishers might be most relevant to my audience, and is a handy starting place for my outreach and partnership lists when I want to start influencer outreach.
4 – Pluck Content Ideas From Competitor's Best Performing Ads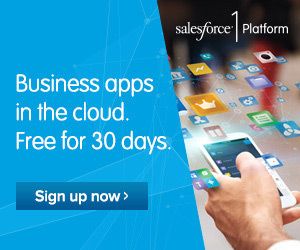 Competitive analysis is the obvious use for the Display Ad Database, of course, but there are a lot of ways to approach it. The biggest one I've honed in on is that if you know that a competitor has a savvy paid media team and they've been running a particular ad for a long time, that's a good sign it's one of their better performers.
We can use this in a number of ways beyond the obvious example of borrowing their copy for our own ads. For example, we could build a content campaign highlighting our core set of benefits that's reflected in their ad set and the promote it to our target segments.
If I'm competing with Salesforce in the CRM space and I see from this banner unit that Salesforce is pushing their app marketplace really hard, that's one more good sign that I should consider refreshing my own app integrations section of the site – and start building educational and support content around how our customers can use those app integrations successfully.
5 – Find Guest Post Ideas
This one's a bit of a stretch in some niches, since not all publisher's running Adsense are worth writing for. However, if your company or your competitor's PPC team is consistently running display ads on a particular site and seeing good results, then it might be a good site to partner with. When done well, guest posting in front of your target customer segment is valuable more often than not.
Go back to the Publisher's report  and spreadsheet that I mentioned in #3, and start flagging domains that accept outside contributors where your executive team or marketing team could submit content.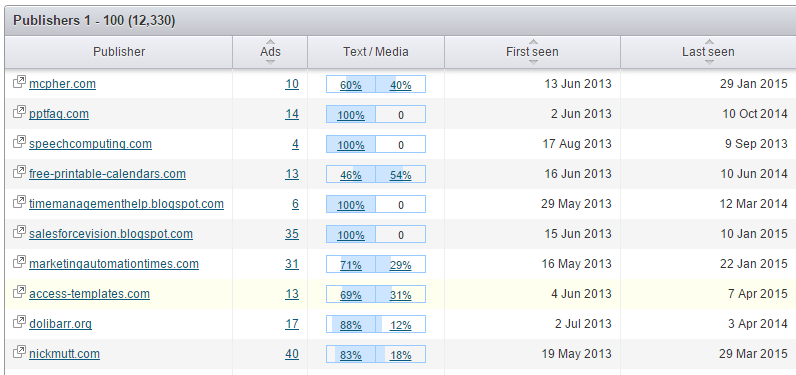 6 – Find Non-Indexed Landing Pages
Go to a URL like this and change the bold "yoursitehere.com" to the appropriate domain you want to spy on:
Export the list of URLs in CSV, scan them in Screaming Frog's list mode, and take a look through the noindexed pages as well as any subdomains which might indicate landing pages built with tools like Hubspot and Unbounce.
These are likely landing pages that the company doesn't want indexed, meaning you can glance at copy, A/B tests, and even new products that you can't find with organic search or by clicking around their website.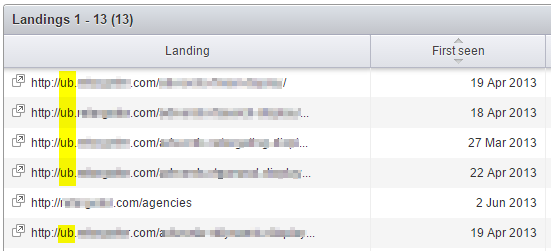 7 – Find Paid Social Audience Targeting Ideas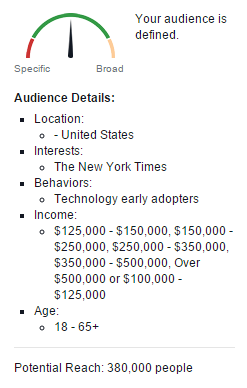 If your competitor has been consistently running display ads on specific publisher for years (eg – SEMRush publisher report for nytimes.com), and that publisher has 20 million Facebook followers, then we can build a targeted Facebook ad around those followers – and then filter down to high income individuals who also show specific shopping tendencies.
For starters, the graphic on the right shows 380 thousand readers of the New York Times in the U.S. with over $100,000 in annual household income who are likely to be early tech adopters.
This is probably not a bad segment to start with if you're a tech manufacturer with a cool new toy.
If Samsung is out there launching a new phone and adds an extra filter to this group in order to segment based upon iPhone vs. Android users, and then they segment their creative assets to speak to each audience, I bet they'd see some strong engagement at the very least.
8 – Breaking Copywriter's Block
I don't know how many times I've found myself staring at the screen for 10 seconds trying to think of a better button text than "Click Here". Lately I've had good luck glancing at a random website's banners to come up with new variations:

9 – Breaking Graphic Designer's Block
I don't know how the heck our graphic designer Simon does it, but he manages to come up with interesting new design elements all the time for the same roster of clients.
When one of us hits a mental roadblock on design, however, my latest source of inspiration has been SEMRush. As much as I love popular design sites like Behance, the banner examples I can track down on SEMRush are often more applicable to the type of graphic design we need to produce.
Even little things like the background lines in this ModCloth banner are enough to get a few fresh ideas we haven't tried in the past:

10 – Build Bootstrapped Brand & Design Guidelines For Clients That Don't Have Them
Early and midstage companies are notorious (at least in our office) for "winging it" on the brand voice and style guidelines.
While that works fine for awhile, it's the brand marketer's equivalent of technical debt, and it sucks the life force out of external freelancers and agencies who are trying to produce content for you.
Our solution to this problem for both voice/copy as well as design has always been to hack together a duct-taped brand guidelines from a template which is half current design styles, and half current brand practices. Generally, this works alright, but it results in more time spent producing this document internally that puts a roadblock in front of us actually creating content.
One of the ways we've been able to speed up this process is by pulling implicit design styles and copy elements from the client's existing display ads (along with their website design and copy, of course).
Because display ads have to be concise, they often cut the fluff that you see in website copy and get straight to the brand's core messages.
---
---
✉️ Get an email when we publish new content:
Don't worry, we won't bug you with junk. Just great content marketing resources.
---
Ready To Try
Content Harmony?
Get your first 10 briefs for just $10
No trial limits or auto renewals. Just upgrade when you're ready.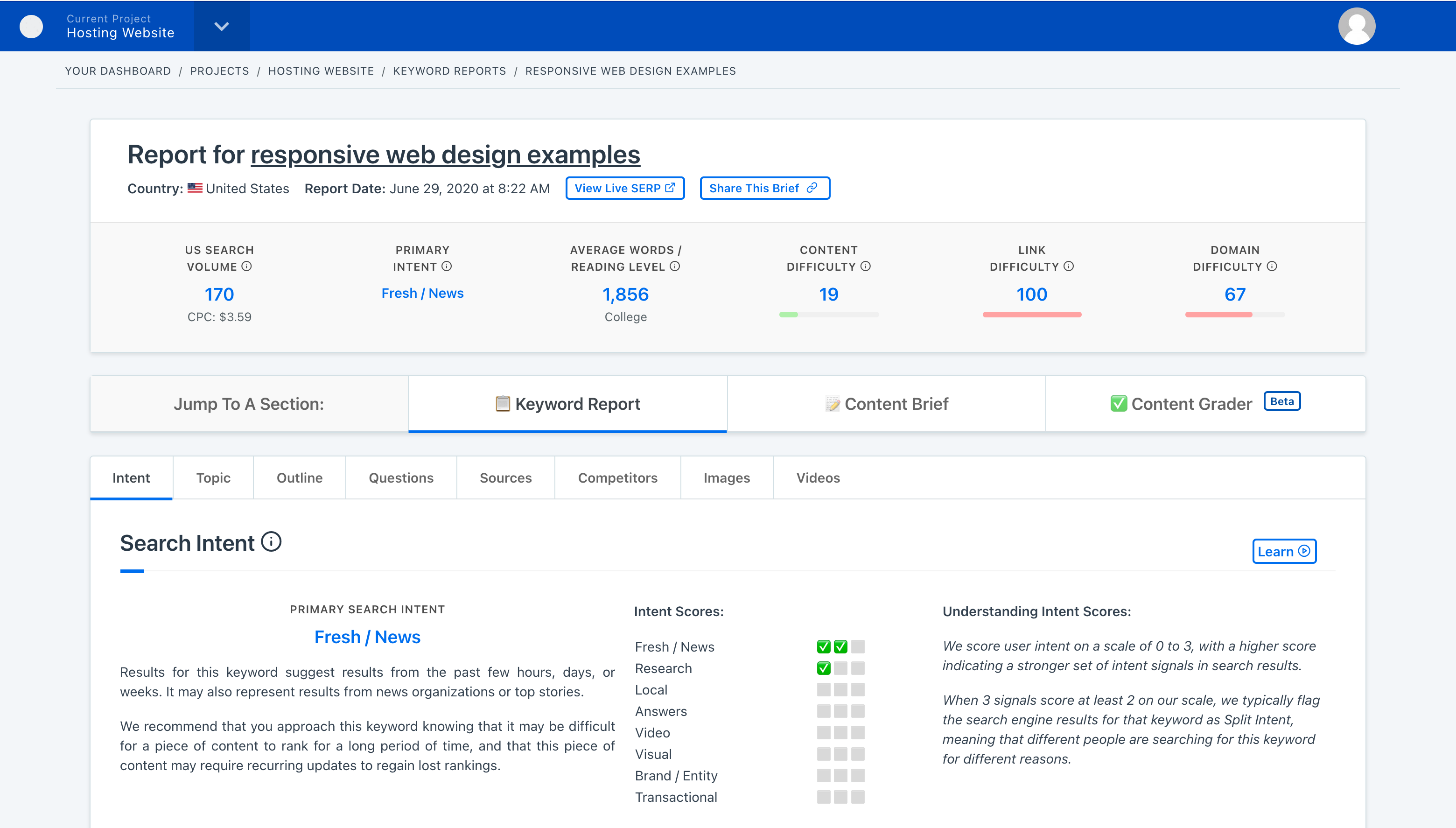 ---